The Sun is a clean and sustainable source of energy which can be used in place of conventional electricity to power our lives. Sunlight is composed of energy particles called photons. Solar Panels are used to convert this light from the sun into electricity which can in turn be used to power many systems.  Solar Panels can be housed in telecommunication equipments, remote sensing, building heating systems, solar lighting systems, etc.
Power Output of Solar Panel
The wattage or power output is an important consideration to make when planning to buy one. 100 Watt, 200 Watt, 400 Watt etc., whatever you hear associated with solar panels is the power output, wattage or the capacity of the solar panel. Most solar power panels which are at present available in the market produce power between 250 Watts and 400 Watts.
Factors Determining Solar Panel Output
The power output of any solar panel depends on two factors: Cell efficiency and solar panel size.
Cell Efficiency: On an average, present solar cells can covert only about 20% of the energy that hits on them into usable energy. With higher efficiency, you get you use solar panels with more power output.
Solar Panel Size: Solar Panel is actually made up of solar cells. Solar cells arranged in rows and columns make up what we call the solar panel. The standard size of the solar panel is 6 inch x 6 inch. Consider the case of 60 cell solar panels which has a cell arrangement of 6 columns and 10rows. They can provide about 300 Watt power. In case of a 72 cell solar panel, the cell arrangement is 6 columns and 12 rows providing power output of about 400 Watts.
Is there any Solar Panel providing 1000Watt Power?
1000 Watt solar panel system is one of the most popular size of solar panel system. 1000 Watt power may not be a sufficient to meet the annual energy needs of a large home. However, it is a pretty good power to offer considering cabins, vans, workshops, etc.
To be precise, there is no solar panel in the market which can provide 1000 Watt as such. What we can have is 1000 Watt solar panel system. At present, the maximum power output which can be provided by a solar panel is 400 Watt. So now let us see how we can make a solar panel system providing 1000 Watts for our need.
How to make 1000Watt Solar Panel System?
In order to make a 1000 Watt solar panel system, you may need to string together several solar panels. In most cases, a 1000 Watt solar panel system consists of 5 solar panels each of which generating 200Watts. Another option is having 10 solar panels, each generating 100 Watts. Now adding together the wattage of all the panels in the system can lead to solar panel system contributing 1000 Watt power.
Now the market has some of the plug and play options available in the form of 1000 Watt complete solar panel kits. Let us have a look at some of these.
ECO- Worthy 1000 Watt 24V Grid Tie Solar Panel Kit
The grid-tie solar system from ECO-Worthy generates energy from the sun. The energy is stored in the utility grid from where you can use it anytime. Grid tie solar system having the lowest upfront cost as there is no need to search for options to store the generated power. The package includes 6×180 Watt solar panels with 1000 Watt grid tie inverter. The system can generate 1000 Watt power generating 4kWh of electricity per day suitable for 1-2 person households with daily electrical appliances like refrigerators, AC, television, etc. The system allows flexibility in usage as in cloudy days without sufficient solar energy; you can automatically obtain electricity from the public grid system. The kit also includes 1 pair of solar cable with connector, 2 pairs of Y branches and 6 sets of Z brackets.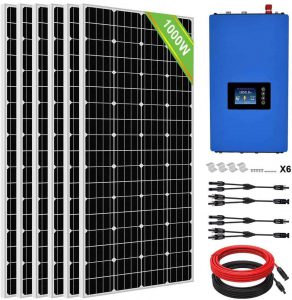 ECO- Worthy 1000 Watt 24V Grid Tie Solar Panel Kit
Goosun 1000 watt Solar Panel Kit
Monocrystalline A grade quality solar panels make power generation efficient. The system consists of 6 solar panels of 160 Watt 12V Mono Solar Panels. On receiving 4 hours of full time sunshine, they can provide 4kWh daily output. They can be used to power refrigerator, small A.C. etc. The corrosion resistant aluminum frame allows extended outdoor use. They can also withstand high winds of about 2400Pa and snow loads of 5400Pa. There is a 6 string combiner box, lead acid battery, z brackets for mounting and 60AH charge controller included in the kit. They have application in back up and remote power like farm, cabin shed roof, recreational vehicles, etc.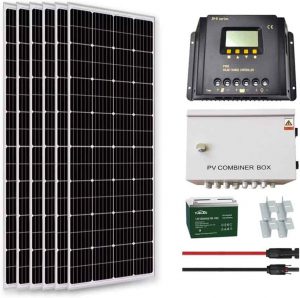 Goosun 1000 Watt Solar Panel Kit
Xinpuguang 1000Watt Solar Panel Kit
Designed to provide a powerful charging solution for batteries the Xinpuguang flexible 1000 Watt solar panel kit can conform to almost any surface. With the usage of high-efficiency monocrystalline cells they are capable to produce more power per square foot than any other options available in the market. The solar panel kit is found to be suitable for off grid solar power systems. They also allow grid yield applications. With multiple panels being wired in series, you can achieve 24 Volt or 48 Volt battery charging. They can withstand high temperatures, high wind pressure and even snowloads. Being flexible, the solar panel is found to be a good choice for curved surfaces of recreational vehicles, car, cabin, trailer, etc send any other similar irregular surface. The material used in the construction has gone through advanced encapsulation and has multi layered sheet laminations thereby enhancing not only the performance of the shell but also extends the service life. The package includes 10 bendable solar panels of 100Watt each. There is a 45A solar controller, 2000 Watt pure sine wave inverter. PV connector and cable with alligator clip. They are an easy to install model.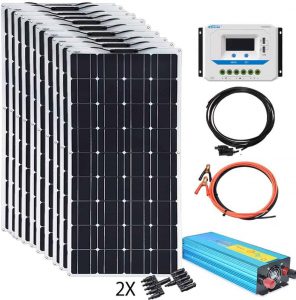 Xinpuguang 1000Watt Solar Panel Kit