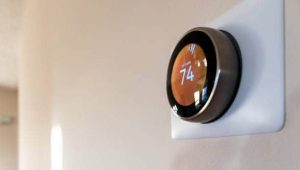 Energy usage has become a more relatable phrase to most homeowners over the years. And whenever it comes to controlling power usage around the home, smart thermostats that don't require a C wire are often the best bet. They are incredibly convenient, making it possible for you to automate your home's cooling and heating system.
Regardless of where you are at any given time, you can control your smart thermostat by simply connecting it to a Wi-Fi connection. This is possible even when you are not at home. Apart from helping you beat down your energy bill to a considerable extent, you are also able to schedule the proper temperature for your home. So, if you are looking for the best means to get started on building a smart home, you can begin by opting for smart thermostats.
When seeking the best smart thermostats for your home, there are certain things you need to consider. Top of these factors that should be considered is whether the device requires a C wire or not.
What Exactly is a C Wire?
Commonly referred to as C wire, this term is a short form of 'common wire'. It is a cable that provides a continuous flow of 24 volts AC (24 VAC) to power a smart thermostat. Although this is similar to the R wire, it is quite different. Unlike the R wire, this cable provides constant and uninterrupted power. This is what makes it primarily suitable for smart thermostats.
This does not rule out the fact that using a smart thermostat without a C wire is possible. Since C wire isn't often included in most home wiring, running thermostats without C wire is possible. Thanks to technology, many smart thermostats that do not need C wire to get powered are now available.
Things to Consider Before Buying a Smart Thermostat
It is essential that you consider some factors before settling for any smart thermostat, especially when you are purchasing for the first time. By getting yourself familiar with the different qualities to look out for, you will avoid making mistakes that will save you some repair costs in the future. Not only that, the right smart thermostats will increase your chances of controlling activities around your home.
Internet Compatibility
Although most smart thermostats come at cost-friendly rates, you should opt for an internet-compatible device. With the aid of technological advancements and improvements, a large number of these devices are equipped with Wi-Fi connections. As a result, you are able to connect them to your home internet and network. This enables you to control the device remotely using a free mobile application via your smartphone or tablet.
To complement the ease of these smart thermostats, some of them can be controlled via a web browser. Thus, if using a smartphone or tablet isn't a suitable option for you, you can settle for a Google browser to help you out.
Heating and Cooling Controls
It goes without saying that you want a device that will enable you to decrease and increase your home's temperature. The basic controls attached to most smart thermostats will allow you to do the following.
Make a seven-day cooling and heating schedule
Turn the system on and off
Adjust a previous schedule due to emergency
Keep a tab on daily activities, including your goings and comings.
You have more benefits to enjoy if you settle for some cutting-edge thermostat models such as the Nest Learning Thermostat. Being one of the most effective smart thermostats that don't require a C wire, this device keeps a tab on your heating and cooling trends over time. This way, it is able to determine your preferred temperature at any given time. Interestingly, it can create a cooling and heating schedule based on your presence or absence from the home.
Geofencing Tech
This is a modern tech attached to most smart thermostats. If your device supports this tech, it will be able to lower your home's temperature whenever you are out and kick back whenever you come in. The Nest Thermostat remains a prime example of a smart thermostat with this technology.
With the aid of this tech, your smart thermostat can determine whether you are in any part of your house or not, thereby controlling the temperature around you. This is possible through your mobile phone's location services.
All you need to do is mark your preferred Home and Away temperatures and ensure that you have your phone with you each time you're in or out of your house. This way, the thermostat will be triggered each time you step into or step out of your home.
Humidity Sensors
Humidity sensors are another perk you should look out for in a smart thermostat. You should find them readily attached to most of the latest smart thermostats. These tools usually trigger an alert when a low or high humidity level is detected. That's not all. Some thermostats have the capacity to show your local weather forecast.
A good example of such a device is the Ecobee Smart Thermostat. It has a remote room sensor and voice control that ensures that temperature remains uniform in every part of your home, especially in areas that are at a distance from the thermostat.
Display and 21st-century Design
Whichever device you will be considering the best for your home must be feature-rich. Display is one thing you can't leave out of the features to look out for before buying smart thermostats that don't require a C wire. Programing and configuring your thermostat come in handy once it has a colorful touch display. This display gives the thermostat a touch of style, allowing you to read even from a distance.
By simply tapping the screen of most typical thermostats, the menu settings, temperature, and current time come up. However, advanced and smart thermostats come with motion sensors that will get the display activated once you step into the room.
Apart from this, 21st-century designs such as Google Assistant voice commands, Apple Siri, and Amazon Alexia are included in most smart thermostats.
These designs allow you to use your voice to determine the current temperature and change temperature settings. Just like a smart speaker, most smart thermostats have readily attached Alexia voice control that enables you to:
Change temperature settings
Determine the weather forecast
Get the latest sports scores and news
Play music, and do a lot more with your voice.
The Best Smart Thermostats That Don't Require a C Wire
Without mincing words, smart thermostats that don't require a C wire have optimal functions, allowing you to have the best cooling and heating system in your home.
Choosing one for your home or office can be pretty tricky due to the myriad options available in the market. And without careful consideration, you might end up with the wrong device. To limit your chances of making such errors, some of the best alternatives you can rely on to give you tailor-suited performance are highlighted in the paragraphs below.
The Nest Thermostat E is at the top of the smart thermostats that don't require a C wire. It follows a simple design and operates on an in-built rechargeable lithium-ion battery, thus, eliminating the need for a C wire. If it senses a problem around your home, its display alerts you instantly. The display also shows the temperature settings.
This smart thermostat is one of the most affordable and reliable options you can count on. Whenever you're away, its apps allow you to change settings, set the room's cooling system, and keep a tab on how much energy you can save. This device also works perfectly well with designs such as Amazon Alexia and Google Assistant voice commands.
It remains one of the most versatile options. More importantly, its installation is straightforward and less time-consuming. Below are some of its features.
Ability to detect the current humidity level
Adjustment of routines and schedules to save energy
Availability of screen light to display the current status of weather, time, and temperature.
Home and Away features to determine temperature when you're in or out.
Compatible with a smoke detector and camera
Pros
It gets familiar with your daily activities within a week and operates on its own afterward.
Its apps allow you to know the amount of energy saved and used.
Cons
Lack of precise temperature
Its price tag is relatively high
This is an excellent option that builds on the features and qualities of its predecessors. It is a cost-friendly device that you can install without a C wire. You can easily control the cooling and heating system and schedule programs more efficiently from the app. It has a Power Extension Kit that enables you to wire to a furnace control board. It is a compact device, making the installation process simple and easy.
The exciting thing about this device is that it has a built-in Amazon Alexia alongside a seamless speaker and mics. With these features, you can change the temperature around your home with a few statements. The display attached is top-notch and is compatible with most smart assistants. Regardless of these numerous features, it doesn't require a C wire to give you its best performance.
Its room sensors are available in large numbers. These sensors show rooms in your house that are hot or cold and adjust the temperature accordingly. Perhaps you are looking for a more stress-free way of doing that; your smartphone is a perfect alternative. You can also use it to determine if someone is in your house or not. Some of the features that make it a top pick include:
Ability to learn and get used to schedule within a short time
Availability of dual-band Wi-Fi and processor
In-built Bluetooth and Alexia support for streaming music and videos
About 23 percent energy saving capacity
High-quality sensors to regulate temperatures of different rooms at the same time.
Pros
It can control the temperature of various rooms at the same time.
It can be used without a C wire.
Cons
Its installation is quite tricky
It requires more mounting space.
Among the various smart thermostats that don't require a C wire out there, you cannot leave the Google Nest Learning Thermostat out of the list. It is one of the smartest, most efficient, and all-inclusive thermostats.
However, it is crucial that you know that this device works with or without a C wire. Some power cycling issues might come up if installed without a C wire. To avoid such problems, you can use the newly released Nest Power Connector as a substitute for the C wire to ensure a constant supply of power. The only setback here is that it doesn't work with every home. More often than not, you are likely not to encounter such problems due to the effectiveness of the alternative connector.
In addition, it supports Google Assistant voice commands, Alexia, learned schedules, multiple zones, and HVAC monitoring. It has a wide range of designs and is fully programmed to give you quality performance at home. Some of the features that set it apart from others are listed in the following paragraphs.
Ability to adjust each zone or room with custom settings
Farsight features to determine when someone steps into the house.
Capacity to learn schedules quickly and adapt to them with ease
Energy-efficient to reduce the energy bill
Ease of control due to attached app
Pros
It has an eye-catching and beautiful design.
It has excellent sensing abilities coupled with a highly efficient energy-saving system.
Cons
It does not support HomeKit
There can be some issues with the sensors at times
Perhaps you are looking for an affordable device; the Emerson Sensi Wi-Fi Smart Thermostat is a good choice. Thus, you do not need to empty your bank account to get one. Despite being less costly compared to other smart thermostats available in the market, it comes with excellent features that make it the best bet for every homeowner looking forward to having optimum temperature in the home.
It requires minimal setup and contains easy program controls. Unless you intend to use the heat pump, cool or heat-only system, or the Apple HomeKit, this device does not require a C wire. Regardless of its dated style, which can be overlooked for its efficient controls, it still has complete Wi-Fi connectivity. As a result, you can control your home's heating wherever you are and at any time. Whether you are using an android or iOS device, you are guaranteed optimal performance.
You can keep a tab on your energy usage with its display usage reports. You can consider choosing the Emerson Sensi Wi-Fi Smart Thermostat when selecting a smart thermostat for your home due to the following features.
Automatic upgrades
Smart alerts to detect extreme humidity or temperature
Ideal for low lighting or night time
Ability to track humidity to ascertain the home's temperature
Color change to determine whether the system is cooling or heating
Pros
It comes with the geofencing feature to know whether someone is at home or not
It has an extensive touchscreen display
Cons
It lacks an outdoor temperature display feature on the home screen
It can suddenly go into sleep mode
No doubt, some homes lack central air. In that case, there will be the need to manage the temperature throughout your home. For that, you can use this device to regulate your window or mobile AC appliances. Due to its wide range of uses, it is often referred to as a top-of-the-line smart air conditioner system.
This device does not require a C wire to control an AC unit, and its installation process is relatively easy and relatable. It requires little or no technical expertise to install. You can easily control it through a Wi-Fi connection using its smartphone app.
Suppose you want a less stressful means of controlling your home's temperature. In that case, you can settle for other alternatives such as Amazon Alexia, Google Assistant voice command, Apple Siri, and other designs. By making the best use of its cutting-edge features, you can reduce your energy bill to the barest minimum and save energy.
Below are some of the features it has.
Availability of remote access
About 7-day flexible scheduling
Attached geofencing technology to determine if someone is in the house or not
Dual setpoint to maintain an optimal temperature
Compatible with 21st-century designs like Google Assistant voice commands, Alexia, and Apple Siri.
Pros
It allows you to save energy easily
It has climate react features to figure out the right and comfortable temperature
Cons
It lacks motion senses
It is quite pricey
Wrap Up
Smart thermostats that don't require a C wire are pretty efficient for easy home temperature control, reduction in the energy bill, and conservation of energy. The absence of the common wire doesn't mean you won't get excellent performance from your thermostats. Instead, you have the best C wire-free thermostats with excellent technological features to give you total temperature control in the home.