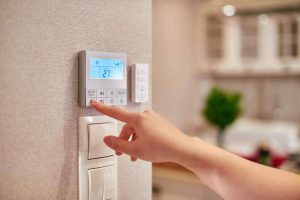 Temperature differential refers to the difference in values that causes your HVAC unit to turn on and off. The idea of a temperature differential can be felt in various applications, such as the striking difference between your warm living room and the winter blast outside. In the HVAC world, this  is used to help your heating and cooling systems "remember" when to operate or turn off. A Wi-Fi thermostat with adjustable differential settings is used to change the temperature however you like. Based on your preset value, your thermostat will activate the required units by continuously measuring the indoor climate. If the preset cooling value is 80°F, and your differential on your thermostat is is a 3° F, then the thermostat will alert your air conditioning system to start cooling when the ambient temperature is around 83° F. Similarly, once the indoor temperatures falls to 77° F, the system will turn off.
In addition to choosing a thermostat with adjustable differential, our HVAC system experiences more load during the peak hours when you are at home. If you are away, the units do not need to stay active all day long. They can be programmed to activate just before you reach home, and this functionality saves energy and narrows your bills. Setting your Wi-Fi thermostat to a greater differential prevents unnecessary loads because it will limit how many times per day your unit has to turn on. It is a smart way to make sure that your units only work when you need them and can turn off automatically as programmed. Thermostats with an adjustable differential exploit this feature by considering the outdoor temperature, so you can decide the ideal temperature for your home.
This allows the thermostat with adjustable deadband to automatically regulate the values when they deviate from the acceptable range. Such thermostats keep the indoor climate as comfortable as possible, and they provide an efficient way to prolong your HVAC's lifespan. Heating and cooling units perform better when the operating load is distributed at longer intervals – compared to overusing them for hours at a time. Frequent on/off cycles can disrupt the machinery, causing it to exert more pressure per cycle. This can be taxing on both your HVAC system and electric bills. Adjustable differential settings are helpful for this reason, as explored in this article.  A disadvantage to using a thermostat with a larger differential is that the temperature swings will become greater within your space.  So you will have find a balance between comfort and savings in energy usage and associated costs when you purchase a Wi-Fi thermostat with adjustable differential.
Thermostat with Adjustable Differential Breakdown
How does a thermostat with adjustable differential work?
The adjustable differential on a thermostat is also known as adjustable cycle rates because it is the HVAC cycles that get switched on or off. Thermostats equipped with this function use the temperature difference to operate or shut down HVAC units, so the preset value drives the system. A temperature degree range will be set on the thermostat, and the adjustable feature allows you to change this as well. Usually, Wi-Fi thermostats with adjustable differential come with a ±1 degree differential by default and can go up to a ±3 degree differential. For example, with a preset value of 70°F:
a thermostat with a ±1 degree differential will activate the cooling at 71°F and turn it off at 69°F.
a thermostat with a ±3 degree differential will activate the cooling at 73°F and turn it off at 67°F.
Why is adjustable differential useful?
Setting an optimum differential that achieves the right balance between comfort and the number of cycles can help you in the long run. Wider intervals use fewer on/off cycles and save more energy, whereas narrow differentials result in frequent on/off cycles. A greater number of cycles may provide a constantly stable temperature that is always close to your desired value. However, this repetitive HVAC traffic can overwork the thermostat and damage its circuitry, including various HVAC parts. Frequent cycles also mean larger bills, which is why thermostats with adjustable differential save the day. They help you configure your HVAC units with longer cycles so that the total number of on/off cycles can be minimized.
At the same time, this arrangement delivers ideal climates for the best comfort. Your thermostat will work based on the deviation from a preset range, and this automates the runtimes. The HVAC units last longer as a result, and you only pay for calculated usage throughout the day.
What features does an adjustable differential thermostat offer?
Thermostats with an adjustable cycle rate are usually smart wifi thermostat and are usually easy to use and Alexa-enabled after they are setup.  So apart from accessing them on your smartphone, you can also use voice commands to adjust the temperature. Most smart thermostats include geofencing capabilities to operate the HVAC system based on your current location. This takes energy savings to a whole new level, as the thermostat decides how far away you are from home before setting a comfortable atmosphere. Some devices offer a vacation mode between 1-30 days to keep your thermostat inactive while you are gone. The most important feature of any Wi-Fi thermostat with an adjustable differential is its compatibility with all HVAC systems. Finding a compatible thermostat for all your HVAC units is more reasonable than planning a full HVAC overhaul.
Is it adjust differential readily available?
Thermostats that are Wi-Fi-enabled with an adjustable differential are quickly going out of stock on major online stores – unless they are still available on original brand websites. In most cases, the specific product descriptions that include Wi-Fi capability, as well as adjustable differential, are hard to find. We did manage to discover up two such thermostats for sale and have highlighted some of their advantages and disadvantages.  The thermostats with adjustable differntials are discussed below.
Wi-Fi Thermostats with Adjustable Differential
The PRO1 IAQ T701i Wi-Fi thermostat is a low-voltage 24VAC thermostat with adjustable differential of up to 2° F. With single-stage 1 heat/1 cool conventional and heat pump options, the thermostat offers both programmable and non-programmable configurations. You can choose 4 temperature settings per day and even preset weekly programs. The 4-square-inch LCD display has a blue backlit keypad and supports temporary program overriding. The temperature control range is between 44°F to 90°F (or 7˚C to 32˚C) for heating and cooling applications. It is a hardwired thermostat that can be mounted horizontally or vertically on the wall, featuring a frequency of 50 Hz/60 Hz.
Thermostat highlights:
It is Wi-Fi-enabl

ed, and you can access it through Android and Apple HomeKit apps.
It can switch between heating, cooling, and off options based on your programs.
The device is dual transformer compatible and supports temporary temperature hold.
The package includes an installation guide and various mounting hardware like screws and wall anchors.
You can activate temperature readouts on the thermostat.
It works with a maximum operating humidity of 90%.
The thermostat is compatible with various systems and is electric and gas configurable. You can use it for electric forced air furnaces, heat pumps without aux, and gas forced air furnaces.
The thermostat heating and cooling differentials are adjustable from 0.2°F to 2.0°F. Both heating and cooling cycle rates can be adjusted separately.
The thermostat also lets you activate or deactivate a 5-minute compressor delay protection and comes equipped with color-coded terminal blocks for simple wiring.

The product has a 5-year warranty.
Thermostat limitations:
This thermostat with adjustable differential does not have an automatic

changeover feature. You will need to set the changeover manually.
There are no humidification and dehumidification controls.
The thermostat is not equipped for remote sensing.
It is not 750mV compatible. The display lacks a low battery indicator as well.
There is also no filter indicator or a filter change reminder to alert you when needed.
The thermostat is not compatible with Alexa.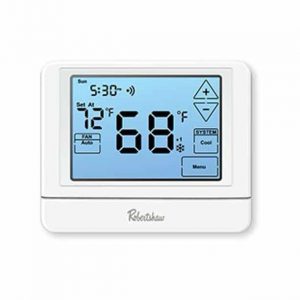 The Robertshaw Wi-Fi thermostat is a wall mountable thermostat with adjustable differential setting. It can be programmed for 7 days and supports multi-stage 4 Heat/2 Cool systems. The 8.8-square-inch large and readable touchscreen display has a blue backlight. Its controls and quick-access menus offer a simple way to manage your multi-fuel configurations from the same interface. The thermostat features a universal sub-base and has a factory preset energy efficiency program. You need to hardwire it on 24V AC, 50/60 Hz specifications. The adjustable temperature range is between 41°F to 90°F (or 5°C to 32°C). Since the thermostat is leaving the shelves quite rapidly, you can search for product availability at the Amazon Robertshaw Brand store.
Thermostat highlights:
The thermostat

is Wi-Fi-enabled and is also compatible with Alexa. You can access this thermostat on the Robertshaw iOS or Android app, bringing you a total of 3 ways to control your HVAC system: using the touchscreen panel, voice commands, and your own smartphone.
It has an adjustable differential to maximize your energy savings and keep your HVAC units up and running.
Robertshaw thermostat is popular among contractors who want to help homeowners with multi-stage temperature requirements.
It can be installed easily using its large terminal blocks.
The programming menus are simple and include contractor/technician settings as well.
There are wake, leave, return, and sleep icons for quick selection.
The dual-fuel compatible thermostat comes with a 6-year limited warranty and includes adjustable room temperature calibrations and setpoints.
Compressor delay protection is available to prevent short-cycling.
There is a filter change reminder and a keypad lockout option.
The changeover is automatic.
The thermostat is compatible with two-stage conventional heating and cooling systems and even four-stage heating and two-stage cooling systems with heat pumps. It supports gas, electric, and oil fuel sources, so you have a range of heating and cooling systems to add to the grid.

There are various part replacement choices from other brands, which really extends Robertshaw thermostat's compatible scope. Some of these compatible brands include Pro1, Honeywell, Braeburn, Emerson White-Rodgers, and Aprilaire. You can find the complete list of parts and their versions on both websites.
Thermostat limitations:
It does not support

millivolt applications (we were hard-pushed to find any other flaw, considering how this thermostat outperforms the Pro1 thermostat above!)
Keeping the Temperature Comfortable with Adjustable Swing
Heat transfer and varying temperature gradients make the idea of temperature differentials quite significant. All laws of physics that apply to heat transfer tell us how temperature differences cause a movement in energy – right up until an equilibrium is achieved. This ensures that both media with varying temperatures work to balance out the excess heat or cold. The same concept is used to drive HVAC systems via thermostats to keep an eye on such an equilibrium. Since the indoor and outdoor temperatures tend to vary, there is always a temperature gradient that influences your home's native climate. Your HVAC system has the primary job of combating this gradient and maintaining a comfortable atmosphere in all the rooms. Both the scorching summer heat and the paralyzing winter bite will determine how much work your HVAC units need to do – so the HVAC synergy really depends on how extreme the outer conditions are. It takes more energy to keep your home warm in winter because your heaters have to work against the negative scale outside.
Likewise, it takes more energy to cool down your home when the mercury keeps rising at a threatening red!
The main benefit of installing a Wi-Fi thermostat with adjustable differential is that it will take care of these temperature fluctuations automatically. Based on your settings, the thermostats keep your heating and cooling systems active for only the peak requirements – for example, when you are at home for most of the day. Once the indoor temperature is calm and welcoming, the HVAC units turn off, and there is a reasonable gap before they turn back on. This converts into maximum energy savings and improved HVAC performances. Wider differential slots require just a few working cycles within a fixed duration, so your units operate more efficiently and have enough time to rest. Shorter intervals, on the other hand, cause the units to turn on and off more often, as the thermostat senses a difference more frequently. Although you receive a perfectly stable climate in this case, the downside is that it can exhaust your thermostat and HVAC faster.
By balancing between ideal temperature and energy savings with thermostat with adjustable differential, you can preserve the longevity of your HVAC system. Not having to call an electrician for recurring problems is a major bonus – and you can rely on thermostat compatibility to keep you covered throughout the seasons.