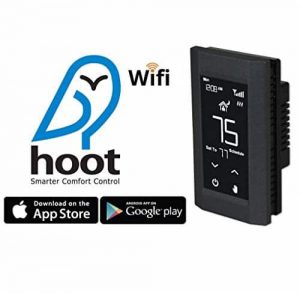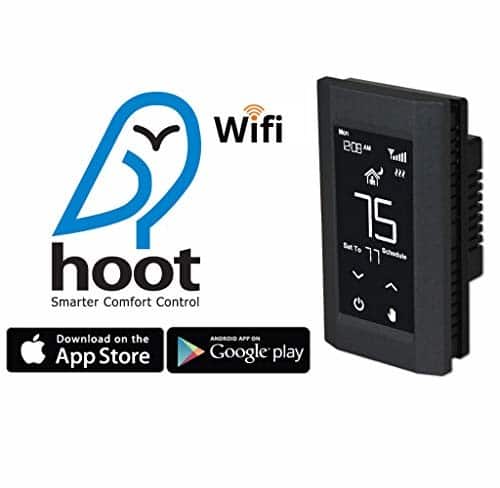 Smart thermostats continue to lead the smart home revolution around the world. They maximize the domestic energy efficiencies and have evolved to integrate with other smart products. This allows you to manage your heating and cooling systems more cost-effectively. In particular, a smart thermostat for high voltage systems can be used for remote-controlling specific heating units together. Such a system caters to their high voltage requirements and enables smart co-existence between the connected devices. High voltage can also be referred to as line voltage, and various line voltage smart thermostats are available. They help you operate your baseboard, in-floor, and ceiling heating systems. With eco-modes and geofencing capabilities, you enjoy a more energy-conscious lifestyle – and your smart heaters remember to hibernate while you are on vacation!
High voltage or line voltage smart thermostats cannot control air conditioning units. They are only designed for voltage-hungry heating systems around your home. It is important to first find out whether your home is electrically geared for high voltages. The way you heat up your smart home actually builds your thermostat catalog. So, as you window-shop for suitable options, consider product compatibility to narrow down the choices. In this article, we have explored some key reasons to install high-voltage smart thermostats. Following their ignited trail between online stores and virtual shopping carts, we also picked the top thermostat designs and features. Fair warning: brace yourselves for some electrifying secrets ahead!
High Voltage vs Low Voltage
What heating voltages do you use?
Before deciding on your smart thermostat, it helps to confirm the voltage compatibility of your smart home. Smart thermostats are designed to work with specific heating climates. A low voltage thermostat will function differently than a high voltage thermostat. This is because they both address separate energy demands and cannot be used interchangeably. You can call in an expert to help you analyze your home's electrical framework and determine the voltages that run through it.
What is a high voltage smart thermostat?
A high voltage or line voltage smart thermostat works on the higher voltages of 120V and 240V. It draws power from the direct mains voltage to regulate the heating climates in your home. The setting offers app/voice management and keeps the units connected to your automation network. You can control your baseboard, in-floor, wall, ceiling, and forced fan heaters from the same thermostat. Line voltage heating is prevalent in both old and new homes, especially in northern regions, as it forms the actual electric-powered heating system. A compatible thermostat needs to be installed per unit or per room, depending on your smart distribution. It converts the incoming high voltage into efficient heat to warm the room. Its housing is usually bigger than a low voltage thermostat. This is because the line voltage thermostat needs a heat sink to tackle the active current flow. The high current keeps its electronics powered for continuous use in the smart ecosystem.
What is a low voltage thermostat?
Most homes rely on central furnaces to heat their homes. These include boilers, central air, heat pumps, etc. running on a 24V supply. Low voltage setups are fuel-powered and quite popular for managing these central heat distribution systems. The thermostat in this case alternates between a small battery and the mainline to recharge itself by drawing small amounts of power. Low voltage smart thermostats are more popular than their high voltage counterparts. Brands often come up with workaround ideas to accommodate requirements for high voltages in smart neighborhoods.
Single-pole or double-pole thermostats?
High voltage smart thermostats are also known as 2-wire/4-wire or single-pole/double-pole thermostats. They derive these names from the wiring layout in their panel, and each type features specific compatibilities. If your thermostat's panel has 2 wires, it is a single-pole thermostat. A panel with 4 wires makes a double-pole thermostat. These technical differences are the reason why you should consider compatible designs for your smart home.
A single-pole thermostat cannot be switched off, whereas a double-pole thermostat has an off option. The result is that a single-pole design will keep your heating system running on a low setting until you turn off the actual heat source. A double-pole thermostat offers more flexibility in this case and lets you turn off the system from the panel. Your home's existing wiring layout will determine the type of smart thermostat you can install.
Features of High Voltage Smart Thermostats
From our online perusal, we discovered some competitive features and add-ons to fine-tune any automation setups. You can keep an eye out for these features when you navigate the virtual shopping aisles. They help accessorize your interior space with compatible heating units that you can manage on the same app. Such a well-concerted system adds the smart element to manage your home's climates, as discussed below.
Smart integration
Your choice of a smart thermostat for high voltage needs should enable smart integrations. This includes being compatible with your automation network, communicating with the heating units, giving you both app and voice controls, etc. The thermostat should team up flawlessly with your Wi-Fi, Z-Wave, or IFTTT network, for example, and collaborate with relevant devices. Z-Wave and Zigbee networks will require the addition of a hub to integrate your smart thermostat. Therefore, product and network compatibility will pay you frequent visits in your smart hunt.
Detector and sensor support
This follows good integration protocols. Some high voltage smart thermostats can be connected to smoke or carbon monoxide detectors.
They work with your smart HVAC system and extract pollutants and contaminants from the air. This improves your indoor air quality while keeping your home at an ideal temperature. Motion sensors can also be linked to automatically adjust the heat when you open doors or windows.
Single and double pole
A few brands offer both single-pole and double-pole configurations to choose from. You can select your desired version based on the electrical eligibility of your home. Variable heating and simple design are a definite plus. Having all your favorite features available in both options is a good measure of the brand's versatility – and it also shapes your scope for future products.
GFCI protection
High voltage smart thermostats ideally need to have Ground Fault Circuit Interrupter (GFCI) protection. This feature detects any trespassing current that could cause electrical hazards. It prevents dangers like electrocution, protects life, and ensures a safe environment for your smart electronics.
Zone heating and geofencing
Zone heating and geofencing help you smarten up your living standards even more. Various line voltage smart thermostats heat up multiple zones independently. They allow all occupants to use the app and create different zone climates depending on what they like. Multi-zone support is a clear bonus if you have a large home with varying temperature preferences.
Geofencing is the other smart pea in the pod. It tracks the location of individual smartphones and heats up the relevant rooms accordingly. You can enable geofencing to let the thermostat function based on where you are currently – with your smartphone. If you leave your home – and the geofence – the smart thermostat will automatically turn off. Once you return to a detectable vicinity, the thermostat wakes up and begins heating up your home. By the time you step in, the warmth is a welcome relief from the winter blast.
Energy efficiency
The key feature of a smart thermostat for high voltages is its ability to cut down energy usage. You do not just automate your heating systems.
By setting zone control, geofencing, and schedules, you make sure that the required units stay on for certain durations only. For example, zoning will let you turn off the heating in the living room and kitchen during bedtime. Only the occupied rooms stay heated. Your app will also display usage statistics to guide future consumption. This helps you conserve more energy and finally meet some amiable bills down the road.
Voice control
App support is the default necessity for any smart product. If it is a smart device, you must be able to access it via apps for remote convenience. Smart thermostats can also be voice-enabled based on their brands and compatibilities. These give you an extra level of control apart from app management. Most smart thermostats are compatible with Google Assistant and Amazon Alexa. You can simply use voice commands to adjust the temperature from wherever you are. This creates hands-free control, especially if you already have a voice assistant running your smart home.
The Best Smart Thermostats for High Voltage
Nuheat SIGNATURE Programmable Dual-Voltage Thermostat with WiFi and Touchscreen Interface, Works with NEST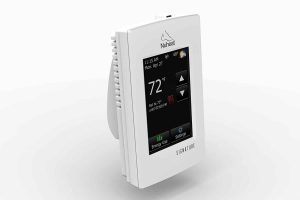 Nuheat SIGNATURE smart thermostat is a dual-voltage device. It is Wi-Fi-enabled for managing floor heating applications. You can use the Nuheat app for remote adjustments from wherever you are. This allows you to operate the thermostat even if you are not at home. The high-end design houses the thermostat in an acrylic frame.
You will receive a 3-year manufacturer's warranty for this floor-heating thermostat. It is easy to install and enables custom settings for user-friendliness.
Product highlights:
The dual voltage compatibility allows this thermostat to work with high voltages of 120V and 240V.
It is compatible with the Nest learning thermostat and Control4 systems – which speaks volumes about its integration support.
The programmable feature helps you create 7-day schedules for floor heating. The scheduled operation also cuts down energy usage around your home.
The Class A Ground Fault Circuit Interrupter (GFCI) protection is built into the design. It safeguards against electrocution hazards.
You can use this thermostat to heat up tile, stone, laminate, and engineered wood floors.
It offers language support and °C/°F temperature options.
It makes a good energy-aware solution for managing multiple heated floors.
Auto-diagnostics run in the background to check for optimum functioning.
Product limitations:
You can only connect to your Wi-Fi by entering the details and password using the thermostat's panel, which really limits the smart perspective.
This also means that the thermostat cannot reconnect to the Wi-Fi on its own. You are required to manually enter the password on the panel. In case you are away from home and the Wi-Fi connection flickers, you will not be able to use your app for remote control.
There is also no way to turn off the thermostat using the app. You can only use the physical off button to shut down the system. Again, this is quite concerning in terms of the remote freedom we expect from any smart product. If you are traveling and have forgotten to turn off the thermostat, you cannot use your app to turn it off. (On the hopeful side, fingers crossed for a clumsy Wi-Fi connection!)
KING K902-B Hoot WiFi Line Voltage Smart Programmable Thermostat, 120/208/240V, Double Pole, Black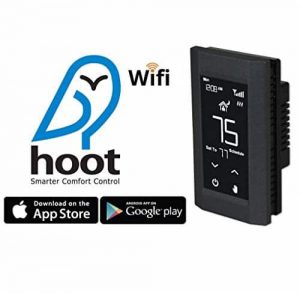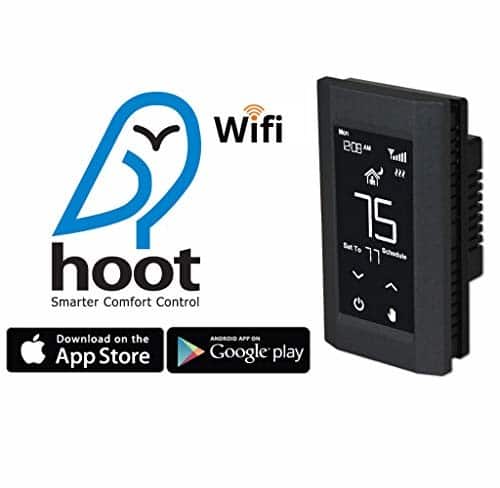 King line voltage smart thermostat is a double-pole design. It works with the programmable Hoot app for remote access and adjustment. It has a large LCD touchscreen panel that is equipped for high voltage applications. With a varying temperature range, you can program different schedules for each day of the week. The thermostat can be installed directly to your home's electrical outlet box.
Product highlights:
The multi-voltage facility handles 120/208/240V for high voltage uses.
It is Over-the-Air (OTA) firmware upgradeable, making it regularly updated and improved for smart competence. The software will receive automatic and real-time updates as new versions get released from the brand.
Its electronic sensing features accurate temperature controls for ideal climates around your home.
You can install this thermostat to manage heating systems for baseboard, fan-forced, as well as radiant heaters.
All the thermostats can be accessed via the Hoot app for total home control. The programmable schedule also translates into reduced energy consumption, keeping your bills at an all-time low.
The total home control also promotes a multi-zoned environment, so everyone gets to set their favorite temperatures.
The thermostat cover is fully vented and enables air sensing from all directions.
It can reconnect to the Wi-Fi network after a power outage.
Product limitations:
The smart thermostat does not support voice controls. It is not yet Alexa or Google Assistant compatible. With all the smart features it offers, the thermostat could definitely win the extra mile with voice integration.
Stelpro ASMT402 Smart Home Thermostat to adds Maestro Connectivity to existing Line Voltage Electric Baseboards, Convectors, and Fan Heaters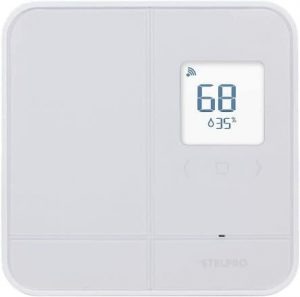 Stelpro smart thermostat works with the MAESTRO ASMC402 controller thermostat for optimizing your home's smart heating. The collaboration also produces an energy consumption assessment to boost your energy savings. The panel displays the relative room humidity as well. You have various app controls to get some peace of mind when all the heating management comes at your fingertips.
Product highlights:
The ling voltage smart thermostat operates at the high voltage spectrum of 120/208/240V.
It is a versatile solution for baseboard, convector, and fan heater applications. You can have separate thermostats controlling your fan-forced and baseboard heaters in different rooms.
You can also integrate the thermostat with your compatible Zigbee hub. This increases the scope for seamless upgrades to your existing automation system – minus the hassle of complex rewiring.
It is a more rewarding choice in terms of cost-effectiveness and product compatibility.
Product limitations:
There were issues with product warranties and replacements for faulty physical controls.
There was also a complaint about no options available to turn the system off.
Schluter DITRA-HEAT-E-WiFi Thermostat DHERT104/BW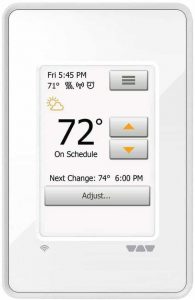 Schluter smart thermostat is a Wi-Fi-enabled device. It has a programmable touchscreen panel and is equipped for high voltage heat automation. You can set schedules for different days using the panel. Once the thermostat connects to your Wi-Fi, it helps you use the app to check and adjust the heating units from anywhere.
Product highlights:
The thermostat works on 120V and 240V for high voltage heating.
It has a Class A GFCI protection system and also features a floor temperature sensor.
The self-setting clock enables you to automate your preferences based on the time of the day or home occupancy.
The smart thermostat makes a great addition to DITRA-HEAT systems, as the added compatibility improves your automation goals.
It can be installed easily and delivers a greater temperature range for superior heating.
Schluter customer service has definitely been a crowd winner!
Product limitations:
Repetitive log-in issues on web versions can be quite disruptive to your management flow.
There was a negative review regarding a defective GFCI system.
The custom temperature sensor adjustment only extends to the native sensor. You cannot enter the measured resistance for foreign sensors, as the available options will not be compatible.
The thermostat could benefit from more clarity in instructions and app specifications. This will streamline the technical installation much better.
There were also issues with high-voltage compatibility for traditional systems, making the thermostat only applicable for Schluter floor heating mats.
The loud click whenever the thermostat works was another common complaint.
SunTouch Connect WiFi-Enabled 500875-SB Universal Touchscreen Programmable Thermostat, (120/240V), Bright White, Model 500875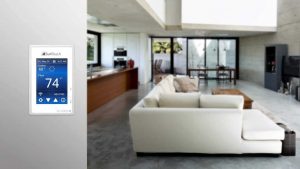 SunTouch smart thermostat is Wi-Fi-enabled and supports 7-day programming. It includes a built-in relay for managing your floor heating systems. You can program it to limit the floor heating temperature or configure the system via air temperature itself. Both ways enable the thermostat to prevent the dangers of overheated floors.
Product highlights:
Dual-voltage compatibility for 120/240 VAC systems is ideal for voltage-hungry heaters.
The thermostat has GFCI protection to ensure safety.
It automatically adjusts the timing of your floor heating system.
The floor and air sensing ability both create a conscious smart thermostat that stays on the lookout for overheating dangers.
Remote software upgradeability keeps your thermostat up and running without any human intervention.
It is compatible with Alexa, Google Home, and Apple for voice integrations. Finally an official voice-enabled thermostat on our list!
Other intuitive features include an outdoor temperature display, multiple color themes for the touchscreen, and the popular vacation mode.
The thermostat links up with your home automation platform.
Product limitations:
There were issues with product longevity due to the thermostat failing to work for a long time.
There were also lapses in Wi-Fi connectivity with firmware problems. The inconsistent software support really takes away the smart makeup of this thermostat – as you cannot connect it to the network at all.
This connectivity delay often gets in the way of your app management. With a troublesome app control that requires frequent signing-in, you have to resort to manually operating the thermostat. For the impressive smart features it offers, the lack of good responsiveness really cancels out everything.
WarmlyYours UWG4-4999 nSpire Touch WiFi Programmable Smart Thermostat, with Touchscreen, Class A GFCI, and Floor Sensor (White)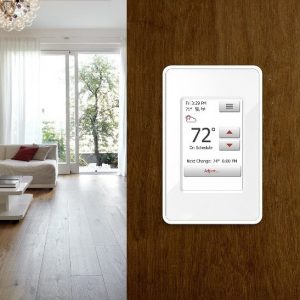 WarmlyYours smart thermostat is a dual-voltage model. You can operate it from anywhere using your smartphone or computer app. It has a child-lock function to ensure security. The touchscreen panel features real-time weather updates, creates easy navigation, and displays an energy log. It is compatible with the brand's electric radiant panel as well. The unit is easy to install and makes an efficient smart companion for your home.
Product highlights:
This is a smart thermostat for high voltage (120V/240V) uses.
It has a built-in self-testing GFCI mechanism for added security.
A complimentary 10K ohm floor sensor is included. It can be installed in the floor to deliver local management for your floor's heating. Compared to the ambient temperature readings, this offers a native floor sensing option for calculated usage.
With 4 different temperature events per day, you receive greater customization to improve energy savings.
The thermostat is pattern-friendly and can recall your favorite preferences.
Product limitations:
The thermostat instructions can be improved for clarity in specifications.
The display goes into an automatic, dark screen-saving mode. This can be both a benefit and a drawback, depending on individual preferences.
The lack of integrations is a major downside. The thermostat is not compatible with voice assistants or home automation networks.
With great power comes great compatibility!
All smart products are ideally expected to at least provide voice or network integration. The same applies to smart thermostats. If they do not tune in to your automation platform or work with Alexa, they lose the smart appeal considerably. As seen above, there are very few options for voice controls with high voltage smart thermostats. And not all designs can deliver strong connectivity or responsiveness. The result is that most homeowners end up using the thermostat panel itself. A good, versatile thermostat can only work as a smart unit if it gives you app and voice controls for remote management. Otherwise, it is just a regular thermostat.
Product compatibility also establishes a common ground for your heaters and thermostats to get along well. It promotes centralized supervision, extends your heating range, and keeps the space well heated. These automation luxuries always leave some room for improvement – so make sure you outsmart them with careful future-proofing around your home!