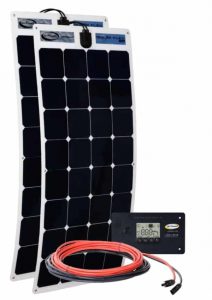 Image source: The Solar Store
Solar panels continue to lead the renewable energy movement and are always on the mend for innovative progress. The 500-watt solar panel is one example. It is the highest single-panel wattage that is also distributed into combination panel systems, such as 5 panels with 100 watts each. This recent innovation addresses energy efficiency needs for medium to large-scale applications by using just a few panels or, more conveniently, a single 500-watt panel. Such a system easily empowers your renewable approach and also minimizes the overall costs down the road. Most solar panels are designed within the 400-watt spectrum as the highest limit, which makes 500-watt solutions a huge sustainable breakthrough. With this level of optimized power, homeowners and commercial building owners prefer a total output of 500 watts to accommodate their needs – either from a single panel or through combination panels.
A 500-watt solar panel has distinct features that make it stand out from the crowd – even more so on rooftops with its flawless aesthetics! These panels take up less space on your rooftops and cut down the need for installing multiple panels, as all your equipment and devices get powered up using the same equipment. Your investment in a long-lasting and energy-conscious alternative will always go the extra mile and pay off remarkably. The higher power wattage of 500 watts can effortlessly handle all your electrical needs, as discussed below.
What makes the 500W solar panels so special?
Panel engineering
Covering all kinds of commercial contexts, the panels have a larger size and are often bifacial, which helps them capture sunlight on both sides. The resulting electricity is quite massive for simple residential uses, so bifacial single-panel systems are more popular in commercial applications. The photovoltaic (PV) system that drives this whole arrangement is either monocrystalline or polycrystalline. Both of these silicon-based panels convert solar energy into electricity. The name prefixes (mono and poly) hold the engineering secrets. Monocrystalline panels use single-crystal silicon solar cells, whereas polycrystalline panels use multiple silicon solar cells. You might come across these panel differences while buying a 500-watt solar panel. They are both built for improved productivity and durability. However, monocrystalline panels tend to be more efficient in performance, and polycrystalline panels are more cost-effective. In either case, the solar cells trap sunlight and convert it into electrical current, allowing it to pass through an inverter before it powers up your appliances.
Apart from large 500W panels, brands also manufacture smaller versions with increased power. The smaller design is a more space-saving option that does not compromise the power output. You can work with your installation crew to measure the required rooftop area and decide the right panel size for your specifications. By choosing the correct and relevant solar panel type, you can avoid issues with under/overestimated systems.
Functionality
If you want to install single-face combination panels, then five individual 100W panels can be put together. Similarly, two 250W panels can be combined into a 500W system. The arrangement depends on your budget and available rooftop space, which is why standalone bifacial panels steal all the spotlight – and the sunlight! A single bifacial solar panel delivering 500 watts can provide enough coverage for your electrical systems. Your installation teams can help you configure the right setup for your specific commercial use. Once the panels are wired up, this off-grid solar-powered system will need other hardware like a charge controller, an inverter, and a battery. You can opt for solar panel kits that come with all the required hardware and installation accessories, including panel frames, wires, and brackets.
The key functionality benefit of these 500W kits is that they provide the complete system required to harness optimum solar energy. They generate enough power to fuel your electrical systems, and all the equipment is designed for portability and installation ease. The overall functionality will differ across brands; you can even find backup solar power generators and large inverters as part of the kit. The inverter is an important device in such an off-grid system, as it controls how much electricity you will receive to operate your gadgets. The included products in the kit ensure power optimization to help you achieve better throughputs and efficiency – both for the panels and external uses. For example, a rechargeable solar generator can be used for instant power access to charge other systems safely while the panels run the main components in your building.
Applications
You can use a 500-watt solar panel to charge electronic gadgets and appliances like power banks, laptops, smartphones, lights, cameras, fans, refrigerators, etc. The panels are frequently used to power up various devices in vans, RVs, and boats for easy on-the-go charging. The sun will always be around, so all you need is the perfect angle for your panels to catch the sunlight as you travel. 500W systems generate enough electricity to help you use your kitchen appliances without running out of power.
500-watt solar panels
GOWE 500w solar home system/whole house solar power system 500w factory quality promise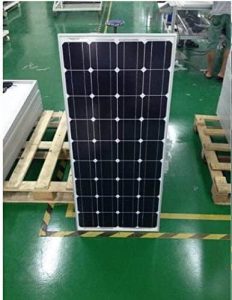 GOWE 500-watt solar panel system is available as a set of five, class-A 100W panels. A 1,000W pure sine wave inverter is included, and it features optimum working performances.
Other hardware accessories in the package are solar cables and 30A 12V/24V high-efficiency solar charging controllers. These monocrystalline silicon panels are designed for maximum daily power usage. Weighing 9kg per piece, each panel measures 123x520x3mm in size. The complete system delivers 90% efficiency and comes with intelligent controls and machinery protection. You will need to purchase the battery separately, as it is not included in the kit. The battery capacity is 12V/250AH per piece, with a service life of 5 to 6 years. You can use this 500-watt solar panel kit for various solar power stations, small home systems, rural electrification, traffic power supply, security applications, gas industry, 12V battery charging, and other commercial/industrial contexts.
ACOPOWER 5×100 Watts Monocrystalline Solar Panel (5 Pack, 500W)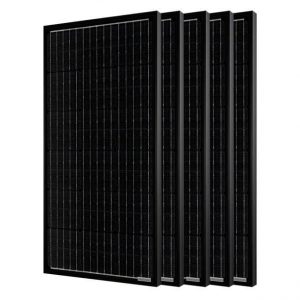 ACOPOWER solar panels are available as five individual 100W panels for a total 500W system. These monocrystalline panels weigh 20.9 lbs. and measure 40.2×26.4×1.4 inches, featuring high conversion efficiency with 20A/30A/40A charge controller. They have pre-drilled holes for easy installation, and each panel includes relevant cabling and connectors. The off-grid 12/24V/36/48V solar-powered system is ideal to charge caravans, cars, boats, RVs, cabins, small homes, and greenhouse systems. Built with a lightweight anodized aluminum frame and anti-reflection coated glass, the class-A panels are equipped to withstand high winds of 2400Pa and even snow loads of 5400Pa. They have waterproof IP-65 rated junction boxes, so improved durability keeps them up and running without frequent maintenance. You will also receive a 5-year workshop warranty as well as a 20-year output warranty.
ACOPOWER 5×100 Watts 12V Poly Solar Panel (5 Pack, 500W)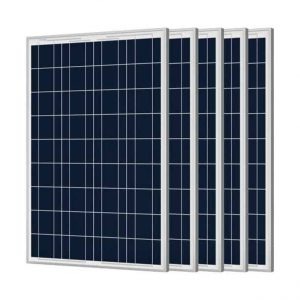 This ACOPOWER solar panel set is the brand's polycrystalline solar cell version, designed for 20.1% high solar cell efficiency. The five 100W pieces are made of low-iron tempered glass and aluminum alloy frames, so you can trust the product's durability and longer lifespan. They offer the best productivity for off-grid systems when you want to harness enough solar energy to power up your space. You can use them for on-the-go charging during travel excursions, including all camping, boat, and road trips. This makes the panels suitable for caravans, RVs, boats, solar lighting, solar pumps, and greenhouse functions – including other charging systems that rely on solar alternatives. The 500-watt solar panel system is easy to set up with pre-drilled holes and connective accessories, and it is one of the most cost-effective options out there. Its advanced encapsulation and multi-layered laminations help the solar cells work better, which also ensures the panels' longevity. They are EL-tested and designed to prevent hot spots within the panels, so that is an added bonus in terms of smooth functionality. You will not have to worry about damaged circuitry or extensive loads causing the arrangement to fall apart. The system also uses bypass diodes to combat low-light problems, so your panels continue to deliver maximum electricity when there is more shade. TPT back sheets further enhance this performance for long-term comforts. ACOPOWER solar panels are wind and snow-resistant at 2400Pa and 5400Pa respectively.
82962 500 watt Flex Charging System with MPPT Solar Panels Controller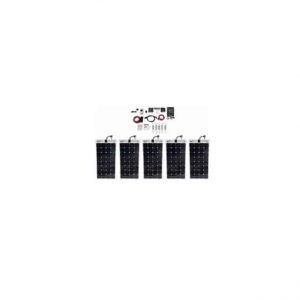 This 500-watt Flex Charging System is a good way to move off the grid by using five flexible solar panels. They deliver DC power and can easily fit on different types of surfaces. The included 40-Amp MPPT controller keeps your electrical systems covered with maximum charge. You can charge your off-grid systems with these monocrystalline panels, and they make a resourceful power source to fuel RV batteries. A durable laminated back sheet lines the panels to help them stay unfazed by strong winds, vapor, or dust, so they can remain comfortable and resilient on your rooftops. The system's automatic multistage smart charging takes away unnecessary loads from the battery, making it last longer. You can check the amperage, battery capacity, and voltage on the digital display for all 12V and 24V battery systems. The expanded system achieves significant power outputs for large-scale and repetitive applications.
500-Watt Flexible Solar Kit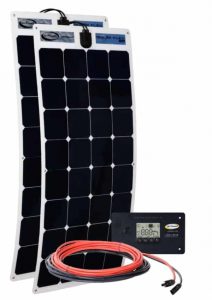 Go Power 500-watt flexible solar kit is the brand's largest Flex solution for high-power uses. It is equipped for RV and boat applications, flexible enough to cover any surface using adhesives or screws. The monocrystalline panels have a 3-mm thickness and a 30° bend for simple installation and portability.
This lightweight and aerodynamic version is also quite durable with just the right aesthetics, so you get the best of both worlds! The panels can meet your energy efficiency goals over the years with minimal repair needs. Their optimized solar cells generate more power per square foot, and so the added electricity is hard to ignore. Backed by a 5-year warranty, these panels come with a 40-amp MPPT solar controller and a digital remote display. The required cabling and mounting hardware are also included, but you will have to separately purchase the correct sealant or adhesive based on the flexible material type.
With great power comes great sustainability
As discussed above, most 500-watt solar panel systems are available as combination kits with the necessary hardware and tools. So, you are more likely to find everything you need to install the panels and start living a renewable-conscious lifestyle. 500 watts of power are huge compared to the standard 300-400W ranges in the market. And this tremendous output also keeps its promise for improved energy efficiency and sustainability. Once the solar energy you harness turns into the highest savings ever, there is no going back – not with that reduced carbon footprint! Homeowners and commercial teams who invest in a good-quality 500-watt solar panel are greeted with happy returns down the road, as the initial effort makes sure to give back. The different size and installation options allow users to choose the best setting for their needs, so there is always a 500W system that can sit on any residential and commercial rooftop.
In those hours when the sun is directly overhead, the panels will offer your charging devices a longer runtime. This also depends on the total hours of accessible sunlight where you live. Depending on the duration of direct sunlight your panels receive, the power throughput can vary. Solar panels deliver a full 500-watt under direct sunlight, and you can expect the power to fluctuate as the sun rises and sets. For this reason, having an adequate battery capacity is important to store power for using it when the sun goes down. You can then charge your appliances and systems without worrying about power production because the solar setup takes care of these transitions. Off-grid solutions work best with the help of an expert on board, even if solar kits are DIY-friendly. A professionally installed system will last longer and more efficiently, not to mention the red flags it will prevent. So, plug in to the planet's primary source of energy, and let the panels photosynthesize to make food for your gadgets!