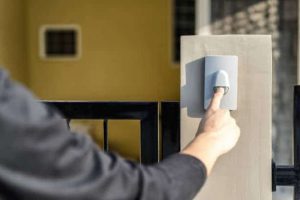 Home automation and security are two basic terms that have recently gained popularity. This is largely because of ring doorbell cameras. In every smart home or office you visit, there's a high chance you'll come across a ring doorbell. Even the TV screens are often decorated with footage captured using ring doorbell cameras.
From delivery drivers' reactions when you place a refreshment for them outside tour home, to apprehending porch pirates while at the action, to the activities of wild animals around your home, the usefulness of a Ring doorbell camera cannot be downplayed.
Without a ring doorbell camera, the security system of any home or office cannot be said to be complete. It is important that it works in every season and under different weather. Perhaps you're getting one for the first time, or you've gotten it but haven't installed it; one of the concerns that you may be getting worried about is its effectiveness under different weather conditions, especially in the rain.
In this piece, the ideal answer to the frequently asked questions about the device "are ring doorbells waterproof" will be properly examined. Beyond that, the difference between weatherproof and waterproof will be considered. Some of the techniques you can adopt to keep your ring doorbells away from rain are also recommended. It's a comprehensive piece, and you do not want to miss out on the rich information it has to offer.
Are Ring Doorbells Waterproof?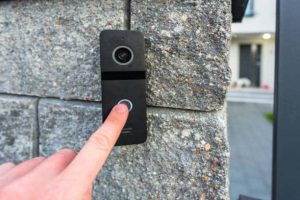 One of the list popular concerns about the effectiveness of this home security device is its suitability to adapt to environmental elements and changes in weather, especially when exposed to sun and rain. Perhaps you fall among the category of people seeking relevant answers to this pressing question; what you are looking for comes in handy in this article.
Waterproof? No, ring doorbells do not come with a waterproof feature. Instead, they are highly water-resistant. As far as resistance against rainwater is concerned, the ring doorbell has cutting-edge features to meet your specifications. Regardless, you shouldn't attempt placing or submerging it in water.
Can Ring Doorbell Withstand Snow, Rain, Cold, Heat, and other Extreme Elements?
By simply visiting the ring doorbell website, this is likely the first question you will find occupying the central position.
To answer the question, the producers believe that the ring doorbell is highly capable of withstanding extreme elements, including rain and cold. The device can work perfectly well in freezing temperatures to a large extent. Its operating temperatures are -20 – 50°C (-5 – 120°F). Hence, it can be inferred that the device is suitable for all environmental elements, including cold, rain, and extreme heat.
Have you considered what it means for a product to be waterproof? What about other concepts such as weatherproof, water-resistant, and water-repellent? If you're pretty conversant with tech devices, you might have come across these words at one point or the other.
Knowing what each of these terms means to ensure that you buy the right product for your home security is essential. The differences between these concepts are highlighted in the paragraphs below.
Water-resistant
By definition, this term simply means the ability to resist water penetration to a certain degree. The phrase "to a certain degree "means that the resistance is not entirely.
Whenever it comes to water protection, the lowest level remains water-resistant. Most articles, especially clothing, come with a water-resistant label. This only implies that they have coatings that keep water out. In the same vein, devices labeled as water-resistant usually come with readily attached seals or gaskets that prevent water from coming in contact with the sensitive parts.
The water-resistant feature should keep your device safe and protected for every encounter you have with water. As long as you aren't planning to use the device in the rain or submerge it in water, this feature works great. Examples of tech devices with high water resistance include cameras, watches, cell phones, etc.
Water-repellent
More often than not, this term is used to define products and materials that give little or no room for water penetration.
For a product to be water-repellent simply means that it has chemical coatings that repel water. Water-repellent is mostly found in fabrics or clothing. The Durable Water repellent, commonly referred to as DWR, decreases the time fabrics take to dry, making their snow or rain-repellence top-notch.
Waterproof
Without mincing words, there's no such thing as waterproof devices. Instead, you have a certain level to which a device can resist water. Regardless, producers of most tech gadgets will still not fail to label their products "waterproof ".
For every product with a waterproof label, their water-resistance rate is relatively high. To determine the waterproof standard of any device, the IP Code or Ingress Protection Rating Scale is often used. This scale is only applicable to mechanical casings and electrical enclosures. It doesn't apply to fabrics.
The IP Code is not a big deal, and you can easily relate to it. Two digits are often attached to it. While the initial figure denotes the device's ability to put up with solid things, the second denotes its ability to withstand liquids.
Weatherproof
When a device is said to be weatherproof, it means that it has the ability to withstand harsh environmental elements without suffering any adverse effects. Thus, such products should be able to put up with wind, water, the passage of time, as well as other factors that may hinder its effectiveness.
Just as in the case of waterproof products, weatherproof products also have scales. While some devices are built to withstand extreme temperatures, natural disasters, or oceanic depths, others are designed to withstand conventional weather conditions.
Product Reviews
Making the right choice of the best ring doorbell for your home or office can be quite tricky. This is because of the myriads of available options in the market. Without proper considerations of the different features these devices have, you might make the wrong choice.
So, what do you do to avoid not getting the best value for your money? It all begins with knowing the key factors to consider before making a purchase. Some of these factors include:
Live video coverage from the doorbell app
Motion alert
Improved night vision
Two-way audio design
Attached video camera
Having considered the various factors above, you should make the right choice. Some of the products you can trust to give you optimum security and safety around your home and office have been considered in the paragraphs below.
Released in 2021, this is one of the latest products you will find in the market. It comes with eye-catching features to give you the best shots. The motion settings attached are advanced, enabling you to detect any strange movement around your home with ease. Apart from this, it gives you accurate alerts via the ring app.
Another exclusive feature that comes with this device is the built-in Alexa Greetings. This enables you to speak with visitors from a distance.
Some of the other features of this device include:
3D motion detection
Two-way talk with audio.
Head-to-toe HD+ video
Recent and latest design
Pros
It has high-quality color night vision
Its video is quite sharp.
Cons
It doesn't support Google Assistant or Apple HomeKit
It requires a subscription to view videos.
Also released in 2021, the ring video doorbell 4 is a highly recommended ring doorbell. Its wide acceptance and popularity owe largely to its easy installation processes. It requires little or no technical expertise to install. If you want to enjoy quality videos from your device, this might just be the best option for you.
It comes with other quality features such as:
Customized audio privacy and privacy zones
Enhanced dual-band Wi-Fi connectivity
1080p HD video doorbell
Availability of removable and rechargeable battery
Pros
It has dual-band Wi-Fi connectivity
It also comes with sharp video quality
Cons
Some of its features need a subscription
It is quite pricey
Do you want to see and speak with anyone at your doorstep with ease? You can do that and several others with the ring video doorbell 3 plus. Also, if you're looking forward to avoiding cold-callers or you want to stop missed deliveries, this device might be your best way out.
Like every other ring doorbell available in the market, it notifies you of any motion around your home or office. Its features include:
Gives mobile notifications.
Wi-Fi compatible
Improved motion alert
Easy setup process
1080p HD video doorbell
Pros
Its smooth designs make installation easy.
Clear and uninterrupted video and audio
Cons
It also comes with a monthly subscription
It is quite expensive
Among the myriad ring doorbells made available by different companies, the ring video doorbell 3 remains one of the most efficient that allows you to hear, see, and speak with people via your PC, tablet, or cell phone. It is an offshoot of the original ring video doorbell 2. This device captures every movement within five to fifteen feet of the doorbell. This ring doorbell's seamless and great features and designs make it a good pick for your home or office.
Some of these features include the following.
Improved audio privacy and privacy zones.
Powered by a rechargeable battery.
1080p HD video doorbell
Better and more efficient motion alert.
Easy installation processes.
Pros
Easy connection with Wi-Fi via the ring app
Enhanced video for clear coverage
Cons
Installation can sometimes be a big deal
It is quite costly.
Smartphones, tablets, and personal computers have been part of human life for a relatively long time. Using these gadgets with the ring video doorbell 2 will give you your desired level of security and privacy. Like the ring video doorbell 3, this one also allows you to hear, see, and speak with people via your PC, tablet, or smartphone. That's not all; you can choose the echo feature designed with the device for clear hearing.
Some of its basic features are:
Powered by a rechargeable battery
Wi-Fi compatible
Timely motion alerts
1080p HD video doorbell
Live view
Pros
The live view design allows you to monitor activities going on around your home or office through the ring app
It gives notifications whenever movement is detected
Cons
The attached battery releases quickly
It demands existing doorbell wiring
The obsession with home automation is the primary reason for bringing up this ring doorbell. With 5-star ratings ranging from stability to support, design, and features, the ring doorbell pro is a great alternative you can depend on to keep your home safe and secure.
It is a highly durable ring doorbell with exceptional capabilities, beautiful designs, and an extensive lifespan. Its camera captures incredibly clear videos and images, its motion sensors are quite efficient at detecting movement, and its installation processes are simple and easy.
Its features include:
Exceptional connection with dual-band Wi-Fi connectivity
Built-in Alexa Greetings
Upgraded 1080p HD video doorbell
Uses LED technology
Two-way audio recording
Pros
Improved Wi-Fi connection
Built-in LED technology
Cons
160-degree field of view
It needs to be hardwired
When a visitor taps on a doorbell, a quick and audible notification is expected. With the ring video doorbell elite, you stand a chance to get timely alerts whenever it is pressed, or movement is detected. It also enables you to communicate with visitors via compatible echo devices. One of the primary challenges people face when using ring doorbells is the pain of charging over and over again. You have less of that to put up with when you choose ring elite. This is because it connects over the Ethernet.
Its features include:
Improved motion alerts
Clear and uninterrupted night vision
1080p HD video doorbell
Connection with Alexa Greetings
Connects over the Ethernet
Pros
It has smart security to answer the door using a desktop, laptop, tablet, or phone.
Its motion detection is advanced.
Cons
It requires technical expertise for installation
It comes with a high price tag
It is commonly referred to as ring video doorbell newest generation. It is a prime upgrade of the original ring video doorbell. Across the globe, people are becoming more concerned about the safety and health of their immediate environment. If you want a device that poses little or no threat to the environment, then the ring video doorbell 2nd generation is your best bet. It comes at an affordable price, so you don't have to empty your bank account to purchase one.
Its prime features are outlined below.
Advanced motion detection
Powered by an in-built rechargeable battery
1080p HD video doorbell
Timely notifications as soon as it is pressed
Easy setup
Pros
It is Wi-Fi compatible
Its advanced camera allows you to hear, see, and speak with people via your PC or smartphone.
Cons
It requires a subscription.
Installation can be quite tricky.
Do you know what you will get when efficiency meets versatility? If you don't, the answer is right here. The ring video doorbell wired combines efficiency with versatility to give smart home security. It has a compact design, making it one of the best alternatives if you want a device that will attach more beauty to your home. It is convenient to use and doesn't pose any threat to the safety of your environment.
The features of this device include:
Excellent night vision with sharp contrast
Two-way audio recording
Advanced motion detection
Real-time notifications sent straight to your device
1080p HD video doorbell
Pros
Available at a cost-effective rate
Several third-party support
Cons
It demands existing wiring
It requires a subscription to access recorded videos.
If you're looking for one of the latest ring doorbells in the market, this is one of them. Designed with renters in mind, this is one of the best ring options that perfectly fits an existing peephole hole. While ensuring the primary function of the peephole, this device adds a video camera and other features of a ring doorbell to your home. It comes with readily attached privacy zones for video and audio recordings.
It has all of a Ring doorbell's features. These include:
Timely notifications on your PC, laptop, or smartphone
Easy installation processes
Enhanced two-way communication
Impact sensor
Improved motion detection
Pros
It has a simple and easy process of installation
It is completely wireless
Cons
It is quite pricey
It also requires a subscription to see recorded videos
Wrap Up
Home security is an important subject that shouldn't be taken lightly. Having such devices as ring doorbells at your disposal will guarantee maximum security and protection around your home and office. The good news about these ring doorbells is that they can work in any weather condition, including cold, heat, and snow. A large number of them also have high-quality water resistance.