The water cycle involving evaporation, condensation and precipitation always takes place in the air and this holds true even if we are indoors. The level of water vapor in the air is called humidity. With the levels of vapor in the air changing it can lead to uncomfortability and related health effects. What a dehumidifier does is to minimize the water vapor or the humidity levels.
Advantages of Dehumidifier
Dehumidifier helps reduce allergic symptoms
Dehumidifiers can reduce the growth of molds
Dehumidifiers create a healthy environment
Dehumidifiers can reduce your dependence on air conditioner by cooling off your home in case you live in naturally humid climate.
Disadvantages of Dehumidifier
Dehumidifiers can make the air too dry in some situations making some health conditions like pneumonia even worse
Dehumidifiers can make skin conditions like eczema worse if you are in arid areas.
So staying hydrated is important when you use a dehumidifier
Basic Working of a Dehumidifier
Let us see how a dehumidifier works. By keeping it simple and easy to understand, there are refrigerated coils in the dehumidifier. A fan draws the warm air currents into these coils. When passed through these refrigerated coils, the warm air contracts leading to condensation. The condensation collects and is led into the storage tank. Now, cooler air, which is also drier, is released back through the other outlet of the dehumidifier.
Features to look for in Commercial Dehumidifiers
Before heading out to buy a dehumidifier, it is good to have proper understanding of the features which can make our purchase worth the buy. Look for options that provide good coverage of your commercial space so as to avoid overworking of the unit. Also the pint capacity which is the amount of moisture captured by the dehumidifier in 24 hours is another important feature. As the value of pint capacity increases, you can get a system removing more moisture n a day. You need to select the pint capacity of the dehumidifier keeping in mind the size of your commercial space. Continuous drainage is a good option to have as it reduces the need for frequent emptying of the reservoir. Auto on/off, auto defrost and auto restart after power failure reduces the amount of supervision needed making the operation further easy. With built in humidistat you can further achieve easy operation. The high airflow rates (CFM) can enhance the dehumidifier operation by maximizing the drying operation and save much time. Look for options which have less noise levels associated with its working so as to keep good working environment.
Commercial Dehumidifiers
Consider the effect that a damp warehouse, office, etc would have on the stocks. Consider if you are in a gym for workout and if the humidity levels are not in check which can make you uncomfortable. Now, commercial spaces being large in square footage may require powerful commercial dehumidifiers at their aid for effective moisture control. These are usually HVAC devices utilizing an evaporator and condenser for bringing in the moisture levels in check.
Let us have a look at some of the best market options we have for commercial dehumidifiers.
Alorair 180 Pint Storm LGR Extreme Commercial Dehumidifier With Pump And Drain Hose
The commercial grade dehumidifier works with continuous operation mode. They have a functioning humidity range of 35%-90%. They can remove 180 pints (22.5 gallons) of water per day from the air at saturation conditions (90°F, 90%) and 85 pints @ AHAM. They can be considered as the top choice for drying and also for water damage restoration in large commercial spaces up to 2300 square feet. They have a space saving design with two carrying handles on the top of the housing so that it can better fit in small confined areas and hard to reach areas and crawl spaces.   The drying performance can be maximized with the high airflow of 210 CFM. They can be considered as one of the best choices for the drying and water damage restoration industry in large space up to 2,300 square feet. The dehumidifier comes with a pump so that the water collected can be drained automatically with ease. The 19.6ft long drain hose with the 14.7ft vertical drain height maximizes the flexibility of installation. With the Auto On/ Off operation and Memory Starting, you get added convenience. On power failure, there is option for Auto Restart. Auto Defrost option is another added advantage so you need less supervision. The rare earth alloy tube evaporator adds to the longevity with extra protection to the coils of the dehumidifier. The model is compliant with ETL electric safety standard and comes with a 5 year warranty.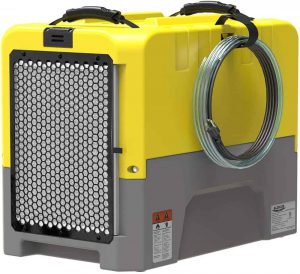 AlorAir 180 Pint Storm LGR Extreme Commercial Dehumidifier with Pump Drain Hose
Homelabs 140 Pint Commercial Grade Dehumidifier With Built In Pump And Drain Hose
The commercial grade dehumidifier can cover large spaces up to 4000 square feet. They can remove about 140 pints (17.5 gallons) of water in a day. The 265CFM high airflow can enhance the dehumidifier operation.  They can also be used for water damage restoration and can also accelerate the drying process after painting or plastering the walls. They can work on the 24hours Dehumidifying Function. There is also the Defrost feature. With the built in pump and 5m drain hose, you can drain the absorbed moisture instantly. They also have a reusable mesh filter which can be cleaned and reused. The design is compact and has a handle covered with protective foam. There are also side grab handles for allowing ease to carry down the stairs. The 2 wheels and 2castors allow easy transportation. The special lock facility of the castors helps it to hold on uneven surfaces.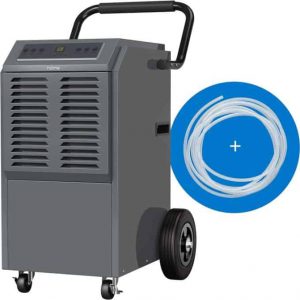 hOmeLabs 140 Pint Commercial Grade Dehumidifier with Built in Pump and Drain Hose
Colzer 164 Pints Commercial Dehumidifier
The Colzer Commercial Dehumidifier allows up to 164 pints (20.5 gallons) moisture removal per day (90 pints @ AHAM). They are well suited for drying large spaces up to 7,000 sq ft perfectly. The high airflow rate of 206 CFM allows fast drying and can also be used for urgent water damage restoration and structural drying jobs. You get effortless humidity control as they feature an automatic humidistat for its operation. They also offer a larger range of humidity settings from 10% to 98%. The automatic On/Off function maintains the humidity levels at the set point. Auto Restart option aids in power outages. There is also option for Auto Defrost. The included 6.56ft drain hose can be attached for continuous automatic drainage of the condensation. In case of spaces without floor drain, you can also make use of the 1.3 Gallon water reservoir. The Auto Shutoff option prevents overflow. The dehumidifier comes with a metal outer casing having anti collision and anti corrosion features. They add longevity and ease in maintenance. There are large semi pneumatic wheels and a sturdy bar handle for easy transportation and even for carrying up or down the stairs. The filters are washable and reusable.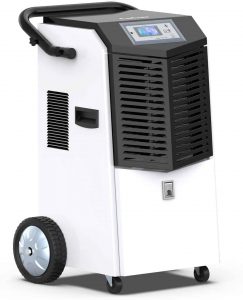 Colzer 164 Pints Commercial Dehumidifier
Yaufey 180 Pints Commercial Dehumidifier
The 180 pints powerful commercial dehumidifier can cover large spaces up to 7000 sq. ft. affected by high humidity. The built in humidity sensor can sense and maintain the humidity levels based on the set levels. They have a functioning humidity range of 45%-55%. The dehumidifier comes with a 24 hour On/Off timer. Auto Defrost is another added advantage. There is also the Auto restart option on power outage. The dehumidifier features an internal pump which can automatically drain the condensate through the 10 ft. long drainage hose as the 1L pump reservoir turns full. The 15ft. vertical drainage height maximizes the installation flexibility. They also come with a reusable high airflow air filter. There is the handlebar and 360 degree rotating wheels allowing easy transportation. The power cord port can be stored with convenience. There is 12 month free replacement with lifetime support.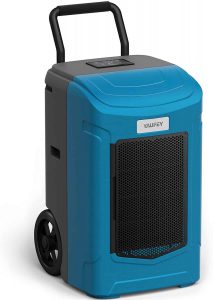 Yaufey 180 Pints Commercial Dehumidifier
BlueDri 225 Pint Commercial Dehumidifier
The BlueDri Commercial Dehumidifier offers high quality performance with portability. They can cover commercial spaces up to 4000 square feet. The 225 pint dehumidifier comes with high efficiency rotary compressor. They allow maximum moisture extraction of up to 225 pints per day (105 pints per day AHAM). There is an automatic water pump, RH and temperature sensors. The drain hose is 30 feet long, which is stored in the front of the unit which pumps water up to 5 meters up in height so that water is easily direct out of the space. The unit can even be kept on all through the day with the internal usage timer keeping track of how long the system was under use. The digital panel allows the job to be done with few buttons in action. There is auto restart option. The filter used in the system reusable and can be washed and reused. They are well suited for the toughest of the commercial spaces and can aid you in construction sites and buildings damaged by flooding. They can also be used in other water damage restoration projects. There is one year warranty with five year housing warranty.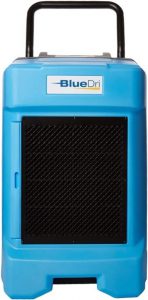 BlueDri 225 Pint Commercial Dehumidifier