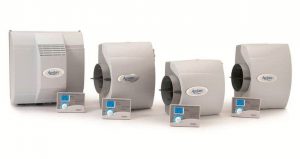 Humidifiers are commonly used to increase the indoor moisture content, especially if you live in dry climate regions. These appliances make your home's environment more comfortable – relative to the outdoor atmosphere. A regular humidifier can only manage the air in one room, so furnace humidifiers or whole-home humidifiers help regulate the overall air quality. Furnace humidifiers are equipped to humidify the air for a space that is at least 1,000 square feet large. You can choose between freestanding and furnace-mounted units for whole-home humidification. Your choice of appliance must address your home's square footage for maximum efficiency. Furnace humidifiers are also best suited to relieve the discomforts of heated rooms during winter. They increase the indoor humidity by allowing moisture to dampen the dry air. Most versions are designed for year-long applications to help people overcome chronic breathing issues or dry skin.
The added moisture also makes your rooms feel warmer than before. Ideally, the best furnace humidifier should be installed to your HVAC heating system. This allows the moisture to meet the heated air within the HVAC ducts as it circulates your home. Various factors affect your choice of the best appliance, including the size of your home and the expected moisture output per day. By connecting the furnace humidifier to a forced-air HVAC, you receive full coverage for humidification. In this article, we take a look at some of the features of different designs and discuss the best furnace humidifiers to add to your cart.
Why install a furnace humidifier?
Whole-home coverage
A furnace humidifier has different designs or styles that all aim to provide full-home humidification. The most common way to do this is to install the appliance to your home's HVAC system. This is why furnace humidifiers are also known as ducted humidifiers – as well as whole-home humidifiers. They help create a more welcoming indoor climate for people who experience asthma, irritable skin, and other chronic issues. Your home's square footage and layout are the main factors. Whole-home humidification works best when the appliance humidifies all the air equally in a large, open home. Alternatively, it should not over-humidify a smaller space. This is also determined by the humidity output per day from the humidifier. It is a measure of how much humidity soaks up your home's dry air – and is typically expressed in gallons per day.
Long-term returns
Compared to standalone units for each room, furnace humidification systems require minimal maintenance down the road. Routine maintenance differs between appliance types. You need to make sure that the belt and components are dust or grit-free for smooth functioning. The seasonal upkeep ensures that your units are cleaned thoroughly for a hassle-free winter. They are all easy to install and use. Once connected, the appliance can introduce adequate moisture throughout your home. This makes your investment bring long-term returns, as you do not get sidetracked by unexpected maintenance needs. Room humidifiers would require you to keep a check on the water level and mechanics before every use. However, a furnace humidifier is built for large-scale purposes. You just need to configure it once before winter sets in, and you have a seasonal comfort to look forward to!
Different types
Furnace humidifiers come in various designs and implementations to suit your humidity preferences. All of them focus on generating moisture in some way to introduce it into your HVAC's airflow. Evaporative/fan-powered and bypass humidifiers are quite popular. A flow-through humidifier works with freshwater during the process and drains it away. A reservoir humidifier relies on a stored water reservoir that pours onto a rotating drum.
There is also a steam humidifier that uses steam from heated water to humidify the air. This also means that a steam humidifier delivers warm air to your rooms, allowing your heating units to relax. In general, flow-humidifiers are the more popular choice because of their feasible efficiency. The appliances may also feature humidistats to monitor the ambient humidity and regulate the moisture flow accordingly.
Components and top features of a furnace humidifier
Depending on the chosen humidifier type, different components can make up the appliance. They also depend on the manual/automatic/smart designs you select. There are some common parts available to all humidifiers, regardless of their build and brand. A furnace humidifier usually includes:
a water source to be evaporated for creating moisture.
an evaporator pad to collect the water.
a blowing air system to create evaporation.
a control valve to manage the water supply.
a humidistat for monitoring the air humidity.
a drain pan to collect excess water for drainage.
Some of the top features to look for in online catalogs are:
a water reservoir indicator to remind you when to replenish the water reservoir.
an auto-turn off feature whenever the water reservoir drops below normal.
automatic humidity adjustments based on your settings.
overflow protection through a float valve.
the ideal square feet coverage to suit your scope.
the moisture output per day depending on your home's square footage.
reversible side panels for flexible installation.
a good warranty for maximum reassurance in your appliance.
customizable humidity fit for your regional climates.
smart thermostat and humidistat support for home automation.
While choosing the right pick for your home, it is best to consider automatic systems for improved efficiency. They help you program the appliance for timed humidification. Support for smart thermostats is another important feature to automate the whole process. By selecting the right type of humidifier for your home, you can exploit the existing HVAC ductwork and have both humidified and warm air flow around the space.
The best furnace humidifiers
Aprilaire – 400Z 400 Whole Home Humidifier, Automatic Water Saver Furnace Humidifier, Large Capacity Whole House Humidifier for Homes up to 4,000 Sq. Ft.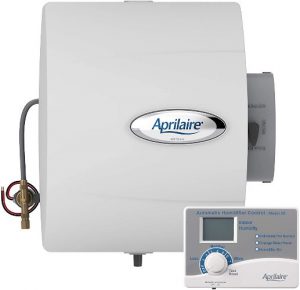 Aprilaire furnace humidifier is a product from the world-famous household name – Aprilaire. The brand has offered pioneering solutions for whole-home evaporative humidifiers. This furnace humidifier helps you maintain adequate humidity levels between 35%-45%. It makes a great addition to your home and recycles optimum indoor air quality – that is both breathable and welcoming.
Product highlights:
The furnace humidifier conserves water by making sure that 100% of the incoming water gets evaporated. This evaporation efficiency removes the need for draining.
It has a broad coverage of up to 4,000 square feet and delivers an output of 17 gallons of moisture per day.
The automatic operation makes use of dual sensors for continuous monitoring. They detect the outdoor temperature as well as the indoor relative humidity. You can simply set your desired range and let the humidifier do its job!
It has an airflow capacity of 250.0 cubic feet per minute.
The ideal 35%-45% humidity range creates a stable atmosphere that is easy on respiratory/skin difficulties. It is humid enough to fight the dry climate while still inhibiting any bacterial invasions.
The humidified air also preserves the lifespan of your wooden floors, cabinets, musical instruments, etc. This is because dry air makes most household elements vulnerable to damages from prolonged exposure.
The appliance clearly checks the boxes for humidity for health, comfort, and preservation!
It has a two-stage float system to ensure the required water intake and avoid overflows.
Product limitations:
Despite the included accessories, the installation is not very DIY-friendly. The wiring instructions could be improved for DIY installers.
There were issues with inconsistent humidity levels, with the furnace humidifier failing to deliver even 35% of moisture content.
Aprilaire – 800Z 800 Whole Home Steam Humidifier, Automatic Steam Humidifier, Large Capacity Whole House Humidifier for Homes up to 6,200 Sq. Ft.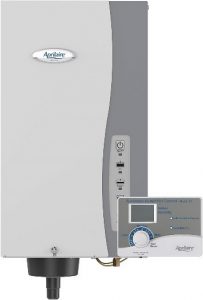 Aprilaire steam humidifier is the best choice for arid regions, as steam humidification sprays away the dryness using heated moisture. It is a high-output appliance designed with electrode technology. The automatic humidifier brings you a "set and forget" comfort level, working all day long at your programmed settings.
Product highlights:
The furnace humidifier is equipped for full coverage in 6,200 square feet homes. You can select from 6 levels of moisture output to introduce 11.5 – 34.6 gallons of moisture per day.
You do not need to rely on purified water or filtration. The electrode technology makes use of water impurities for electric conduction. This also speeds up installation while cutting down the overall costs.
Since filtered or purified water is not required, it saves you a lot of setup and maintenance workload as well. You are no longer slowed down by water filtration stages. You can just install the actual humidifier unit and save yourself the cleaning chores!
Dual sensors are used to stay in touch with the outdoor temperature and relative humidity. They enable automatic regulation of humidified air as a result.
Aprilaire humidifiers ensure sufficient humidity for health, comfort, and preservation.
The replacement canister is perfectly compatible with this version. Changing it once for the humidification season is enough for long-lasting performance. You just need to replace the canister at the end of the season, without worrying about cleaning it.
Product limitations:
The skyrocketing electric bills were a huge letdown among the Aprilaire population.
There were issues with the humidistat failing to record correct humidity levels. This would result in the humidifier staying off because of false humidistat readings.
Honeywell Home HE360A1075 HE360A Whole House Humidifier, light gray

Honeywell Home furnace humidifier is a powered flow-through model. It supports easy installation on forced-air furnace systems, and the flow-through design saves you the hassle of regular maintenance. The appliance creates a perceptible difference in the indoor air moisture content. It pairs up with your home's furnace system to distribute humidified air currents everywhere. Compared to the original humidity levels below 25% during winter, your home gets to breathe a new lease of life!
Product highlights:
The furnace humidifier supports variable speed and can combine with multi-stage systems. It offers a coverage area of 4,200 square feet.
Its PerfectFLO distribution tray is designed to optimize water consumption for more energy efficiency and reduced bills.
The raised humidity levels can go up to 50%, making a significant before-and-after difference.
Minimal maintenance is a definite bonus.
Product limitations:
The installation kit is not included and needs to be bought separately.
There can be replacement issues due to discontinued components from the brand.
The manual hydrostat makes this furnace humidifier very user-dependent. You have to manually adjust the water supply based on the ambient temperature and humidity needs. An automatic upgrade would be a welcome relief.
The water flow can be managed better to avoid wasting water. Most of it tends to drain away and can instead be optimized for HVAC input. Excessive leakage from the unit is another issue.
Various design flaws in the drain line and valves need to be improved for streamlined functioning. The minimal maintenance benefit falls short with connection problems slowing you down – and causing frequent leaks!
What is the right choice?
It all depends on your existing HVAC infrastructure, the size of your home, the required humidity output per day, and smart automation scopes. The best furnace humidifier for your home should make your life easy rather than more complicated. This includes easy setup and the least maintenance needs. If you have a large home with individual rooms that need humidified air, then a furnace humidifier is the perfect solution. It takes away the multiplied burden of managing standalone units in each room.
Whole-home humidification is a great way to combat allergic flares and seasonal triggers. It tackles airborne contaminants by keeping your indoor air safe and optimally hydrated. The result is a welcoming atmosphere that is friendly on your skin, respiration, and even your furnishings. Most brands offer smartphone app support to connect with your humidifier remotely. You can use your app to receive water level alerts, unit warnings, and humidity readings. It gives you a centralized dashboard to analyze all your rooms and adjust the thermostat or humidistat where needed. Compared to individual room units, you just have to install one furnace humidifier at the HVAC junction and get the best of both worlds!