Golf is one of the best ways to spend an afternoon or evening. It allows you to hang out with friends and family while having a relaxed and funfilled experience. Golf simulators are a great alternative to golf courses. They enable you to practice at home and improve your game. There is no need to travel to a golf course for practice. They also allow individuals to engage in a game of golf with their friends within the comfort of their living rooms. Here are the best home golf simulators that homeowners can add to their living rooms or dens.
Optishot 2 Golf Simulator (Mac & PC) Bundle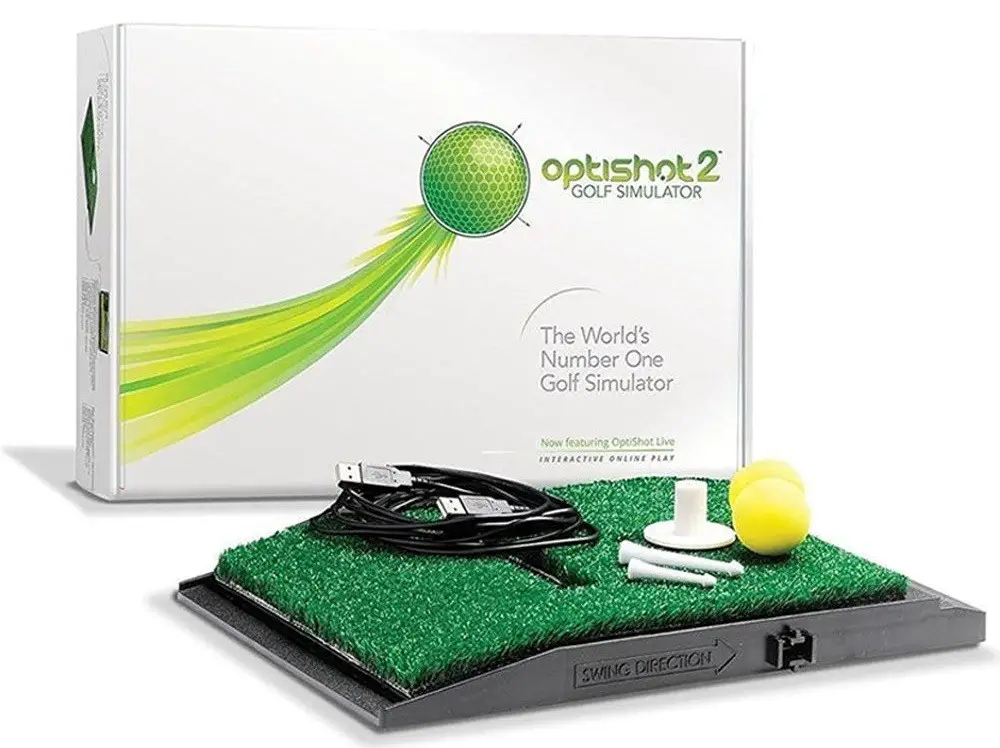 Buyers who want the best home golf simulator that is also affordable can consider the Optishot 2 Golf Simulator. It is a cheap simulator that costs just a few hundred bucks. The package includes one infrared optical swing pad, an adjustable rubber tee and a pair of foam practice balls. It is designed to be used along with a computer or a laptop. Users can download the software for the Optishot 2 Golf Simulator on their computers and can attach the swing pad with their computers via the included USB cable. They can connect a projector or an HDTV for experiencing the simulation on a large screen. It works with all types of golf clubs and supports up to four players at once.
Rapsodo R-Motion and The Golf Club Simulator and Swing Analyzer – Combo Package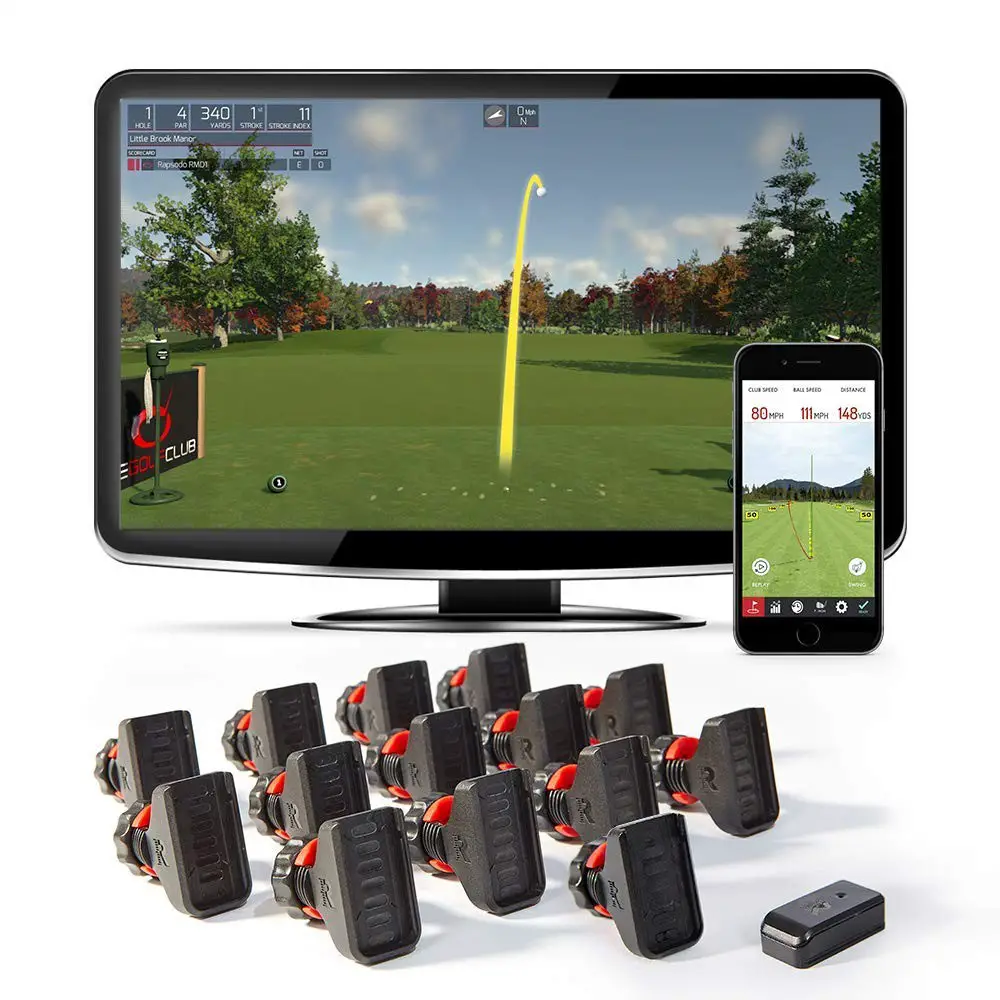 The Rapsodo R-Motion combo package is another affordable option among the best home golf simulators. It includes the R-Motion golf simulator that analyzes your shots and provides data that helps in improving your game. The package comes with fourteen club attachments for tracking your swing. The software for the simulator can be installed on a smartphone or a computer making it easy to use. There is a multiplayer mode as well which allows you to play with your friends.
Optishot 2 Golf In a Box Pro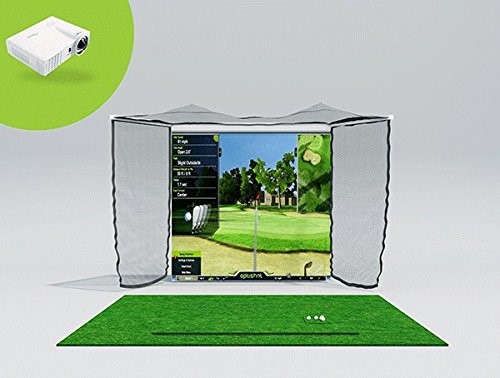 The Optishot 2 Golf In a Box Pro is a premium version of the Optishot 2 Golf Simulator bundle. It includes all accessories found in the cheaper Golf Simulator bundle as well as a few additional items. It comes with a large hitting mat that provides more area for playing. The package also includes a projector along with wall mounts for ensuring a large simulation display area. It is accompanied by a retractable screen enclosure as well that can be mounted on a wall. It is the best home golf simulator package for individuals who want to purchase a projector along with a simulator. The Optishot 2 Golf in a Box Pro bundle requires a Windows or Mac computer or laptop for installing the software.
Protee Ultimate Golf Simulator Package 100K Courses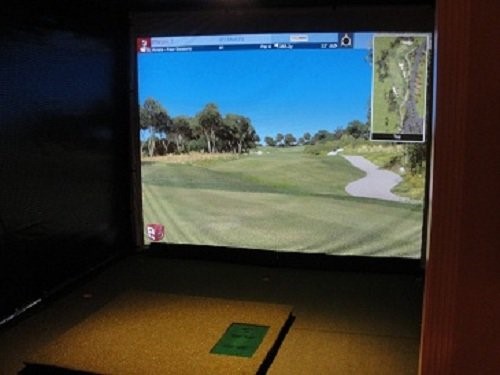 If you are looking for a premier choice when it comes to the best home golf simulator, then the Protee Ultimate Golf Simulator Package will be suitable for you. The simulator comes with highly accurate sensors and camera for tracking. A halogen light system, BenQ projector, computer and golf screen are provided as well. Its TGC software provides access to more than 100K courses while enabling you to play online. Four-sided nets and commercial-grade mat with raised-rubber base make practice easy.  It creates a great atmosphere for you to practice and improve your golf skills. All the components are mounted on an aluminum frame which is available in custom sizes.
TruGolf Golf Simulator Studio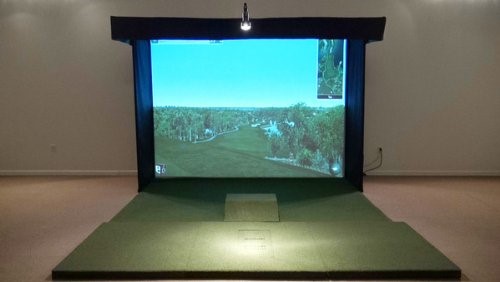 When it comes to the best home golf simulators, the TruGolf Simulator Studio is the ultimate choice for people who have the money to spend. It is a luxury product that enables you to practice golf in style. It features TruTrac technology that is able to track club and ball with exceptional accuracy. It is complemented by the E6 software and a 3D-ready HD ultra-short throw ratio projector. The components are mounted on an aluminum push-button frame. A computer is included in the package. TruGolf Simulator Studio is portable and can be shifted as required. It can be used for watching movies and TV shows and playing games as well. You can take it into your backyard for an outdoor movie night or parties.