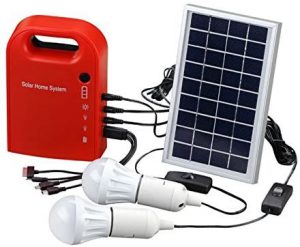 Image source: Amazon
Homeowners who switch to eco-friendly solutions prefer to work with solar panel kits for their ease of use. The best home solar kit comes with all the required accessories to install a fully functional solar panel system. These kits make it easy to assemble and power up your installations without having to buy additional hardware. If you are looking for DIY convenience, then a solar panel kit is the best option, especially for beginner users. Medium to heavy load kits are designed to support various household energy consumptions. You can also power up other off-grid applications like cabins, RVs, and boats. A typical kit may include either one panel with various accessories or multiple panels forming a combo kit. Depending on your residential context, you can find several available options to choose from.
The total power of such a system is a good measure of its application friendliness. Homeowners may choose to rely on solar panels as backup power sources. The system can be used to charge different gadgets and appliances for everyday use. A suitable solar panel kit should be weatherproofed for safe and durable rooftop mounting. Some solar panels are also equipped to deliver efficient results in low-light settings. You will find everything you need to have your solar-powered system up and running in no time, using the included devices like charge controllers, batteries, wiring, and the required mounting hardware.
Best home solar kits
20W Solar Power System 12V DC Input,10 Watts Solar Kit for Home 12V DC LED Lamp with 5V USB Multi Connect Mobile Phone Charger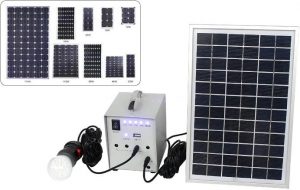 Specifications:
solar panel: polycrystalline, 17.6V, 20W
power box: 12V * 7AH (20W)
solar controller: 12V / 10A (20W)
LED bulbs: 3W * 2 pcs, 20 LED, 200 Lumen
battery: 3.7v 7Ah lithium
cable: optional 16.4-feet extension wire
charging: 12V DC
lighting: USB5V
Best features:
This solar kit can be used for various indoor and outdoor applications. You can light up the family room, use on-the-go charging while camping/traveling/hiking, or create an emergency backup system.
Once fully charged, the system delivers 8 to 12 hours of continuous electricity for both lights and 16 to 24 hours for a single light. In general, you can expect around 30 hours of continuous running time depending on your usage.
You can use the USB port for charging cell phones.
The easy installation accessories speed up your configurations.
The system needs to be charged for around 8 hours.
It is a simple way to go off-grid add invest in a solar-powered alternative. You can easily charge the system during the day and use the included LED lights at night.
The panel can be installed anywhere; you can mount it both on walls as well as floors.
Lion Energy Foldable Solar Power Kit, 100W Solar Panel | 400W Solar Inverter | AC & USB Outputs, Portable Power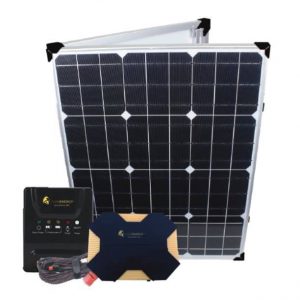 Specifications:
Lion solar panel: monocrystalline, foldable, 100W, 18V @ 5.56A
Savanna IV power inverter: 400W, 110VAC+/-5% / 60Hz, 2 AC and 4 USB
solar controller: Savanna CC charge controllers
extension cable: 25 feet
Best features:
The Lion home solar kit is a great way to start up your beginner solar-powered systems. You can charge your devices, tools, and lights. You can also use the kit for portable solar power as well as home storage power. This panel can be installed on gazebos, sheds, cabins, RVs, etc., so you have the perfect solution for all your outdoor adventures.
You just need to add a battery, and the panel will work with its charge controller to regulate the power and store solar energy in the battery. Connecting the inverter to this battery allows you to simply plug in and power up your devices.
The foldable solar panel improves portability and durability – as it is designed for a 20-year lifespan using anti-corrosive, double-walled aluminum. You can also link multiple solar panels together.
The 25-feet long extension cable helps you connect your panel to its charge controller over a long distance – so the controller can be kept in the shade while your panel stays under the sun.
ACOPOWER 400W 12V Poly Solar RV Kits, 40A MPPT Charge Controller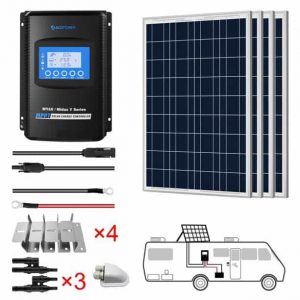 Specifications:
solar panel: polycrystalline, 100W, 4 pcs, 14.35% solar cell efficiency
charge controller: 40A MPPT, 99.5% peak efficiency
cables: 30ft. 12AWG PV cable MC4 male/female quick connectors, 8ft. 8AWG tray cable
warranty: 25-year power output warranty, 1-year warranty on everything else
installation tools: 4 sets of mounting Z bracket
Best features:
ACOPOWER solar kit facilitates power consumption for homes, cabins, RVs, boats, etc. It makes a resourceful backup for residential as well as remote power applications.
Each panel comes with pre-drilled holes, and the overall kit supports easy installation.
You can adjust settings on the charge controller. Its LCD readouts display voltage, panel status, battery status, etc. The controller is also compatible with different batteries like lead-acid, AGM, gel, and lithium.
You can wire the panels together in series or in parallel.
Renogy 4pcs 320 Watt Monocrystalline Solar Panel System Kit Off Grid for Shed Farm, Home, Residential, Commercial House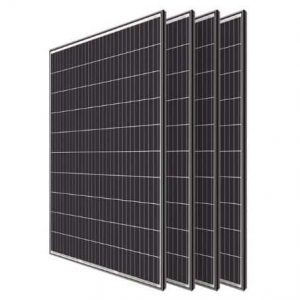 Specifications:
solar panel: monocrystalline, 320W 24V, 4 pcs
cables: 12AWG IP67 rated waterproof MC4 connectors
Dimensions: 65.6*39.5*1.4 inches
warranty: 25-year power output warranty, 10-year material/workmanship warranty, 1-year accessories/material warranty
Best features:
Renogy home solar kit is a great residential solution for transforming your energy-dependent home into a solar-powered one. The panels can withstand high winds up to 2400 Pa as well as snow loads up to 5400 Pa. They feature corrosion resistance, aluminum framing, and anti-reflective + impact-resistant + low iron-tempered glass, making a highly durable rooftop solution to manage your electricity bills.
The 4-piece kit can power up large off-grid systems. You can use these multi-panel arrays in cabins, garages, and sheds as well. Their PERC solar cells are designed for optimized efficiencies; they also make the panel structure smaller and lighter.
These panels are EL-tested. They combat hot spots within the panel to deliver reliable and consistent power outputs. You can also use them with both on-grid and off-grid inverters.
You can claim up to 27% of equipment and installation costs for tax credits.
Connect your home to the planet's power source
If you want to skip the hunt for compatible hardware and tools, then a solar panel kit is your best option. It will give you a good first-time experience to go green, as almost everything you need will be included. This allows you to avoid struggling with technical compatibilities in controllers or batteries to start up your system. Most kits are designed for travel convenience in addition to home-based features, so you can always switch back and forth when needed. Small applications like basic charging will need limited power, whereas heavy-duty applications require higher wattages.
Some solar panel brands offer top-notch customer support and installation guides to streamline your DIY projects – and a good support team is extremely helpful in future maintenance needs. The customer review section is often the best place to gather insights into the company's support system. Before you buy a home solar kit, make sure to confirm the kind of support you will receive to have your panels soak up maximum sunlight through the years.