Choosing the best off grid solar system is a hectic task as they are considered to be more complicated when compared to on grid solar systems. In this article we can see some of the best solar power systems. Before proceeding further let us start from the basics
Types Of Solar Power Systems
There are mainly three types of solar power systems: On-Grid Solar Power Systems, Off-Grid Solar Power Systems and Hybrid Solar Power System.
On Grid Solar Power System: They are the most common Solar Power Systems. Also known as Grid-Tie Solar Power Systems, these do not need batteries and use solar inverters or micro inverters. They are connected to the public electricity grid and any excess solar power generated is carried onto these grids. You get credits or Feed in Tariff for your export of excess solar power. However, they cannot function or generate electricity in case of blackout.
Off Grid Solar Power System: Off Grid Solar Power Systems, being not connected to the electricity grid requires battery storage. They are well suited in remote areas where access to grid is difficult and places with frequent power cuts. They should have enough battery capacity to meet your needs. They are more expensive when compared to on grid solar power systems. However, the market is showing a positive turn by the prices of the battery associated storage systems going down.
Hybrid Solar Power System: These are grid connected solar system with battery storage. So you can store the solar energy generated at the daytime and use it at night. In case the solar energy gets depleted, the grid can act as backup. The already existing on grid systems can also take advantage of battery storage.
How Solar Power Systems Work?
The basic working principle is same for all solar power systems. The solar panels convert the sunlight falling on them into DC power, making use of the photovoltaic effect. The DC power can be stored in a battery. Or else it can be converted into AC power by means of a solar inverter so as to run home appliances. The excess solar energy can either be fed into the electricity grid for receiving credits, or stored in battery storage systems.
Parts of an Off Grid Solar Power System
The main components of any Off Grid Solar Power Panel include:
Solar Panel
When sunlight falls on the solar panels, solar energy is converted into electrical energy by the photovoltaic effect. The electric energy feeds the batteries. There are mainly four types of solar panels. They are monocrystalline, polycrystalline, amorphous silicon and concentrator photovoltaic cell. The monocrystalline and concentrator photovoltaic cell solar panels are found to be better not only in efficiency, but also in longevity.
Renogy Flexible Monocrystalline Solar Panel 100W, 12V
The Renogy 100W Monocrystalline solar panel is ultra lightweight making the transportation and installation process extremely easy. The super thin lamination makes it ideal for stealthy solar setup. They are extremely flexible and with up to 248degree arc, they are great choice for off grid uses including uneven surfaces, boats, RV, etc. They are durable and waterproof and can withstand extreme wind of up to 2400 Pa and snow loads of up to 5400 Pa.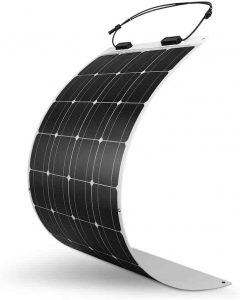 Renogy Flexible Monocrystalline Solar Panel 100W, 12V
Topsolar Flexible Monocrystalline Solar Panel 100W 24V/12V
The lightweight and easy to install solar panel is made from highly efficient monocrystalline solar cells. They adopt the unique back contact technology removing the electrodes on the cell surface blocking sunshine thereby increasing the conversion efficiency. The ETFE material used in the panel offers higher light transmittance and prolonged lifespan. The panel is also waterproof with high temperature resistance and good heat dissipation. They can charge 12 V batteries and when multiple panels are connected in series, they can be used to charge 24V/48V batteries. Being flexible, they can have a wide range of applications including uneven surfaces.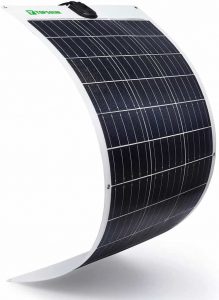 Topsolar Flexible Monocrystalline Solar Panel 100W 24V/12V
Charge Controller
They are critical and determine the efficiency and the operating life of the batteries. The charge controller is used to prevent battery bank overcharging. They determine the amount of current that should be injected into the batteries so as to achieve optimum performance. The two types of charge controllers are MPPT (Maximum Power Point Tracking) and PWM (Pulse Width Modulation). MPPT charge controllers can capture most amount of power from the solar array at any given point, while this is limited in the case of PWM charge controllers. MPPT charge controllers are more efficient, providing accurate control of the power sent to the batteries. So they are usually used in off grid solar power systems.
WZRLEB 40A MPPT Solar Charge Controller
WZRELB MPPT Solar Charge Controller with 12V/24V/48 Auto and 18V/36V Manual works with the innovative MPPT technology, providing solar tracking efficiency of about 97%. They are suitable for various AGM, flooded and Lithium batteries. They are capable of handling 170V input solar voltage allowing more panels to be connected in series so as to get the most power output from the solar panel to charge the battery. They have the LED display. There is built in intelligent protection. There is a reliable heat sink and Intelligent Cooling Fan.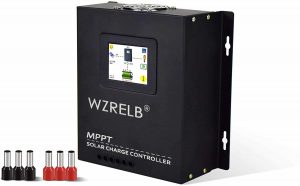 WZRLEB 40A MPPT Solar Charge Controller
PowMr MPPT 40A Solar Charge Controller
The 40 Amp MPPT solar charge controller comes with a WiFi module and communication cable set. They have DC 12 V / 24 V system auto identify with maximum input power up to 100 V 1040 W. They are suitable for both 12 V / 24 V lead acid and lithium batteries. They have a tracking efficiency of 99.5% with conversion efficiency over 98%. You can know the status of the controller even if you are away with the help of the WiFi module. The charge controller comes with excellent protection features. If needed, you could also use multiple controllers in parallel so as to achieve 80A or 120A system. The controller supports PC software (RS485) and mobile app. There is also the touch button design with easy to set parameters.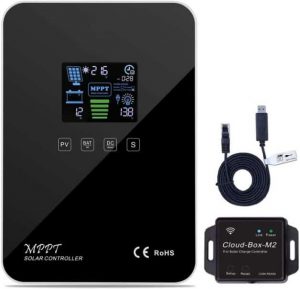 PowMr MPPT 40A Solar Charge Controller
KRXNY 60A MPPT Charge Controller
The 3rd generation of MPPT Solar Controller offers efficiency ≥99.5%. The charge controller is suitable for both lead acid batteries and lithium batteries and has a battery range of 9V-60V. The maximum PV input voltage is 150V with DC 12V (780W)/24V (1560W)/36V (2340)/48V (3120) system automatic recognition. With the 3 stage charge, you get extended battery life. There is the intelligent LCD. There is 2 years warranty. For connecting to PC/laptop, you need RS485 communication cable and for use via mobile app Wi-Fi module is needed which can be bought from the seller.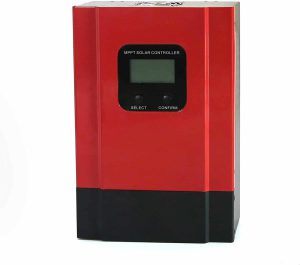 KRXNY 60A MPPT Charge Controller
Battery Bank
The excess energy produced during the day is stored in the battery banks. In case of periods with no sunlight, like cloudy days or at evenings and nights, they can provide the electricity to power the loads as and when required. The two main battery options are: Lead acid and Lithium ion battery.
There are two types of lead acid batteries: Flooded and AGM. Lead acid batteries are cheaper options. AGM lead acid batteries require no maintenance when compared to Flooded type. However, the lifespan of these batteries are not up to the mark. The Lithium batteries on the other hand are more lightweight and require less storage space. They are extremely safe and can be stored without the need for ventilation. They are also completely maintenance free. They do not require to be fully charged unlike the lead acid batteries. There is also a built in Battery Management System associated with the Lithium ion batteries, which constantly monitors the operating state of the battery, forcing battery shut down in case of over discharge or the battery becoming too hot or cold. They also allow expansion of an existing battery bank without troubling the lifespan of the existing battery bank.
Some of the best options of battery for storage are:
Windy Nation 12 Volt 100 Amp Hour Deep Cycle AGM Sealed Lead Off Grid Battery for Solar Systems
The Windy Nation Deep Cycle AGM Battery provides you best performance without any acid leakage and there is also no need for frequent maintenance. They offer excellent discharge performance. They have more shelf life when compared to the flooded counterparts. The 12V 100 Amp Hour power is perfect for off grid solar systems. They can be used independently or as part of a large battery bank.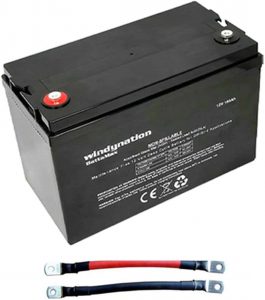 Windy Nation AGM Off Grid Battery
Ampere Time 12V 50Ah Lithium LiFePO4 Battery
Ampere Time LiFePO4 battery is made of automotive grade LiFePO4 cells, having higher energy density, offering more stable performance and comes with built-in BMS. They have a lifespan of about 10 years. There is also 5 year warranty. The 12V 50Ah Battery is suitable for solar home backup systems. The battery is extremely lightweight. The battery can be connected in parallel with a maximum capacity of 200Ah and in series for higher voltages of 24V, 36V and 48V.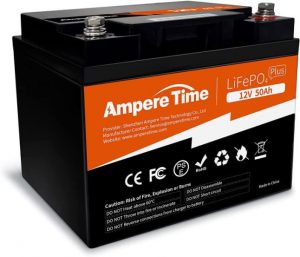 Ampere Time 12V 50Ah Lithium LiFePO4 Battery
Chins LiFePO4 Battery 12V 100AH Lithium Battery
The Chins LiFePO4 batteries provide a service life of 8 to 10 times when compared to standard lead-acid batteries. Also, the weight is 30% lighter than the lead-acid batteries of the same capacity. Without the intervention of memory effect the battery can be used as soon as it is charged whatever be its state. Having higher energy density, CHINS deep cycle lithium-ion battery can offer more stable performance with greater power. Capable of withstanding high temperatures, the batteries come with built in BMS so that they will not burn when overcharged, overdischarged, overcurrent or short circuit. The environmental friendly green battery can support fast charging and solar panel charging. The batteries can also be connected in parallels and series so ax to achieve larger capacity and voltage. The battery is a perfect choice for off grid home energy storage system.
Chins LiFePO4 Battery 12V 100AH Lithium Battery
Solar Inverter
The electricity generated by the solar panels id DC in nature. But the household loads require AC power for their operation.  Solar inverter is a DC-AC electronics device used to convert Direct Current to Alternating Current. However, in case of DC loads, DC power can be directly fed from the solar system.
They come in different sizes for smaller or larger loads, depending on the off grid loads you require. Note that the solar inverter used should match with the battery voltage of the system.
aeliussine 1000W Pure Sine Wave Inverter 12V DC to AC 110V
The pure sine wave inverter causes no damage to your devices. There is less audible and electric noise. They offer less power consumption with less wastage. The inverter also provides stable output. They also come with low voltage alarm and low voltage shut down facility.  Providing continuous 1000 Watt power (2000Watt peak power), they can be the perfect choice for powering 120V AC appliances with 12V battery bank. With dual intelligent cooling fans and vented design housing, you get overheat protection. They come with an LCD display.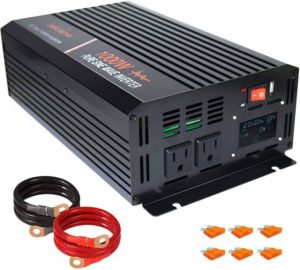 aeliussine Power Inverter 1000W Pure Sine Wave Inverter
WZRELB 1500W 24V DC to 120V AC Pure Sine Wave Solar Inverter
The inverter provides safe and reliable performance. The inverter offers high voltage input cut off and low voltage alarm protection. There is also overload protection and over current protection. The 24V DC to 120V AC pure sine wave inverter provides 1500 Watt continuous power with 3000 Watt peak power. They have LED displays. There is the built in cooling fan which works according to temperature.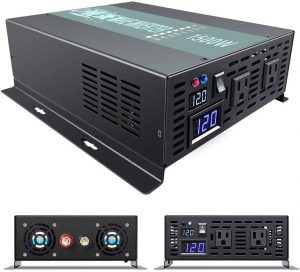 WZRELB 1500W 24V DC to 120V AC Pure Sine Wave Solar Inverter
Renogy 3000 Watt Pure Sine Wave Inverter 12V DC to 120V AC
The inverter provides 3000W continuous power, 6000W peak power 12V DC to 120V AC pure sine wave with conversion efficiency greater than 90%. There is overall protection with the LED indicators for under-voltage and over-voltage protection, over-temperature protection, over-load protection, and short circuit indication. There are also cooling fans and ground-fault circuit interrupter protection. The ETL certified inverter is quiet, easy to use inverter of reliable quality.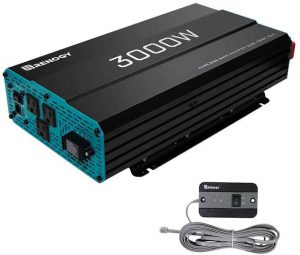 Renogy 3000 Watt Pure Sine Wave Inverters 12V DC to 120V AC