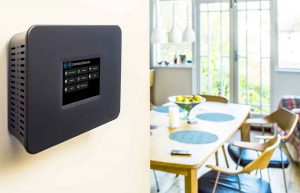 Image source: Ideaing
A smart router is the main portal to the world of automation, and every smart home requires a compatible router for its connected devices. The ideal router should have a strong service to provide adequate coverage for all your gadgets and appliances. Smart devices can be installed both indoors and outdoors, so you need a router signal that can easily reach your patio and garden. Some examples of these devices include smart TVs, smart lights, video doorbells, cameras, and even smart sprinklers. The best router for home automation delivers high-speed Internet to multiple devices. It makes sure that you receive the best service for your specific applications such as high-quality streaming. You can install a Wi-Fi-enabled router or a Zigbee router depending on your choice of smart home automation platform.
It helps to purchase an adaptable router that can accommodate your future needs for adding new devices and networks. There are various specifications you can look for and decide which one works best for you. The router should work on the 802.11ac wireless standard or higher versions. it needs at least dual-band radio frequencies (2.4 GHz and 5.0 GHz), and you can aim for higher options as well. Combined with a speed of at least 1200 Mbps, these bare minimum features ensure that your smart router provides a stable, unwavering connection. The latest router innovations include the Wi-Fi 6 (802.11ax) protocol and tri-band radio technologies for lightning-fast signals. They have set the bar for futuristic communication between smart devices.
Wi-Fi 6 technologies are also designed for multidevice convenience that was not possible in the previous versions. Another automation-friendly protocol is the 802.15.4 protocol that Zigbee smart homes rely on. For this reason, routers are getting upgraded to support the Zigbee language and offer targeted solutions for the relevant devices.
Features that make the router smart
A smart router acts as the brain of your home automation network. It is the main link to connect to the required smart grid and have your appliances up and running. You will often see the term MU-MIMO in smart router product descriptions. This technology stands for multi-user, multiple input, multiple output and is the key consideration for data management. A router that uses the MU-MIMO technology can provide high-speed connectivity to each device, so it is the best way to optimize the overall bandwidth. The incoming and outgoing traffic can receive undivided attention from the router; your gadgets no longer have to queue up for their turn. Smart routers also have integrated security protocols to keep all your automation traffic safe from interception.
A technology or product is considered to be truly smart if it enables multiple methods of interacting with the system – like using app, voice, in-panel, and remote controls. Most smart routers are compatible with voice assistants like Alexa and Google Assistant, and you can plan your integrations to match your existing gadgets. To power up this Internet of Things, you can find mesh Wi-Fi routers on various online catalogs. These are famous for their exceptional connectivity range in larger buildings. They can easily extend to the blind-spot areas where a standard Wi-Fi signal cannot reach, so the added coverage and speed help you bridge all kinds of connectivity gaps. To get some perspective, one mesh Wi-Fi router will be able to replace around 5 traditional Wi-Fi routers – and that speaks volumes about the kind of service you can look forward to.
Smart routers are also compatible with different operating systems and home automation networks. The right version will keep your gadgets wirelessly tethered to your smart home's brain, and here are some examples to guide your search.
Best routers for home automation
NETGEAR Nighthawk Smart Wi-Fi Router (R6900P) – AC1900 Wireless Speed (Up to 1900 Mbps), Up to 1800 Sq Ft Coverage & 30 Devices, 4 x 1G Ethernet and 1 x 3.0 USB Ports, Armor Security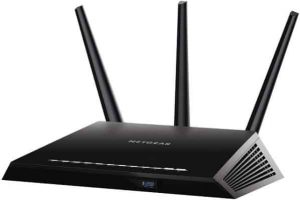 Bandwidth-hungry applications
NETGEAR Nighthawk smart router offers 1900Mbps for high-quality uses like HD streaming and gaming. It has an 1800-square-feet coverage that can add up to 30 devices. The router is easy to install using your Internet cable, and you can have your app and smart gadgets connected in no time. It includes four 1 Gbps high-speed Ethernet ports, and there is a 3.0 USB port for storage and printer applications. You can use these wired Ethernet ports to connect computers, streaming players, and game consoles. They enable support with browsers like Microsoft Internet Explorer 5.0, Google Chrome 11.0, Firefox 2.0, and Safari 1.4. Since Netgear router works with Microsoft Windows, Mac OS, Linux, and UNIX operating systems, you can connect a wide range of devices.
Using this dual-band router that works on the 802.11bgn protocol, you can benefit from competent data transfer rates. The dual-band means that your router can switch between each band to distribute the traffic and cut down interference. The unit includes a dual-core 1GHz processor and 3 amplified antennas. Other bandwidth-conscious advanced features include MU-MIMO support, range-boosting Beamforming+ technology, and Smart Connect. They help transmit strong and reliable Wi-Fi signals to every corner of your home. You will receive 128 MB flash memory and 256 MB RAM on the router.
Integrated security
Netgear Armor delivers cyber security goals that you can count on, as it proactively detects cyber threats within the vast digital neighborhood. This helps you install antivirus and anti-malware programs that cover every single device on the radar. The home automation router is powered by Bitdefender, which is the world's most trusted Internet security company. Security protocols like WPA2-PSK, DoS, and double firewalls are used to keep your smart data safe and private.
The guest Wi-Fi access allows a separate network that your guests can use, so this enhances the level of security you receive. There are smart parental controls that can be used on the Circle app to customize the online time and content preferences. You can enjoy the personal cloud storage and VPN services as well to remotely access your router from your smartphone. The fact that the Netgear router is compatible with Alexa and Google Assistant means that you receive even easier, hands-free access to your devices.
Potential setbacks
The Internet speeds can collapse to surprisingly low levels over time. The Ethernet ports need to deliver resilient data transfers so that you can enjoy the high-speed promise in the long run. Netgear router tends to reset your custom settings back to the factory default whenever the connection is lost, so you will have to create the Wi-Fi account all over again. Also, in order to fully access the advanced security and parental controls, you need to subscribe for long-term use, as these features are only available for a 30-day free trial. 
Google Nest Wifi –  AC2200 – Mesh WiFi System –  Wifi Router – 2200 Sq Ft Coverage – 1 pack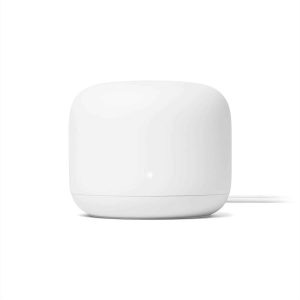 Mesh Wi-Fi
Google Nest Wi-Fi router is the best router for home automation because of the wide network coverage it provides.
Using mesh Wi-Fi technology, a single router can reach up to 2200 square feet. You can add additional routers to extend your wireless capabilities, which means that 2 routers would cover 4400 square feet and 3 would go up to 6600 square feet. The actual range can vary depending on your spatial layout, wall thickness, and device distribution.
It makes a helpful addition for all small and medium-sized spaces, easily connecting to your Nest Wi-Fi and Google Wi-Fi devices. This helps with high-speed streaming using a simple setup to get your network up and running. The router can automatically update itself for enhanced security systems, bringing you a stable Wi-Fi connection wherever you go. Operating on dual-band frequencies, the Google Nest router supports Bluetooth wireless connectivity. The dual-band versatility allows the router to optimize its Wi-Fi performance by diverting the traffic smartly to the right channel. It is compatible with Alexa for voice control convenience. The scalable and flexible mesh Wi-Fi system prevents buffering issues throughout your home.
You can plug in the router to your Internet modem and establish your home automation network. Up to 200 devices can be connected, and the router is strong enough to support multiple 4K streaming at once. This means that you can walk from one end of your home to another and stay seamlessly connected; the 2200 Mbps data transfer rate speaks for itself. A barrel jack power and dual Gigabit Ethernet ports are also included.
Automation security
Google Nest Wi-Fi router can be installed easily using the Google Home app. It supports a separate guest network access, and you can share passwords accordingly. This helps you prioritize the connected devices based on speed demands. The router allows you to set parental controls to manage and supervise the online time for kids – you can also block or pause Wi-Fi access on any device. The whole-home Wi-Fi router system features a sustainable enclosure design of 45% post-consumer recycled plastic.
Potential setbacks
Although it is designed to be compatible with Google Wi-Fi systems, the router Is not easy to set up and configure. This also affects your choice of compatible app for home automation. Makeshift installations with Google Wi-Fi smart homes can mean that you end up adjusting your devices so that they stay close to the router.
Having your smart gadgets "find" the router is not very smart when the router itself is expected to reach every device. If the connection is lost, you cannot update your Wi-Fi settings on the router, and this limits your troubleshooting options.
TP-Link WiFi 6 AX3000 Smart WiFi Router (Archer AX50) – 802.11ax Router, Gigabit Router, Dual Band, OFDMA, MU-MIMO, Parental Controls, Built-in HomeCare,Works with Alexa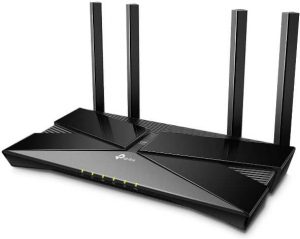 Next-gen automation
TP-Link Archer AX50 smart Wi-Fi router works with Wi-Fi 6 for truly exceptional next-generation connectivity. Performing three times faster and better can standard Wi-Fi routers, this router uses beamforming technologies and 4 antennas for the best coverage. You can connect 40+ devices for various applications like gaming and 8K/4K streaming. The router connects to 1 WAN and 4 LANs, and a 3.0 USB port is also included. TP-Link router is compatible with Alexa and operates on dual-band frequencies. It supports the 802.11n, 802.11ax, 802.11ac wireless protocols. You will receive 4 times the capacity of a traditional router as well as a 75% lower latency in data transmissions. Thanks to the Intel dual-core CPU, your home automation signals remain strong and buffer-free.
What makes this dual-band router a next-generation device is its ability to achieve impeccable speeds up to 3 Gbps (2402 Mbps on the 5 GHz band and 574 Mbps on the 2.4 GHz band). This enables lightning-fast communications using OFDMA technologies whether you are playing online games or video chatting. Since the router is backward compatible, it supports previous standards and devices on the 802.11 spectrum. You will need the TP-Link Tether app to easily configure your router for home automation.
Advanced security
The smart router has a longer battery life that uses Target Wake Time (TWT) technologies to minimize power consumption. In this way, your router stays selectively awake when needed and can rest during zero loads, making its battery last longer. The feature that makes it the best router for home automation is the customizable home security settings you can adjust.
This opens doors for all advanced security benefits like antivirus, parental controls, and QoS support. You can create individual user profiles for the required members and customize their online times and browsable, age-appropriate content. The router also lets you suspend the Wi-Fi access on specific devices for certain times of the day, which comes in handy for limiting the amount of time that kids spend on the Internet.
Potential setbacks
You do need a paid upgrade on the TP-Link Tether app in order to fully access all of the brand's HomeCare smart features. The router cannot be configured using the web application, so you are tied to the mobile app. Sadly, this also means that the antivirus facility and parental controls are only available to paid members. Design inefficiencies may cause the router to overheat, which affects its long-term performance.
ASRock X10 AC1300 2-in-1 IoT Wireless Router, Smart Home Automation, ZigBee & IR appliances Cross Control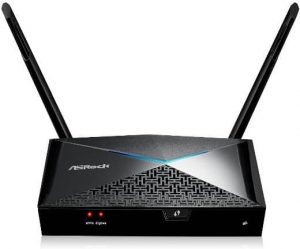 Universal IoT
ASRock X10 wireless router operates on 2.4GHz/5GHz radio frequencies and connects to Wi-Fi and Zigbee home automation systems – and even infrared devices.
You can use the same app to manage all your X10 routers, sensors, and Philips Hue devices via cross control. The app lets you customize conditions and scenes for your smart home. This router comes with cloud services including P2P with AES128 Encryption to help you upload or download files to the cloud and enhance your storage options. There is also a remote control for better user-friendliness. ASRock router focuses on a well-connected and streamlined smart home where devices communicate effortlessly.
This is achieved by advanced interoperability between devices from different platforms like Zigbee and Wi-Fi. The extended signal range ensures reliable signals for whole-home coverage, bolstered by the quad-core processor. The router is designed for network versatility to meet your specific requirements – no matter how taxing the applications are.
Potential setbacks
There can be conflicting frequencies that limit the way you actually use this router, compared to what the specifications say. It will help to confirm the operating frequency and supported systems with the store before buying the router.
The smart eye of the storm
The best router for home automation needs to deliver confident signals that can repeat themselves throughout your home. Checking the compatibility and advanced security options is important before you buy the router, as these features determine the type of devices you can add – and the level of security you can receive. A router that helps you future-proof your smart home is a better choice compared to the one that needs frequent upgrades or replacements. The number of ports on the router is also a good measure of its compatibility. Home automation requires both wired and wireless configurations, so it helps to install an inclusive router unit.
As discussed above, smart routers require you to pay for a subscription in order to unlock all the smart features. So, it is important to confirm this beforehand. With all the varied products making up your smart ecosystem, you need updated security standards for added protection. Smart routers often operate on dual bands to easily switch between the channels based on the current traffic. This helps them steer your smart devices to a channel that is more available to accommodate them.
All of this happens behind the scenes, so on the user interface level, you can enjoy lightning-fast interaction with your basement fans, kitchen appliances, attic heaters, and even the garden LEDs. A single router allows each device to join the automation frequencies in the air and bring you remote management in the blink of an eye – speaking of which, it is said that the eye of the storm is the calmest place, and we find that to be a good trait for a device around which everything revolves in your smart home.