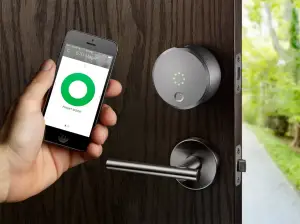 The ever-growing Airbnb community of hosts and travelers is full of diverse opportunities for people who are willing to share their space with anyone looking for a place to stay. The lodging platform connects audiences around the world, allowing people to choose from various homestay options to suit their vacation, work, education, and tourism plans. There are breathtaking destinations to soothe your wanderlust pursuits if you are a traveler – and different scopes to rent out your humble abode for extra income if you are a host. By listing self-check-in homes with the best smart lock for Airbnb, full home rentals, and permission for pets, Airbnb has become a global favorite choice for bed and breakfast services. Keeping pace with COVID transitions, the platform ensures proper sanitization protocols and mandatory masks, and this is reflected in the listed home's ratings as well. Contactless check-ins have never been more achievable!
The best smart lock for Airbnb is a valuable bonus if you intend to rent out your property. They are a simple and secure way to manage access to your home minus the hassle of lost keys and check-in concerns. The best smart lock for Airbnb homes ensures self-management and numerous benefits for both the hosts and the guests. This eliminates problems with forgotten codes and situations where the guests fail to return the keys back – which adds to security issues for the host. Smart locks can be managed from anywhere and allow for remote updates to passcodes to simplify check-ins.
Benefits of Installing the Best Smart Lock for Airbnb Hosts
Keyless Entries
Hosts need to be confident about hassle-free access to their homes as this affects their ratings on the site. Calling a locksmith every now and then is not always reasonable – you do have to consider the possibility of your guests being locked out of your home if they lose their keys. On top of that, you might end up paying the locksmith fees to prioritize your guests' comfort – and your ratings. Smart locks take away this burden and create convenience through keyless entries. They support rental automation and better security that you can count on. There is no chance for key replicas made at hardware stores, so you have one less thing to worry about.
Remote Home Control
By installing smart locks in your Airbnb listing, you can always monitor the access to your home. This includes changing passcodes for new guests, deactivating the passcode once they leave, and setting up a passcode cache for different guests keying in at different times. Code variations can be configured for added security, and in case of any suspicious activity, you can always deactivate your smart lock from wherever you are. In this way, you always stay in charge of what goes around.
Sought-Out by More Guests
Guests prefer the ease and security provided by an Airbnb that uses smart lock systems. This gives your listings better exposure to interested guests. Short-term rentals become more manageable when you do not need to worry about changing the locks and keys every time a guest moves out – for fear of anyone breaking in. Guests seek the same level of personal security while they are checked in, and smart locks bridge those gaps in confidence easily. This also increases your opportunities to come across different audiences like culinary artists, musicians, tourists, inventors, etc. Cultural exploration and diversity offer something to give and something to take when you are a curious learner.
Integrated Management
The Airbnb booking system and messaging platform automate the whole process of adding codes and notifying the guests, so you do not have to this manually. You can update the access to your listing anytime, for example, by revoking access to the already assigned passcodes. The system will alert you when the guests use the codes to indicate that they have successfully entered your property. This also means that you do not need to be present for meeting the guests when they first check-in, which allows for better contact-free and self-check-in options during the pandemic. Airbnb is already a virtual platform, and smart locks enhance its convenience for self-check-in options. They can be unlocked through smartphone apps and keypads. Virtual hosting becomes better supported through automated guest codes that the system generates. This enables a seamless transition right from when the guest books online to when they turn up at your door.
Benefits of Installing The best Smart Lock for Airbnb Guests
Unique Access Code
Having to live in a home where previous guests used the same physical key can be quite discouraging, especially if you plan an extended stay. Guests are generally – and rightfully – uncomfortable when it comes to a common access medium shared by so many others. Smart locks add an element of unique and reliable security, giving each guest their own unique access code for a comfortable homestay.
Contact-Free Check-In
Airbnb during COVID restrictions is all about as minimum contact and interaction as possible – and it is a great time for introverts to officially have no one allowed to invade their bubble. By using your own access code for the smart lock, you can enter and leave whenever you want without worrying about lost keys. This also avoids the need to call the homeowners to fetch you a new pair of keys. In case of any problems during check-in, you just need to notify them online and receive a verified update for your check-in code.
Seamless Experiences
An Airbnb that uses a smart lock facility helps the guests enjoy their stay, work, travel, study, or learn more about the destination without keeping track of keys. Guests aim for the seamless appeal of nomadic traveling where they can simply pack and move – closing the door behind them to the old chapter in search of a new one. Smart locks make an attractive plus to an Airbnb that is outfitted with various amenities for recreation, sports, and other leisure pursuits. At the end of this guaranteed 5-star experience, the guests can check-out online and confirm that they are leaving, and there is no trouble of returning keys back to the homeowners.
What is the Best Smart Lock for Airbnb?
Yale Assure Lock SL, Wi-Fi Smart Lock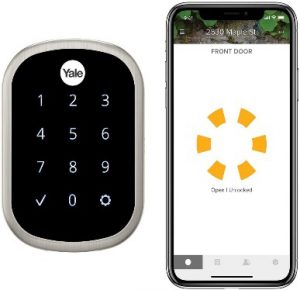 Yale Assure smart lock allows you to control and monitor your Airbnb door regardless of your current location. It is a slim, key-free touchscreen substitute for your existing deadbolt, taking away the hassle of managing physical keys. The Yale Access app helps you keep track of each entry and exit, and you can lock and unlock the door remotely. Once your guests are in the immediate vicinity, the Airbnb door will open automatically – auto-unlock – by sensing their smartphone. They can also use the backlit keypad to enter the access code. Once the door is closed, it will auto-lock as well. On the downside, this could potentially be dangerous if the guest's smartphone gets stolen – making the system vulnerable to loopholes. To rule out this possibility, you can choose the biometric verification on the app so that all guests lock and unlock the door with added security. The smart lock is compatible with Alexa, Google Assistant, and Siri. By using voice commands such as "open" and "close", your guests will enjoy the benefits and comforts of an automated Airbnb. The lock can also be integrated with home automation systems like Philips Hue, Samsung SmartThings, and HomeKit. This greatly streamlines your role as an Airbnb host as you share access, assign unique passcodes, organize scheduled/temporary/permanent access, and revoke the old accesses.
Yale Assure Lock SL Features
The lock comes along with its Connect Wi-Fi Bridge and eliminates the need for extra hubs. It can be installed on most doors in simple DIY steps and is also Bluetooth-enabled. Using a bank-grade encryption protocol, the system enables a lost phone feature to avoid issues with locked-out guests. If you have the August app installed, you will be able to use your smartphone, Apple watch, and tablet to control the status and receive real-time updates. As a host, your Airbnb account can be configured with the August app to support smart hosting while you work with smart locks. One example is the auto-generated codes that are sent to your renters; these are designed for auto-expiry once the guests check-out. This highlights the perfect way your app and account get linked to create temporary "volatile" codes that become invalid and disappear once the duration of each stay is over – without you worrying about lockboxes and keys.
ULTRALOQ UL3 BT 2nd Gen Smart Lock + WiFi Bridge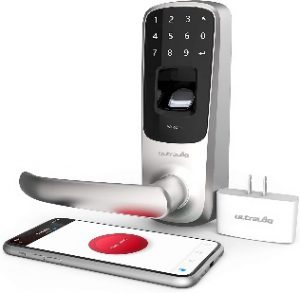 ULTRALOQ smart lock is a keyless solution for securing access to your Airbnb home. It is equipped with a Bluetooth-enabled fingerprint recognition system driven by a self-learning fingerprint algorithm, adding a highly reliable element of security to prevent unauthorized access. The intuitive backlit keypad allows guests to enter a random sequence of numbers with the access code embedded in between. This is a clever, anti-peep way to make sure that potential onlookers cannot easily pick out the correct combination, as the actual code is sandwiched between random numbers. Bluetooth connectivity pairs up the lock with smartphones to allow remote controlling the locks on your screen; the included ULTRALOQ bridge introduces even more options to manage your Airbnb doors. Keyless entry is possible through the Apple watch too – making the whole experience as diversified, accessible, and smart as possible. As a host, you can share temporary e-keys with your guests by setting schedules for access. This also helps you follow the log record to check who has entered or left your home. Smart home integration between the lock and other gadgets is achieved through IFTTT.
ULTRALOQ UL3 BT Features
Thanks to the auto-lock feature, there is no risk of doors left open or unlocked. The app centralizes all your hosting controls for managing users through passage and lockout modes. The passage mode keeps the smart lock activated for free access to the guests, whereas the lockout mode deactivates the system for fingerprint recognition and keypad. In this case, only a mechanical key can unlock the door – and since you would be its sole owner, the danger of breaking and entering is effectively minimized. The durable and weatherproof lock can be installed easily in DIY steps using a screwdriver. It follows two-layer protection via the secure 128-bit AES encryption method. The smart lock works with your favorite voice assistants as well, providing an overall versatile access medium through fingerprint recognition, unique codes, voice control, smartphone control, auto-locking, phone knock, phone shake, and a backup mechanical key. The phone knock works on iOS devices where the guests can knock on their phone 4 times to unlock the door – creating a smart knock while we still can! As for Android guests, they can shake their phones to unlock the door. While such innovative solutions tend to backfire if the phones end up in the wrong hands, these problems can still be averted with biometric controls on each access.
Riotlocks Model 2021 Smart Door Lock, Electronic Door Lock with Touch Screen Keypad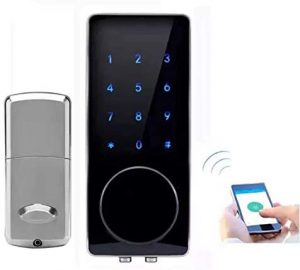 This Riotlocks smart door lock by LA Saver is designed to work with passcodes, smartphone app, and backup mechanical keys, and it supports entering anti-peep passcodes by choosing random numbers before and after the correct sequence. The app helps you keep an eye on the unlock record to check who has used the smart lock at each access. It has a slim and sleek design that integrates well into your automated Airbnb environment, making a smart touchscreen deadbolt for authorized access. You can control the lock remotely, manage all the codes, and stay notified of all the current statuses. By enabling the auto-lock feature to activate within a stated number of seconds, you can be reassured that none of your guests will leave the door unlocked. The lock has an extended battery life that allows 5500 door openings. Even if the guests enter an incorrect code, the app will record all entries in real-time. Guests could opt for scheduled, permanent, temporary, or cyclic modes, and the required passcodes or e-keys will be automatically generated and sent to the respective Airbnb home renters.
Model 2021 Smart Lock Features
The smart lock is compatible with most smart home networks that extend into rental properties for contexts like Airbnb homestays. The durable structure is weather-and-tamper-resistant, keeping the motorized deadbolt functional and safe to use. In case of emergencies from dead batteries, the 9V battery terminal takes over to make sure that your guests do not remain locked out. Featuring a DIY-friendly installation and a backlit touchscreen, the smart lock effortlessly replaces your existing deadbolt to elevate your Airbnb living standards in terms of better security, happy guests, and higher ratings!
Feastoria Smart Lock Keyless Entry Touchscreen Deadbolt Lock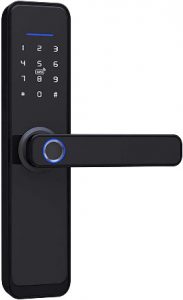 Feastoria Airbnb smart lock has a quite futuristic edge in its simple, unassuming, and elegant design. It includes a touchscreen keypad, a card reading area, a fingerprint reader on the handle, a voice speaker, a micro-USB port, and a keyhole as well – all of which are neatly incorporated into the structure. This offers added flexibility in the different ways you can authorize access for your guests, as they can use fingerprint recognition, IC cards, keypad codes, mechanical keys, and the Feastoria app. The built-in router eliminates the need for external gateways, bridges, or hubs – and this facilitates a Wi-Fi-enabled connection for remote controlling the door and accessing unlock records. If the batteries run at a low voltage, the smart lock signals an alarm every time it gets unlocked, which makes a smart indicator to replace or recharge the batteries.
The setup can be adjusted to suit any door type and – for lack of a better idiom – opens doors to short-term rental earnings as a trusted host on the platform. Keyless entry with this smart lock is even more DIY-friendly because the reversible handle can be installed on both left-hand and right-hand doors. With strong encryption working behind the scenes, the single-bolt smart lock achieves greater security to allow restricted access to your Airbnb unit.
Advantages of Using the Best Smart Lock for Airbnb
Airbnb hosting is already such a dynamic pursuit for meeting new people and having a mix of cultures, art, languages, talents, ambitions, discoveries, and lifestyles be a part of your home. Anything that makes potential renters want to book your listed space is truly worth the extra mile, and smart locks are one example. Airbnb tenants prefer their nomadic freedom of packing up and leaving without trivial concerns like lost keys holding them back. By installing a smart lock integration system, you do not just increase your chances for more reservations, but you also enjoy the peace of mind that this whole automation brings.
The added security from smart locks directly impacts your virtual hosting ratings on the platform, as most of the positive feedback stands out in terms of a secured environment. If more guests opt for short-term rentals, then chances are that they seek smart Airbnb homes in which they can be confident that no other tenant has access to their passcode. With a smart lock network guarding your doors, you can take your Airbnb success to the next level by investing your time in new discoveries while a stable flow of income pours in to keep you anchored, confident, and self-supported.