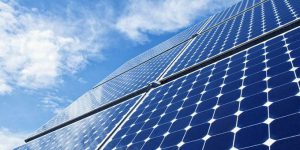 Image source: Eco Solar USA
Homeowners and businesspeople who plan to go green will usually collaborate with solar companies that have the relevant portfolio for residential/commercial installations. The best solar energy companies specialize in both hardware and software technologies that collectively help you erase your carbon footprint as much as possible. To decide which company you should choose, you can compare various features of different companies and narrow down your list. You can look at the range of services they offer – from professional installation to future maintenance and warranties. Some companies provide a variety of solar products apart from solar panels, including mounting hardware, inverters, and batteries. App solutions are also a good measure of the company's research and development expertise, as this allows you to connect the entire system at your fingertips.
Customer reviews always make a valuable insight into the company's credibility, customer support, maintenance features, and professional installation – so make sure to browse the comments and ratings. Solar energy companies that offer different financing options to suit your convenience should lead your list of potential companies. This is because you can choose from options like equipment leasing or financing to start your project based on what works for you.
Power purchase agreements (PPAs) are financial agreements that you can also sign up for. These agreements allow a third-party developer to handle all the designs, permits, finances, and installations of your solar panel system – so you can simply purchase the output power. Solar energy companies may specialize in single or multiple applications such as panel manufacturing, retail services, distribution, installation, and financing consultations. Depending on the size and complexity of your project, you can choose a company that provides one or more of these core services – with enough experience to back up their portfolios.
Best solar energy companies – services that make them the best
Palmetto
A trusted brand
Palmetto is considered to be one of the best solar energy companies because of its focus on creating a clean energy future. The company believes renewable energy resources to be a consumer right and not a privilege. It provides solar energy technologies in multiple states, and all of these solutions aim to reduce climate change impacts. As an example, the latest track record shows that Palmetto homeowners have avoided at least 1 million metric tons of carbon dioxide from escaping into the environment. Palmetto has also been accredited by the Better Business Bureau (BBB) with an A+ Rating, and this allows consumers to trust Palmetto as their brand of choice. With more than 11 years of solar energy solutions, the company eliminates guesswork and risk from your green objectives using industry-leading strategies.
End-to-end solutions
Palmetto's competitive portfolio features the best solar pricing options to make solar energy an accessible choice for everyone. Its teams collaborate with local solar specialists, inspection teams, and maintenance experts to bring you compatible configurations and advice. Palmetto guarantees quality workmanship for all installation and maintenance aspects, even if your original systems were not installed by the brand. The solar teams will cover the survey and design stages based on your local requirements. They are also responsible for taking care of all the state and municipal obligations, including the required permitting stages. This removes a lot of paperwork burden from your side, so you can only focus on maximizing your energy savings.
With successful design and permit approval, the company will install your panels, schedule inspections, and provide ongoing maintenance programs. Other services from the company include panel removal and reinstallation, panel cleaning, pest abatement, roof leak investigation, inverter/battery issues, troubleshooting, and smart home installation – creating a truly comprehensive end-to-end portfolio.
Palmetto Protect and Palmetto App
You can subscribe to the optional Palmetto Protect program and receive long-term coverage for your investment – in addition to the 25-year product warranty. With real-time solar monitoring, you will receive dedicated customer support under your chosen coverage plan. The panels are equipped with all-weather technologies to be able to withstand extreme weather conditions like heavy winds and snow. The Palmetto App is another energy incentive to look forward to. It helps you track your savings, system performances, maintenance schedules, etc. from an intuitive dashboard.
Solar battery support
The company also has solar battery options for backup energy storage. By using a smart home battery, you can conveniently store any excess solar energy for nighttime use or emergencies. It is also quite useful in the event of a power outage, as you will always have a backup power system to take over immediately. This is an effective way to maximize your savings by preventing downtimes. You can also use the convenient "Estimate My Savings" feature on the website to forecast your saving range with Palmetto solutions.
Sunrun
Leading residential solar expert
Sunrun has installation crews with more than 20 years of experience in multiple states. This solar energy company is inspired by its "Run by the Sun" initiative. You can use the unique Product Selector tool to determine which financing option will be more feasible for you. The tool helps you decide if you should lease, finance, or purchase a system. By creating a solar profile, you can use clickable answers on the tool to select roof types or energy details – so the tool is easily customizable to qualify your building for the right technology.
Sunrun rooftop panels are known for their quality workmanship and professional installations. These made-to-fit solar panels are backed by exceptional services and Sunrun warranties to bring you peace of mind as a homeowner. 
Site modeling
Sunrun has a proprietary automated site modeling tool to give you personalized designs and advice. The design teams can create custom models using your roof's dimensions, layout, shading, roofing obstacles, sun exposure, etc. This results in accurate panel designs that are tailored to your specific energy profiles and roofing challenges. It is a great way to optimize your energy requirements and manage electricity bills. You can opt for full insurance coverage, schedule daily proactive monitoring, receive free maintenance, and simply benefit from Sunrun's worry-free warranties down the road.
Brightbox battery
Another reason why Sunrun ranks as one of the best solar energy companies is that it offers a rechargeable battery system – the Brightbox home battery. This allows you to combine the solar panels with a smart battery solution to create a more efficient solar-powered system. The battery makes a reliable backup power source during blackouts and other emergencies. You can either lease the battery or purchase it from the brand. Sunrun partners with the best lithium-ion battery companies, which makes the Brightbox battery a top-quality product for backup power. Moreover, this solar storage solution enables an uninterrupted, whole-home backup system using Tesla Powerwall – which is Tesla's smart home battery. Combine Brightbox and Powerwall – and you have the best of both worlds!
Homebuilder-friendly
Sunrun welcomes all homebuilders to successfully install solar panels and battery storage for their clients. The company offers competitive financing options that homebuilders can discuss with home buyers. It is an efficient way to simply focus on building homes while the company takes care of the solar paperwork and finance profiles. As a homebuilder, you can receive both in-person and online professional advice on relevant financing options for a given project. This includes understanding standard cash/premium cash solutions, maintenance plans, and third-party Power Purchase Agreements (PPAs).
SunPower
Online collaborations
SunPower has a remarkable 35-year solar experience in the industry, operating in different states. The company's portfolio includes various residential and commercial projects for solar upgrades. It has been awarded more than 1,000 patents for solar breakthroughs – allowing it to be ranked as the industry leader in solar energy. SunPower focuses on accessible discussions and solution-finding, which is why you can begin to go solar just from the comfort of your home. The intuitive SunPower Design Studio can help you customize and create your own system online. The is very useful in getting the first look-and-feel of SunPower solar panels on your roof. You can find out how much you will save on electricity based on the information you provide on the Online Estimate form. SunPower also schedules virtual consultations as free online appointments with its top solar experts, which saves a lot of research time on your part.
Residential-commercial solutions
Excelling in panel + battery + app technologies, SunPower delivers a complete solar, storage, and software system to power up your green lifestyle. You can use the mySunPower app to track your home's solar efficiency, storage status, and electricity usage. The brand's unique SunPower Equinox® system with SunVault™ Storage is your ideal solar panel and storage combination system. SunPower solar panels are made of high-efficiency SunPower® Maxeon® cell technology, mounted on the seamless InvisiMount® frame. The built-in microinverters avoid the need to install external inverters. SunVault™ Storage battery is a great choice to become more energy independent using a seamless backup power. The website has a graphics-clickable tool to help you quickly work out the battery's runtime. Commercial audiences can use the SunPower® Helix® technology for similar combination features to run a commercial property.
Homebuilder support
At SunPower, there is always something for anyone who wants to go green – or who helps others go green. Homebuilders can leverage the company's end-to-end services to speed up their work. Some of these services include pre-design, design, permit, code compliance, installation, engineering, consulting, marketing, and billing stages.
Which company should you choose?
The three best solar energy companies were discussed above, along with the major services that make them stand out. These services are good guidelines for what you should look for during your hunt. A solar energy system is going to be a long-term investment that should pay for itself – and not slow you down with issues like repairs or missing hardware. Your potential company should simplify your financing perspective and take the necessary permits under its wing – this lets you focus on the actual solutions to go green by going solar.