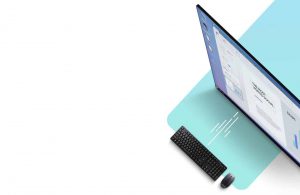 Image source: Samsung
Samsung smart TVs are always evolving to redefine the world of smart entertainment. Just when you think you have seen it all, a new generation of smart TVs storms the market, and your next bucket-list item becomes pretty obvious! These smart TVs take high-definition streaming, gaming, and home theater goals to a whole new level. Samsung is a smart household name because of the dynamic content its TV screens can be used for. Apart from home entertainment, these smart TVs help people work and learn from home on a conveniently large viewing area. They are designed to support various integrations and enable smooth functionalities regardless of your intended use. You can connect them with voice assistant devices, add multi-viewing options, navigate seamlessly between each screen, and enjoy a truly customizable smart TV experience.
These innovations are constantly on the mend to bring you exactly what you want in the blink of an eye. For example, you might want to collaborate with teams, share documents and projects, or do research for homework. It would be nice to use your smart TV as a life-sized computer on which you can type and scroll, and a wireless keyboard achieves just that. The best wireless keyboard for Samsung smart TV systems will help you interact with the TV from the comfort of your couch. These keyboards are popular for their wireless design because they keep your workspace as mobile and flexible as you need.
This means that you can control the smart TV from a large distance, so you are free to move around and stay connected to the task at hand. Such innovations create an immersive environment where you can simply take things to the big screen. It helps you be more organized and leave no room for procrastination. The other benefit of using a wireless keyboard is that it has the same QWERTY style key arrangement that you are familiar with. You can type messages quickly and easily or browse the Web; most wireless keyboards are also compatible with smartphones and tablets – so you can always find a one-for-all wireless keyboard to connect your Samsung gadgets.
The keyboards include other functions too such as TV remote control keys, volume controls, and shortcut buttons. There is often a built-in touchpad that can easily replace a mouse and reduce the number of devices you have on your table. Wireless keyboards work on Bluetooth, infrared, or radio waves, and we have explored some of the top designs in this article.
Best wireless keyboards for Samsung smart TVs
The following wireless keyboards are compatible with Samsung smart TVs. Here is a bunch of features that makes each keyboard the best choice for your smart home.
Logitech K600 TV – TV Keyboard with Integrated Touchpad and D-Pad Compatible with Smart TV – Graphite Black

Integrated navigation
Logitech K600 wireless keyboard is compatible with multiple devices including select smart TVs, laptops, PCs, and smartphones. Operating systems such as Windows, Mac, Android, and iOS are supported.
The keyboard features a D-pad for directional control to help you navigate app interfaces, on-screen menus, and grid layouts. There is also a built-in precision touchpad to point the cursor and scroll easily.
This enables a more laptop-like cursor control for all your devices. The media-friendly shortcuts offer a smarter home entertainment experience, and this wireless keyboard has everything you would need on the same interface. You can play and pause videos, adjust the volume and brightness, and even use the home/back/search shortcuts. The switch-app buttons provide quick navigations between your smart TV, laptop, or smartphone, so you can just use a click to open the required screen. These convenient shortcuts help you search for your favorite TV shows, chat with your friends, and compose an email – everything on the respective devices, all at once on Samsung smart TV! There are 84 keys in total and include the basic keyboard as well as multimedia functions. When connected to your Samsung smart TV, the keyboard delivers just the right versatility to meet your applications.
Technical prowess
Logitech wireless keyboard requires 1 CR123A battery, which is included in the pack. It can last for up to 12 months based on 2 hours of typing in a day – so the battery life can vary depending on your individual usage. The keyboard measures 14.46 x 0.78 x 4.62 inches in size and makes the best version for Samsung SUHD/UHD (Tizen  – 2016+) smart TVs. It is optimized to work with the latest smart TV models, including LG 4K and Samsung 4K. You will receive a comfortable wireless range of 15 meters (49 feet) to control your smart TV, which means that you can use the keyboard in large living rooms. It is designed to prevent drop-offs in the signal, and you should be able to use up to three devices with no problems. Logitech wireless keyboard has Bluetooth low-energy signals to achieve this level of effortless navigation. All you need to do is connect the unifying receiver to your smart TV, and you are good to go!
All-in-one comfort
To get the best out of your Samsung smart TV, you require a versatile keyboard with which you can type, navigate, select, and adjust from a distance. Logitech K600 wireless keyboard allows you to sit back and type away with ease using a familiar keyboard layout. This enables a more fluid typing and navigation experience on the smart TV.
When multiple screens or programs are open, smart shortcuts enable instant access to every single one of them. It is one of the best wireless keyboards that you can move from your home office table to your home classroom desk to the living room coffee table – so work and entertainment move with you.
Wireless Keyboard, Arteck 2.4G Wireless Touch TV Keyboard with Easy Media Control and Built-In Touchpad Mouse Solid Stainless Ultra Compact Full Size Keyboard for TV-Connected Computer, Smart TV, HTPC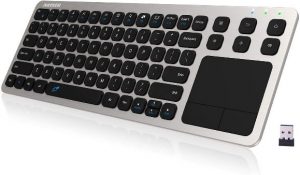 TV-connected computer
Arteck wireless keyboard is designed for TV-connected computer systems. You can use the function key shortcuts for quick navigation, and there is also a built-in touchpad. This wireless keyboard is compatible with laptops, smart TVs, PCs, as well as gaming consoles. The touchpad and media hotkeys simplify your smart TV applications. The package includes an Arteck HW197 wireless keyboard, a nano USB receiver, two AAA batteries, and a welcome guide. The product has a 24-month warranty, and you can enlist the help of Arteck customer support anytime.
Tech-savviness
This wireless keyboard has a simple plug-and-play function using the included nano USB receiver. There is no need to install a driver to set up the keyboard connection. Once the receiver is clicked in place, you can operate your keyboard from 10 meters (33 feet) away. The range can differ based on your spatial layout, but the keyboard generally has a stable connection in large rooms. Its batteries can last for up to 6 months without replacement, assuming that you use the keyboard for 2 hours every day. The keyboard measures 14.65 x 5.04 x 0.67 inches in size. It is compatible with various operating systems including Windows 7, 8, 10, and Chrome OS. This makes it suitable for all kinds of TV-connected computers, smart TVs, home theater systems, Raspberry Pi3, and Xbox PS3.
When connected to your Samsung 4K Ultra HD Smart TV, the keyboard brings all your streaming, gaming, office, and remote learning content on the same screen.
Typing ergonomics
Arteck wireless keyboard can be used on your table as well as from the couch, which means you have more freedom to work the way you like. The integrated touchpad eliminates the need to connect a mouse, and you can use the keyboard shortcuts for quick-access functions.
The keyboard is designed for quiet typing using low-profile keys that are comfortable to the touch. This allows you to type and navigate more fluidly without catching a strain. It makes the best wireless keyboard for prolonged applications that involve continuous typing. Also, the large wireless range helps you choose a comfortable distance and not be confined to your workstation.
Logitech K400 Plus Wireless Touch TV Keyboard with Easy Media Control and Built-In Touchpad