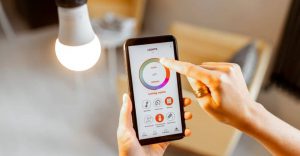 Since the time people have been able to control lights, we have used them for inspiration and decoration. This is true for our homes, particularly when it is about accent lighting. Whether you are hosting an informal barbecue or a fancy dinner, the choice of lights is getting better and better only.
LED lights are no exception to this. They have grown exponentially smarter over recent years. They have enabled you to replace your traditional incandescent bulbs with an impressively bright and color-varying solution that can take care of all the illumination needs of your home. Therefore, they are a must-have in your house.
The best wireless LED lights feature a long battery life, get connected to an app or remote control, and are easy to install. But with a great range of options flooding the market, which can be the correct one for you? Below we have rounded up the best wireless LED lights that will help you beautify your home for the better.
Factors to Consider When Buying Wireless LED Lights
Since the options are so immense in LED lights, you can get as much crazy as you like to. But that is not always a nice thing! The motive should be to create an easy and functional ecosystem that gets only adaptable and manageable with time.
There're many aspects that need to be considered when buying a wireless LED light, from size and color to brightness and intended use. While all such factors are important, some essentials should be your utmost priority before you put your hands on a particular one. Let us take a look at them:
Right Color — You have to pick the right color for your LED light that will match your space. From cool white, warm white to RGB color changing, the options are many.
Long Life – Use battery-operated or rechargeable lights that have a run time of 50 to100 hours.
Controller Style – Wireless LED lights often coexist with an app on your smartphone or remote control. You can select the one according to your needs.
Right Size – Before buying an LED light, it is essential to get the right quantity and style in order to illuminate your space properly.
Now, let's discuss some of the top rated and best wireless LED lights available.
Brilliant Evolution LED Puck Light 6 Pack with Remote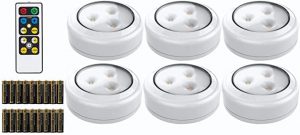 True to their brand name, Brilliant Evolution LED Puck Light pack of 6 provides a flawless way of illuminating your cabinets, closets, sheds, garages, kitchen, or any other place that requires some extra lighting. Since they are wireless and battery-powered, they can be placed anywhere. Mount them with adhesive tape or screws (both included). These puck lights are not the flimsy, poor-quality ones available on the market today but are, in fact, the opposite of them. The lens cover and rigid plastic are solid. They provide bright, white light at a simple tap of the lens that turns them on and off. Furthermore, the lights come with a remote control that allows operation at a distance of up to 15 feet. The inclusion of a timer allows you to program the automatic function of lights at a set time. Powered by 3 AA batteries, the lights provide a 100 hour run time. They project a 3000K warm white glow, which is perfect for most residential applications.  From easy installation to perfect illumination, these lights are the best wireless LED lights for your next home project.
Underwater Submersible Wireless LED Lights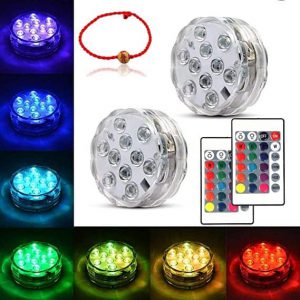 If you're searching for the best wireless LED lights to decorate and light up your house, particularly areas associated with water, Underwater Submersible Wireless LED Lights by WHATOOK are the perfect option for you. Made from IP68 waterproof, high-quality materials, these lights can be nicely set up in areas filled with water without any worry of overheating, be it a pool, aquarium, pond, hot tub, or anything. They are wireless and powered by reusable 3 AAA batteries that run for 10-12 hours. The IR remote control enables you to regulate them efficiently, a necessary quality for such underwater submersible lights. The range of the remote control is 30 ft. Moreover, to create a visually enhanced and captivating environment, these wireless LED lights produce a unique flower design, thanks to their 16 different multi-colored lights and 4 dynamic color-changing modes. Besides, they aren't for underwater usage only, Underwater Submersible Wireless LED Lights are capable of bringing your home alive through versatile decorations for parties and events also.
Philips Hue 464479 Hue White and Color Ambiance A19 Starter Kit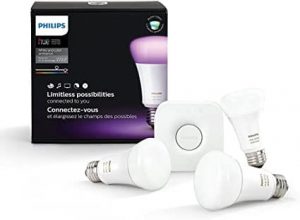 Philips Hue 464479 Hue White and Color Ambiance A19 Starter Kit is a superb wireless lighting system that creates colorful and vibrant scenes, all through simple control from your smartphone or compatible controls. However, the actual magic occurs when a Hue hub or a device such as the Amazon Echo with a built-in Zigbee hub is added to it. This enables you to regulate the bulbs remotely, integrate with motion sensors or other Hue family devices and accessories, and set schedules. Besides, it supports voice control for Apple HomeKit, Samsung SmartThings, Google Assistant, and Amazon Alexa. And since the Zigbee connection operates separately from the wifi of your home (it forms its personal mesh network among devices), it is much more reliable as compared to most wireless systems. While we agree that Philips Hue White and Color Ambiance Smart Light Bulbs are more on the expensive side, this wireless lighting system creates the right ambiance for each moment and is worth the investment.
New Version AMIR Motion Sensor Lights, Battery-Powered LED Lights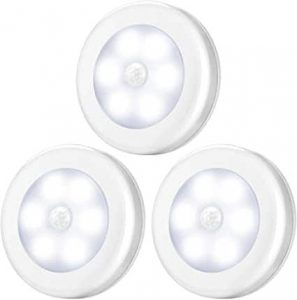 The New Version AMIR Motion Sensor, Battery-Powered LED Lights boasts many of the features you would expect in the best wireless LED lights, and it offers some enticing extras, including an extremely easy installation that allows them to be mounted in seconds just by the simple use of the built-in magnet for any metal surface or double-sided adhesive pads already provided in the box. These LED lights protect your property from both outside and inside. Requiring 3 AAA batteries, they can light up even the darkest corners of your house, be it stairs, entryways, or hallways that do not have access to the mains' electricity. Stick them up and simply let them do their task automatically. The lights sense motion within 3 meters ranges spanning a 120° angle, providing lights only when you require them. But the best part is, these wireless LED lights turn off automatically after twenty seconds in case no further movement is detected. Moreover, their motion sensors are functional only when it is dark, which saves you additional power. 
LEDERA Wireless LED Puck Lights
If you're on a hunt for a versatile LED lighting product that will fit any area of your home, LEDERA Wireless LED Puck Lights is the one for you. They offer two switch modes: touch the light panel, or use the remote control that can turn them on/off or adjust the brightness. These lights are capable of emitting from 2700K warm white to 6500K cool white temperature of soft light, without flicking or dazzling. The biggest advantage of such lights is their convenient and portable design: 0.83 inches thin and 2.42 inches wide. Such a size makes them fit to be used anywhere, be it a closet, bathroom, kitchen, bedroom, hallway, under cabinet, basement, porch, or stairs. Just like the AMIR's Motion Sensor, Battery-Powered LED Lights, these lights are also super easy to install and only require you to stick them where ever you want, and they will do their work. Besides, they come with a one-year warranty, so you need not worry if any problem occurs, which is certainly rare. Overall, the LEDERA Wireless LED Puck Lights helps you achieve the high-end look for versatile areas, and that too at a reasonable price.