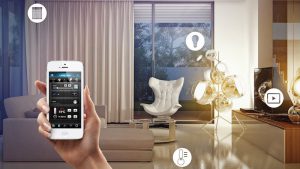 In the context of smart home automation, Z-Wave is a popular wireless communication network that links up smart appliances through low-energy radio waves and we are on a quest to find the best Z Wave App. It enables interoperability between compatible devices, allowing your smart home to function as a cohesive and smart ecosystem. The protocol supports remote controlling your gadgets through various apps on your smartphones, iPads, tablets, and laptops – creating a level of management freedom that is easily addictive. The mesh network is driven by comparatively lower frequency bands than those used by other wireless links like Wi-Fi. In this way, the Z-Wave connection experiences little interference issues, as the network has a more dedicated and targeted application towards smart appliances only.
Typically, around 200+ smart gadgets can join the Z-Wave radar and be controlled via apps. It is a leading wireless technology connecting products from international brands by helping them pick a mutual, compatible route and establish communication. The best Z-Wave app acts as an interface to all your connected devices. It keeps you wirelessly anchored to your smart home network for on-the-go convenience, helping you keep an eye on everything from wherever you are. By simply connecting to your Z-Wave hub, you can control devices remotely, efficiently, and smartly.
Ways to Use a Z Wave App
Different software companies launch different solutions for Z-Wave apps, but they all feature the same core objectives – one of which is to control your smart devices remotely. You can put your app to various uses, and here are some essential examples:
Connect to Your Z Wave Hub
A Z-Wave hub is the brain of your smart home – thinking for itself and making smart decisions. Much like a Wi-Fi router, the hub is what your smartphone app connects to for communication with the required destination device. Once your Z-Wave app is linked with the hub, all your actions on the app are carried out seamlessly in just a few clicks. You can turn off the smart lights and adjust your smart thermostats without worrying about what goes on behind the scenes – the hub takes care of that.
Heat Your Rooms Efficiently
Smart thermostats often have a 7-day programmable option to create schedules, enable auto turn-offs, switch to energy-saving, etc. With your Z-Wave app, you can lay out the schedule for your connected devices to follow for a whole week. This includes automating your smart thermostat to switch to energy-saving mode before you leave home. Your home continues to heat at low power while you are gone, and just before you leave work, you can increase the heat on your app to come home to an adequately warm atmosphere.
Unlock Your Smart Doors Remotely With the Best Z Wave App
One of the best incentives for installing a smart lock is that you can still see who is at the door – and communicate with them even when you are out of town. The Z-Wave app automatically alerts you via video calls when the doorbell rings, and you can speak to your visitors promptly. In this way, you never miss a guest, visitor, or package delivery. Furthermore, smart locks and smart doorbells can be unlocked from the app, so you can let the delivery staff in to place your ordered parcel safely inside. If you have pets at home, you can allow your neighbor to come in and take them out for a walk. The same applies to Airbnb guests who might be locked out of your home; you can still be traveling abroad and unlock your door on the Z-Wave app.
This gives you immense peace of mind as you are just a click away from securing your home and making sure that all entry points are locked.
Automate Your Last-Minute Checklist
The hustle of every busy morning comes with all sorts of last-minute doubts for forgotten lights, the open garage door, a running heater, etc. Z-Wave gadgets that are compatible with voice assistants greatly speed up your confirmation and run these smart errands for you, as you can simply say, "Alexa, check off the last-minute list" and have all your devices spring to action. A Z-Wave app works similarly and allows you to view all devices that are still running, so you can turn them off, lock the garage door, make sure all the lights are off, and shut down the HVAC system. This comes in handy when you are running late and have a plane to catch – the app streamlines all your management aspects to bring them at your fingertips.
Limit Gaming Screen-Time for Your Children
Smart plugs that connect to your Z-Wave network enable a smart control for gaming consoles, allowing you to set a limit for the total screen-time spent by kids at home. You can control the smart plug through your Z-Wave app and manage the consoles from wherever you are. This includes setting time limits, automatic power down, and turn-offs to manage the overall duration kids spend playing video games.
Adjust the Ambient Light
Smart light strips, bulbs, dimmers, switches, and plugs make up your home's smart lighting system. These Z-Wave-enabled gadgets can be accessed remotely on your app to set customized moods and bright/dim levels. This adds scope for automating both indoor and outdoor lights to welcome guests and switch to the party mode with just a click. Scheduled lighting also means that you save more energy when the Z-Wave mesh keeps an eye out for power-saving opportunities.
Enjoy One-for-All Benefits
Lack of interoperability between smart devices makes your management plans vulnerable to errors, as using a different app for each appliance is quite time-consuming – not to mention battery-draining for your smartphone. When you invest in gadgets that are all Z-Wave-friendly, you establish a common ground for them to communicate regardless of their brands.
The Z-Wave frequency picks all compatible devices in its wake and presents them on your app's interface for productive supervision. The same app can be used to control your smart lights, smart outlets, smart thermostats, and smart locks – so this is a great feature that keeps everything and everyone on the same page.
What is the Best Z Wave App?
Wink
Smart Home Integration
Wink is a popular smart household name for both hardware and software solutions designed for smart home integration services. The Wink app is the user interface that works with iOS and Android devices and can be downloaded from iTunes App Store and Google Play. You can control all your Wink-compatible smart gadgets on this single app by viewing which doors in your home are locked/unlocked, checking the current Home/Away mode of your thermostat, turning on the couch lamp, dimming the hallway lights, etc. You might have products from famous smart brands like Philips, GE, Honeywell, and Nest – and Wink allows them all to work together as a team.
Z-Wave Wink Hub
The Wink hub operates on various communication links including the Z-Wave technology. When your individual appliances connect to this hub, the Wink app lets you control them at customizable freedom from anywhere. This supports a more centralized control for Wink-activated devices around your home, giving you the increased versatility of a multipurpose app solution. The hub is also compatible with Alexa and helps you reach your Z-Wave door lock, window sensor, motion sensor, light dimmer, and switches that much faster. Up to 230 different Z-Wave devices can join the Wink hub for a more consolidated access on your app.
Z-Wave Controls
You can access the Z-Wave Controls on your Wink app and set various configurations for your smart home. For example, the Z-Wave Network Rediscovery mode helps the Wink hub refresh itself to update your Z-Wave mesh as well as all the devices that are linked to it. This is particularly useful when you add new Wink gadgets to the grid or remove outdated ones – and need to ensure smooth transitions everywhere.
Wink App Highlights
The app promotes individual control for each product riding the Z-Wave, so you can easily check the statuses on a user-friendly dashboard. This brings us to creating personalized schedules for custom automation around a smart home. The Wink app organizes your schedules for various standalone and grouped devices for timed efficiencies that you can rely on. By using Shortcuts on the app, you will be able to plan routines that combine different devices for smart shortcuts – like the "Welcome Home" routine turning on the lights, activating the thermostat, and unlocking your main door simultaneously. There is also a Robots functionality on the app that prompts your smart gadgets to work based on triggers. These triggers could be location-enabled or activity-enabled to deliver smart alerts. Therefore, a "Safety" Robot would keep the smoke detectors awake and alert at night to sniff out smoke in the air, and then automatically turn the lights on or unlock your nearest exit to help you escape quickly in case of fires.
SmartThings
Smart Diversity
Designed to unite all your devices under one smart roof, the well-known SmartThings solutions have taken home automation to the next level. The SmartThings app helps you access compatible gadgets, so you have your Ring doorbell, Lutron lights, Sonos speakers, and August smart locks joining the orchestra. When you can automate your Samsung laundry and babysit using the Arlo camera, there is more family time to pursue with a smart technology running backstage. SmartThings has a vast compatibility horizon connecting popular smart home brands, so their products talk to each other, offer better management, and leave small energy footprints in their wake.
SmartThings-Enabled Hub for Z-Wave
The SmartThings app works on Android and iOS devices and supports programmable automations, allowing you to scroll through your rooms on the screen, navigate between statuses, and pick your favorite settings. By enlisting the help of a SmartThings hub, you can optimize your Z-Wave potential and connect Z-Wave products to your network. The app works efficiently to communicate with this hub and reach the target smart node on the Z-Wave mesh – so you activate a complete home theater with a few taps on the screen.
The SmartThings hub is equipped with internal Z-Wave technologies to seamlessly incorporate up to 232 Z-Wave devices. The app features various Z-Wave Utilities you can use to boost your network performance and carry out simple troubleshooting steps. For example, the Z-Wave Exclusion option lets you remove a problematic Z-Wave gadget from the mesh. You can also choose an automatic repair so that your SmartThings hub reroutes the connected devices to the best alternatives for smooth, uninterrupted functioning.
Tech-Savvy SmartThings Z-Wave App Features
The SmartThings app displays various Rooms around your home to which you can add and remove Z-Wave products. Scenes features enable multiple commands to different gadgets all at once. These commands can be automated to respond to triggers and support customizable routines – so you can sit back and trust a home that can think for itself. The app keeps a track of your added locations as the main launchpad for your smart automations. In this way, you can add more homes, share access with family members, authorize Airbnb guests, etc. Geolocations and geofencing are the two must-haves for an app that already supports location services. Such technologies that promote location-friendliness take their cue from your smartphone's presence to schedule the lighting and heating for sustainable benefits, notify you if a member has come home, and survey your geofence all day long. After all, the grass is greener on your side of the geofence!
SmartThings Voice Activations
The SmartThings gadgets can also be operated through voice commands with Samsung Bixby, Alexa, and Google Assistant. There is nothing like an extra pair of virtual hands to help you around your home from the basement to the attic – without you moving an inch from your happy retreat.
Hubitat Elevation
Smart, Elevated Living with Hubitat
Hubitat is a smart home automation platform that uses its Hubitat Elevation hub to create a whole community of interacting devices. The innovative features of this hub and app focus on security, privacy, and responsiveness. Since the hub is compatible with Z-Wave, your smart gadgets will continue to work even if your Wi-Fi does not. Data privacy is ensured through local storage and not the cloud infrastructure – keeping you in better control of your device data.
Using your app, you can automate the chores around your home, receive push notifications in real-time updates, and use your smartphone's presence to geolocation and geofencing advantages. Localized privacy is enabled via passwords to prevent unauthorized access and facilitate local administration at your own terms.
Hubitat Z-Wave Flexible Options
Available on Apple App Store and Google Play Store, the Hubitat app displays your connected devices on a customizable dashboard, so you can control them remotely anytime, anywhere. It works with Alexa and Google Assistant – as well as tools like Lutron Caséta, Lutron RadioRA2, Homeworks QS, and Grafik Eye QS. Since Hubitat delivers local automations, all your device data stays in one place, and you can schedule the Z-Wave device updates at your convenience.
Hubitat Best Z-Wave App Built-In Applications
Featuring a smart catalog of built-in solutions, the app provides a more focused management experience for enhanced automation around your home. This could be governed by the Rule Machine, Mode Manager, and IFTTT integration, and Yeelight support – all for lightning-fast automation programs and extended connectivity options. The Hubitat Safety Monitor signals warning alerts for intrusions and emergencies from water or smoke. Rules will also be triggered through the Life360 Connector, and you can also link Lutron smart gadgets using the Lutron® Integrator. The Z-wave-friendly app communicates with motion sensors to automate aspects like lighting based on room occupancy. Regarding compatible locks, you can manage all your user codes in the same app. All of these built-in apps can be accessed on the comprehensive Hubitat dashboard that organizes everything clearly.
No Need for the Internet with Hubitat Best Z-Wave App
The fact that Hubitat operates in the native comforts of your computer, all device automations are processed locally – without needing the Internet. This removes one layer from your communication link, as there is no cloud technology to step in between your work. Your app connects directly to the Hubitat Elevation hub, which in turn switches on your smart light, unlocks the door, or adjusts the temperature.
This reflects the company's confidence in using a local home automation system that empowers you – local, because your home's data deserves to stay at home and not up in the cloud where it can be breached far too easily. Even if the Internet does not work, your Hubitat network stays functioning, and you do not get locked out of your devices. A local app also means that all responses are instantaneous for smooth automation results.
Best Z Wave App for Your Home Automation System
Z-Wave operates on a very limited portion of a low-energy radio band, which makes it give undivided attention to smart home products connected to it. With such a dedicated automation link forming a smart backbone to support your gadgets, there is more freedom of control and less room for interference – considering how your home Wi-Fi network will also be used by family members connecting their own computers, downloading high-resolution files, joining bandwidth-hungry Zoom conferences, etc. All of the appliances converge at one Z-Wave hub for you to reach through your app and control the lighting and heating elements remotely. So, if your kitchen is the heart of your home, Z-Wave is the brain that thinks and learns. You can winterize your home in just a few clicks, organize custom routines with creative freedom, and go ahead and use Harry Potter spells with Alexa!
Z-Wave has made it to the top-tier solutions for smart home protocols. Unlike Wi-Fi, the Z-Wave communication becomes stronger with more devices joining the network. There is better interoperability and versatility around your home – and finally, a common language that all the different products from different brands understand!