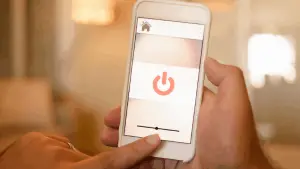 Technology keeps on coming up with something new every day to make our lives more convenient. One of these is how we can control the lighting of our houses without requiring to physically on and off the switches. In-wall smart light switches and dimmers are the new most elegant smart lighting solutions.
While we know that you can plug a lamp into a smart plug or screw a smart bulb into your fixture and call it a day, if a fixture is controlled by a faulty switch it can never allow you to control the smart bulb when in an off position.
Requiring only 5-30 minutes for an installation, depending on your expertise, a Z wave switch, once installed, allows you to control your home lights as per your set schedule through a smartphone app. Where a smart switch allows you to turn a connected lighting fixture or bulb on or off, a smart dimmer enables you to set the right mood with appropriate lighting in your home, enabling you to adjust the brightness of the lights it controls.
In this article, we will be focused on discussing smart dimmers only. Here are our top picks for the best Z wave dimmer in the market along with some factors to consider before buying one. Read on to know more about them.
Things to Consider When Buying a Z Wave Dimmer
Upgrading your humble abode to a smart lighting system requires you to choose components that have the right capabilities. There are some elements that should be considered before choosing one. These include:
Network & Connectivity
Most Z wave dimmers sync with popular smart home systems like Alexa, Samsung SmartThings, and Google Home. When a smart dimmer gets connected with a smart home system, you can use it to control and adjust the connected lights. Most of them connect with a 24 GHz or a 5 GHz wifi network, but some don't with a 5GHz wifi network. So you should know the capacity of your network before buying a smart dimmer. Usually, it is mentioned behind the router on a label, whether it is a 24 or 5 GHz system. But if not, you check the owner's manual or the manufacturer's website for determining the router's capacity.
Wattage Rating
It is important to determine the wattage capacity of a Z wave dimmer before purchasing it. For instance, a smart dimmer may have a 600 watts capacity for incandescent bulbs or 250 watts capacity for LED bulbs. This means that it can handle nearly ten 60 watts incandescent bulbs or fifty 5 watts LED bulbs. So always ensure to calculate the wattage of lights to be controlled by the dimmer, and make sure that the dimmer is capable of handling the load.
Bulb Type
Smart dimmers work with LED, CFL, incandescent, and halogen bulbs, but it is essential to ensure that they are compatible with your dimmer. While most of the halogen and incandescent bulbs work well with smart dimmers, not all CFL or LED bulbs will. Use a CFL or LED dimmer bulb for that, as otherwise, you may see buzzing or flickering at lower intensities. You will also notice shortened life of a bulb and damage to the dimmer if you use a standard CFL bulb. CFL and LED bulbs both perform well with dimmers and are energy efficient, but they don't have a lower range like incandescent bulbs. For instance, LEDs may dim down to only 30%  of their total light output and CFL bulbs by only 20%, but dimmers designed particularly for LEDs provide you a better range. On the other hand, incandescent bulbs offer superb dimming properties, capable of dimming to very low levels. Their disadvantage is they're less energy-efficient and yield a great amount of heat.
Functionality
A Z wave dimmer with basic functionality allows accessibility of your home lighting remotely through a smartphone app and with a voice control when the light switch is integrated, with a smart home hub or a wifi speaker. Look for options that offer automated on-off timer and preset lighting modes. Some of them offer upgraded features as well, like activation alerts, seasonal programming capability, and motion sensors, and much more.
Our Top Recommendations for the Best Z Wave Dimmer
Here are our top picks for best Z wave dimmers available on the market that can help in making your home lighting smart and simple.
Enbrighten Z-Wave Smart Rocker Light Dimmer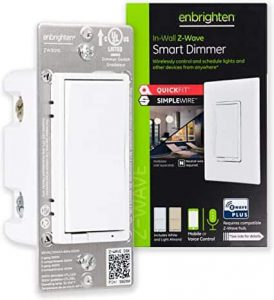 Enbrighten Z Wave Smart Rocker Light Dimmer is a great choice for those who enjoy an excellent Z-wave range of products. It is a 2nd generation model with some notable improvements on the earlier model. With this device, you don't need any heat tabs, and compared to previous models, it has a 20% reduced housing depth. It performs well with old-style switch boxes, but thanks to its auto line-load sensing terminals, its installation becomes easier than ever. This modern Z wave dimmer offers a hitch-free integration with multi-switch setups and offers a truly immersive lighting experience. You can add up to four add-on dimmers/switches to it for handling CFL, incandescent, halogen, and LED bulbs. Besides, it works with various Z wave-certified hubs like Ring, ADT, Wink, and others, which are not usually a choice for smart dimmers.  The Enbrighten Z-wave dimmer operates best between 32-104 degrees Fahrenheit temperature. Plus, it comes in different colors, so you can choose one according to your home décor. Overall, this device is a good solution to your home lighting, which keeps things simple.
Leviton DW6HD-1BZ Decora Smart Dimmer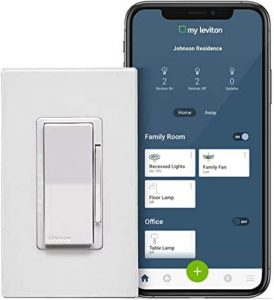 Leviton's Decora models offer a range of connectivity choices, presenting Z-wave, wifi, and hubless units that can be directly talked to from Amazon Alexa for voice control along with Vizia RF + systems and the usual Z-wave hubs, such as Wink and SmartThings. Their DW6HD-1BZ Decora Smart Dimmer is no exception in providing you an amazing lighting experience. You can see how many features the manufacturer has crammed in this single-gang dimmer. It is rated for both dimmable LED and CFL lights for nearly 300W and traditional incandescent lights for nearly 600W. With this device, scheduling lights for creating easy light scenes for your whole home is not a problem at all. The dimmer is really smart in remembering your pre-set schedules and always runs the way you expect it. In case you have banks of room lights, then this dimmer facilitates three-way (multi-location) dimming with nearly four remote units (DD00R). Overall, Leviton DW6HD-1BZ Decora Smart Dimmer has some very superb tricks up its sleeve that make it one of the best Z-wave dimmers.
GoControl WD500Z-1 Z-Wave Dimmer Switch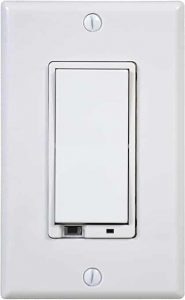 The GoControl WD500Z-1 Z-wave dimmer switch is a more basic unit that can control approximately 500 watts of LED or incandescent lighting. With that being said, it surely qualifies as an overall best Z-wave dimmer. It provides all the essentials, making it a good option for those who wish to test the waters of a smart dimmer. Offering a direct replacement for a typical switch, this dimmer can be controlled by the app or hub. It has direct support for Alexa and other controls but can be managed indirectly as well. The GoControl WD500Z-1 Z-wave dimmer lets you regulate permanently installed LED, halogen, and fluorescent lighting excellently. It uses the Z wave network to control the brightness and operation of the associated lights and is compatible with any other Z wave-certified gateways. What's more? The dimmer includes a replaceable trim ring that comes in three different colors to match your home décor (all sold separately). It behaves as a repeater that can help extend the reach of your Z wave network by an additional 130 feet.
Intermatic CA600 InTouch Wireless Dimmable Switch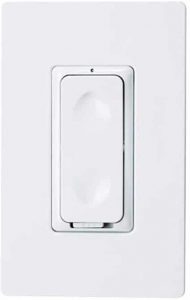 The Intermatic CA600 InTouch Wireless Dimmable Switch is a simple yet innovative unit that offers 600 watts of wireless dimming choices from multiple locations through any Z wave compatible controller. When turned on or off that can be performed from multiple locations by using 3 or 4-way devices, the lights fade on or off respectively. But let us tell you it's most convincing part. The dimmer allows the light to revert to its last previous setting when electricity gets restored in case of a power outage event. To match it to your home decor, this Z wave dimmer comes in three different interchangeable faceplates in ivory, light almond, and white colors, so you get a choice to pick a color of your preference. All in all, the Intermatic CA600 InTouch Wireless Dimmable Switch is easy to install, aesthetically pleasing, affordable, and a seamless way of enhancing the ambiance of your home through the way of lighting,