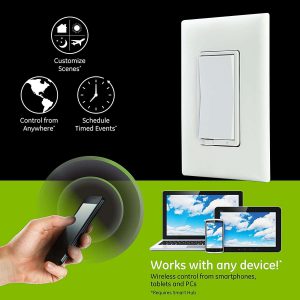 Image source: Amazon
Smart switches offer one-touch simplicity to control your lights from anywhere. They are popularly used to manage grouped lights from a single touch, and you can also access each hardwired fixture from your app. Z-Wave technology allows you to use a compatible light switch to control both smart and traditional bulbs. It operates on the simple switch-hub-light framework to help you manage whole-home lighting instantly. Z-Wave supports seamless transitions from your old lighting systems to smart lighting, as all you need to do is replace the existing switches with a Z-Wave-compatible paddle, toggle, or dimmer switch. The best Z-Wave light switch will be retrofitted with the necessary upgrades for relevant indoor and outdoor installations – for example, weatherproofing to keep your landscape lighting safe.
These switches offer different ways of controlling your bulbs through tactile, app, and voice controls. A Z-Wave-compatible hub is an important element because of the communication ground it provides, allowing your light fixtures to tune in and become easily accessible. Most Z-Wave light switches have integrated memory as well as signal boosting capabilities to give you better automation management, as discussed below.
The best Z-Wave light switches
UltraPro Z-Wave Plus Smart Light Switch, In-Wall White Paddles Built-In Repeater Range Extender ZWave Hub Required – Alexa and Google Assistant Compatible, 39348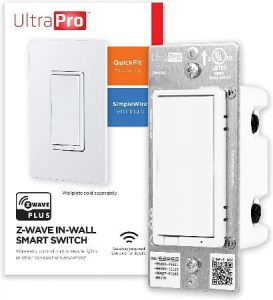 What makes it the best switch:
UltraPro Z-Wave light switch provides both single-switch and multi-switch convenience, which means that you can control a light bulb from up to five different locations using multiple switches. You can customize the scenes for grouped lights to enable different tones and moods that suit specific events. The paddle can be changed to work with existing switches, and you can easily replace your standard in-wall switches for upgrading to lighting automation. It fits the standard Decora wall plates.
The switch can connect to various Z-Wave-compatible hubs like Ring, Wink, SmartThings, HomeSeer, Vera, Nexia, Honeywell, Pulse, Fibaro, Vivint, and ADT. This gives you a broad range of devices to work with, especially if you already own lighting products/apps from different brands. The paddle switch can work just like an ordinary switch, so whenever your hub network is down, you will not be locked out of your bulbs and LEDs. Here are some other competitive features:
The UL-Listed rocker light switch can connect to your wall, ceiling, and accent lighting. It supports all LED, CFL, halogen, and incandescent bulbs – including other appliances.
It has a current rating of 15A and an operating voltage of 120V.
Using the QuickFit design technology, this switch can be accommodated in any given environment. It has a 20% reduced housing size which makes it easy to install in limited spaces. This also allows the switch to be installed in old-style switch boxes and multi-gang configurations.
The SimpleWire technology automatically detects line/load terminals, so you do not have to guess what goes where. This technology helps the Z-Wave light switch automatically configure itself for the relevant operation. The dual ground ports can be used for daisy-chaining in multi-switch installations.
UltraPro smart light switch is compatible with Google Assistant and Alexa, so apart from tactile and app controls, you can also use voice commands to customize the ambient lighting.
There is a built-in signal repeater and range extender that reinforces your Z-Wave network for up to 150 feet of wireless range.
Thanks to the Z-Wave Plus S2 security and SmartStart, you will receive a longer battery life, over-the-air updates, QR code reading for instant device pairing, 128-bit encryption security, and backward compatibility with all Z-Wave products.
Points to note:
This Z-Wave light switch requires neutral wiring, so do make sure that your smart home has neutral writing before you buy this product. A neutral jumper wire is included in the package.
A wall plate is not included.
All Alexa and Google Assistant devices need to be purchased separately. The switch can only work using a Z-Wave certified hub, which limits its compatibility with Echo Plus devices.
Enbrighten Z-Wave Smart Rocker Light Switch with QuickFit and SimpleWire, 3-Way Ready, Works with Alexa, Google Assistant, ZWave Hub Required, Repeater/Range Extender, White & Light Almond, 46201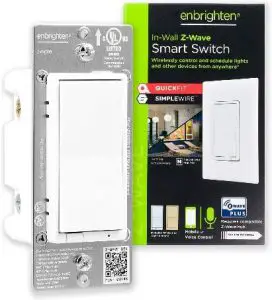 What makes it the best switch:
Enbrighten Z-Wave light switch paddles can be personalized with different colors to match your interior palette. These switches help you easily replace your existing switches to automate whole-home lighting systems. 3-way-ready means that you can use multiple add-on switches to control a light, fan, pump, or other appliances – giving you easy access from wherever you are. The switch can either act as a standalone device or integrate with multiple switches in different locations to control the same fixture. You can hardwire the switch for simple in-wall installation and use it for different automation purposes. With a compatible hub, you can control various lights using your smartphone app. This also allows you to define scenes, create schedules, and set personalized alerts. It is a smart way to save energy and keep your home as safe as possible. Other exciting features are as follows:
The Z-Wave light switch is voice-enabled and can work with Alexa and Google Assistant via compatible hubs. Also, the switch supports other Z-Wave certified hubs from Smart Things, Ring Alarm, Wink, Vivian, Nexia, Honeywell, ADT, Vera, etc.
Using the QuickFit technology, the switch is designed to fit into limited spaces, featuring a 20% reduced, space-saving enclosure. This removes the need for heat tabs and makes room for simpler installations without affecting the overall electrical ratings. The switch can be accommodated in old-style switch boxes and multi-gang configurations.
Thanks to the SimpleWire technology, the switch can automatically detect line/load terminals, which makes your installation process that much faster. This also helps the switch configure itself based on the context. There are dual ground ports to enable daisy-chaining for multiple switch setups.
You can use this Z-Wave light switch for all indoor/outdoor LED, CFL, incandescent, and halogen bulbs. The supported operating temperature range is 32-104°F.
The innovative Z-Wave Plus technology enables backward compatibility for a more expansive smart home automation network. This light switch comes with signal boosting capabilities to repeat signals along the way and create smooth communications. As a result, your Z-Wave hub's signal can extend by 150 feet for better access and full-home coverage. You can add lighting fixtures to the hub just by scanning the QR codes via SmartStart configuration.
The advanced S2 security with 128-bit encryption keeps your network secure.
There is a programmable brightness threshold that you can adjust to prevent flickering in LEDs.
The multifunctional switch also doubles as a standard switch – in case your home automation network is down, you can still use the rocker on/off switch.
The switch allows you to use single, double, and triple taps to customize different scenes. For example, a single tap can activate one light, double taps can activate multiple lights, and triple taps can control full-home lighting.
An alternate exclusion mode protects the switch from being removed from your network by mistake.
Points to note:
The setup requires neutral wiring.
The wall plates are not included.
All Echo, Alexa, and Google Assistant devices should be purchased separately. Your Z-Wave certified hub also needs to be Alexa-compatible. Since the smart switch can only function using such Z-Wave certified hubs, it cannot work directly with Echo Plus.
Leviton DZ15S Decora Smart Switch with Z-Wave Technology, Ivory, 1-Pack, White/Light Almond

What makes it the best switch:
Leviton Z-Wave light switch requires a Z-Wave Plus certified hub and can work with various brands like SmartThings, Vera, Alarm, and Wink. You can use it with optional wall plates and choose from 6 color change kits. The switch is easy to install and can help you set up your lighting automation for remote convenience in no time.
You can replace any existing dimmers with these Leviton Z-Wave smart switches for better integrations. Compatible hubs allow you to create customized schedules for both indoor and outdoor lights that you can control from anywhere. Here are some features that make it the best Z-Wave light switch:
With a 15A current rating, the rocker switch supports 3-way installations. This multilocation advantage helps you control the same fixture from different switches using the listed product versions.
It comes with convenient color change kits to help you personalize each setup.
Using the required Z-Wave hub, the switch enables Alexa interactions.
You can install the light switch to control 600W LEDs and CFLs, 1800W incandescent lights, and 15A fluorescent ballast loads. The switch also supports low-wattage LED bulbs.
The built-in indicator light shows the current status and also provides a convenient nightlight.
The Z-Wave Plus technology offers better communication ranges, network capacity, over-the-air updates, two-way feedback, and advanced security. These features keep your light switch updated and ready to use round the clock.
Points to note:
The wall plate is not included.
All Alexa devices and hubs need to be purchased separately.
The switch requires neutral wiring and a Z-Wave certified hub.
"Alexa, make hay while the sun shines!"
The Z-Wave platform opens diverse automation possibilities for on-the-go simplicity. It focuses on product integration and compatibility to make your home truly smart. Since Z-Wave exists as a mesh network, each device on the radar makes the network even stronger – thanks to the unique signal regenerating capability. This "trait" can also be found in the best Z-Wave light switches, as seen above. By moving to the Z-Wave Plus upgrade, you receive exceptional benefits of automated lighting systems, as the next-level technology inspires plug-and-play convenience. If you already use the Z-Wave Plus network and smart products, you have the perfect chance to install compatible light switches – and illuminate the best of both worlds!