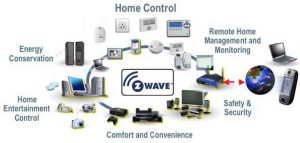 Z-Wave is a popular smart home automation protocol. It allows smart devices on the network to connect to each other and share data. This enables compatible products to communicate successfully and bring you smart integrations for remote control. The Z-Wave communication medium supports interoperability between products from separate brands. Certified by the Z-Wave Alliance, some of the best Z-Wave devices include smart hubs or controllers, smart plugs, smart lights, smart locks, etc. They link up to create a safe and resilient Z-Wave ecosystem. You will need a smart hub to act as the brain of your smart home. It is generally the starting point for all Z-Wave automation processes.
Z-Wave products come with innovative features such as dimmable light bulbs and motion-sensing thermostats. There are smoke detectors that can distinguish between fire smoke and cooking smoke to avoid false alarms. Your chosen products can be accessed via apps, and most devices offer voice assistance with Alexa. The top incentive of your Z-Wave collaboration is the impact it has on your energy savings. By automating most of your home's features, you can have timed lighting or HVAC performances. This allows your devices to operate for a limited duration before turning off automatically. The lower consumption and utility bills speak for themselves. The following products are examples of the best Z-Wave devices that optimize your home's potential.
The best Z-Wave devices
SAMSUNG SmartThings Smart Home Hub 2nd Generation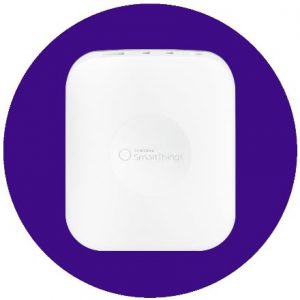 Samsung SmartThings smart hub is compatible with Alexa, so you can customize your voice controls apart from using the SmartThings app. It is the popular "brain" for many smart home automation contexts. The hub allows compatible devices to get along well and appear on the same app for centralized management – regardless of their manufacturing origins. You can connect your smart lights, locks, thermostats, speakers, and sensors to the hub for larger automation coverage. The app lets you create routines and events depending on the time of the day.
The hub works with Z-Wave and is also compatible with brands like Philips Hue and Honeywell. It comes with replaceable batteries as a native backup in case of a power outage. The operating range is around 50 – 100 feet once connected to a 100-240V power source. You can use the hub to integrate smart lights and switches from different brands into custom actions. The Arlo and Ring cameras and doorbells can join the hub to give you video alerts of the front door. With connected Yale and Schlage door locks as well as Ecobee thermostats, you can activate your heating once you unlock the door.
The major downside in the SmartThings smart hub was its faulty automation service and communication range – which is quite distressing considering the smart features it is meant to offer. There can also be reboot issues after a power outage.
Aeotec Multisensor 6, Z-Wave Plus 6-in1 motion, temperature, humidity, light, UV, vibration sensor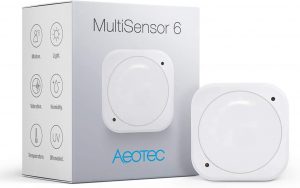 Aeotec multi-sensor is a 6-in-1 smart device that connects to your Z-Wave network. It can measure humidity, motion, temperature, light, UV, and vibration. You can use it with various Z-Wave gateways like FIBARO, OpenHAB, and SmartThings. It is also Z-Wave Plus certified. The multi-sensing capability makes a valuable addition to home automation uses. Its real-time intelligence is quite versatile and delivers 6 different readings – all in a compact, lightweight design. Here are the detectable ranges for each category:
Motion: 5 meters or 15 feet
Humidity: 20%RH to 90%RH
Light: 0 LUX to 30000 LUX
UV: 0 to 10 UV index
Temperature: -10°C to 50°C or 14°F to 122°F
Vibration: from intruder brute force to seismic activities
The Z-Wave multi-sensor features flexible installation as well. You can install it as a beam sensor on the wall, place it on a shelf, mount it as a recessed unit to the ceiling, or put it in the corner. It is universally compatible with popular gateways like SmartThings, Vera Edge, HomeSeer, Home Assistant, and of course, Z-Wave. In fact, the sensor is from the Aeotec Gen5 range of Z-Wave devices. Using the latest Z-Wave 500 series chip as well as firmware, the smart sensor reaches a greater wireless range at considerably fast communication speeds. You can use it for both indoor and outdoor applications.
A concerning drawback was the delay in refreshing the humidity levels, as the sensor does not update them immediately. The battery experiences similar inconsistencies. Moreover, the motion sensor was reported to detect just around 3 feet compared to the stated 15-feet range. The limited motion detection really makes an unexpected downside to the system.
GoControl Bulbz Z-Wave Dimmable BR30 LED Indoor Flood Light – LBR30Z-1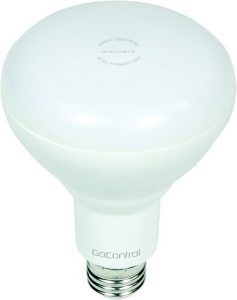 GoControl Z-Wave bulb has a 5,000k light appearance rating and works best as recessed can or track-light fixtures. These fixtures typically use flood light designs for places like kitchens and bathrooms. The wall-light switch makes sure that its Z-Wave connection remains active. This is a dimmable LED version for indoor lighting. It can join your Z-Wave hub and tune in to the app for remote controls. You receive better energy savings with a GoControl lighting system that achieves near-daylight brightness. You can program the bulbs for easy scheduling on the app.
The smart bulb can be incorporated into various scenes, depending on your preferences. These automated scenes give you better user freedom to have customized ambient lighting in different rooms. You can easily replace your old flood light with this Z-Wave dimmable bulb without rewiring struggles. The smart light saves energy and is easy on your electricity bills. By adding more Z-Wave-certified devices like switches, dimmers, and sensors, your automation system will be better optimized.
While the installation is a breeze, some potential concerns include malfunctioning bulb designs. They tend to stop working sooner than expected. The strobe-like illumination is not appealing to most users.
The global smart wave
Z-Wave technologies promote wireless communications between smart products. Their cross-compatibility enables translations between different manufacturers' solutions. This allows them to join the same Z-Wave radar in your home without costing you expensive rewiring and re-configurations. As discussed above, Z-Wave products like hubs, bulbs, and sensors are mostly easy to set up. They optimize your home's overall energy efficiency and welcome product inclusion for full-home coverage. The best way to have your Z-Wave ecosystem up and running is to use a smart hub to which other smart devices can connect. From this hub, you can directly access all the connected devices, as it takes care of the required translations for interoperability. Otherwise, you will end up managing different devices on multiple apps.
Hub integration easily walks the extra mile if you already have a Z-Wave automation platform. The best Z-Wave devices are those that are certified by the Z-Wave Alliance. Once connected, they bring you superior optimization, energy benefits, and compatibility comforts – all of which can be managed on the same app.