Image source: Eufy Life
Eufy vacuums call for a throwback to the time we dreamed of robots doing all our chores. These robotic vacuums – or smart vacuums – operate wirelessly to clean your floors and carpets. The brand has two main vacuum lines known as RoboVac and HomeVac. The RoboVac models are compact circular vacuums with smart navigation features that enable them to think for themselves. They can be controlled through remote, voice, and app controls for improved home automation. These robotic vacuums rely on technologies like laser and bounce navigation for seamless movements across different surfaces. Some models include both vacuum and mop features to clean within virtual as well as physical boundaries. The HomeVac versions are designed for handheld vacuuming using portable and extendable vacuum cleaners. In this way, Eufy delivers manual and smart vacuuming options to simplify your everyday chores.
RoboVac vacuums are quite popular because of their futuristic edge and smart mobility. They are designed to automate your cleaning schedules, so you can have one less thing to worry about. If your home has a minimalist interior space, it is very satisfying to watch the gliding vacuum sweep away all the mess. The vacuum is also equipped to work around obstacles and slide under furniture for thorough cleaning. Tracking sensors are used to map out clear routes for the vacuum to follow, and you can easily check the cleaned areas on your smartphone app. Eufy's cleaning history support on the app really steps up the game, as you never have to leave your space to check on your RoboVac. The newer versions have a magnetic pull for all imaginable mess like sprinkles, candies, dust, pet hair, and debris, enabling a fine-tuned operation for spotless results.
You can use the HomeVac handheld and handstick models for more heavy-duty purposes. They offer greater versatility using separate attachments for different surfaces like countertops, couches, carpets, and floors. Their lightweight and cordless design makes them easy to maneuver in tough corners and gaps. Most brush heads include built-in LED lights for better visibility in dark nooks and crannies. Such ergonomics make Eufy vacuums a smart companion for home automation, as discussed below to help you compare different Eufy models.
Eufy RoboVac models
RoboVac G30 Edge, Robot Vacuum with Smart Dynamic Navigation 2.0, 2000Pa Suction, Wi-Fi, Boundary Strips, for Carpets and Hard Floors.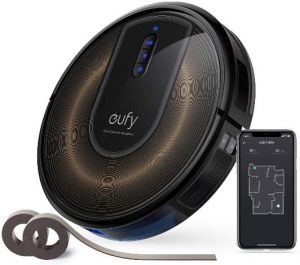 Smart dynamic navigation
Eufy RoboVac G30 Edge from the original Eufy brand is a part of its Smart Dynamic Navigation 2.0 series. It uses path tracking sensors for more guided and purposeful vacuuming, which adds precision compared to random-path vacuuming. The ultra-strong 2000Pa suction power helps the vacuum leave a clean line in its wake by sweeping up all kinds of dust and debris. You can isolate the cleaning areas using boundary strips, as RoboVac G30 Edge has specialized sensors for boundary detection to navigate within the borders. This allows the vacuum to only clean the assigned areas and exclude the occupied ones – and lets it be more aware of its surroundings. It is programmed for accurate route planning calculated movements for better floor-to-carpet coverage. The package includes a RoboVac G30 Edge vacuum, its charging base, 13.2-ft. boundary strips, 2 side brushes, an AC power adapter, an additional unibody filter, 5 cable ties, and a cleaning tool. You will receive a 12-month warranty on the product.
Vacuum interaction
RoboVac G30 Edge is compatible with Alexa and Google Assistant, so you can automate your vacuuming schedules anytime using voice commands. The app displays the vacuum's cleaning history to help you track its operating times and covered areas. This Eufy model also prompts you about the vacuum's current status using simple voice alerts to get your attention. It has a brushless motor designed to reduce the overall vacuuming noise – so the vacuum gathers dust without disturbing you, and delivers up to 110 minutes of runtime.
Hands-free operation
RoboVac G30 Edge features comfortable hands-free functionality that allows it to move around independently. The vacuum's drop-proof technology relies on drop-sensing features that detect stairs and edges for safe navigation. An auto-return cleaning feature drives it back to the charging base when the battery levels are low. The smart vacuum can pause its cleaning to go and recharge at the dock and then resume vacuuming right where it stopped. Eufy's signature BoostIQ technology can automatically adjust the suction power between hard floors and carpets. The vacuum can think for itself, set the required vacuuming strength, and carry out auto-clean schedules. Since the vacuum is only 2.85" high, it can slide under furniture gaps and access hard-to-reach areas. These competitive and innovative features reduce the need for human intervention. For the best results, make sure that you use RoboVac G30 Edge only on tangle-proofed hardwood floors, tiles, laminate floors, and medium-pile carpets.
Anker, BoostIQ RoboVac 11S (Slim), Robot Vacuum Cleaner, Super-Thin, 1300Pa Strong Suction, Quiet, Self-Charging Robotic Vacuum Cleaner, Cleans Hard Floors to Medium-Pile Carpets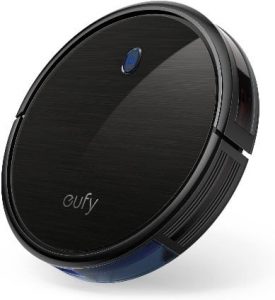 Bounce series
RoboVac 11S is one of Eufy's Bounce Series vacuums. The ultra-thin design can slide under narrow furniture gaps and follows a 3-point cleaning system. It works silently for convenient set-and-forget vacuuming schedules and functions for up to 100 minutes per charge. You can use the vacuum to clean your carpets and hard floor surfaces. This Eufy model has been re-engineered for one of the slimmest vacuum designs at a height of 2.85". It has a suction power of 1300Pa. The package includes a RoboVac 11S, a remote control unit with batteries, a charging base, an AC power adapter, a cleaning tool, high-performance filters, 4 side brushes, and 5 cable ties. You will receive a 12-month warranty on the products. Bounce navigation also means that your RoboVac 11S moves randomly while cleaning the floors until it covers every space.
Independent vacuuming
RoboVac 11S features BoostIQ technology to automatically adjust the suction power during transitions from floors to carpets. The vacuum is remote-controlled and does not support smart operations through app or voice. It is made up of anti-scratch tempered glass for added protection. This is further reinforced by infrared sensors that detect obstacles and avoid collisions, allowing the vacuum to move safely on its own. Large wheels facilitate seamless movements for rolling across carpets and even climbing over door thresholds. This model also includes drop-sensing support to avoid falling over edges, so it does not need frequent supervision. Automatic recharging is another hands-free benefit, as RoboVac 11S can find its way to the charging station without your help. This keeps it ready to vacuum at all times. A triple-layer high-performance filter delivers maximum efficiency – and thanks to the large 0.6L dust box, your RoboVac cleans continuously without needing to be emptied every now and then. You can use RoboVac 11S on low to medium-pile carpets, tiles, laminated floors, and hardwood floors.
Comparing RoboVac G30 Edge and RoboVac 11S models
| | | |
| --- | --- | --- |
| Features | RoboVac G30 Edge | RoboVac 11S |
| Control modes | App, voice | Remote control |
| Wi-Fi compatibility | Yes | No |
| Works with Alexa | Yes | No |
| Works with Google Assistant | Yes | No |
| Navigation technology | Smart Dynamic Navigation 2.0 | Bounce Navigation |
| Suction power | 2000Pa | 1300Pa |
| BoostIQ technology | 2nd Gen | 2nd Gen |
| Dust box capacity | 0.6L | 0.6L |
| Vacuum tracking | Supports cleaning history | Not applicable |
| Boundary detection | Supported via boundary strips | Not supported |
| Multi-surface cleaning | Enabled for hard floors and medium-pile carpets | Enabled for hard floors and medium-pile carpets |
| Movement speed | 26.7 cm/s 10.2 in/s | 26.7 cm/s 10.2 in/s |
| Climbing threshold | 15 mm 0.59 in | 16 mm 0.63 in |
| Fall prevention | Yes | Yes |
| Auto-dock and recharge | Yes | Yes |
| Cleaning modes | Auto, spot | Auto, spot, edge, single room |
| Noise level | 56 dB | 55 dB |
| Scheduled cleaning | Weekly by app | Daily |
| No-go zone | Not supported | Not supported |
| Mopping facility | Not supported | Not supported |
| Maximum runtime | 110 min | 100 min |
| Charging duration | 5-6 hours | 5-6 hours |
| Battery type | 2600mAh Li-ion, DC14.4V | 2600mAh Li-ion, DC14.4V |
| Filter type | Unibody high-performance filter | Triple-layer high-performance filter |
Eufy HomeVac models
HomeVac H11,Cordless Handheld Vacuum Cleaner,Ultra-Lightweight 1.2lbs,5500Pa Suction Power,USB Charging, for Home Cleaning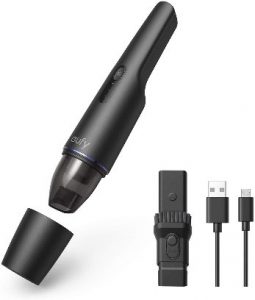 Lightweight vacuuming
HomeVac H11 is among Eufy's cordless handheld vacuum ranges. It is extremely portable and compact for quick surface cleaning during your everyday chores. The cordless vacuum weighs 1.2 lbs. and is ergonomically shaped to simplify your work. This also means that the vacuum can stand on your shelf or countertop for easy storage; its small footprint gives it a cool gadget look. HomeVac H11 is powerful enough to deliver 5500Pa per use, which vacuums away every speck of dust from all corners. It requires micro-USB cable charging to gear up before each round. The box includes a Eufy HomeVac H11 vacuum, a 2-in-1 crevice tool, and a USB to micro-USB cable. The product has a 24-month warranty.
Detailed cleaning
The 2-in-1 crevice tool attachment is designed to reach every nook and cranny. It has a narrow shape to access tough corners between furniture or sofa seats. The built-in brush helps with softer vacuuming on objects like laptop keyboards, so the attachment really makes HomeVac H11 a versatile handheld cleaner. From sweeping up pet hair to picking breadcrumbs, the main nozzle already works efficiently on its own, and the multipurpose tool extends its coverage even more. The vacuum's non-slip design helps you maneuver it comfortably, and this Eufy model is the perfect balance of good ergonomics and style. A full charge delivers up to 13 minutes of vacuuming power.
Once your work is done, you can remove the washable filter to keep it clean and dry before the next use – this is all the maintenance your HomeVac H11 vacuum needs.
HomeVac S11 Infinity, Cordless Stick-Vacuum Cleaner, Lightweight, Cordless, 120AW Suction Power, Additional Detachable Battery, Deep Clean Carpet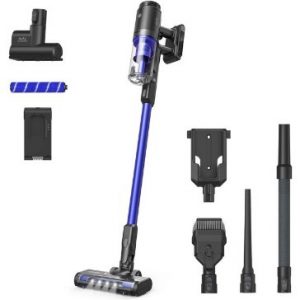 Handstick vacuuming
HomeVac S11 Infinity is Eufy's cordless handstick vacuum model. The cordless design is very residential-friendly because it lets you move around more freely – compared to being tethered to a power socket or connecting an extension cable to reach further. With this level of effortless vacuuming, you can focus on actually cleaning your space in no time. The vacuum comes with a spare battery that makes a timely backup if the current battery is exhausted. You can finish your entire cleaning session in one go without waiting for the vacuum to recharge. Depending on your selected cleaning mode/speed, HomeVac S11 Infinity can last between 8 to 40 minutes, covering all your targeted and whole-home vacuuming needs. It works on 120AW suction power. The collection includes a HomeVac S11 Infinity vacuum, wall mounting accessories, a floor brush, an AC charger, a metal hose, a long crevice tool, a 2-in-1 crevice tool, a mini-motorized brush, an extension hose, a soft roller brush, and an additional battery pack. You will receive a 2-year warranty on the vacuum and a 12-month warranty on each battery pack.
Versatile cleaning
This Eufy model comes with all kinds of attachments designed for competitive spatial coverage. You will find the right tool for every cleaning application. Five attachments are included in the box; each tool is designed to bridge all kinds of gaps in your surface and mass cleaning plans. The 2-in-1 crevice tool comes in handy for lighter cleaning.
The mini-motorized brush can clean below your furniture fabric. You can connect the extension hose for better flexibility around the rooms, and attach the long crevice tool for reaching inaccessible areas. The high-power motor works with Eufy's Dual-Vortex technology to leave the cleanest trail in its wake. A 5-tier filtration system reinforces and protects the motor for added durability. The brush head has LEDs to light up the immediate area when you are vacuuming dark spaces. It is equally easy to clean the vacuum itself after each session – thanks to the detachable dust box and washable filter.
Comparing HomeVac H11 and HomeVac S11 Infinity models
| | | |
| --- | --- | --- |
| Features | HomeVac H11 | HomeVac S11 Infinity |
| Vacuuming style | Cordless handheld | Cordless handstick and cordless handheld |
| Suction power | 5500Pa | 120AW/20kPa |
| Dust box capacity | 90ML | 0.65L |
| Accessories | 2-in-1 crevice tool, micro-USB cable | 2-in-1 crevice tool, long crevice tool, mini motorized brush, extension hose, soft brush roller, wall-mount base |
| Charging type | USB charger | AC charger |
| Spare battery option | Not supported | Supported |
| Maximum runtime | Up to 13 minutes | Up to 40 minutes x 2 using the spare battery |
| LED headlight | Not supported | Supported |
Let the chips fall where they may. Literally.
Eufy vacuum models make up the next generation of robot vacuums. The latest innovations focus on vacuum + mopping features, and there is no turning back from this level of speedy cleaning! In contrast to the physical boundary setting discussed above, Eufy solutions also include virtual boundary detection in which the vacuum is guided by virtual lines from the app.
These smart vacuums are becoming increasingly capable of thinking for themselves. They can whirlpool all the scattered confetti and food crumbs up into their dust box and out of sight, so you no longer need to be scared of making a mess. The brand always rises up to groundbreaking challenges for improvement – after all, a little dust and debris never slowed down Eufy!