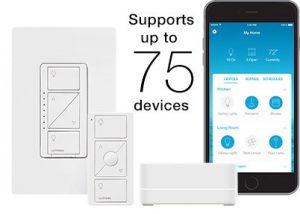 Image source: Lutron
Lutron lighting has illuminated the smart industry for decades ever since the brand launched the first-ever electronic dimmer. The systems are carefully crafted to deliver smooth light controls and adjust the ambient quality to suit your needs. Lutron catalogs are full of switches, dimmers, sensors, light fixtures, and scenario-based systems – all of which help you save energy and keep your space well-lit. You can install dynamic lighting, dimmable LEDs, and daylight alternatives and use Lutron switches to set the perfect indoor environment. They are used for controlling single room and whole-house lighting systems from the same switch. Motorized window treatments can be added to the Lutron ecosystem to balance natural light and artificial smart lights. This makes Lutron solutions more than just light management systems because they can be tailored to your specific residential and commercial requirements.
You can also link your lights with your smart home's security and AV products, so multiple gadgets can be added under one Lutron canopy. The switches and outlets have supreme design aesthetics and fade resistance, making them last a lot longer than other brands. All the dimmers and switches are easy to install for various single and multi-room solutions. Lutron keeps the idea of controllable lighting at the nucleus of all product lines, and this is what makes the brand a pioneer of user-friendly light systems. You can control these lights from the Lutron app on any smartphone and tablet. The complete system also uses sensors and automated shades for smart lighting diversity.
Different remodeling and retrofit projects rely on Lutron gadgets to create versatile controls and wireless smart lighting. This is a great way to upgrade from traditional infrastructures and explore the smart horizon for improved living. Such innovative and dynamic features are what make Lutron lighting systems quite expensive. The brand delivers the highest quality products with personalized controls for the best comfort. You can receive all your lighting support from the same company which takes care of the installation and future support. The cost of a Lutron lighting system is generally higher than other products in the market, and we have explored the key reasons for this difference below.
Lutron lighting costs and influencing factors
Impressive product features
Lutron lighting systems are often available as smart kits that include daylight sensors and occupancy sensors among other hardware accessories. These daylight sensors can adjust your shades as well as the overhead lights to maintain ideal ambient levels. Occupancy sensors keep a check on room occupancy or vacancy, so your lights stay on only when the room is occupied. Lutron products are designed to make a statement in whichever context they are used. Apart from the highest quality standards, these lighting systems are costly because of the brand's extensive research and development to create user-centric products. Competitive customer support also drives the high-end spectrum. Lutron has various other brands such as Lutron Caseta that make its product lines stand out. 
Lutron systems
The cost of a Lutron lighting system depends on your chosen applications, the number of add-on devices, and the scope of installation. Standalone controls like dimmers, switches, timers, sensors, and wall plates are priced differently based on the kind of application you have in mind. Similarly, the single-room controls and whole-building systems can vary remarkably in their price range. Lutron has versatile whole-building solutions like Athena, Vive, Quantum, and Limelight. Its shading systems include Sivoia QS, Palladiom Shading System, Serena, and other grouped options. The whole-home systems can be chosen from RA2 Select, RadioRA 2, and HomeWorks solutions. The term "lighting control system" can accommodate a wide range of devices to suit your application.
As an example, one complete lighting control system can include basic switches, dimmer switches, motion sensors, and occupancy sensors. Other Lutron lighting systems featuring LEDs and lighting combinations include:
Finiré Downlights by Ivalo. These are high-performance intelligent downlights and linear lights with guaranteed flicker-free dimming.
Lumaris Linears by Ivalo. The sleek LED linear system provides high-quality and uninterrupted LED illumination.
Pendants and Sconces by Ivalo. These are designed for functionality and aesthetics for all indoor and outdoor uses.
Lutron Caseta is a comprehensive smart lighting control system for user-defined purposes. It can be installed in all kinds of homes and is compatible with older wiring. This makes Caseta systems very easy to install and upgrade, as the age of your home will not be a problem. They are simple enough to use and allow for seamless integrations with popular smart platforms like Alexa, Siri, Google Assistant, Sonos, etc.  Considering all these Lutron systems that are already priced at the high-end market, the final cost for your chosen solution really depends on what kind of system you require. Homeowners often use mix-and-match strategies where they install select Lutron power outlets only where they are needed the most. Every room needs to have around 3 outlets based on its size, so the cost of one Lutron switch will multiply accordingly.
Average costs
As discussed above, the cost of a Lutron lighting system depends on which branded solution you pick. A Lutron Caseta system with a smart bridge can cost you $100, whereas RA 2 starter kits can range around $400. It is important to enlist the help of professionals for accurate installations. Professionally installed lighting systems can cost you more, however, they will pay off in the long run when you are not slowed down by recurring technical problems. This can price your lighting system units plus installation services anywhere between $1,500 to $30,000, depending on the size of your building and the number of individual installations. Most Lutron devices require controllers and smart bridges to support integrations like Alexa. So, these add-on devices also affect the overall cost. Average HomeWorks systems can start at $15,000 just for the lighting units; you can expect to pay additional amounts for labor. This also gives you some idea about uninstalling and reconfiguring your Lutron ecosystem – for example, when you plan to relocate.
In terms of individual lighting units, Lutron products are more expensive than other brands. A single Lutron Caseta dimmer switch and starter kit can cost you around $70 to $90. Multiply this by the number of switches you want, and you have the general cost of your lighting system.
Lutron lighting products between $60 – $120
Lutron P-BDG-PKG1W Caseta Wireless Dimmer Kit with Smart Bridge, White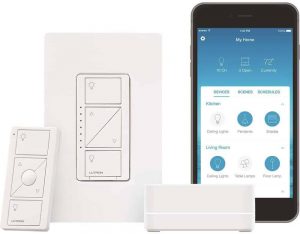 Lutron Caseta wireless dimmer kit comes with a smart bridge and is compatible with Alexa and Apple HomeKit. You can use this dimmer kit to adjust your lights and shades throughout the year – even when you are away, so a dark home does not become an easy target for burglars. The lighting system can be adjusted using the Lutron app on your smartphone as well as the Pico remote control for convenient access to your lights from wherever you are. This wireless dimmer is an important addition to your home for managing ideal brightness and smooth dimming everywhere. It can be used with 600W incandescent or halogen lights and 150W dimmable LED or CFL. You can set schedules for smart adjustments and even create lighting scenes for superior customization. The package includes one wireless in-wall dimmer, one Lutron Smart Bridge, one Pico remote control with its battery, and one screwless wall plate. At the given price range, you can adjust your lights using the wall switch, the remote control, and app controls – and users always enjoy this level of operable convenience.
Lutron Caseta Wireless Smart Lighting ELV Dimmer Switch for Electronic Low Voltage Light Bulbs, PD-5NE-WH, White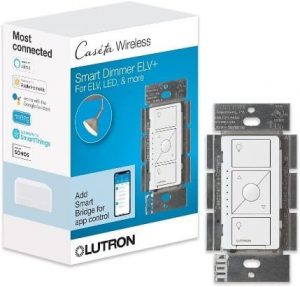 Lutron Caseta ELV smart dimmer offers you seasonal control over your lighting systems based on the time of the year and the required brightness or dimming. It connects to Alexa, Apple HomeKit, Google Assistant, Ring, Serena shades, Sonos, and other platforms. You can control your lights however you like using the Lutron app, your favorite voice assistant, and the Pico remote control. You will have to purchase the Pico remote control, the smart bridge, and even the wall plate separately, which we feel is a major downside considering the heavy price tag. The smart switch can control multiple light bulbs at the same time, including your 250W dimmable LEDs and 500W incandescent, halogen, and electronic low-voltage (ELV) lights. It can also tackle 400W of magnetic low-voltage (MLV) units. You can conveniently replace your existing switches in just a few minutes using neutral wiring, so it is a great way to upgrade to the latest Lutron lighting solutions. The dimmer remembers your favorite settings for instant access using the preset button. It offers out-of-the-box usability for the light loads mentioned above, making it a flexible choice for multi-location uses.
Lutron Caseta Smart Home Switch, Works with Alexa, Apple HomeKit, Google Assistant | 6-Amp, for Ceiling Fans, Exhaust Fans, LED Light Bulbs, Incandescent Bulbs and Halogen Bulbs | PD-6ANS-IV | Ivory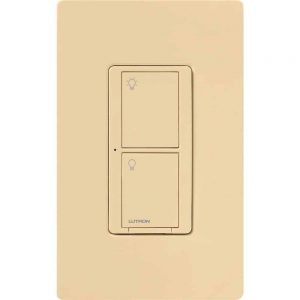 Lutron Caseta smart switch brings multiple control options for in-wall and remote management. You can use the wall switch, the Lutron app, voice assistants, as well as the Pico remote control. The Pico unit can also be mounted to a wall to double as a control panel. You do need to purchase it separately though. The package also lacks the coordinating wall plate. The smart switch is compatible with Alexa, Google Assistant, and Apple HomeKit. It also works with Ring, Serena shades, and Sonos devices, so you have increased compatibility to power up your smart ecosystem. You can use this feature to activate scenes and create your own schedules with 720W incandescent/halogen/ELC/MLV units, 6A of LED/CFL units, and 3.6A of ceiling/exhaust fans. The switch can be installed easily on neutral wiring for both first-time uses and retrofit applications. It helps you smarten up your existing toggle switches too. By using the Lutron smart bridge, you can benefit from the simple "set it and forget it" functionality, as the bridge takes care of all the necessary communications. For these reasons, the Caseta family of lighting systems are popular for their multi-load adaptability.
When the light bulb goes on in your head
Lutron has a huge client base because it provides human-centric lighting solutions. The systems are designed to give you flicker-free and consistent lighting levels, regardless of how bright or dim your settings are. By keeping you – the user – at the center of each design, the company builds solutions that actually work for you and address your expectations. Lutron's focus on product diversity makes all the difference, for example, you can pair up your lights and shades to harness both the natural and smart light energies. Such an adaptive and personalized level of control enables more streamlined management for all your lights. Custom ambient levels for each room help you isolate the brightness, dimness, and light colors to suit every member's preference. This also applies to commercial contexts where the halls and reception can have separate décor-oriented lighting compared to office lighting.
While the units and complete systems are quite expensive, Lutron solutions are built to last – up to as long as 25 years! These hybrid systems combine lights, sensors, timers, app controls, and voice assistant integrations, so you can operate your lights from anywhere, even if you are traveling. The lights can be configured so that your path track lights activate as you approach, your home theater lights tone down automatically, and your shades move in response to the natural light – the possibilities are simply endless. Lutron also supports DIY as well as professional installations, and you can choose your preferred method while buying the products, though professionally installed systems have their own charm. Features like durability and compatibility make Lutron audiences happy and satisfied with their choice, and the high costs easily pay off in the long run. Your devices will stay functional and active without technical issues demanding expensive repairs, replacements, and frequent upgrades. This is why homeowners prefer to pay extra and have one long-lasting unit instead of buying multiple units down the road – as faulty installation can mean the difference between a Lumos and a Nox!