A dehumidifier for garage is an appliance built for residential, commercial, and industrial applications that require reducing and regulating humidity levels in the air. The device vacuums out the moisture around it and blows dry air back into the room, making it an essential addition to your garage for eliminating dust and mold. This helps to make the space less inhabitable for pests and microbes, and this allows for a clean and fresh environment with health benefits – especially those that combat allergic reactions to various contaminants. Dehumidifiers are most useful in damp areas where moisture accumulates easily, like basements and garages. They are also a common sight in places that are prone to heavy rainfalls and water leakages that are accompanied by a persistent damp odor.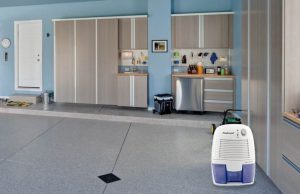 Apart from parking their cars, most homeowners use their garages for storage and DIY workshops, so there are always tools, equipment, and project accessories stocked up. The garage climate needs to be clean and dry in order to protect your inventories from intrusive dust mites and mildew. Homeowners also tend to remodel their garages into recreational areas, living rooms, and gyms. For all of this hard work and furniture in the garage, humidity levels should be kept at a minimum to ensure the longevity and durability of everything. Moisture is the enemy of your stored supplies, and proper ventilation through a dehumidifier for garage along with an open window works wonders. This is particularly useful to preserve your memory boxes full of precious nostalgia, childhood trinkets, and photo albums.
Benefits of Installing a Dehumidifier in your Garage
It Remove Excess Condensation
Garages are usually the least-ventilated spaces, and when the warm air from outside hits the cold flooring, condensation takes place and creates an illusion known as "garage sweating" – it really seems as though the garage floor is sweating. This added moisture eventually sneaks into the framework and your stored supplies, causing both the garage structure and valuables to be at risk. By installing a dehumidifier, you can eliminate this problem and make your garage appear dry and clean.
It Minimizes Rusting on Your Vehicles
Humidity and metals are not a happy combination, and rusting is a very serious problem for your cars, motorbikes, bicycles, snowmobiles, etc. When the air in your garage is saturated with extra moisture, it starts to eat into the metal parts and speeds up rusting. This increases your maintenance chores, and you often end up having to buy replacement parts. Rusting is a major issue if your stocked goods and shelving have metal components too. Dehumidifiers snatch away most of the lingering moisture to keep your metals free from rust.
It Keeps the Paint Intact
High humidity levels are immediately followed by peeling paint and a stubborn, damp smell that becomes the first thing you notice whenever you open the door. Mold is known for the permanent residence it takes on moist walls, and it does not just look unappealing – it also affects your home value. With damaged and exposed walls and ceiling, your garage structure begins to deteriorate over time. Once again, it comes down to minimizing humidity, and a dehumidifier tucked into one corner makes all the difference.
It Cuts Down Allergy Triggers
Mold, dust mites, pollen, and other external pollutants are common allergens that cause different reactions like sneezing and skin problems. When a dehumidifier cleans the air of excess moisture, the garage is filled with dry and clean air that no longer causes allergic flare-ups. People with asthma and greater sensitivity to dust and mildew prefer installing a dehumidifier – especially if their garage is their frequent workspace.
It Keeps Insects at Bay
Moisture build-up is the compass-North for pests like cockroaches and spiders. Dehumidifiers have versatile results in their singular job of removing humidity, as this also reduces the chance of pests sharing your garage. A humid garage is the breeding headquarters for both mold and pests, and your investment in a good dehumidifier goes a long way in terms of keeping your space safe, clean, and productive.
What is the Best Dehumidifier for Garage?
BlueDri BD-76 Commercial Dehumidifier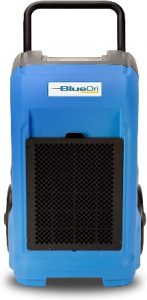 This commercial BlueDri dehumidifier achieves ideal moisture extraction at around 150 pints per day – thanks to its high-efficiency rotary compressor. It is equipped with an automatic water pump and RH and temperature sensors, and you can operate it using the digital panel with electrical controls for auto restart, hour counters, etc. The BD-76 model has been designed for water damage restoration projects and construction areas, so it has a commercial and industrial appeal for tough environments. This also makes it ideal for your attic, basement, and garage. The dehumidifier weighs 81 lbs. and operates on 115 V/60 Hz, drawing 7.3 amps. It is a high-performance addition to your garage, built with a dent-resistant roto-molded polyethylene housing. Portability features come from its firm handle and semi-pneumatic wheels, so you can move it around easily and install it anywhere to remove residual moisture.
BlueDri BD-130P 225PPD Industrial Dehumidifier for Garage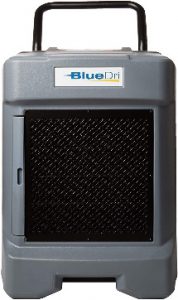 This BlueDri dehumidifier is a BD-130P version that is suitable for garages and basements. It weighs 97 lbs. and extracts moisture at 225 pints per day. With a power cord of 25 feet and a drain hose of 38 feet that easily directs water out of your garage, the dehumidifier operates on 115 V/60 Hz and achieves a maximum air process of 410 CFM. The digital panel has an intuitive LCD screen and includes purge and timer buttons with power and scroll options.
With just a few clicks, you can get your dehumidifier up and running using auto-restart and hour counter features. It offers automatic water drain capabilities and an internal usage timer as well, allowing you to simply leave it on all day without having to pour buckets of water outside. There are also RH and temperature sensors built into it. The equipment is manufactured to tackle water damage restoration contexts and can deliver high runtimes without frequent human intervention. It extracts moisture at professional-grade performances and has an automatic water pump. The roto-molded housing stands up to tough working conditions around construction sites, making it a valuable addition to your garage for its superior performance. You can detach the dehumidifier's washable filter for cleaning and reusing.
ALORAIR LGR 180 Pint Commercial Dehumidifier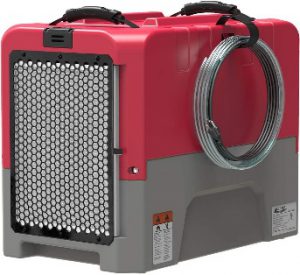 ALORAIR dehumidifier is a commercial equipment designed to remove 180 pints of moisture per day at saturation conditions. It has a digital humidistat control and a timer, with the display showing both inlet and outlet values. Built to withstand flood and water damage restoration, the cETL-Certified dehumidifier works at 33.8-104 °F, drawing 5.62 amps on 115V of power supply, so it is quite energy-efficient for warehouse storage as well as garages. Since the power cord is extra-long at 19.6 ft, you do not need any extension cords. Both the power cord and hose are tucked to the side to optimize storage. Thanks to its waterproof design that seals the inner circuitry through rubber strips, the machine is safe to operate when your garage is flooded. Auto-defrosting activates at the dehumidifier's minimum operating temperature to easily get rid of ice from the coil.
The machine makes use of a rare earth alloy tube evaporator that extends the coil's life while letting it retain its heat transfer abilities. This also avoids freon leakage. The compact rotational molded housing adds to increased portability and takes up less space in your garage. A condensate pump connects to it for draining; you just need to plug in the dehumidifier and choose your settings. You can remove the washable MERV 8 filter for easy cleaning and also purchase a replacement filter for future use.
TOSOT 20 Pint 1,500 Sq Ft Dehumidifier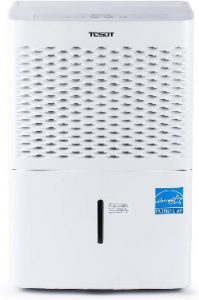 TOSOT dehumidifier removes around 20 pints of moisture per day, staying easy on your utility bills. It is an Energy-Star equipment that works well in bedrooms, bathrooms, basements, and garages. The removable drain bucket is spill-proof and has a capacity of 1 gallon. It is programmed to alert you with a beep when you need to empty it manually; you can also connect a ¾ drain hose that you will need to purchase separately. Another alert signal comes in the form of a filter light to remind you to clean the filter. The control panel includes buttons for power, filter, fan speed, and timer, and it follows real-time monitoring to automatically turn off the machine once your set humidity target is reached. You can view the current humidity level on the digital display. If you select the nonstop mode, then the dehumidifier works continuously without monitoring the surrounding humidity.
Operating silently at around 48 decibels, the dehumidifier sits quietly in your garage corner while leaving a clean climate for your inventories. TOSOT versions are designed to function like vacuum cleaners to extract moisture from the saturated air and blow back light, breathable air into the room. This also contributes to the smooth operation of your AC systems, as thick humid air affects the proper ventilation levels. Warm, moist air is vacuumed into the grills, through freezing-cold pipes where it condenses into water droplets that collect in the drain bucket. In the meantime, the moisture-free air renters the room, and the cycle repeats to maintain the comfortable humidity levels. The dehumidifier is equipped for power outage restart in which it picks up right where it stopped before the power went out, resuming your latest settings automatically.
Frigidaire 70 Pint Dehumidifier with Wi-Fi, White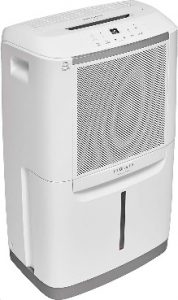 Frigidaire dehumidifier is Wi-Fi-enabled to help you control the humidity levels more precisely. By connecting it to the Frigidaire Smart Appliance app, you can turn the machine on or off, adjust the humidity level, and receive quick notifications like when the drain bucket is full. It is also compatible with Amazon Alexa and Google Assistant. The portable unit has rolling casters and side handles and fits easily into garages, basements, attics, bedrooms, etc. It dehumidifies the air up to 70 pints per day.
The equipment offers custom humidity control with 2 fan speeds and features an automatic shut-off option. Its front-loading bucket has a capacity of 2 gallons and includes a carry handle as well as splash guards to help you drain the water without making a mess. You will receive a Full Tank alert as a reminder, and you can always switch to the continuous mode by connecting a standard garden hose (purchased separately). The overall indoor air quality is maintained when bacteria, mold, mildew, and the resulting odors never get a chance to grow. The energy-saving dehumidifier requires a low operating temperature and has a washable mesh filter that traps all the dust and allergens pulled in through a honeycomb grill. All in all, your status updates become easy not just through the app but also from the unit's indicators for Bucket-Full, Clean-Filter, and Wi-Fi Connected options.
BLACK+DECKER BDT20WTB 20 Pints Dehumidifier, White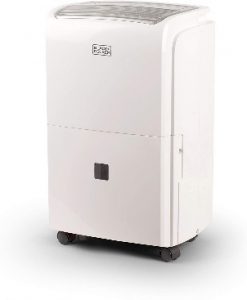 This BLACK+DECKER dehumidifier makes a modern addition to your closet, garage, cellar, boat, RV, and any medium-sized space. With moisture extraction at 20 pints per day, the unit is an Energy-Star-Certified equipment that is easy on your bills and works on the environmentally-friendly R410a refrigerant. You can set your desired humidity setting on the LED display, and the dehumidifier will turn off automatically once the water tank is full or the timer goes off. An audio and visual alert beeps to remind you about draining the bucket, or you can simply connect the included 3.28 ft hose to support continuous drainage. The bucket has an easy-view water level indicator. The 2-speed fan and timer can be set to high power dehumidifying for maximum moisture removal in your garage. Apart from the bucket alert, the machine also signals for filter cleaning. Its compact and sleek design enables lightweight portability that becomes even easier with the recessed handles and four mobile caster wheels.
The top-mounted control panel features an LED display and an adjustable humidistat – apart from the standard controls. With a small footprint that makes the sleek structure stand out better, the dehumidifier stays neatly out of the way – considering the clutter any garage grows into without a warning. The machine has an automatic defrost and restart facility which comes in handy in the event of power interruptions. You do need to reset the timer and child lock modes once the power comes back.
LG PuriCare 2019 50-Pint Black Energy Star Dehumidifier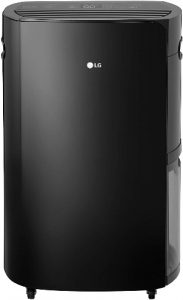 LG dehumidifier has a modern edge to it with a minimalistic look that works well especially if your garage has received a design makeover. It dries the air up to 50 pints a day and operates in comfortable silence. The metal frame and external casing are non-flammable, and the glass fiber / silicone wire enclosures are resistant to heat. There is an Airflow Blockage alarm to alert you promptly, and a Safety Standby mode turns the dehumidifier off after prolonged usage. This avoids the dangers of an overheated machine in your garage. Such safety features in the form of thermal resistance and automatic actions ensure smooth performances that you can trust, so there is always one less thing to worry about in your busy day. The side-loading water bucket is transparent and has a capacity of 1.7 gallons, giving you a clear view of the water level. It features an embedded cover and grip handle for splash-free transfers. There is also a continuous drain connection to keep the process uninterrupted. An alarm goes off to alert you when the bucket is full, followed by an auto shut-off to prevent hazards. The automatic defrost control enables a low-temperature operation for the machine. This Energy-Star dehumidifier cuts down energy consumption which is a huge relief for the usual sky-high bills. The Check Filter light lets you know when it is time to remove and wash the filter.
An Case for a Dehumidifier for Garage
Moving from damp to dry, the air around a dehumidifier is free of suffocating moisture and allergens. This makes a perceptible change in your environment and simply soothes your neat-freak radar that constantly scans for dust and germs. Dehumidifier for garage is a great solution to combat the aftermath of a rainy spell in your region – or when high temperatures team up with high humidity levels. The units help with making your garage paint and wallpaper last longer. Your garage makeovers for a studio, mini theatre, workshop, storage, and living room have a better chance of survival with a dehumidifier standing as a guard nearby. Most designs are equipped with signal alerts and detachable components that you can take apart for cleaning. Moreover, smart dehumidifiers have a futuristic appeal that is hard to resist when you can set up everything with just a few clicks on your smartphone – a breath of fresh air that goes the extra mile, so you don't have to!