A doorbell for hearing impaired that is extra loud and features visual alerts has been designed to help people who have hearing impairments. These visual prompts make a smart alternative to audio doorbells, allowing people to collect their ordered deliveries and never miss a visitor at their door. Hearing impairments could range from limited to no hearing, and doorbell solutions are developed to cater to various levels so that everyone can benefit from the smart visual alert system. You can personalize your doorbell features to flash bright and colored lights or sound a super-loud bell – both of which will catch your attention, regardless of where you are at home. Once the doorbell rings, your customized alert system will be activated as it is embedded into the doorbell setup. Since the system is flexible and can be adjusted to individual preferences, elderly people with partial hearing can choose to set loud and audible bells. They can also mute this feature and just use the visual flashes if there are infants at home who might get disturbed.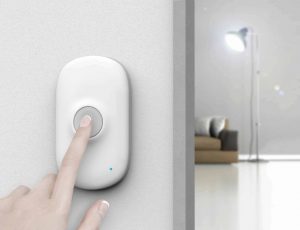 Amplified volume and flashing lights are not the only features; smart doorbells can link up to your smartphones and help you out at a click. With the pressed doorbell, different actions can be triggered, both manually and automatically in case of emergencies. These innovations are built with human safety at their frontline, promoting independent living and helping people stay empowered in their individual abilities.
Interesting Features of Doorbell for Hdearing Impaired
Assistive technologies for smart doorbells are always revamped to keep up with the latest smart wave. Doorbells designed to help with hearing impairments have different features and triggers to suit the user's needs. Generally, the system can be set to sound loud and clearly audible doorbells for people with limited hearing, flash bright lights for those who cannot hear at all, and provide other alternatives for customization. The assistive spectrum is wide and full of remarkable potential to help people build bridges over their disabilities and march confidently towards their goals. The following are some of the popular tech-savvy additions to doorbells that enable a safe environment for the hearing impaired.
Strobe Lights
Famous for their industrial, emergency, and stage applications, strobe lights are often wired to smart doorbells to emit bright flashes at regular intervals. The strobe light will flash for a certain number of pulses that are enough to grab your attention no matter where you are at home. It is a great solution if you do not prefer loud, audible bells for fear of disturbing neighbors if you live in densely populated areas. When the strobe lights flicker on and off, they make an adequate signal to alert you that someone is at the door.
Frequency Matching
People who are hard of hearing usually hear much better at certain sound frequencies, and most doorbell designs exploit this specific frequency for targeted hearing. The doorbell equipment can then be wired to suit your audible hearing range, eliminating the need to boost the volume to higher decibels.
Doorbell Vibration
Vibration kits can be integrated into your smart home as another form of an effective alert system. For example, a vibrating key chain can be carried around in your pocket – or a similar portable device could be clipped to your clothing. When the doorbell rings, this portable alert will vibrate in response. Alternatively, the idea can be improvised to replace a doorbell system with a simple door knock. A vibration sensor will detect the knock and set off the programmed flashing lights to alert you.
Alexa-Friendly Features
Smart doorbells can team up with Alexa and other voice assistants so that whenever someone rings them, your voice assistant will step in to signal an alert of your choice – like turning on the strobe lights. Your Echo devices receive the relevant signals from Alexa. This works through compatible devices and interoperability to ensure real-time and instant triggers. It also provides alternative ways of connecting your smart doorbell with solutions you are comfortable and familiar with.
Home Security
Alexa compatibility brings us to another important function – home security. Compatible Echo devices in this scenario allow you to talk to your visitors without even leaving your couch to open the door. Video doorbells such as Ring models are designed to notify you on your smartphone and enable remote communication. Since these gadgets work with Alexa, you can use voice instructions to wake up the necessary devices and help you as needed.
Different Chime Melodies
Various doorbell systems are equipped with an audible chime archive that hosts several different melodies you can choose from. This is another way to customize your doorbell alert to notify you with unique chimes – for example, at different times of the day, for different visitors, and at audible volumes. Your alert mechanism does not have to be boring – or blaring – when you can select bell chimes that match your hearing range and sound pleasant as well. Moreover, extra chimes for the same doorbell model can be installed to separate entry points to assist people with limited motor skills – they can hear the chime from wherever they are and reach the closest door.
Self-Learning Memories
Adjustable volume control also comes with the added benefit of the system "learning" and "remembering" your preferred volumes. Different sound levels can be set to match your hearing range, especially if you can hear moderately well at various frequencies. The doorbell system can be configured to your optimum hearing range for sounding the bell audibly each time the doorbell rings – and from whichever door it rings. Self-learning also cuts down interference from the environment to enable hearing optimization around your home.
LED Halo
Brands such as Honeywell incorporate an LED halo light as an alert feature each time the doorbell rings. These halo lights are built into your receivers and can be activated at your chosen color – forming a halo around the unit's perimeter. They make a simple and neat visual confirmation in your smart home that already pings with various signals from time to time.
What Are the Best Doorbells for Hearing Impaired
NuTone Plug-In Doorbell Kit for Hearing Impaired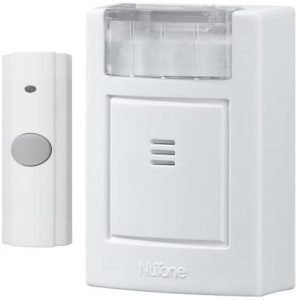 Broan NuTone doorbell kit for the hearing impaired will plug into a 120-volt AC electrical outlet to signal strobe flashes for all of its audible tones. Its chimes stay resilient against external noises. The receiver has a built-in strobe light to create an integrated visual alert in the same device. The two-note sounds are adequately loud to make sure that you do not miss any visitors. By installing additional LA224RWH receivers in different rooms, you can hear the doorbell from most areas of your home. Also, you can install up to 3 doorbells to make 3 doors in your home respond to visitors. The system reaches a generous wireless coverage within 20 to 125 feet to optimize the alert features and ensure that they reach you successfully.
Measuring 1.63″ x 3.75″ x 4.5″ in size, the plug-in doorbell features an 8-note Westminster as well as 2-note sounds to set the audible alert at your desired range. It operates smoothly with wood and vinyl siding, considering how metal frameworks can hinder the wireless range. The equipment makes a productive addition for people who are hard of hearing, as the adjustable chimes and flashing strobe light offer assistive comforts. Installing a second doorbell pushbutton means that you can program the system to sound a different tone for each door – ideal for differentiating between front and back door exits.
Julyfox Wireless Doorbell Kit (Plug in)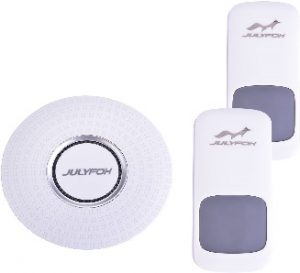 Julyfox wireless doorbell kit features a long operating range of up to 300 m, suitable for wide and spacious homes. You can choose from 52 chimes and adjust them at 4 different volume levels from 25 to 110 decibels. The waterproof casing of the remote transmitter has an IP55 rating and makes the simple and elegant doorbell withstand the rainy season. Since the main receiver requires no batteries, it can simply plug into an outlet and activate flashing LED lights as well as audible sounds to alert you. The programmable doorbell system enables communication between 1 transmitter and up to 50 receivers – and the other way round as well. This all-in-one kit is the ideal assistive support for the hearing impaired, and it comes with a plugin receiver unit, 2 remote button transmitters, a double-sided sticker, transmitter batteries, anchors, and screws.
The doorbell can be installed in easy steps and has a wide range of applications as a paging device too for elderly people – with its 1-to-50 ratio between receivers and transmitters and vice versa. Setting different chimes for each transmitter allows you to know which door has the visitor if your home has multiple exits. A built-in transformer automatically adjusts the voltage across 60V to 260V. The LED light alert on the receiver facilitates nighttime tracking so that you never miss a guest.
Fosmon WaveLink 51009HOM Wireless Door Open Chime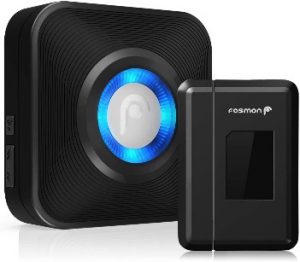 Fosmon wireless doorbell for hearing impaired has an integrated LED alert for an effective visual notification, making the plug-in receiver, transmitter, and sensor work in perfect synchronization. Bright LED lights on the receiver catch your attention easily, as the doorbell can operate at a 152-m operating range. It has 58 unique ringtones for increased customization, and these can be adjusted at 4 different volumes from 0 – 110 decibels. With multiple receivers installed at each floor, it is hard to miss any doorbell or visitor.
The transmitter is rated at IP44 for weather resistance; it can also withstand high heat levels. The receiver's compact size easily plugs into a standard wall outlet of 100V – 250V AC, helping you monitor the entry points from any room. This WaveLink door chime supports an expandable system that you can customize to your convenience – for example, by adding 10 receivers to 1 transmitter or 1 receiver to 10 transmitters. The wireless installation uses a double-sided tape to mount the doorbell at various entries. Once you connect it to your doors and windows, each time those doors and windows open, the magnetic sensor activates – creating another useful alert for home security through battery-driven transmitters. The package comes ready to use with 1 receiver, 1 transmitter, and all the necessary mounting hardware.
Secrui Door Chime with 2 Sensors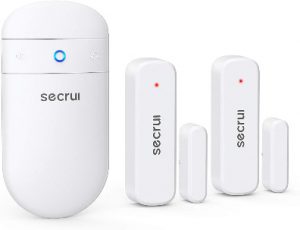 Secrui door chime has an LED indicator to help people with hearing impairments rely on the visual alternative. The LED alert for entrance and exit alarms activates when a door opens, which adds a smart element of caution for home security. If an elderly person who is hard of hearing is alone at home and is not expecting any visitors, then the doorbell system can forewarn them of potential break-ins when an intruder opens the door – the LED flickers to create a smart warning. When the main door, garage door, or window opens, the magnetic strip separates, and its magnetic sensor detects the break – which is effective to alert you even when little kids at home might end up opening the door. So, the safety aspect is as wide-ranging as the operational distance of up to 500 feet.
You can use the double-sided tape to mount the transmitter; the receiver connects to any standard wall outlet. The wireless door chime can sound 52 ringtones, each amplified at up to 110 decibels. You have the classic dingdong bell, alarm ringtone, happy birthday song, and other tunes that last the duration of their respective songs. It self-learns your latest setting and relies on its memory to resume the same configuration whenever you re-plug the gadgets. The magnetic-triggered alarm is both audible and visual for various contexts in homes as well as offices – so you never miss your clients either! Multiple sensors act as sentinels to guard your attic door, bedroom door, garages, and windows – with the receiver in your basement ready to alert you even there. The package includes 1 receiver, 2 sensors, and a user manual.
SadoTech Wireless Doorbell and Chimes Wireless Kit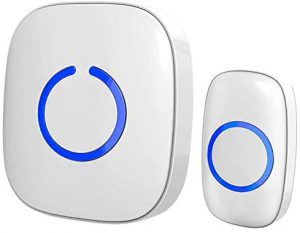 SadoTech wireless doorbell is both water and weather-proof, with two ways of installation via durable adhesives and screw mounts. It features a vast sound library of 52 unique ringtones that reach an impressive operating range of 1000 feet. In this way, you can pick your favorite tune and isolate each access point to remember it better. Available in vibrant colors, the doorbell's smart abilities include memorizing your customized preferences. In case of power outages or unplugging, the doorbell retains the previous chime and volume to resume seamlessly. It has 4 different volume levels including a silent mode. The long-range wireless coverage extends to include most of your home, and the brand is known for its cutting-edge technology in terms of microchips and modern electronics. The wireless doorbell and the plug-in chime box can both be installed in hassle-free steps.
Motion detection and window alarm components create a secure environment at home apart from alerting you. The versatile doorbell system does not just help the hearing impaired at their homes. It makes a resourceful classroom management device, particularly for special needs students so that they can take their cues from the flashing LED during classes and examinations. The adjustable volumes and sound cache also contribute to creative classroom teaching strategies by using various chimes to signal attention, set routines, or add fun-filled learning activities. The system works on an included long-lasting battery that has a 3-year lifespan, allowing the doorbell to be used in offices and apartments as well. Since the doorbell supports compatibility with SadoTech gadgets like its motion sensors, alarms, pushbuttons, and receivers, you can link these devices into an expandable network for a truly customizable home alarm system.
Honeywell Home Portable Wireless Doorbell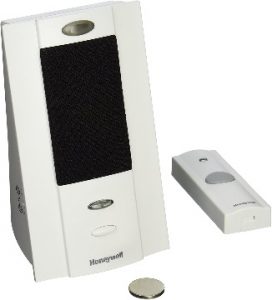 Honeywell Home doorbell is a battery-operated device that integrates up to 4 pushbutton transmitters for your doorbell network. This makes it easy to install the doorbell transmitter unit at up to 4 entry points in your home – you get to meet your visitor at the closest door near you via a multiple-entrance notification. It activates any 1 of 4 chimes (Westminster, Dingdong, Fantasia, and Smart Saxophone) at 3 different volumes, and the flashing light makes a helpful alternative for the hearing impaired. The doorbell follows a self-learning code system to pick up right where it left off through automatic adjustment without any interruption to other devices. It has an operating range of 150 feet, allowing you to be alerted each time the doorbell rings so that you do not miss any guests and delivery packages. The portable, easy-to-install device can signal your chosen alert in your home office, patio, garage, etc.
The set includes 1 receiver and 1 transmitter, both of which have a minimalist and contemporary look to blend well with the rest of your smart home atmosphere. The chime receiver has a compact footprint for enhanced portability; you can carry it with you to the basement if you do not have an extra unit. It can be placed on the picnic table when you are in the backyard with kids – the flashing light offering a visual aid to the ringing doorbell.
Stalwart A200031 Doorbell – Wireless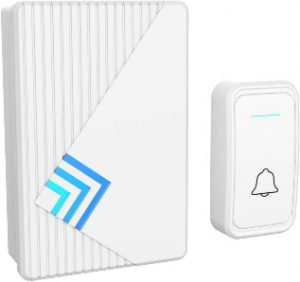 Stalwart doorbell alert system has an LED light indicator to help people with limited or no hearing be able to use the visual flash in homes, offices, and warehouses. It offers 38 tunes and music with 3 volume settings designed to cover an 80-m wireless range. Both the receiver and button transmitter are battery-operated, freeing up the confined installation of wall sockets. The system is not Wi-Fi-enabled and so it can work independently of your Internet service. The transmitter's 23A 12V Battery is included in the package – which also comes with adhesive tapes and wall-mount hardware accessories. This enables a simple setup within minutes to get your assistive partner up and running.
The receiver has button controls to scroll through the sound library, choose your favorite doorbell, and let it amplify to a loud volume for easy hearing within your audible range. Since the units do not require the close proximity of a power outlet, there is more portability with the design, as you can carry the receiver upstairs to the attic, place it on your backyard deck, and keep a comfortable track of visitors.
Sonew 7 Color Music Doorbell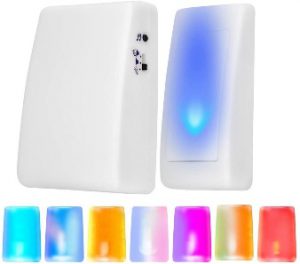 Sonew color-and-music-enabled doorbell has a high-quality ABS construction with 7 colors of flashing lights – ideal for people with hearing impairments. The receiver unit lights up adequately to catch your attention at your chosen bright color. And because the shell is translucent, the colors stand out even more and look great in any room. It functions in 3 different ways using music modes, visual flashes, and a combination of both alerts. The wireless system has a long-distance range of up to 50 m, and you can choose from 16 different ringtones to reach you wherever you are. They can be programmed at comfortable decibels that travel on high signal transmission, but at the same time, avoid interfering with the neighbors' territory. There is a blue indicator light on the transmitter as well, and when the buzzer rings, your receiver will signal your programmed tune for audible comforts or a clear and colored flash for a visual notification.
Decibels and Doorbell for Hearing Impaired
Assistive doorbells are always upgraded to highlight better design solutions such as Alexa-friendliness and alternative alerts. If you combine all the major aspects of various brands like those discussed above, there is an exhaustive list of features that have proved to help people with hearing ailments. Blaring, loud volumes are not always necessary; most doorbell designs can be attuned to your hearing range through volume settings and your choice of ringtone. These solutions support people to live independently at home, participate better in classrooms, work efficiently in offices, and run their businesses with self-reliance.