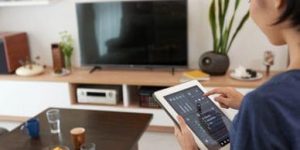 A few decades ago, home automation was a thing that was seen in sci-fi, futuristic films, but today it has become an enormous social trend! It is gradually creeping into major areas of our lives and shaping the future.
With the introduction of smart products like Amazon Echo, Nest, and Sonos, the tools imperative for home automation are becoming greatly widespread with every passing day. It is becoming a norm. From locks and thermostats to sprinklers and doorbells, people love to remotely control their small appliances through their cell phones, computers, or tablets. Home automation streamlines your household tasks, secures your homes, and even saves money on utilities.
All that's required is to determine what you wish to automate in your house, and a home automation consultant can take care of the rest. They can navigate you through the design that totally integrates with the interior design and is simple to use along with installation services as well. Moreover, they can help you select which products are the best for your home, considering the integration and interactivity of your other home devices.
If you are thinking of smart home automation, the following are some of the leading home automation consultants across the USA that can help you integrate and design smart home systems excellently. Check them out!
Aztec
Located in Wilmington, Massachusetts, Aztec embarked on its journey in 1996 as a recording studio system engineering and design company. In no time, it expanded its expertise and services into the communications market as well. Today their smart home design services are reliable and known among people. Their home automation consultants are competent and well versed in designing, integrating, and installing smart home systems such as security systems, cameras, music, smart locks and doorbells, lighting and temperature controls, and video/audio system controls, etc. Aztec knows how to realize your dream of a seamlessly automated smart home.
Buchan Consulting
Located in Illinois, Chicago, Buchan Consulting offers solutions from several leading and professional home automation vendors like Elan G and URC. They truly believe a home automation consultant should deliver a personalized smart home system automation and control to the consumers, which is always responsive and intuitive to the way you live. From home entertainment, surveillance cameras, and lighting to shades, climate, lawn irrigation, and pools/spas, Buchan Consulting has trained staff to turn your humble abode into a more automated one.
Oculogix
Based in Denver, Oculogix has decades of professional experience in smart home automation consultation, installation, support, and maintenance. Whether you're searching for a simple security system or a full-on smart home with automatic lighting, window treatments, climate, sprinklers, or more, Oculogix can get you the flawless home automation set up as you want. Even once they are finished with their job, they provide you thirty days of free support. 
Connect Consulting
Connect Consulting is a New Jersey-based home improvement company with over 20 years of experience in designing electronic systems. With its extensive experience in integrated systems and smart technology, it has gained a recognized position among innovative, responsive, and sophisticated smart home automation consultants. Be it lighting control, surveillance, motorized window treatments, multi-room music, or any other smart technology, their team can provide you all the benefits of customized technology solutions for your home perfectly.
Control4
Control4 has been providing leading automation systems for businesses and homes since 2004. With headquarter in Utah, this company has various offices in several parts of America and globally. It takes pride in offering a unified and personalized smart home system to its consumers. These systems effectively control and automate all your connected devices, including climate control, audio, video, lighting, security, and intercom. With Control4 being one of the top home automation brands, you can count on it for a system that will seamlessly control virtually anything in your home and be customized to meet your demands.
Myeasytek
Myeasytek is a Chicago-based home automation company that offers full-out home automation with the flexibility of hiring your labor or even DIY. From providing and guiding you all the way from print to production, Myeasytek takes care of programming services for Elan, Lutron, and various other home automation systems as well. Besides, if you are looking for system maintenance like updating, upgrading, or adding to an existing smart home system, Myeastek can also handle them.