Image source: HDH Tech
Smart homes use various smart appliances and fixtures for both indoor and outdoor uses. Since you can automate your lights, fans, HVAC, security devices, refrigerators, and other appliances, there is a need to manage them conveniently. A home automation touch panel provides a single interface to access and control all your smart products. The panels can be installed in different rooms and areas depending on device proximity and your own comfort. They bring your smart ecosystem on the same touchscreen, which keeps everything together for simple management. Smart products are designed to automate everyday functions, but if they cannot be accessed from wherever you are, it really defeats the smart perspective. By installing a touch panel that is compatible with your gadgets, you can keep an eye on all the connected systems without needing to walk to them.
Most home automation touch panels can be customized to suit your activities and even match the décor. They need to be quick and responsive for user-friendliness, so ease of control really depends on the interface design. The whole idea is to make your work easier and not complicated by bringing all operations right at your fingertips. At one click, you should be able to turn on the lights, close the garage door, unlock the main door, turn off the air conditioning, etc. All of this should only take a few seconds at the panel, and if you find yourself repeating actions and voice commands, then it is time to consider updating your touch panel. An intuitive touch panel enables fluid navigation between multiple smart systems, giving you complete control over your gadgets.
Brands often include voice assistance and smartphone app controls to extend the power of a truly smart touch panel. What makes a smartphone control different from a touch panel control is that your touch panel offers native, clutter-free, ready-to-go management. You obviously use your smartphone for several different applications, so you would need to switch back and forth more often. Smart touch panels have a specific purpose and greater simplicity as a result. They can be installed in bedrooms, home offices, home theaters, and kitchens, eliminating the need for additional hubs and processors.
Cool brands that set the bar too high
Touch panels are always on an innovative loop for improvement. With new features rolling out and raising the bar, the catalogs of leading brands need to stay updated to outshine other products. There are some dynamic, game-changing features from two brands that stood out for us, and they are sure to give you something different to look for in a touch panel product description.
1. ELAN CONTROL SYSTEMS
ELAN touch panels are designed to be fully interactive for an intelligent home automation system. They include facial recognition technology to help each family member quickly access their personalized settings. This means that you can simply stand in front of the camera and let the panel recognize who you are – along with your preferred lighting levels, media controls, thermostat settings, etc. The integrated microphone is equipped to help you talk to Alexa directly without using Echo Dots, so voice assistance reaches a whole new level. ELAN home automation touch panels are easily upgradable for simply plug-and-play usability. With their integrated surveillance playback, you can monitor and playback the recordings seamlessly on the touchscreen.
Proximity sensors within ELAN panels activate the system as you approach, and this makes the home automation touch panel supremely alert and responsive. There are also flyout menus for quick access to your favorite scenes and settings. The panels have edge-to-edge glass for sleek aesthetics, and they are both portrait and landscape-friendly while installing. All in all, you get to use tactile, facial, voice, and motion detection features to operate ELAN panels.
2. ATMOS HOME
Atmos touch panels are simply ahead of their time. They are compatible with Wi-Fi, Infrared, Bluetooth, Z-Wave, and Zigbee platforms to support a broad range of products. You get to control multiple devices on one smart interface. Atmos panel systems allow your gadgets to connect and appear on your touchscreen for more consolidated management. The panels feature HD IPS capacitive touch displays, proximity sensors, and ambient light sensors. They also work with Alexa and Google Assistant and include a far-field microphone array. Universal compatibility makes an Atmos panel the perfect choice for all the smart devices you already have at home – even if they are made from separate brands and operate on different protocols.
The technicality and design pay special attention to detail with bead-blasted finishing. You can create scenes to personalize your controls and combine a series of tasks under one touch. The touch panels offer out-of-the-box functionality because they are programmed to automatically scan your home's smart radar – and pick the connected devices. The feature that stood out the most for us is Atmos gesture control that allows you to use gestures to control the panel. This is very futuristic in terms of interactive diversity through touch, voice, app, and gesture controls. So, if the room is too noisy to carry your voice commands, you can control the lights using gestures instead.
Home automation touch panels
WallWand Z-wave Touch Panel LCD only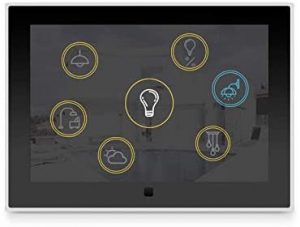 WallWand Z-Wave touch panel is a multipurpose controller for home automation. The wall-mountable screen can connect to 40+ units in the Z-Wave range.
You can access and adjust your Z-Wave lights, thermostats, alarms, ceiling fans, audio/video systems, switches, shutters, sockets, HVAC systems, etc. on the same interface. The panel can be customized to meet your specific needs and smart functions.
Touch panel highlights:
It can be used for all residential as well as commercial spaces. The panels are quite popular among engineers, architects, builders, and interior designers because of their smart and adaptable styles.
The interface is easy to use and configure, as the WallWand controller can be installed in any building without the hassle of special wiring. The panel uses the Z-Wave platform for wireless installation which simply adds to your convenience as a homeowner.
The touch panel includes a micro SD card and offers 6 different scenarios to customize your settings for instant access.
You can also choose your favorite backgrounds, themes, and icon styles for increased personalization.
Touch panel limitations:
For the wide compatible range it offers, the WallWand panel could step up with Alexa-friendly integrations.
Brilliant Smart Home Control (1-Switch Panel) — Alexa Built-In & Compatible with Ring, Sonos, Hue, Google Nest, Wemo, SmartThings, Apple HomeKit — In-Wall Touchscreen Control for Lights, Music, & More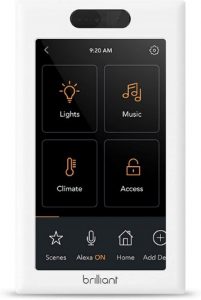 Brilliant touch panel systems are in a league of their own. The 5-inch LCD touchscreen has a 720×1280 resolution, and the panels are Wi-Fi and Bluetooth-enabled. They are available as 1, 2, 3, and 4-switch panels in different colors. These panels deliver what we like to call "fearless compatibility" with almost every smart brand you can imagine. So, with a Brilliant home automation touch panel, you will be able to check on visitors through your Ring doorbell, unlock the door using your Schlage lock, play music on your Sonos speakers – all from whichever room you are in.
Touch panel highlights:
Brilliant touch panels are compatible with Alexa, Google Assistant, Apple HomeKit, SmartThings, Ring, Nest, Sonos, Schlage, Yale, August, Ecobee, Honeywell Home, Hue, LIFX, Kasa TP-Link, WeMo – and counting! It is very likely for your existing smart products to be on this compatibility spectrum, so there is no need to upgrade individual units.
Alexa-friendliness also means that you can directly send voice commands to the panel instead of using Echo devices, so the system cuts down tiers between you and the actual panel.
The in-wall controller has an audio/video intercom facility with microphones, cameras, and speakers. The system helps you use the camera for indoor surveillance while you are gone. You can broadcast announcements to other Brilliant touch panels in your home and call everyone down for dinner. Video chats can be shared between panels, so they double as smart walkie-talkies for your family members in different rooms!
You can disable the built-in camera and even close its shutter.
The panels use a range of sensors including capacitive touch sensors, motion sensors, temperature sensors, and ambient light sensors.
You can use voice commands to activate custom home automation scenes.
All your regular and smart LED, CFL, incandescent, halogen, dimmable, and other types of lights can join the Brilliant radar.
You get to control your smart gadgets using multiple methods like touch, voice, motion detection/gestures, and app control.
The Brilliant mobile app extends the capabilities of a touch panel to your own smartphone.
The app can also be used to customize each panel display in your home by uploading photos and artwork that you can set as backgrounds.
The installation guide is very inclusive and straightforward for DIY uses.
Touch panel limitations:
Brilliant touch panels can be quite expensive for trivial applications like light control. Homeowners who aim for basic home automation prefer cheaper panels for just turning their lights on or off.
Gesture controls are limited to lights and can be ineffective in activating your custom scenes.
Since the system is Wi-Fi-dependent, you cannot access your smart gadgets if you lose your Wi-Fi connection.
2gig GC2E Security and Control Alarm Panel, Enhanced Security, 5″ Touch Screen, (2GIG-GC2E-345)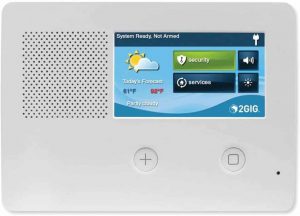 2GIG security and alarm panel is compatible with various 2GIG and Z-Wave home security and other automation products. It makes a simple and effective home automation system for independent surveillance to secure your home. You can access your security sensors, lighting, door locks, sirens, thermostats, and other appliances from both platforms.
Touch panel highlights:
The panel's encrypted technology optimizes the overall security, for example, through encrypted sensors.
It can support up to 232 Z-Wave devices! You can have 60 wireless zones and a hardwire zone, and the security component allows up to 64 user codes.
A cellular radio module with its internal antenna is a valuable addition for broadcasting alarms and alerts to the Central Station. There is a two-way voice function with high-quality communication to contact your local police, fire department, and monitoring authorities.
The panel offers compatibility with Alarm.com systems for remote monitoring applications. You can also use your smartphone to access your remote monitoring account on Alarm.com and check your front door, switch off the HVAC, lock the garage door, supervise your package deliveries, etc. Considering the security features the panels provide, it is recommended to have an Alarm.com remote monitoring account for interoperability reasons.
2GIG touch panels are compatible with Alexa and Google Home. They are upgraded easily to enable seamless performances between the connected products.
Touch panel limitations:
The power adapter is not included.
2GIG panels are difficult to install.
The regular GC2 and GC3 versions easily outshine this model. They are far more responsive and better calibrated than this panel. You might experience issues with correct code entries due to the screen's limitations.
Honeywell Ademco TUXWIFIS Tuxedo Touch Controller w/ Wi-Fi, Silver (6280i)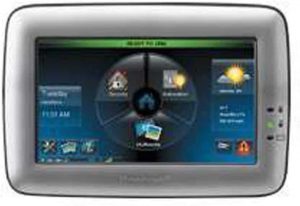 Honeywell Ademco Tuxedo touch panel is a low-cost Wi-Fi-enabled controller. It has the required security controls to bring all your smart units to the same interface. The standalone touch panel is designed for seamless integrations even with Z-Wave devices, so the system can be up and running in no time.
It is an efficient security solution that focuses on instant usability rather than complex third-party involvement.
Touch panel highlights:
Using Honeywell Tuxedo panels, you can monitor your home by yourself, as the system gives you complete control over the security and alarm features. This ensures a safe and transparent management system you can count on. Independent monitoring eliminates the need to hire external services when you can have all the access on your smartphone. The app also supports SMTP emailing when needed.
The panels are compatible with both Wi-Fi and Z-Wave devices, so you automate most or all of your connected units.
If the alarm gets activated, the security system is programmed to call different members of the family, including yourself. This smart alert feature keeps you aware and notified in real-time, helping you contact the police or fire department immediately.
Honeywell Tuxedo touch panels are very conducive to first-time home automation.
Touch panel limitations:
Homeowners experienced connection issues and panel failures quite early on.
Considering the level of security these panels are meant to offer, their design and screen resolution are very outdated. This sadly means that the videos from your high-quality security cameras cannot be interpreted by Honeywell Tuxedo panels. They fail to meet the current home automation trends and standards in terms of both compatibility and aesthetics.
The security system is also very vulnerable to hacking, as according to a user, there is no password-enabled access.
Lead your smart home orchestra
A good home automation touch panel should centralize your smart controls and cut away the middle layer of supporting devices where possible. It needs to bring direct control between you and the panel, so you can manage the intended gadgets through the panel itself. An example from the aforementioned products is how the panels integrate Alexa features in their native system.
The features you are aiming for should match your home automation context as well. You do not want to purchase a high-end touch panel just to operate the bedroom lights.
A key feature that we found hard to ignore is the range of compatible devices you can add to the panel. Smart touch panels that support the digital vernacular can speak and understand the language of your devices. Your setup then becomes simple and ready to go, as you can make the panel work for the systems you have already installed. This one-for-all advantage is a good way to remember the famous advice: work smart, not hard!