In case of coffee, it is always fresher means better. Coffee lovers thrive for the fresh aroma and taste of the coffee. And the only possible way to enjoy the full flavor of the coffee is to have the coffee beans roasted in your home. Here comes the importance of the Home Coffee Roast machines. Coffee beans are best to use when used between two to fourteen days of their roasting. Using them any longer than the said period can lead to lose of flavor.
Types Of Home Coffee Roasters
There are both manual and automatic coffee roasters. The manual ones are affordable with less capacity. The automatic ones are easy to use with good capacity, but are more expensive compared to the manual ones.  There are mainly three types of home coffee roasters.
Popcorn Makers Used For Coffee Roasting
One of the most popular and affordable options of home coffee roasting is with the use of Popcorn Makers. Though they are not technically made for roasting coffee, they can be considered as an affordable option and that too at the beginner level.  However, they are not so perfect and will result in uneven roasting procedure. So it is better to upgrade yourself with the other two options of available home coffee roasters.
Drum Coffee Roaster
Most of the speciality coffee shops use drum coffee roaster. They use the principle of conduction with indirect heat. The drum holds the raw coffee bean. The heat is pumped through the bottom of the drum allowing the green coffee beans to undergo even roasting. They can be used for roasting the coffee beans in a large scale.
Air Coffee Roasters
Air coffee roasters are similar in working to a popcorn maker. They use the principle of convection utilizing direct heat. The roasting chamber holds the raw green coffee beans, where heat and air are forced which elevates the coffee beans. The movement and rotation of the coffee beans inside the chamber will lead to evenly roasted coffee beans.
They are considered more environmental friendly and are also available in relatively smaller sizes suitable for small batch roasting.
Features To Look In A Home Coffee Roaster
Before heading on to buy a home coffee roaster, you need to make certain considerations. You need to keep in mind your budget, but should not compromise with the features. For the best roasted coffee, look for the following features:
Whether you need to roast small batch or large batch – If you are an ardent coffee lover, then you may look for the roaster being able to roast large batches. You may also need large size machines for roasting for the entire family or even in case of coffee shops.
Type of roasting you need– There are three types of roast. They are: Light Coffee Roast, Medium Coffee Roast and Dark Coffee Roast. The Light Coffee Roast is the less sought after type of roast, where the beans are roasted for the least time. The Medium Coffee Roasts/American roasts results in a stronger flavor which is a favorite of many. The Dark Coffee Roast can result in coffee with bitter taste and is not so sought after. Here, coffee beans are roasted for the longest time.
Cooling – The coffee beans need to be cooled after roasting. So look for roasters offering this feature.
Anti-smoke system – You may need roasters with one as coffee roasting produces a lot of smoke and you can roast the coffee beans without triggering the fire alarm.
Easy to Clean – Look for easy clean and maintenance roasters. It is also better to look for the ones having chaff collection system.
How to roast coffee beans?
The roasting procedure will differ based on the type of the roaster you use. However some of the overarching steps involved in any type of coffee roasting is explained below.
First, step is to buy fresh green coffee beans double the weight you want for finished, roasted coffee beans as they weigh less on roasting. Now on roasting make sure that you are agitating the coffee beans so that they do not stay in a place for a long time, ending up burnt. Now the first crack sounds indicate the light coffee roast, the second cracks indicate medium coffee roast and then the final dark coffee roast. On reaching the desired roast level, you need to cool down the roasted beans preventing further roasting. Finally allow the roasted coffee beans to de-gas which can take several hours to days and store them in airtight containers till it is time to brew.
Now let us proceed further to look for some of the best home coffee roasters available in the market.
Best Popcorn maker for Roasting Coffee: West Bend Air Crazy Popcorn Popper
Popcorn Poppers with metal popping chamber and air vents on the side of the chamber is a good choice for roasting coffee. This is an inexpensive method.  The Air Crazy Popper comes with a new ventilation technology allowing improved hot air distribution thereby offering better performance. It is also a space saving option.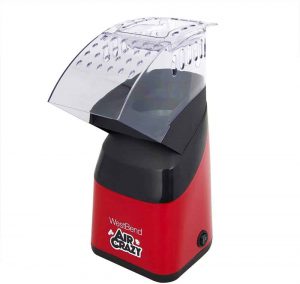 West Bend Air Crazy Popcorn Popper
Best Drum Coffee Roaster: Kaldi Motorized Home Coffee Roaster
The Kaldi Motorized Home Coffee Roaster is a high end coffee roaster with a stainless steel drum of 2mm thickness. The stirring drum has a maximum capacity of 250 grams. A gas burner is required so that the heat distributes evenly throughout the raw coffee beans and produces the best results. The model also includes a chaff holder. Other features include a ready to read thermometer, hopper and probe rod. Free Volt Adapter is also included. Though pricy, they can be considered as a long term investment offering excellent roasting performance. It has a size of 160(W)x200(D)x300mm(H) with a weight of 4.1kg. Kaldi also offers a mini home coffee roaster.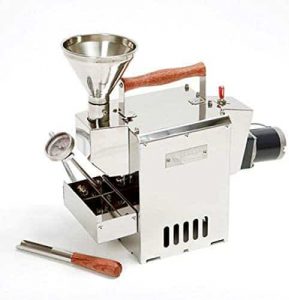 Kaldi Motorized Home Coffee Roaster
Best Air Coffee Roaster: Fresh Roast SR540
The Fresh Roast SR540 is an excellent option for air roaster with 120 gram capacity. They feature 9 levels of heat and fan speed adjustments. With the improved glass roasting chamber you get good visibility. The nifty chaff collector will make clean up easy. There is an improved control board. Heat, fan and time adjustments are made with pushing and turning the knob. There are 9 heat adjustments with a wide range of fan adjustments. There is real time temperature display. The weight is of 2.5kg with dimension of 15.3 x 8.3 x 8.3 inches. There is one year warranty for the product.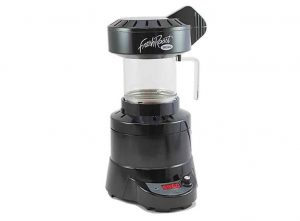 Fresh Roast SR540
Best Option For Roasting Large Quantities: Jiawanshun Electric Home Coffee Roaster
The Jiawanshun Electric Home Coffee Roaster can be used for roasting up to 5oog coffee beans. The temperature adjustment of 0-240℃ is possible so that you can adjust the values depending on the variety of beans and the type of roast. The coffee roaster comes with a transparent cover having four vent holes from where you get the continuous aroma of the roasted beans. Also, with every popping sound, you get can see the color of the roasted coffee beans facilitating you to make the timely adjustments. You can also use it as a multi- function roaster for roasting peanuts, almonds, popcorn, etc. You need to manually stir while roasting the beans. They allow easy cleaning and storing. Once the unit has cooled, you could clean the chaff using the rag. There is no chaff collector. You can grease in the machine and clean the lid with water. The size of machine is 13x13x5in, weighing about 3kg.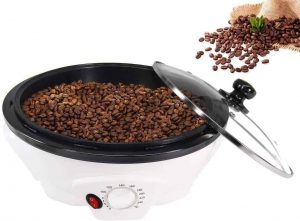 Jiawanshun Electric Home Coffee Roaster
Best Manual Option: Luystoka Coffee Roaster
The Luystoka Coffee Roaster can be used to roast about 250g of coffee beans. They have a high quality 304 food grade stainless steel body. They have a unique hand crank design. They are easy to operate and clean. You need to put on fire and shake by hand and then you get the evenly roasted coffee beans with the open flame baking technique. They also allow multi-functioning. They have a size of 9.8X4.1X4.1inches with 725g weight.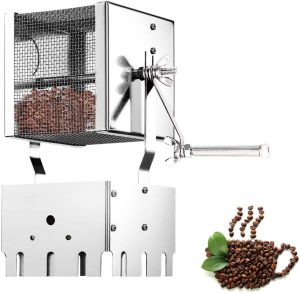 Luystoka Coffee Roaster
Best Handy Coffee Bean Roaster: Nuvo Eco Ceramic Handy Coffee Roaster
The Nuvo Eco Ceramic Handy Coffee Roaster comes with a good shape and sleek design with ceramic body, made with heat resist glazed pottery.  The roaster is a good option for beginners. They allow easy operation. The technique used is the old school fire roasting method. The capacity is about 30-70g beans to be roasted at a time. You can place it on gas stove and roast for about 15 minutes to provide the roasted coffee. The grip will protect the hands, but it is good to put the gloves on while roasting. They have a size of 9.92 x 6.3 x 2.95 inches with a weight of 340 grams. They offer an affordable option to roast coffee at small quantities.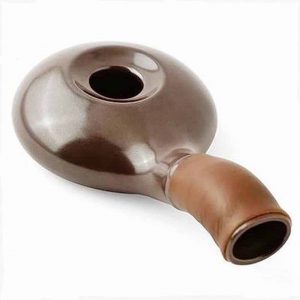 Nuvo Eco Ceramic Handy Coffee Roaster
Best Smart Home Coffee Roaster: Sandbox Smart Home Coffee Roaster
The Sandbox Smart Home Coffee Roaster is a drum coffee roast with smart features having 100-150 grams batch capacity. This is a direct fire type electric heating coffee roaster. They allow to be paired via Bluetooth connection. You can select from the preloaded curves in the app to select the type of roast. There is also manual mode available as an alternative profile. There is the adjustable heat, damper and fan speed modes. The roasted coffee beans are released into the Smart C1 cooler so as to prevent over roasting. There is a convenient drawer design for collecting the silverskin of the coffee bean. There is good ventilation in the cooling stray. They have a size of 21.5 x 13.75 x 12.5 inches with a weight of 8kg. They are expensive.
Sandbox Smart Home Coffee Roaster