A smart home management system relies on automation technologies in the world of Artificial Intelligence to bring all your controls on the same page. These solutions are designed to be user-centric so that all homeowners enjoy a personalized management system for individual needs. The systems are available as various software applications that you can install on your smartphone, tablet, and laptop for on-the-go supervision wherever you are. This gives you a smart vantage point to keep an eye on all the gadgets that link up to your home network, allowing you to manage them efficiently without manually controlling each device. A smart domestic environment makes use of automation kits for a full-scale management around the house.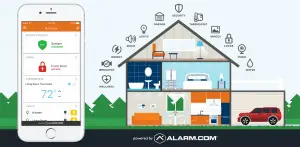 The tech-savvy tools open a single interface window to all your smart appliances on the hub. Smart light bulbs, smart locks, smart thermostats, robot vacuums, and smart security cameras are just a few dots on the radar, and you can easily access them for remote management. Smart home automation essentially is the Internet of Things (IoT) that allows compatible gadgets to talk to each other and think for themselves. Too tired to move? Hire Alexa as your assistant. Worried about the still-on heater? Turn it off on your tablet as you board the plane. Smart home management has become the ultimate urban lifestyle for narrowing down your list of worries – smartly.
General Features of a Smart Home Management System
Software companies provide different solutions tailored to the needs of their audiences. Management systems are developed to collaborate with existing home platforms so that your work becomes more streamlined, accessible, and user-friendly. Compatibility is the first thing to consider before purchasing a software kit, as you want to make sure that the app actually connects to your gadgets before it can control them. For example, a system that is compatible with Alexa will be able to access all your appliances controlled by the voice assistant. In general, the most common features of a smart management solution include the following:
Home Automation Platforms
Every management app works only with devices or platforms that are compatible with it. Google Nest Hub, Samsung SmartThings, Amazon Echo, IFTTT, and Apple HomeKit are some of the popular home automation platforms that your appliances can virtually plug into. Your smart refrigerator, TV, air conditioner, lights, and blinds tune in to one platform which makes it easy to work with any management system for a centralized control.
Lighting Control
Management apps help you set the desired ambient lighting for every room. You can control the lighting effects for décor aspects to create better illumination – for example, along the flooring and to make your artwork collections stand out. Smart home lighting kits often include a smart bridge, dimmers, smart bulbs, and LED strips that can be managed through apps and voice commands. Motion detection through sensors is another useful feature for turning the lights off when no one is present in the room.
Smart Entertainment
Automation systems help you integrate your TV, speakers, microphones, music players, and projectors into a complete, smart theater experience. These smart media devices can link up to deliver multi-room audio as well as multi-room video services, so you can manage all your entertainment gadgets from a single interface – your smartphone, laptop, or tablet. The system allows specific speakers around the room to turn on with easy volume adjustment. You can stream music from anywhere and control your audio choices from wherever you are.
Climate Management
Managing indoor atmospheres takes up a huge slice of the smart home automation pie chart, as the air quality affects the overall comforts of your home. You want neither the summer heat nor the winter frost to ambush and invade your home, and there are always issues with hot and cold spots that disturb the indoor temperature balance. A smart climate control works with your HVAC system to regulate the temperature and humidity. This brings us to the installation of smart thermostats – the intuitive control panels enhance your climate supervision when you already have smart ACs, heaters, and dehumidifiers around your home.
Smart Shades
When it comes to décor aesthetics, smart shades are a trending phenomenon designed for automating natural light flow in your home – with a style. You can lower and raise them using a remote control, an app, or voice commands. They are often available in specialty shapes to accommodate all architectural window designs. Smart shades can be automated to allow maximum sunlight to stream in every morning – with a panoramic skyline making the perfect view. You can set the smart shades to cut down glare levels for a comfortable ambience until sunset – and that is until when your smart lights turn on!
Security
A smart home management system is incomplete without security, and there is no better peace of mind than an interactive technology keeping you updated. Home security devices like surveillance cameras, smart doorbells, and smart locks enlist the help of motion sensors, biometrics verification, and passcodes. These facilitate around-the-clock supervision to secure your access points and send off alarms in case of brute force entries. It is a great way to guard your front door, garage, kitchen door, etc. by automating intrusion alarms. Environmental sensing is another smart feature that your security system uses to keep an eye out for you.
Benefits of a Smart Home Management System
Consolidated Management
Instead of using separate apps for lighting, heating, security, home entertainment, etc., a smart home management app consolidates all these features into one system. This results in a better-streamlined control for your compatible devices. The lack of multiple apps on your smartphone means that they no longer drain its battery, and you still get to manage all the connected appliances. Easier synchronization through a single app saves a lot of time and effort to keep track of your entire smart home on one screen.
Personalized Routines
Gadgets like Philips Hue smart bulbs and Schlage smart locks are often combined into custom scenarios for automated actions around your home. Most management apps are programmed to trigger these actions for your planned events. Creating routines allows you to build interactions between the necessary gadgets you might need for a birthday celebration, surprise parties, and family dinners. For example, by setting a routine called "Sarah's Surprise Birthday Party", you can add actions like turning on all the living room smart lights once everyone has gathered, playing the birthday song on full blast on your smart speakers, and automating the door entries in creative ways.
Compatibility with Voice Assistants
Alexa, Google Assistant, and Siri offer a much-needed virtual helping hand. When combined with smart home management apps, they allow you to synchronize all your devices even more efficiently. This also means that you can trigger your customized routines using simple voice commands like, "Alexa, play Sarah's Surprise Birthday Party routine". Enlisting the help of your chosen voice assistant is a great way to set multiple events into motion instead of controlling each device separately. There is nothing like waving a magic wand and transforming an unsuspecting living room into a festive celebration. Why be a smart aleck, when you have smart Alexa!
Accessibility Options
All smart solutions come with one significant feature that is tied to their electronic DNA – it is that hard to escape. These technologies bridge various accessibility gaps for people who have special needs, supporting them towards as much of an independent living as possible. Smart devices like locks, doorbells, lights, window shades, and thermostats provide accessible controls – especially when driven by voice instructions. There are also purpose-built equipment solutions to address specific, physical limitations, allowing people to control their environment using voice, a finger tap, movement of their eyes, etc. By using a smart home management app, families can automate the home controls and create schedules to help their members. Smart integrations are a powerful reminder that the only obstacle in life is the way we perceive it.
Apps for Smart Home Management System
Yonomi
Smart Home Integration
Yonomi app enables interoperability for various automation contexts. It is compatible with several popular brands and allows you to integrate different devices into one smart platform for all your needs. You can link up gadgets from Wink, LIFX, Ecobee, Philips Hue, and several other brands onto this app for a more centralized management system. Therefore, regardless of the brand, you can turn the lights on or keep the door locked because the app knows what it has to do.
Personalized Smart Home Management Routines
Yonomi routines are event-driven actions that make all your required smart devices spring to life. Whole-home automation plans are a breeze with a single app that powers connected gadgets, saving you the hassle of device-by-device control. Yonomi features timed routines, conditional decision-making, and event triggers to set your smart device in motion. All first-party and third-party devices are welcome to join the radar. For example, a Dinner Party routine may involve turning on the kitchen lights, setting the dining table lamp to a 50% brightness level, and playing your chosen playlist. Depending on the devices you use, the app will also send you relevant recommendations for creative routines.
Compatibilities
You can connect Yonomi to Google Assistant, Alexa, or Siri to activate various routines by using your voice. Supported devices include SONOS, Logitech, LUTRON, Philips Hue, Ecobee, Kasa Smart, and IKEA – among even more brands. The app is also compatible with smart watches. This whole spectrum of compatible options diversifies your home automation system and helps you manage all your devices better. Living in a home that interacts with you is the core idea behind building a smart ecosystem that thinks for itself and responds to your requests.
Cloud Smart Home Management
Yonomi ThinCloud is the communication link between all your home gadgets. It is backed by authentication protocols to ensure security for your full home management system. Every IoT cloud has a silver lining – which in this case is the standardized service for onboarding, linking, and updating all your devices on a single platform.
Vivint
Intelligent Living
Vivint app is a widely-used solution for safety management in residential areas. It features an integrated smart home security system along with device management for your home. The company has its own catalog of smart products like doorbells, security cameras, door locks, lights, and thermostats that can all be integrated into your app. The management system works by controlling various Vivint products installed around your home – and this promotes a safe living standard for the ever-growing Vivint family.
Smart Management
The app is designed to bring all Vivint-compatible device controls right at your fingertips as you navigate between screens to view statuses, make adjustments, and have a bird's eye view of your smart home. This enables remote management from wherever you are. You can sync all Vivint devices using the app and check your porch lights, turn on the thermostat, open the garage door, and lock your main entrance. The smart hub gives you peace of mind with better security that you can rely on. Live camera feeds and alarm systems can be activated from the app, giving you a smarter control through customized security.
Smart Home Management Compatibilities
Your standalone Vivint gadgets will already connect to form a smart village of interacting devices. Vivint's management system also extends to Amazon Echo and Alexa, Google Assistant, and Nest thermostats. A smart home outfitted with these devices can be managed in real-time convenience, and this leads to seamless integration on the app. This single platform helps you control the indoor temperature, light levels, and home security using your voice as well as app controls.
Two-way Talk Option
The app supports two-way communication with Vivint home security experts who are available for 24/7 monitoring services. This continuous security for your Vivint smart lock/door/camera statuses means that the company has got your back and will respond to emergencies. The two-way communication is also enabled in Vivint cameras and doorbells, so you can always speak to the visitors even when you are not at home.
Custom Routines
For a personalized management system, you can create custom routines and schedules with various interacting devices. This includes automating the door lock at specific times and activating auto-locks within 5 seconds to prevent mishaps. Routines offer a reliable control hub with all your essential plans taking their cue from event triggers. There is endless scope for programmable scenarios that incorporate all the necessary devices – this helps with managing the thermostat, disarming the alarm system, watching live video feeds, and saving the captured images as well.
Control4
Customizable Automation
Control4 solutions are designed to address home and office automation contexts. The app makes a unified smart home platform to control lighting, entertainment media, indoor climates, security, etc. It works with a full range of Control4 products that include various smart appliances connected to form a smart ecosystem around your home. Control4 Smart Home OS3 is a super intuitive app with customizable freedom in terms of creative wallpapers, visual icons, and personalized dashboards.
Smarter Entertainment
The app has options for playing high-resolution audio via Master Quality Authenticated (MQA) support – bringing you the best audio streaming quality. Whole-home entertainment can be managed with the help of a Sessions feature that tells you what audio/video is playing in each room. You can add and remove rooms from the smart entertainment system, adjust the volume in each room, and turn off the playing media from wherever you are. The app also works with your handheld smart remote; its focused display is just the right control panel for managing your entertainment devices. Furthermore, your Favorites tab on the app lets you quickly access your favorite room scene or mood for watching a movie. It is also a fast way to get to your list of favorite movies and music.
Smart Home Management OS flexibility
Control4 Smart Home OS acts as the software solution for all the magic that goes on behind the scenes of your Control4 hardware devices. There are different modes you can program such as Away and Welcome for automating the lights, locks, and security systems when you leave or enter your home. The app works with Alexa and Google Assistant, and you can also manage your appliances through standalone Control4 touchscreen panels. App updates have been launched to promote better homeowner personalization to help the system adapt to your needs.
Empowering Your Needs
A home management system that speaks to you and keeps you updated is a powerful tool. There is no turning back from a system that automatically closes your garage door when you are halfway to the airport. Control4 app lets you know which family member has come home. If a package is delivered when you are out of town, you can use the video doorbell through your app, unlock the door, and allow the delivery person to keep your parcel inside.
Smart Home Management System Future
In the world of smart home automation, apps can be used on all kinds of computers like desktop computers, laptops, tablets, smartphones – and Apple watches. The "inherited" functions are the same; they are just adapted to match different, responsive screens for better usability. And this feature forms the backbone of all efficient home management systems – they can be used anywhere, anytime. Software applications like those discussed above lead the whole orchestra of smart gadgets that work in-sync around your home. With Internet clouds lining and powering your smart stratosphere, it is easy to keep a track of everything – and use this to leverage your controls even better. Apps offer fluid navigation across all the connected gadgets, saving you the trouble of individual controls.
Smart home automation is incomplete without a shoutout to our favorite childhood movie – Home Alone – and its smart comeback in a Google Assistant commercial: Hey Google, begin operation Kevin. We like to think that a reimagined movie would be quite short with all the smart solutions saving so much time and effort. One thing is for sure, at least Peter McCallister would not forget to close the garage!