Smart locks have seen an upward trend ever since the word "contact-free" became synonymous with the pandemic. They allow you to lock and unlock a door using your smartphone, and this enables remotely controlling your doors from anywhere. There are different types of smart locks based on door configurations and installation methods. Generally, a regular smart lock will replace an existing door lock along with its deadbolt, whereas a retrofit smart lock can simply add upon your old deadbolt. For this reason, most people prefer using retrofit smart locks for their ease of installation. You can then tune in the lock to your smart home platform, install an app, and create contact-free entries to your home.
If you already own Amazon Echo devices, you can purchase Alexa-enabled smart locks for an even more interactive convenience. Alexa-friendly integrations are creating their own wave with simple voice commands like, "Alexa, lock the front door". They help you check the status of all smart locked doors in your home, giving you instant surveillance when you are away. Various hubs like those from Samsung's SmartThings are designed to connect to your existing Wi-Fi, Zigbee, or Z-Wave networks. Compatible smart locks can connect to these hubs and extend your possibilities.
You can lock a door without its mechanical lock from outside and even associate automation routines like bedtime or vacation modes. App control has a compelling potential for Airbnb hosts, college roommates, travelers, and homeowners in general. It offers geofencing features for dynamic options, including auto-locking the door and unlocking it based on your smartphone's proximity. Built-in sensors alert you if a door is left open, so you can lock it from your smartphone app. Automatic locking can be enabled to make sure your doors are locked within a few seconds, regardless of your location. These features give you immense peace of mind to ensure the security of your home.
From remote locking to creating unique access codes, smart locks come with a range of options to control your entry points. This includes isolating access for Airbnb guests, package deliveries, specific family members, etc. Keyless entries are made possible when you can operate a door with your smartphone, voice commands, fingerprint recognition, or geofencing support. In this blog, we have discussed some smart solutions on how to lock a door without using its physical lock from outside.
How smart locks work
Installation
Most smart locks can be installed easily. They either replace your existing lock or attach to the old setup. The add-on smart locks are quite DIY-friendly, and you can install them in a few minutes. Some design innovations feature solar charging supports to power your smart lock. Each model comes with its own set of instructions; you can always watch tutorial videos to install and integrate the lock. It needs to connect to your home automation network before you can use your app to lock and unlock doors remotely. Once installed, the lock offers multiple ways of controlling your doors, as discussed below.
Access codes
Generating unique access codes allows you to schedule one-time access for delivery teams, in case you are not available to collect your orders. You can allocate different codes to your Airbnb guests. The housekeeping staff, babysitter, office personnel, etc. can all receive unique access codes.
The smart door lock keeps you updated on each entry and locks the door behind every person for smart security.
App control
Smart locks have their own dedicated apps from the manufacturer. App control is one way of remotely locking and unlocking the door from outside. By simply tapping your smartphone's screen, you can lock all connected doors and check the status of each lock. Integrations with other devices like Ring cameras help diversify the experience even more. This is because you get to combine the features of one smart device with your smart lock. With devices that can talk to each other, you can use the Ring ecosystem to check your front door, communicate with your visitors, and unlock the door from wherever you are.
Geofencing control
Another way to lock a door is by using geofencing capabilities. Once you enter the smart vicinity – or the geofence – your smartphone works as a ticket. It enables or restricts access based on the virtual boundary that defines your home's acceptable range. When the geofencing system detects that your smartphone has left the geofence, it automatically locks the door. This is a great addition to Airbnb contexts, turning your home into a smart island that self-secures.
Keypad and fingerprint control
Built-in keypads are often touchscreen keypads on which you can enter codes. There are also add-on keypads that can be installed near your door to communicate with the smart locks. Keypads help authorize entries by unlocking the door from outside only when the right code has been entered. Fingerprint recognition works similarly, just with the biometric level of added security. While codes can be compromised, fingerprint entries are far more resilient.
Voice control
If Alexa conducts most of your home automation orchestra, you can add compatible smart locks to lock your doors using voice commands. Integration platforms and hubs allow you to link up multiple smart locks to the network. This gives you a centralized control over each lock on the radar, making it simple to check statuses and enable auto-locks. You can say, "Alexa, is the back door locked?" or "Alexa, lock the main gate." and have your favorite voice assistant take control.
Smart locks and connectivity
Your home automation network determines the connectivity range for your smart locks. Connectivity is an important aspect to consider when you aim to automate your door locks. In general, a smart lock can be:
Bluetooth-enabled for close proximity controls.
Wi-Fi-enabled to connect to your router for larger access around your home. This is a popular choice for remotely locking a door from outside, especially when you might be at work or on vacation.
Zigbee or Z-Wave-enabled with a smart home hub for dynamic integrations throughout your home.
Your connectivity choices also impact useful integrations or compatibilities like video camera and doorbell add-ons. If your smart lock can interact with your smart security system, you can check your front door activity. This allows you to watch any visitors at the door, communicate with them, allow delivery teams to place orders inside, and lock the door once they leave. Two-way audio and video are a definite bonus. Such integrations bring both the camera and smart lock controls within the same app – saving you the hassle of switching between multiple apps.
Network ranges also affect your choice of voice assistants for locking a door remotely. It is always advisable to pick the most suitable Wi-Fi or Zigbee grid to support your automation scope. You can then include Alexa-friendly or Siri-enabled locks based on the connectivity range your home network allows.
Airbnb and smart lock: a match made in heaven
Smart locks are equipped with bank-level encryption for securing access codes. Airbnb hosts benefit from using smart locks during the pandemic for several reasons, one of which is hands-free access. The platform generates access codes that expire at the end of each guest's visit, allowing the next guest to have a new code. They can lock the door without ever touching its mechanical lock from outside. You can also install specific types of smart locks on front doors, back doors, sliding glass patio doors, interior room doors, side access doors, and even driveway gates. This gives you wider coverage to secure your home based on the Airbnb configuration you have planned.
As a host, installing a smart lock in your vacation rental space increases your chances of better reviews. You no longer need to manage physical keys and check-in delays. Your guests can simply use their smartphones to receive all the information they need for contact-free check-ins. Without a mechanical lock, there is no security concern from duplicated keys – and even lost keys. You can instantly receive alerts if your Airbnb guests have not locked the door.
Various smart lock models and smart hubs can integrate with your Airbnb calendar to automate schedules and revoke access. This takes the reservation experience to a whole new level and helps the wanderlust travelers enjoy their on-the-go freedom.
The best smart locks for your virtual cart
August Wi-Fi, (4th Generation) Smart Lock – Fits Your Existing Deadbolt in Minutes, Silver

August Wi-Fi smart lock is connected right out of the box. The multipurpose device helps you lock your doors from anywhere, using no additional bridge for a Wi-Fi connection. It works on a 2.4 GHz Wi-Fi network and can retrofit your existing deadbolt with added functionality. The lock pairs with the August app from where you can centralize all your controls and lock doors remotely. You can also generate access keys and share them with family members, friends, guests, etc. This compact version is 45% smaller in size and works well with any door style.
Pros:
It offers voice compatibility with Siri, Alexa, and Google Assistant, so you can use voice commands to lock doors from outside.
You can still use your existing keys when needed to lock the door from outside, as the smart lock attaches only on the inside of a door.
An auto-unlock option senses your proximity to the door and unlocks it for you. You can also enable auto-locking for better security.
Biometric verification uses fingerprint and facial recognition systems on your smartphone to operate the lock from outside. This enhances the security aspect and authorizes entries to your home.
Remote access gets optimized when you do not need extra hardware to connect the lock.
You can use your smartwatch as well to lock your doors with a simple tap.
A DoorSense feature keeps an eye on the door's status, updating the Activity Feed for open, closed, locked, or unlocked doors.
August smart lock is compatible with Apple HomeKit and Samsung SmartThings.
Cons:
Some customers faced problems with app connection and integration settings, failing to connect the lock for remote access.
It does not perform better than its predecessor – the August Smart Lock Pro.
Unstable connectivity was a recurring concern. A smart lock that does not consistently connect to your Wi-Fi leaves you only with the mechanical end of the setup.
Schlage BE489WB CEN 622 Encode Deadbolt Smart Lock | WiFi Touchscreen Keypad, Matte Black
Schlage smart lock has built-in Wi-Fi to help you lock and unlock your door remotely. It does not require additional hardware. You can install the Schlage app to manage up to 100 unique access codes, depending on temporary, permanent, or repetitive needs. The lock can be attached to your door easily using the DIY-friendly snap 'n stay technology.
Pros:
It is Alexa-enabled and lets you lock the door using voice controls for hands-free convenience. The voice assistant also alerts you about low batteries in advance. You can create smart reorders with Alexa to have replacement batteries ready to use.
The minimalist touchscreen design offers keypad control for alternative access.
The smart lock has a built-in alarm technology that detects breaches and possible attacks.
You can connect the Wi-Fi smart lock directly to your home network without any hubs.
Integration features allow you to pair up the Schlage lock with Ring devices. You can then integrate the Ring app, use your Ring Video Doorbell's Live View streaming, and authorize access to guests.
Cons:
While the app lets you know when a door is locked manually, there are discrepancies in using the app itself to lock the door.
You cannot rely on just the app to lock your doors from outside. It is better to have a mechanical backup ready, which really questions the overall smart scope.
Yale Assure Lock SL with Z-Wave, Key-Free Touchscreen Deadbolt, Satin Nickel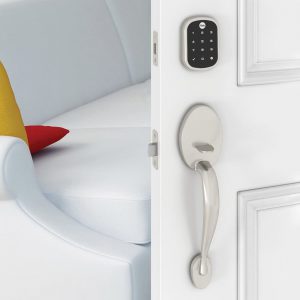 Yale Assure smart lock is compatible with Z-Wave smart homes. It replaces your old deadbolt in simple installation steps and comes with the necessary mounting hardware and batteries. The BHMA Grade 2 certified deadbolt is designed to be fully motorized. Yale smart lock has a rubber gasket to preserve your door's finishing and leave no marks.
Pros:
Keyless entries and exits work like a charm with Yale smart locks. You can lock and unlock doors by connecting the smart lock to your existing Z-Wave network and compatible app. It works with Wink, Ring Alarm, and SmartThings with their respective apps. The upside here is that you can simply continue using your automation app instead of downloading the Yale app.
The lock works with Alexa, allowing you to lock doors in hands-free comforts.
Its backlit keypad makes a default alternative for secured entries.
You can also enable the auto-relock option to lock the door from outside whenever you leave.
You do not need to worry about dead batteries, as the keypad's 9V backup charger allows you to enter the access code and unlock the door.
The smart lock promotes key-free locking by letting you use the app, voice controls, and keypad codes to lock the door.
Its compatibility with alarm systems extends your security scope.
Since you get to use your existing and compatible automation app, you can generate codes for sharing with different people. This includes creating temporary and permanent codes based on how you wish to distribute the access. In this way, you share only the access to your home – not its keys.
Cons:
You will need a compatible hub to use a fully functional Yale smart lock.
There were complaints about the smart lock getting jammed in place, rendering it ineffective for any form of access.
Integration with smart home hubs may limit the way you manage the access codes on the relevant app.
Alexa, Colloportus! Alexa, Alohomora!
Harry Potter fans, if you want to know how to lock a door without a lock from outside, you will be pleased to explore some smart – spellbinding – possibilities. Voice integrations have brought us as close to the magical world as we can get. And while we still adamantly wait for our Hogwarts letters to arrive, it is time to get some closure, and keep the muggles out! Voice assistants can be programmed to support customized variations for locking the doors or turning on the lights. You can create various Alexa Skills and routines to control your doors, and this also adds an element of security with unique commands – as we said, to keep the muggles out!
Smart locks like those discussed above focus on hands-free locking, which helps you operate doors without ever touching their mechanical lock. Designs that enable integrations with automation platforms easily steal the spotlight. They allow you to step up from the basic smart door lock features by incorporating your existing Ring cameras and video doorbells. Regardless of your location, you can speak with your visitors, unlock the door to let in deliveries, and lock it back using your smartphone. In this way, device compatibility also gives you a good head start in the face of emergencies. The collective smart ecosystem can be configured to alert the police and neighbors for a timely action – and it all comes down to a lock that you can talk to!