Studies show that the cases of carbon monoxide (CO) poisoning are more common during winter and fall seasons. The gas furnaces and heaters which are used to tackle the effect of the dropping temperatures are if not properly maintained, can have leaks through which the deadly gas can seep out and enter human body system. Now, this doesn't mean you are free from CO poisoning during summer.  There can be situations even during summer where you can be exposed to very high levels of CO.  Now, air conditioners do not have any combustion components and hence they are not potential creators of the risk. Camp stoves, non electric heaters, barbecue grills, vehicles, etc. are all sources of CO. Proper maintenance of the devices used is of prime importance. Battery operated Carbon Monoxide detectors when installed in your home can alert you the dangerous levels of carbon monoxide.
Carbon Monoxide Poisoning
Carbon Monoxide is indeed a deadly gas. It is formed by the incomplete combustion of fuels. When humans are exposed to CO, the gas molecules will displace the Oxygen in the human body which can lead to poisoning. The gas is colorless and odorless and hence cannot be detected by our senses. So you won't be aware of the risk until you fall ill. Now, even the symptoms of CO poisoning somewhat Resembles that of a flu and so it is hardly noticeable until things get worse.
Carbon Monoxide Detectors
Carbon Monoxide detectors are considered to be the fastest way to prevent CO poisoning. They constantly monitor the levels of Carbon Monoxide in the surroundings. On detecting CO levels, an alarm is sound. The alarm will turn off when the environment is CO free.
Working Of Carbon Monoxide Detectors
As already said, Carbon Monoxide detectors sound an alarm when a certain amount of carbon monoxide is sensed over time. Based on the type of sensor, there will be difference in the way alerts will be brought about.
In case of CO detectors with Biomimetic sensors, the gel in the sensors change color on CO absorption triggering the alarm. In case of those with metal oxide semiconductors based on silica, the circuitry will detect CO and cause changes in electrical resistance leading to triggering of alarm. Another type of detectors involve electrochemical sensors where the on CO detection, there will be changes in the electrical currents in the system which is then detected by the electrodes thereby triggering the alarm.
How To Maintain A Carbon Monoxide Detector
After installing the Carbon Monoxide detector, you need to follow the steps mentioned so as to achieve proper working and maintenance of the system without false alarms so as to ensure the best possible protection to your home and family.
Place the CO detector in about 20 feet away from a possible sources of carbon monoxide like fireplace, furnaces, etc. as there is chance that the alarm may be triggered unnecessarily  even when very low levels of  Carbon Monoxide is detected.
You need to ensure that the detector is not covered by any means as it can hinder proper detection.
The detector should not be placed near a window or door.
Test the detector regularly so as to ensure proper working.
Do not allow dust and dirt to clog the sensor. Vacuum the detector occasionally. Do not use any chemicals or solvents for cleaning as it can damage the sensor.
What to look for when selecting CO detectors?
There are models similar to smoke detectors, which need to be powered. And when CO level is detected, they will alert you with siren. Nowadays, there are models which combine both smoke detection and CO detection. So they offer you a means to replace your existing smoke detectors and get dual operation of both smoke and CO detection with reduced number of sensors. If you go for smart CO detection units, they can work in integration with the home security system offering extra safety. However, the cost factor associated will be much more.
What do I do in situation of CO detection alerts?
You should never ignore a CO alert. Check the people for any possible symptom of CO poisoning.  Leave the building immediately in such cases and take medical help. Call up and inform your local fire department about the emergency. In case everyone seems fine, check the CO alarm system with the help of a technician so as to identify the possible cause for the alarm. 
Best Carbon Monoxide Detectors
Alert Pro Carbon Monoxide Detector Alarm
Alert Pro Carbon Monoxide Detector Alarm is an affordable option to alert you in case of Carbon Monoxide detection. The system is not smart. However, it offers powerful performance by sensitively detecting CO leaks. You get LCD display with voice warning. They offer superior alarm performance. The 85 dB alarm is powerful enough to sound through your home alerting danger. The long live batteries offer longer life span to the CO detector alarm. There is 5 year warranty offered by the manufacturer.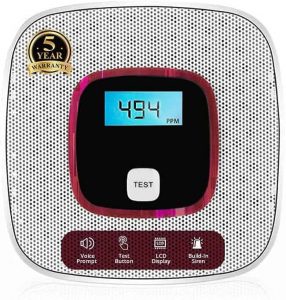 Alert Pro Carbon Monoxide Detector Alarm
Kiddie Carbon Monoxide Detector
The Kiddie Carbon Monoxide detector has a LED operation and alerts you with a warning signal when dangerous levels of carbon monoxide get detected in your home. They have an 85 decibel powerful alarm. There is also replacement alerts to signal when the detector needs to be changed. They have a quick and easy installation procedure. You just need to plug it in your standard wall outlet. The battery backup can help in case of power failure. The UL certified detector comes with one year limited warranty.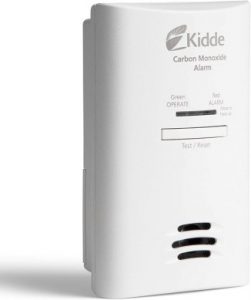 Kiddie Carbon Monoxide Detector
X Sense Carbon Monoxide Detector Alarm
With the Advanced Figaro electrochemical CO sensor, the X Sense Carbon Monoxide Detector Alarm offers high accuracy performance with reliability. They have a 10 year sealed Lithium battery.  Battery is not replaceable. You get early alerts instantly with the 85 decibel alarm when CO is detected. They have an LCD display which display real time CO levels. Peak Value Memory feature lets the device remember the dangerous CO levels since the previous preset. The intuitive 3 colored LED indicator turns red, green and yellow signaling alarm, power or fault. You have flexible installation options with either wall mounting or free standing. They are easy to take when you are traveling.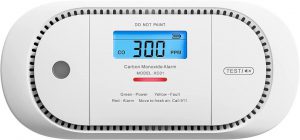 X Sense Carbon Monoxide Detector Alarm     
Ecoey Smoke Carbon Monoxide Detector Alarm
The Ecoey offers affordable combination alarm with built in intelligent chipset for smoke and carbon monoxide detection. They have dual sensors: Photoelectric Smoke sensor and Electrochemical CO sensor. Both sensors work independently, smoke alarm prior to CO alarm. The detector can detect both fast and slow burning events with good precision providing ultimate protection and with reduced false alarms.  The alarm tone is over 85 decibels and can sound throughout your home to notify the whole house regarding emergency. Alarm also comes with a silence function. The LED light remains green during normal time and in case of emergency, it turns red. Yellow LED light indicates fault. They have a 3V built in Lithium ion battery which has about 10 year long life. When low battery warning is displayed, you need to change the smoke detector. Battery is not replaceable. They can be easily installed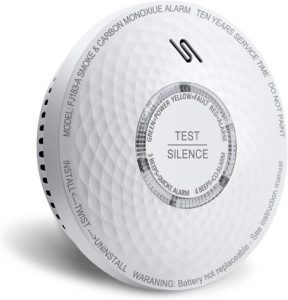 Ecoey Smoke Carbon Monoxide Detector Alarm
Google Nest Protect
The Google Nest Protect is a smart detector which includes a combination of smoke detector and carbon monoxide detector. The CO detector with Split Spectrum Sensor can tell you where it is located.  It works with the Nest App. So you can get alerts in your phone even when you are away. The Google Nest Protect provides the early warnings by speaking up in a friendly voice.  When there is only little smoke, you can silence the smoke alarm using App Silence. They can work with other smart home devices. The Nest Protect is on the expensive side costing you above 100 dollars. They come with battery and hardwire capabilities. However, when the battery dies, you can't change them, you need to replace the whole thing. They have a life expectancy of about 10 years. So they last you longer and hence it is a good buy considering the features they offer.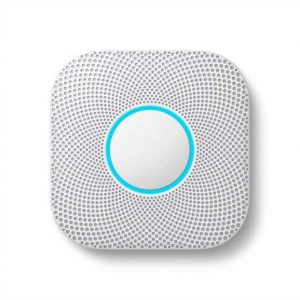 Google Nest Protect
First Alert BRK 7030BSL Combination Alarm with Led Strobe Light
Carbon Monoxide detectors are characterized by alarm sounds. However if someone in your family has hearing impairment, then First Alert BRK 7030BSL can act as a saver. It is combination smoke and CO alarm which can also trigger a LED strobe light in emergency situations. The 77 Candela synchronized LED strobe light is powerful in providing effective visual warning which can waken up the hearing impaired. The LED strobe light is acts smart by providing separate flash patterns so that it gets easy to distinguish between smoke and carbon monoxide detection alerts. The strobes can flash in unison when multiple units are installed. The Optipath 360 technology provides 360 degrees direct access to the smoke sensing chamber. The hardwired product also comes with a 10 year limited warranty.
First Alert BRK 7030BSL Hardwired Hearing Impaired Combination Alarm with Led Strobe Light