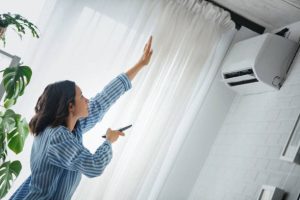 A high level of humidity can be so frustrating, especially during summer. Your air conditioner is supposed to be your best friend when it comes to producing cool air. What happens when it's the other way around? A high level of humidity makes hot hotter and cold colder. Humidity has a significant impact on virtually all aspects of our lives.
When humidity is high, it makes room for harmful microorganisms to get into space. Such harmful organisms include bacteria, mold, and dust mites. Low humidity causes skin irritation due to dryness.
The good news is that you can determine your home temperature with your air conditioning system. That's why we have provided you with this guide. In this guide, you'll learn why your HVAC humidity control is not working. Read on to find out about it.
Does HVAC Remove Humidity?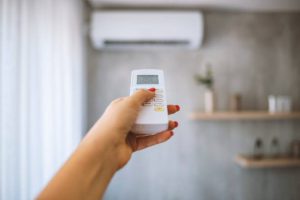 If you've ever wondered if HVAC removes humidity, the simple answer is yes. The device is efficient at removing humidity. The primary function of an air conditioner is to remove body temperature and provide cool air. It also removes moisture and reduces humidity levels to a great extent.
The HVAC system does not require any necessary settings to remove humidity. It works by removing moisture through a process referred to as condensation. That's basically how it removes humidity from your home.
How Is Humidity-Controlled With An AC System
Modern HVAC systems are designed so that they're able to control humidity. Your AC contains an evaporator coil that condenses water vapor from the air. This is similar to how water vapor displays outside of a glass containing a cold drink.
The moisture in your house is transferred to the cold evaporator coils. Then, the moisture is condensed, and the liquid is removed through condensation.
The moisture is taken to the drain pan, and removed through the drain pipe. This process is what leads to the removal of moisture from your house.
Reasons Why Your HVAC Humidity Is Not Working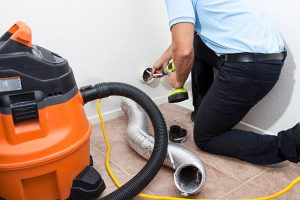 The HVAC can help reduce humidity to the smallest amount. However, you might experience certain difficulties with it due to some reasons. You might be wondering why moisture is high when the air conditioner is working. Certain factors can contribute to why the humidity is not working. Some of these factors include:
The size of your HVAC unit
One of the mistakes most people make is determining how effective a device is based on its size.
Similarly, most homeowners believe that a large AC unit is better than the smaller one. And that's where you might be wrong. If your air conditioner is large, controlling the temperature and humidity will be pretty tricky.
Thus, instead of size, the cooling capacity of an air conditioner should be the first factor to be considered. A large HVAC system contains a strong compressor. It will switch on and off frequently. Hence, your AC won't run longer to remove moisture from your home.
Dirty evaporator coils
One of the major components of your air conditioner is the evaporator coils. They are in charge of removing the moisture in your air conditioning system. Over time, they can get filled with dirt and debris. This can result in reduced efficiency and purpose.
The dirt inside them can act as preventative walls that prevent water vapor from the air. This will affect the HVAC cooling capacity as well as its moisture removal process. Suppose you notice any changes in how your air conditioner functions. In that case, check the evaporator coils to see if it's filled with dirt.
Limited speed control
An air conditioning system with just one speed or an on-and-off function affects the HVAC humidity control. An air conditioner with various speed options makes HVAC humidity control easier. This is unlike the one-speed option that runs quickly to achieve the targeted temperature.
Once the temperature gets to its destination, the unit turns off and continues this way. During this process, your HVAC system doesn't last longer to get rid of moisture properly.
It is recommended to get a modulating air conditioner as it offers various speed controls. Modulating the air conditioner is cost-effective and makes moisture removal easier. Thanks to its multiple speed options.
Outdated HVAC unit
If you're currently using an outdated HVAC system, you may have experienced some changes in how it functions. Changes like its cooling capacity, energy efficiency, or increase in maintenance fees. Also, its humidity control may not be as effective as it used to be.
All these changes may be due to using an outdated HVAC unit. The normal lifespan of an air conditioning system is within the range of 10 to 15 years. If your HVAC unit has crossed this range or getting closer to it, then it's time to start considering getting a new one.
Negative air pressure.
Excessive ventilation of your surroundings can cause negative pressure indoor. For example, when someone opens the window or main door, you'll notice the rate at which air fill inside your home. This is a result of negative air pressure.
When the humidity level increases, the negative air rushes inside your house. This affects the rate of humidity control.
Leaky ductwork
If your ductwork is leaking, especially from the return side, it will bring in the hot, humid air near the ducts. In this situation, your air conditioner might not be able to remove a high level of moisture.
Make sure you check your ducts properly to see if your HVAC humidity control has any issues. If you notice the ductwork leaks, speak with your technician to repair the leakage to avoid further problems.
Wrong thermostat.
What is the first thing that comes to your mind when setting up your thermostat? No doubt, it is the temperature that suits your current needs. While this may be good, it's also essential to consider the humidity. Make sure you check the humidity level in your house before setting up your thermostat.
Some Reasons Why Your Home Can Be So Humid With The AC On
Humidity is an essential factor that determines well-being at home. When the home is too humid, it gives birth to several harmful organisms. When there is low humidity, skin becomes irritated due to dryness. This is why it's crucial to maintain a proper humidity level.
You may be wondering why your home is still humid while the AC is running. Yes, it happens. Several factors can trigger such conditions. Some of these factors include:
Air conditioning unit
How airtight your house is
The design construction material
Geographical location
All these factors have a significant impact on maintaining humidity levels. For instance, if the climate is hot, your air conditioning system would frequently be running. However, if you want to run your air conditioner when the weather is too hot, it might not reduce the moisture level to the smallest amount.
Humidifiers Vs. Dehumidifiers Vs. Air Conditioners
Air conditioners are made to provide cool air in your home while maintaining body temperature. Air conditioners can remove moisture from the air. However, their humidification results from the cooling process taking place in the unit.
If you're having difficulties with HVAC humidity control, it is recommended to go for other options. This will minimize the level of moisture in your house.
On the other hand, Humidifiers and Dehumidifiers are responsible for humidity controls. If you're living in a resident that's always humid, then go for the latter. But if your home humidity is frequently low, then the former is the best option.
Can You Add Humidity Control To HVAC
Humidifiers manage low humidity in your house, while dehumidifiers maintain high humidity. Both perform different functions. Although air conditioners can produce cool air, humidifiers are better to control excessive moisture in the house.
If you're running a central air conditioner, you can install any of the two devices on it. It all depends on what your current needs are. You can install any of these two devices to improve HVAC humidity control.
Strategies For Enhancing HVAC Humidity Control In An Existing System
Get a proper preventative maintenance plan
Perform a regular inspection on your air conditioner, tune-up, and clean your AC components. Doing this will help keep your system running smoothly and efficiently. This will help improve HVAC humidity control in your system.
Cleaning the evaporator coils is good. But this cleaning strategy might not be effective in providing better HVAC humidity control. This is because improper maintenance of your AC can cause more problems. This is where the service of a technician comes into the picture. The technician will be able to detect potential problems and solve them as early as possible.
Adjust the airflow
Depending on the type of AC you're using, your technician might be able to adjust your system's airflow. This can be done to make the coils colder when there is an increase in humidity. This will help remove more moisture and improve your HVAC humidity control.
While this method can be effective, it also comes with risks like a frozen evaporator coil. It's best to discuss with your HVAC technician to see if this strategy might work for you. If it doesn't, the technician can recommend something else.
Clean the coil
One of the easiest ways to enhance humidity control is to clean the evaporator coil. Negative air outside can affect your air conditioner evaporator coils. Dirt and debris start filling up in the coil. This prevents the air conditioning system from producing heat.
Thus, the air conditioning system becomes inefficient. Getting rid of humidity produced from the air outdoors will be more challenging.
Add a dehumidifier to your system
Suppose you have exhausted all the strategies mentioned above, and there's still no improvement in the system. In that case, getting a dehumidifier comes next. This device helps to remove excess moisture from the air.
It prevents excess moisture from getting to your ductwork and inside your home. To get the best one for your air conditioner, speak with a professional HVAC technician. This way, you will get one that best suits your air conditioner type.
Conclusion
High humidity creates room for harmful organisms to get into your space. Also, when humidity is low, it causes skin irritation. This is due to frequent dryness of the skin, cracked and bloody noses. Proper humidity is key to living an easy and comfortable breathing lifestyle. With the tips in this guide, you'll be able to manage humidity levels in your home.