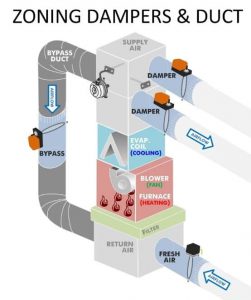 Image source: Zoning Supply
HVAC ducts often have a damper to adjust the flow of air in your heating and cooling systems. Dampers can be cylindrical or rectangular/boxed in design, and they include plates that open and close to control the airflow. They are essential tools in HVAC zoning systems and help regulate the indoor climate for each room. Based on your thermostat settings, a damper's moving plate will open or close to enable or restrict the HVAC air. This diverts the airflow into rooms that struggle to maintain a comfortable temperature. Zoning also divides your home into separate zones with independent climates, so everyone gets a favorite temperature. It solves the problem of rooms being too cold or too hot depending on the season, and so your appliances perform more efficiently. HVAC zone control dampers, thermostats, and control panels make up a standard zoning system. With real-time temperature checks, your thermostat decides if a zoned area requires more airflow. This moves the damper plates accordingly until the room reaches its preset temperature.
Zone control is an effective way to make your HVAC units last longer. You can adjust the required temperature in your zone without affecting the other rooms. By isolating specific areas in this way, your HVAC system can distribute air to those rooms that need it the most. Zoning reduces your overall energy consumption as a result – and this translates into higher savings. Dampers in the ducts are activated from your thermostat signals; some installations also require air pumps for managing differences in pressure throughout the zones.
HVAC zone control dampers
Suncourt ZoneMaster Fully Adjustable Motorized Airflow Control Zone Damper, UL Listed 24VAC/20VA Plug-in Transformer Included, Compatible with Any 24 Volt Thermostat, Normally Closed – 12″, Silver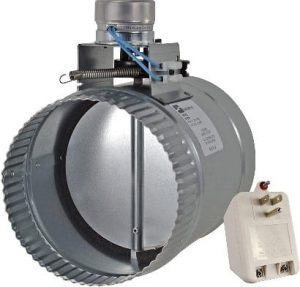 Suncourt zone damper makes an economic solution to your indoor climate differences – as well as the associated bills. It helps you avoid unnecessary loads on your air conditioners and heaters by diverting more heat/cooling to only specific rooms. The temperatures get regulated more quickly and efficiently, so you can turn off the HVAC system that much faster. This motorized airflow damper has a 3-year manufacturer's warranty and offers total zone control for individual customization.
Damper highlights:
You can integrate it with your existing zoning system.
The damper's 0°- 90° adjustment enables fresh air intake applications to introduce a fresh air supply into your heating, cooling, and ventilation networks.
The system can block the HVAC air and odors when the damper is closed. This helps you adjust the heat so that your rooms maintain a comfortable temperature. Likewise, when the damper is open, it can be used to maximize cooling during summers.
The normally-closed design means that the damper valve remains closed when the systems are off.
You can boost your energy savings without comprising your indoor atmosphere quality.
The included UL-listed, plug-in 24VAC transformer allows the damper to be used for standalone applications.
The damper is fully adjustable for maximum HVAC zone control.
Its installation is very DIY-friendly.
The durable, high-quality design ensures product longevity and user convenience, which really adds to the damper's convenient price tag.
The automated damper can be programmed to redirect the HVAC air towards targeted rooms based on their current temperatures.
Damper limitations:
This zone control damper can take some time to respond to your thermostat's signal. There can be a slight delay before the valve fully opens.
There were quite a few complaints regarding damaged or missing parts.
Honeywell ARD6TZ Round Automatic Damper, 6″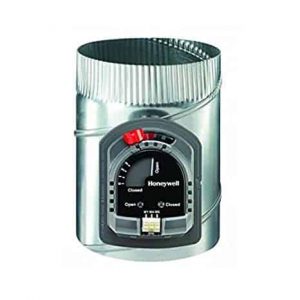 Honeywell automatic damper is made of galvanized steel and has a single blade. It also has a power-close and spring-open design suitable for Honeywell zoning systems. The damper can be installed in 6″ insulated and flexible ducts and is normally closed. 24-volt AC is needed to trigger the motor and open the blade.
Damper highlights:
The blade fits the gasket tightly to seal the passage and keep leaks at an all-time low. This means that the circulated air will travel only to the required rooms without sneaking into the blocked zones.
Since the damper blade is adjustable, you can set it to open partially rather than fully wherever needed. This helps you control the zone temperatures even more precisely.
The damper system supports independent zones and fresh air intake applications. The outer air can stream in and mix with the conditioned/heated air to create cleaner indoor atmospheres.
Integrations with range hoods are possible to ventilate your kitchen properly. This feature makes the Honeywell zone control damper a versatile choice to let all your HVAC units perform better and last longer.
Damper limitations:
There was a complaint about the return spring failing to work as expected when the power is off.
There are no returns if your product is damaged.
Honeywell ZD8X10TZ Truezone Damper 24V 2-Wire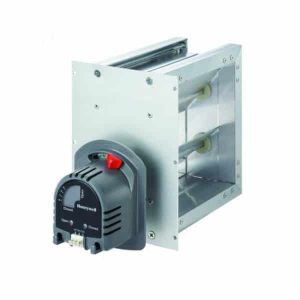 Honeywell TrueZONE damper features a power-close and spring-open design. It is the only box-shaped damper on our list. The 24V motor regulates your HVAC air efficiently and is useful in normally-open damper applications. You can install this damper in various TrueZONE and other zoning systems.
Damper highlights:
Kevlar gearing cuts down wear and tear within the damper, making it function smoothly and last for a long time. Sturdy housing construction also adds to the overall durability – thanks to its extruded aluminum frame and blades.
Adjustable range stops allow for damper customization to support your HVAC zones.
The damper status can be checked on the mechanical position indicator.
The parallel blades ensure minimum leakage once closed. They open and close much more quietly than multi-blade versions.
You can install this Honeywell damper easily in any orientation for all conventional and networked HVAC zones.
Damper limitations:
It is not heat-pump-compatible and does not support individual fan control.
Suncourt ZO208 ZoneMaster 8 Inch Normally Open Motorized Control Air Flow Damper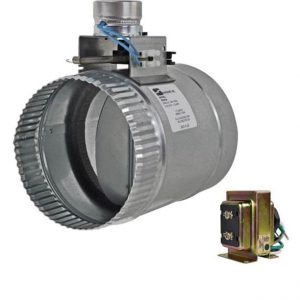 Suncourt 8-inch zone control damper helps you rely on motorized airflow management to recycle your zone temperatures. It has a normally-open, inline design that you can configure to open or close completely as well as partially. The adjustment levels deliver better customization of your zoning preferences, allowing you to control the airflow more accurately. The damper has a 3-year warranty and makes a resourceful HVAC addition to improve your energy efficiency and cut down bills.
Damper highlights:
You can install this damper with your existing zone control system. It works on 24VAC and can even function as a standalone unit using the given UL-listed plug-in transformer.
The damper integrates well with zoned systems to guard the airflow based on the particular settings of each zone. Your mechanical thermostat can turn off this damper as soon as the desired temperature is achieved. This gives each member of your family a separate climate that they can tweak without affecting the other settings.
Suncourt damper easily addresses issues like poor heating or insufficient cooling in different parts of a home or office.
With increased comfort and better savings, you have the best of both worlds!
The damper has 0°-90° adjustment features. The fully adjustable and ergonomic design ensures product durability in the long run.
Damper limitations:
The damper valve does not seal the gaps tightly when closed, causing some air to be leaked out, which reduces the otherwise promised efficiency. The gap can also create a whistling sound as a result. Some users managed to fix this flaw by themselves and altered the closing point, though an upgraded design will save a lot of DIY trials.
Guide your HVAC traffic smartly
HVAC zoning systems solve whole-house temperature problems using a simple damper. By creating temperature "islands" around your home, you can customize each zone setting separately and experience a noticeable change in the air quality. Zoning is a clever way to make the best out of the existing HVAC output instead of buying additional appliances. Homes that turn into zoned systems enjoy the results of optimized HVAC performances, as your units no longer need to overwork themselves. To decide whether HVAC zoning is what you want, you can first check how many rooms actually suffer the too-hot/too-cold problem – including how long they take to reach a stable preset temperature. Combined with the preferences of each member, your identified zones should be clear-cut areas that can benefit from temperature treatments.
Zoned systems prevent hot and cold spots around your home by distributing the HVAC air to specific rooms. They are important considerations if you have spare rooms in your home that are barely used – or if you have an Airbnb guest who requires separate heat/cool/ventilation controls. HVAC zone control dampers are also installed to direct more heating or cooling to target areas like a home office. When your air conditioners and heaters only work for the required, limited applications, they arrive at your preset values faster and save more energy. So, they do not work harder in heating up or cooling down your rooms – they simply work smarter!