Mini-split air conditioners offer greater operational flexibility. They are more energy efficient, helping you to cut down your electricity bills. These are also more convenient to use. Now the question is do we have thermostats which are capable of operating these non central units. And the answer is yes. There are mini split thermostats capable of serving the purpose. Also known as AC Controllers, they offer great functionality. Nowadays, with smart Wi-Fi thermostats you can take the experience even to the next level.
What are Mini-Split Air Conditioners?
Mini-split systems are ductless heating and cooling systems. There is no duct system to deliver the conditioned air to the whole residence. Instead, they can heat or cool a single room. So there is more advanced temperature control with increased comfort and energy efficiency. Ductless systems can also offer better air quality as there is no chance of dust and mold growth in the duct as is in the case of ducted systems.
Mini-split air conditioners consist of two separate units:  an indoor unit and an outdoor unit. The outdoor unit includes the components like compressor and condenser fans. It is the air handling unit in the indoor unit which is responsible for introducing cool air into the room.
Wi-Fi Thermostat
A Wi-Fi thermostat is a thermostat that can access and control the heating and cooling system through the internet. They can be controlled via the internet using your computer, laptop, smart phone, etc.
Benefits of Wi-Fi Thermostat
Energy savings
Remote access to temperature control
Great comfort
Maintenance Alerts
Best Mini Split WiFi Thermostat
Cielo Breez Eco Smart AC Controller
The Cielo Breez Eco Smart AC controller can work with mini split, portable and Window ACs that have an IR remote control. By connecting to the Wi-Fi router, they let you control the air conditioner with your smart phone, Amazon Alexa or Google Home. They can help you create zones so as to bring about efficient heating or cooling. They come with the complete range of smart features. With the precise on-device temperature and humidity sensing perfect temperature conditions can be ensured in your room. The live air filter status in the system ensures that there is healthy environment in your home. You can also set schedules and configure geo-fencing for location based controls. There are also smart notifications. All this adds to the energy savings. You can save about 25% on the energy bills of your AC.
The Smart AC Controller also allows you to control your AC from anywhere over iOS, Android, Web, Alexa, Google Home platforms. They are also compatible with SmartThings. 'Cielo Home' Apps come with complete timeline of actions providing you with the latest information. You can get detailed usage statistics of your AC along with insights.  With the Auto Remote Control Detection, the system is super easy to configure. You can also take help from the support team in case of any difficulties. They are available 9am-9pm EST (Mon-Fri).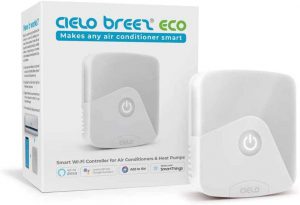 Cielo Breez Eco Smart AC Controller
Cielo Breez Plus Smart Wi-Fi AC Controller
The Cielo Breez Plus Smart AC controller can also work with mini split that have an IR remote control. They work similar to the Breez Eco with zonal control, location based control, scheduling, temperature and humidity based triggers, etc. However, there are certain additional features that they offer in terms of on device control, display screen and temperature range of control.  It can also be powered up with 5V adapter or hardwired through 24V or 12V.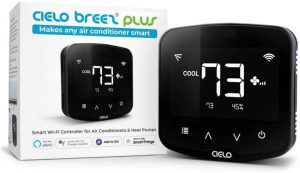 Cielo Breez Plus Smart Wi-Fi Air Conditioner Controller
Mysa Smart WiFi Thermostat
The Mysa Smart Thermostat works with mini split, window, and portable air conditioners. Ensure that Mysa is compatible with your AC. For this, your remote must show more than just the temperature. They are based on WiFi connectivity. They allow remote control. Geolocation ensures that you are not wasting energy on an empty house. Lockout feature makes sure that you are in control of your preferred temperature setting. You can save even more with the Vacation mode. Mysa allows Smart Integration by working with Alexa, Google Assistant, and Apple HomeKit. You can enhance your home's style with the sleek and minimalist design with which Mysa comes. They can be easily installes. It just takes about 15 minutes for the installation process. Mysa is capable of learning your remote's codes. It can be mounted either to wall or to table top stand.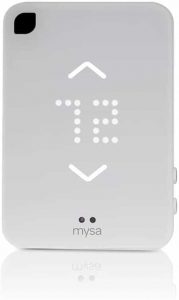 Mysa Smart WiFi Thermostat
Flair's Puck
Puck enables smart Wi-Fi AC control to a wide range of mini splits, window ACs, and portables. Puck provides maximum comfort. It utilizes the Room SenseTM technology thereby which it senses the temperature where you are and always makes sure you're comfortable. They allow you control the temperature settings from anywhere using Ios, Android or the web app. With scheduling you can even schedule when the mini split should turn off. They also allow integration with Amazon Alexa so that you can have the controls with voice. They can also work in integration with other smart thermostats like ecobee and Honeywell. With Puck's Smart Away, you can save energy and money.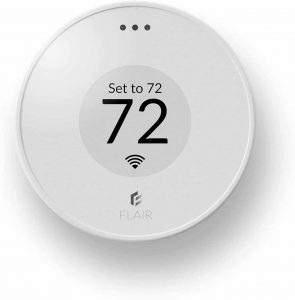 Flair's Puck
Sensibo Sky
You can turn your existing mini split system into a smart AC with the Sensibo Sky AC controller. Sensibo Sky claims to reduce your cooling bills by up to 40%. With the smart phone app you can have control over any remote controlled AC unit so as to maintain comfortable home temperature from anywhere. The set up is easy. You need to plug in your Sensibo Sky and connect to WiFi. They can also work with Alexa, Assistant, Siri, Nest and others. They do not support Bluetooth. Geofencing allows to activate the AC before you arrive and to turn off as there is no one. With Climate React, you get a comfortable real feel temperature. There is also 7 day full week programming and conditional programming. You can easily control the home temperature from anywhere with the Sensibo mobile and web apps. The thermostat can be easily installed.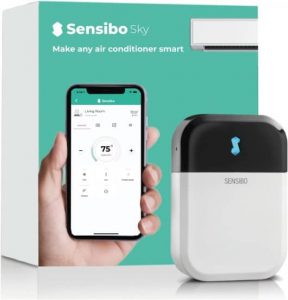 Sensibo Sky