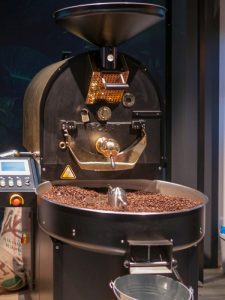 Coffee roasting is an important step in bringing about the best flavor and locking the quality of the beans. If you are somebody owning a coffee shop, then investing in a professional coffee roaster is prime step in achieving the best in the business. It is a crucial decision to select the best and spend the required amount.
Professional coffee roaster will be different from the other coffee roasters in terms of size, design and functionalities. They will be having a high capacity of roasted beans per batch. Before looking into the best options, let us see what features we need to look for in a professional coffee roaster.
Factors to consider before buying a Professional Coffee Roaster
Size
You need to select the coffee roaster of the size which best suits your business requirement. You do not want to end up spending most of time in roasting the coffee beans. Think twice as it is a huge investment you are going to make. If you own a small café, then 5-10kg coffee roaster would be good enough. In case of big café or if you intend to supply the roasted beans to restaurants, retailers, etc. then you may need much larger size of around 20kg and above.
Type of Roaster
There can be gas and electric roaster models. The mode of operation can be drum bed or fluid bed. The material used in the coffee roaster can be stainless steel or cast iron. Automatic models make the effort less when compared to manual ones. Direct flame and infrared models are available. So you can have a wide variety of options to choose from.
Cost
Now the cost of the coffee roaster will definitely be a huge investment. It depends on the size of the roaster you intend to buy and the capacity of beans roasted per batch. There are different types of roasters you can have your hands on and this too can impact the cost. So clear planning is important so that we can arrive at the best option which suits our needs in the most cost effective manner. Additional costs like installation charges, permits, license, rent, maintenance and marketing, everything need to be addressed.
Functionality
You can also look for a wide variety of additional features and functionality which can boost the roasting process create the best aromatic roasted coffee beans. Cleaning the coffee roaster should also be an easy process rather than time consuming.
Best Professional Coffee Roaster
Probat USA
Probat USA provides a wide range of industrial roasters meant for the coffee industry. It covers drum, tangential and centrifugal coffee roasters. So you get different types of roasters with varied versions to pick from based on your requirement. The size range that they offer is great. Using these roasters, you can have all kinds of roasts. The roasting machines are precisely crafted with utmost care. You get best control over the roasting process. The models are capable of delivering the service with utmost efficiency. They have also worked on making the roasting machines models which are easy to operate. You also get prompt customer service. 
Mill City Roaster
Mill City Roaster based on Minnesota provides reliable and easy to use models of coffee roasting machines. They offer both manual control and digital control models. The coffee roasters are CSA certified gas roaster models. The size ranges from 500g sample roaster to wide range of industrial sizes. The models require less maintenance. Their website offer many tutorials which can guide you in selecting the best suiting coffee roaster for your business needs. There are also coffee roasting classes which can help you advance your coffee roasting skills. They also supply a wide range of roaster tools and accessories. They offer 24/7 support to inquiries worldwide.
Sanfran Roasters
Designed and built in the US, they offer both small and large batch coffee roasters. The roasters are the most beautiful and robust among those available in the market. The models are examples of modern innovation with handmade designs. The coffee roasters are durable made from high quality domestic steel materials. The size options start from 500g to 34 kg. The single walled drum rollers provide good heat application. The roasters are designed to get good control over the roasting process. The Magnehelic gauges in the roasters can measure pressure which can enhance its performance. The models are designed for efficient cleaning and maintenance. You get customer service of the highest degree. By owning a coffee roaster from the Sanfran Roasters, you become part of the growing family of specialist coffee enthusiasts.
Giesen Coffee Roaster
Being a Netherlands based coffee roaster manufacturer, they have been in the industry for over 15 years. Giesen Coffee Roasters are versatile which can take your roasts to the next level. You get maximum control in the roasting process. Made from the highest quality materials, the coffee roasters have a unique appearance with Dutch craftsmanship. The coffee roasters are designed so you can work, roast, and create in ways which seemed impossible earlier. Espressso Analyst Inc. is partnered with Giesen for sales and services in US and Canada. They have a 15kg roaster and sample roaster installed. You can reach out to them for more details.
Toper Roaster
Toper Roaster based on Turkey is one of the 8 key brands of Global Roaster Industry according to various independent surveys. They have in the industry since 1954 and export the coffee roasters to about 146 countries including US and Canada. The coffee roasters are known for their technical quality and safety standards. With advanced technology, they have been capable of reducing the roasting time down to 9 minutes. With the incorporation of advanced technology, the coffee roasting machines offer maximum roasting quality and efficiency. There are higher capacity options. With touch control panel you get full control of the coffee roaster at your fingertips. The industrial style coffee roasters come with hi tech automation.