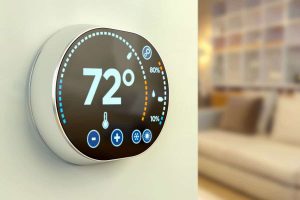 Technology has evolved swiftly in the past few years. Home thermostats are one such area of technology that has seen the most considerable growth. Today, smart thermostats offer you a myriad of features, which you didn't know were possible, like connecting to your mobile phone, remote monitoring, checking indoor air quality, analyzing the amount of energy usage, and monitoring local weather conditions. All such innovative features and advanced capabilities of a smart thermostat have largely been possible because of its ability to get connected to the internet.
However, it can be a little unrealistic to presume that your remote control thermostat will never turn offline. The internet can be faulty at times, and the functionality of your device can become limited.
How does a Remote Control Thermostat Without Wifi Functions?
Usually, the features that are controlled through your mobile app will not be accessible when your remote control thermostat gets disconnected from wifi. This may create further difficulty if you are away from your home and want to regulate the device remotely. The common features that wifi thermostats control through a smartphone app include scheduling, humidity level, and geofencing.
Besides, when it loses a wifi connection, it will stop sending reports, notifications, and live updates regarding the thermostat to your phone. This means you will not be notified in case of abnormal temperature conditions, emergency, electricity cutouts, low battery on the thermostat itself, or water leaks.
The chance of missing an emergency update can be worrisome for you while you are away from your home. However, you must know that most smart thermostats send a push notification to your mobile phone in case of disconnection from the internet. Additionally, an email is also usually sent to your corresponding account.
However, amidst all this disconnectivity period, your smart thermostat will essentially work as a basic unit, which has been around for decades. The cooling and heating of your home can be easily handled without wifi.
So, your house will still be cooled and heated to a temperature that the smart thermostat is set at, even in case of loss of internet connectivity. While the scheduled temperature would mainly remain untouched, you will lose the ability to change the cooling and heating schedule through a remote control thermostat without wifi. To do so, you will need to wait for the unit to reconnect.
Smart Thermostats That Work Well Without Wifi
Google Nest Learning Thermostat – 3rd Generation Nest Thermostat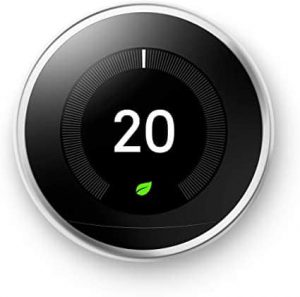 Smart thermostats have made it easier for homeowners to control the temperature of their homes efficiently, and the Google Nest Learning Thermostat – 3rd Generation Nest Thermostat is no different. It uses your home's wifi and strong sensors to provide advanced heating and cooling regulation features. While it is recommended to connect the Nest thermostat with a wifi connection to avail its unique features, the device can still function well in the absence of one. It operates as a conventional thermostat with your existing schedules and settings in loss of internet connection. Though you might not be able to connect it to your mobile app, there're some features that you can take advantage of without wifi. You can still schedule the temperature of your home via its dial-in interface. You can access its history of heating and cooling patterns for the last three months, helping you evaluate the energy utilization for saving money on energy bills. In regards to the temperature sensor, the Nest thermostat allows you to program various temperature trends for every room at different times in the day, even in absence of wifi.
Honeywell YTH6320R1122 Wireless Thermostat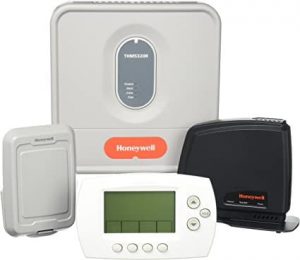 Honeywell is a well-reputed name in the world of top-rated and high-quality thermostats. It shares a diversified portfolio of heating and cooling devices that are being used across various households with trust and confidence. And when it is about catering to those who want a remote control thermostat without wifi, their YTH6320R1122 Wireless Thermostat fits the bill. Since it is wireless, the device can be installed anywhere in your home. With its portable comfort control feature, you can adjust and sense temperature from anywhere in your home. It offers you 5-1-1 programming, which enables you to set a program for the weekend and another for the rest of the days. Plus, what's the good news? All these features can be enjoyed without an internet connection.
Disconnection Troubleshooting
Smart thermostats are a new wave of technology that has invaded most houses at a fast pace. If you are looking for ways to smarten up your house, thermostats are a good place to begin and conserve a significant amount of money by minimizing your heating and cooling expenditures. To avail all of the features of smart thermostats, you need a stable wifi connection. When your thermostat loses it, there are still some tips for troubleshooting to regain its full functionality. Try these tips.
Resolving the connection problem of your smart thermostat, unfortunately, requires physical access to the thermostat. This means it won't be solved just through your phone app, but you have to fix it in person. In case you are away from your home, you will possibly have to wait for your return to resolve the issue.
You can check your wifi by connecting it with a different device. If it cannot connect with another device, you should reach out to the internet provider to take care of the problem.
Your smart thermostat's server should also be checked to see it might be down. This can be done by visiting the company's website. If it is down, you will come to know and just have to wait till the problem gets solved.
Usually, there are many models of thermostats that disconnect from the wifi when their battery goes down a set level. So you should check their battery level as well. It can be low and require a replacement or a recharge.
Restart the thermostat for resetting the internet connection. If it doesn't work, try restarting the wifi router. If that does not work, try resetting the network settings of the thermostat. You mostly have access to its settings page by its interface.