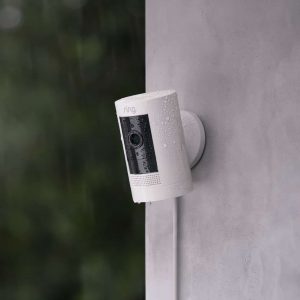 Ring security and doorbell cameras are popular for their round-the-clock protection in residential contexts. Compatible Ring products can link up to establish a versatile surveillance system around your home. The motion-activated security cameras help cover every corner for maximum protection. You can choose from various designs and placement options to secure your space, trusting the alarms and sirens to alert you promptly. The video doorbells also use similar camera features from Ring. They detect motion using sensors, send you notifications on your smartphone, and enable real-time communication with your visitors. In this way, you could be anywhere in the world and still never miss a visitor with the Ring camera keeping an eye out for you. The devices are all Alexa-friendly, creating a complete interactive Ring ecosystem around your home.
Thanks to this virtual peephole showing you who is on the other side, you can view 1080p HD recorded and live videos on your tablet. These high-definition cameras are designed to showcase their innovative streak. Spotlights and solar panel additions are two examples. The devices give you a bird's eye view of the immediate outdoor – and a valuable head start during emergencies using the Ring app or voice controls to alert the police.
Ring solutions provide an efficient home security plan through alarm kits, video doorbells, spotlight cameras, and different power source options. These security bundles offer reliable front-door surveillance with head-to-toe videos of all visitors. For these high-quality images and videos to actually help you later on, there has to be some way of storing them locally on your computer or smartphone. This is because the recorded histories on the Ring cloud are generally programmed for automatic removal after a certain duration. Their volatile nature cannot help you much when you want to procure evidence for a break-in. And that brings us to the more permanent alternative – the Ring camera local storage.
How does it work?
The Ring app
Once you have your Ring cameras installed, you can use the Ring app to interact with all the units. The app alerts you when the motion sensors detect movement, so you can instantly check the door through your smartphone. It has a Live View option to show you the current situation. In case of emergencies, you can activate the siren and set your app to enable motion-activated lights. Regarding the storage, the Ring cloud is where the recorded videos and images go first, as this system is a cloud-based security platform. All recordings assemble in your app's Event Timeline for organized viewing and sharing.
Free membership
If you have not signed up for a subscription plan, then you can only view the live stream on your Ring doorbells and security cameras. They will not record or store anything to the cloud, which also means that you will not be able to store locally either. For free members, the Ring platform provides just the live events for real-time purposes, and these cannot be accessed in any way for future use. All the raw video files get deleted automatically.
Subscribed membership
To overcome the lack of storage in the free membership, Ring subscription includes the Basic and Plus versions of the Ring Protect Plan. By subscribing to monthly or yearly packages, you can use both the cloud and local storage facilities. The recordings are available on the Ring cloud for subscribed members only, who can use the Ring app to download and share content.
This optional subscription service gives you more freedom to fully exploit Ring's capabilities. In addition to using the Live View option, you can access recordings on your account and download them directly from the app for local storage on your computer. A free 30-day trial is available to help you test and explore the Ring Protect Plan before subscribing.
Why subscribe and save to local storage?
As a homeowner, when you choose to install security cameras and smart doorbells, you want maximum protection for your family and property. The security network can only help you based on the services you are eligible to use. When you pay for a subscription plan, you are actually paying for these additional services to join the radar. They enable various options to customize your home surveillance and contact the police or fire department instantly. Considering the expenses that go into buying and installing Ring security systems, the added subscription fee is definitely worthwhile. Your expensive setup will not be very productive if you cannot report burglaries and suspicious activities in and around your home.
Offline sharing is a quick way to download the event, copy it to your flash drive, and take it to the authorities. This is particularly helpful if you want to go back and take a look at past events that might contribute to valuable police findings. Under the Ring canopy, all cameras and doorbells technically save their recordings to the cloud, like most security systems. These cloud files have a limited lifespan; they are intended to expire automatically. If you want longer-lasting evidence to hold on to, the best choice is to pay for a Ring Protect Plan. There is no other credible way to download and save the files from the cloud to your local storage. It helps you keep track of all the events and frees up cloud space for the incoming files.
Local copies of the events also make a memorable cache of impromptu moments captured by the cameras. These could be happy reunions, funny pet photobombs, or the arrival of your favorite order deliveries!
The Ring Protect Plan
You can subscribe to Ring Protect Basic or Ring Protect Plus to use extra features that are not available to free users. Most of these services are discussed below. The plus plan has a more diverse scope, extending to Ring Alarm devices for 24/7 professional monitoring.
This helps you tune up all your Ring security and surveillance units for a more elaborate experience. The 24/7 professional monitoring, for example, keeps your house protected with Ring team surveillance. If any issue is detected, the team will contact you or dispatch emergency responders. These features make it all the more necessary to enroll in a subscription plan, so you can receive better security and save evidence locally. Ring Protect Plus Plan integrates all the Ring devices in your home, whereas the basic version tackles just one device. Here are the top features that make the Ring Protect Plan stand out.
Motion detection
Once the motion sensors detect movement, the Ring cameras send you a notification on your smartphone. The app then lets you check what triggered the sensors, and you receive a 180-degree vantage point. You can communicate with the visitors in real-time. Behind the scenes, a recording feature activates simultaneously if you have paid for the Ring Protect Plan. As a subscribed member, you can review the footage anytime using the app. This is one of the top incentives for subscribing to the Ring Protect Plan. All the recorded videos become more easily accessible, and you can download them to create a permanent archive. It gives you a stronger legal ground with visual evidence backing up your claims, as you can prove that someone did intrude your home. The timely trigger also offers a good head start in the face of emergencies, allowing you to alert neighbors, family, police, etc.
Video history duration
The videos captured by Ring cameras will stay in your Ring account for 60 days, whereas the captured images have a lifespan of only 7 days. This is the duration only for the app, after which the old content expires and makes room for new recordings. You can choose to download the events during this time and share emergencies at a click. All the Ring security cameras allow you a free 30-day trial to get the look and feel of the plan. You can then sign up for the basic or plus subscriptions for saving the recordings locally.
Local storage
The narrow cloud storage window calls for a more permanent solution. Being a subscribed member is the only way you can download and save content locally for future use. The Ring Protect Plan makes this feature available to both PC and smartphone users.
Once the Ring security cameras and video doorbells capture the content, they automatically send the recordings to the cloud. This is accessible via the Ring app from where you can share the files instantly, download them to local storage, and even delete the outdated content. Ring camera local storage facility is a popular reason why homeowners decide to pay for subscriptions. For all the hefty purchase, delivery, and installation charges, paid subscription definitely walks the extra mile.
People-only mode
Motion sensors are triggered by any type of movement. So, moving vehicles and pets in front of your door will keep triggering notifications on your smartphone. The Ring Protect Plan helps you activate a people-only mode to refine your alerts and receive fewer interruptions. You only get notified when visitors arrive, thanks to a more tailored alert system. You can then have two-way communication from wherever you are, even while you are traveling. This gives you a more customized virtual peephole to keep track of visitors – and deftly avoid persistent guests!
Snapshot capture
Your Ring security cameras and video doorbells are highly unlikely to notify you for each and every scenario outside. Notifications might not appear for every single stimulus, so you need something to tell you what happens between motion-activated events. Ring's snapshot capture has been designed to address most of these gaps by taking snapshots frequently for subscribed users. As the cameras take a snapshot during each interval, they capture events that you can review later on. All of these snapshots queue up in your app's timeline, giving you a bird's eye view of everything. The cameras capture snapshots and directly upload them to the Ring cloud. You need to activate this feature in your app to record and store the images, so you can also download them for local storage. Keeping them saved on your device helps you for future references, as snapshots stay in the timeline for only 7 days – after which the Ring system automatically deletes them. Even if your Ring cameras are offline, they will continue to capture the images at stated intervals and store them in their local flash memory. Once the cameras are connected online, the local snapshots will automatically reach the cloud.
How to save to your local storage?
Once you become a subscribed Ring user, you will be able to save and share videos on external sources. The Ring Protect Plan allows you to move from the cloud to your computer's native storage. It is important to have the latest Ring app installed with your subscription plan ready, otherwise, you cannot move past the cloud. The app is a resourceful hub for managing and organizing files. You can share, save, and even delete videos after filtering the history to narrow down your search.
All the videos and images captured by your Ring security cameras and doorbells can be shared using the app. This includes posting the clips to Facebook and directly notifying your neighbors with the Ring Neighbors app. With such interactive scopes, you have everything you need for navigating through histories and documenting important events. Here are some ways the Ring app can be used to store videos and images locally on your PC or smartphone.
Use the Event History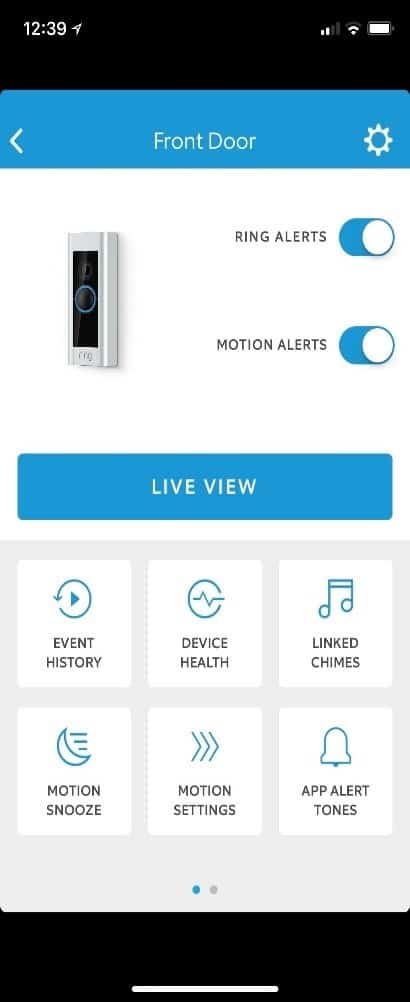 If you are using your smartphone, you can access the Event History on your Ring app's dashboard. It has all the recorded history that your Ring security and doorbell cameras have captured. You can first choose the correct Ring camera or doorbell from where you need the footage. Swipe the required event from the Event History, view the Recent Activity, click on the share option, and choose between the available sources. The share option lets you post the captured event to social media and the Ring Neighbors app as well, so you are just a click away from alerting the neighbors. It also has an email button from which you can directly email the clips to the police, family, friends, etc. There is a download arrow icon to save the video to your smartphone on its local storage.
Similarly, you can share and download videos and images on your computer by signing in to your Ring account. The History tab has all the recordings, and you can click on the arrow button to share or download them directly. The app lets you organize the archive by adding a star next to the most important videos, so they stand out easily for quick access.
Play the video
You can also save a video locally by first playing it on your smartphone app. Each running video has an option for sharing or downloading it, using the arrow symbol. You can either share the content, email it, or download it to the local storage. It is a quick way to share crucial videos with the police or your family, and you get to make the residents aware of potential dangers via Facebook.
Use the timeline
The Ring app displays your cameras' recorded feed on a timeline, accessible through the dashboard. All you need to do is choose the event you want to download, click the share button as before, and select the download arrow.
Download multiple videos
On your computer, you can download and save up to 20 recorded videos. The History tab has an option called Manage Events from where you can select multiple videos to be downloaded together. These videos are downloaded into a zipped folder on your computer, containing MP4 files that you can use whenever you want.
Download snapshots
The app's dashboard also enables downloading and saving snapshots. Simply click the required image, adjust the play line indicator to the desired section, and tap the share button. Just like sharing and downloading videos mentioned above, you can share the snapshots to social media or download them for permanent local storage. They can be attached to your emails directly, speeding up critical communication with emergency responders.
"It rings a bell, but I'm not sure…"
Saving your Ring footage to a local source is a smart move for someone who already has a camera-proofed home. You do not need to rely solely on the cloud, as it is more vulnerable to hacking and interception. In case of thefts and accidents in or around your home, you can trust your downloaded content to pass the video forensics stage for authenticity.
It is also helpful for scrolling down the videos that could be months or years old – as the cloud storage only keeps the files for a limited time.
Even if you do not remember the incident, the local backup keeps you covered, and it always comes in handy for suspicious clues around the event. While people often craft their own DIY methods to evade the subscription charges, these quickly become irrelevant when the app updates itself – which is frequently! The only reliable way to ensure your Ring camera local storage option is to subscribe and continue using the app.