As we are proceeding towards smart home technologies, smart lighting system is a popular choice. Smart lighting is an advanced way so as to light your homes. These lights can be controlled remotely and can also makes decisions and follow particular schedules. They have varied applications. Smart lights can turn on automatically on your arrival at home. They can also turn on when the system senses someone outside your door be it a friend or an intruder thereby alerting you regarding the same. Smart lighting systems work in the full swing when you incorporate smart switches and dimmers into the system. Smart dimmers are smart switches with the added function of adjusting the brightness of the bulbs under its control.
Now in most cases, these smart dimmers need to be constantly powered and hence they require neutral wires in addition to the line, load and ground wires. If your home has neutral wires, then there is nothing to worry. However, in case of no neutral wire, there are still a few smart light dimmer options you can have to consider. However, there can be some features which might only work with the dimmer models installed with neutral wire. The ones installed without neutral wire can still provide you some great features and be the best smart dimmer to suit your needs.
Now let us see some of the best options in the scenario.
Lutron Caseta Smart Home Dimmer Switch
With above 3500 ratings, the 5 star Amazon rated product which is claimed to be an absolute essential, can work in any home irrespective of the age of the home as they do not require neutral wire for the working. You can always come back to a well lit home by setting the lights to automatically adjust with seasons. By switching the smart lights on/off, you can create the impression that you are home, even if you are not. Smart bridges may be required for this. So you are ensured with peace of mind.  Now you can control the smart system in a variety of ways. Be it via the free Lutron app, your voice or from the wall. You can also schedule the lights to change at set timing. Unlike smart bulbs with Caseta you can have control even when the switch is off. The Caseta can also work well with Alexa, Apple HomeKit and Google Assistant. You can also make a single dimmer to control many bulbs at once. So you get more by spending less. You can also make your existing bulbs smart. You get smart control over different varieties of bulbs including LED, incandescent, halogens, etc. The wireless remote control (using the wireless Pico remote) provides added convenience. You can have easy 3-way set up using the mount bracket which is sold separately.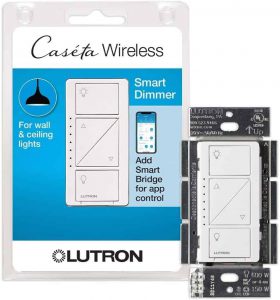 Lutron Caseta Smart Home Dimmer Switch
GE Cync Dimmer Smart Switch
The GE Cync Dimmer Smart switch works with most residential wiring without the need for neutral wire. The system s compatible with both single pole and 3 way switch applications. Smart switch dimmer allows you to control your lights through touch, the Cync mobile app, or voice assistant. They can also be used with Google Home or Alexa, making light control an easy task. Now you can make your smart bulbs always being ready to respond. With out of home control and scheduling functions, you never need come back to dark house. You can set the schedule so as to turn the lights on or off automatically. No hub is needed to work from out of home or using voice control. They can be used to turn your ordinary incandescent, halogen and LED lights into smart lights. You can also have smart control over the bulbs even when the switch is off. You can also group multiple bulbs or switches together and control from a single smart dimmer. With smooth dimming, you get to locate the switch even in the dark. They are easy to use and set up. They are wall mountable type. The DIY installation takes only about 30 minutes.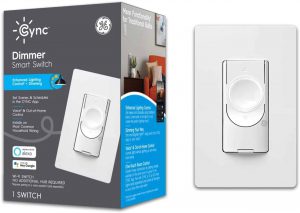 Ge Cync Dimmer Smart Switch
Aeotec Nano Smart Dimmer
Aeotec smart dimmer switch is designed to improve the lighting system in your home. Smoother dimming can be achieved. Faster and responsive lighting can be achieved. They have a built in Z wave technology providing best wireless range. You can turn any switch into Z wave switch and it installs almost invisibly behind the Z wave light switch. They have universal light bulb compatibility. So they can work with incandescent LED, CFL, and Fluorescent bulbs. They can be used with or without neutral wire. Both leading and trailing edge dimming is supported. The nano dimmer also comes with built in surge and overload protector. With dimming feature the nano dimmer also has the energy metering technology allowing us to have an accurate knowledge of the electricity used by the lighting. With best wiring compatibility, they are easy to install. They are also compatible with all certified Z wave gateways including Smart Things, Fibaro, Homeseer, Mios Vera and Domoticz. They also work with Aeotec Bypass and WallSwipe.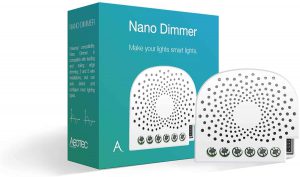 Aeotec Nano Smart Dimmer
Inovelli Z Wave Dimmer Switch
The Inoveli Smart Dimmer Switch makes use of the Z Wave Plus Technology. It is an in-wall smart dimmer switch that works with SmartThings, Wink, Vera / VeraPlus, Hubitat, etc. They come with next generation features like the unlimited RGB LED notification, ultimate scene controller and remote energy monitoring to name a few. The dimmer can work with or without a neutral. However energy monitoring feature is not available in case installed without a neutral wire. Also separate bypass may be required if load is under 25W. There is need to use a Z Wave compatible hub so as to work with Alexa/ Echo. You get Heads Up notification and the customizable LED bar changes color based on the events. Being smart bulb compatible, they change colors or dim level without cutting power.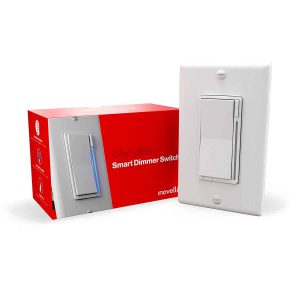 Inovelli Z Wave Dimmer Switch