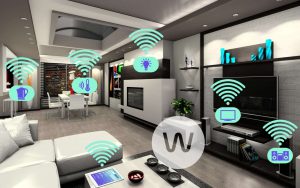 After watching science fiction and futuristic movies like Iron Man, The Dark Knight, and I, Robot, you just want to be able to sit back and let Artificial Intelligence do all the work – minus the part where robots turn into villains. Smart home automation ideas bring various aspects such as lighting, temperature, humidity, security, entertainment, and appliances at the simple clickable convenience of your smartphone and tablet. By using apps that connect to compatible devices, your entire supervision is a click away, and you can automate your everyday controls much more efficiently.
This form of technology that bridges the gap between science fiction and reality is known as the Internet of Things (IoT), and all home automation ideas are based on it. Smart devices often employ interactive features like Amazon Alexa, so you can actually communicate with them through voice, and this is one example of how computers enable accessibility options for people with special needs. With more scope for independent living and better security, there are several smart home automation ideas on the horizon – not to mention the clouds they connect to. This article explores some of the trending technologies that make your home safer, brighter, warmer, and of course, smarter.
Lighting Smart Home Automation Ideas
Smart lighting systems make use of LEDs and Wi-Fi-enabled controls to help you regulate the brightness or dimness of your rooms. By automating the ambience levels and setting schedules on your app to turn the lights on/off, you also make it seem like there is someone at home, even if you are all out on vacation. These smart lights are operated by smart assistants such as Amazon Alexa, Google Home, and Apple HomeKit Siri. They work on simple voice commands – "Alexa, turn on the lights" – and help you control the lighting even from a different room. Installing smart lights in the backyard and patio, which happen to be the two favorite habitats of nocturnal people, is a great smart home automation idea to automate the ambience as you read a book, write your journal, paint, or work for your office.
Most homeowners use smart light ideas along with geofence technologies to turn on the lights once they arrive, turn them off as they leave, and trigger other actions as specified. These features detect you in the predefined vicinity through a geofence, and so your smart home "learns" to automate the lighting system. The light bulbs and strips conserve energy when configured at dim levels, so this is another advantage. If you do not require a blaring alarm to wake you up, you can always program your bedroom's smart LEDs to switch on at the desired brightness. Luxury ideas go on to include automating the lights when you pause your TV screen, dimming them once your movie begins, and turning a certain color to remind you to take out the trash. These products will help to give you some smart home automation ideas for lighting.
Lighting Smart Home Automation Products
Philips Hue White 4-Pack A19 LED Smart Bulb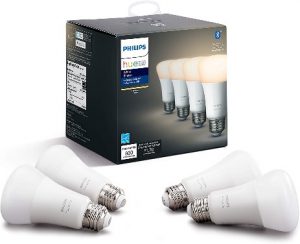 Philips Hue smart bulbs are compatible with Alexa, Google Assistant, and the Hue Bluetooth app. You can also connect with Siri controls on Apple HomeKit. The smart bulbs allow you to automate up to 50 smart lights in your home and manage the system via the Hue Hub control for both indoor and outdoor lights. The app lets you set timers and routines, and these bulbs also work with selected Echo smart speakers and various Google Nest devices. They are the perfect choice for setting the mood and vibes in the room and changing the ambience to suit any occasion. The Hue Hub supports control for installing more smart bulbs around your home for a complete home automation system. You simply need to screw in the bulb, download the app, and change the light levels at your fingertips.
There are different color settings for different contexts, for example, bright, dimmed, and nightlights. Once you install the Bluetooth smart bulb, Alexa will detect the new addition and alert you with a "new light found" message. The Location Aware option lets you decide the current settings for when you leave your home and return back. These smart lights can also be synchronized with your music, movies, and games – turning your home into a smart ecosystem.
Kasa Smart Light Switch HS200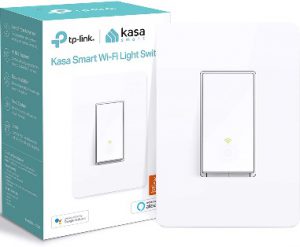 Kasa smart light switch works with voice controls as well as smartphone clicks. Amazon Alexa, Google Assistant, Microsoft Cortana, and Samsung Bixby are all your compatible options. You can automate your daily program, enable the Away Mode while you are gone, set quick-use timers, track your overall lighting usage, organize the right mood setting with family and friends, and manage various Kasa smart devices. The UL-certified smart switch connects to the existing wiring framework and needs the neutral and ground wires as well. By using the Kasa Smart app or your choice of voice assistant, you can turn the switch on/off from anywhere in your home – even if you are outside. The hands-free automation from voice commands is quite convenient when your hands are full of grocery bags and your home is pitch dark at night.
The app offers a centralized control for all your connected fixtures. The switch can also be grouped with other devices, allowing you a more accessible control for multiple gadgets at the same time. This makes the switch act as a control hub for your lighting fixtures, Kasa Smart bulbs, and Kasa Smart plugs – which in turn connect to different home appliances. With a complete smart home experience at your fingertips and voice, you get to enjoy streamlined supervision without having to move around – when your voice can travel faster!
Locks and Doorbells Smart Home Automation Ideas
Home security kits often include cameras and smart locks that you can access from your smartphone. Just like smart cameras are designed to send you the captured image or video of an intruder, smart locks can be programmed to notify you in similar ways during suspicious activities. The main idea for a smart doorbell is that it employs motion sensors, presence detectors, and various alarm systems, so you can always check who is at the door. The system keeps an eye out for you, and these smart solutions often have a combination of cameras and audio to help you see the person and communicate through your tablet.
Various smart lock designs support storing an array of unique access codes. This allows different extended family members, kids, guests, etc. to have their individual codes, and you get notified about each specific entry into your home. This also means that you can allocate separate codes for your personal assistants, babysitters, and housekeeping staff. Another useful idea in terms of security is to set the smart lock to automatically lock your door within 30 seconds in case anyone forgets to lock the door behind them, particularly if more people have unique access codes for different times of the day. Smart locks and doorbells can also team up with compatible TV screens and vacuum cleaners to turn them off automatically when your doorbell rings.
Smart Home Automation Lock Products
Schlage Connect Smart Deadbolt (BE469ZP CAM 716)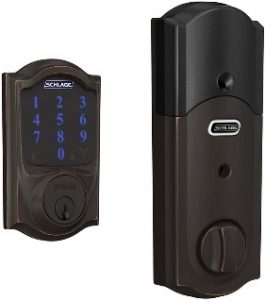 Schlage smart deadbolt has a built-in alarm technology that you can customize for different scenarios. The Activity Alert beeps whenever a door opens or closes, whereas the Tamper Alert activates on potential disturbances. The Forced Entry Alert is sounded when there is a significant force at the entry, indicating that someone is about to break in. The smart lock is compatible with voice assistants like Alexa and Google Assistant. It delivers extended ranges for enhanced security protocols. The security gadget consumes less battery and allows you up to 30 access codes that you can store, which also means unique codes for Airbnb guests. Popular for its residential security ratings, this smart lock is available in elegant, sleek finishing that just adds to the whole futuristic look.
You can connect the deadbolt to your Z-wave smart home automation systems such as SmartThings, Ring, Wink, and Nexia. The whole setup takes the push of one button to help the lock tune in to your network and appear on your tablet. Z wave is the widely-used communication link that wirelessly connects gadgets and appliances in a smart home. The smart lock features a Z-wave Plus technology and can be easily installed to your door through a Snap n' Stay design. The touchscreen is resistant to fingerprints with a backlit keypad that helps with entering the passcode at night.
Arlo Essential Video Doorbell Wired (AVD1001-100NAS)

Arlo video doorbell provides a 180-degree view of your front porch, so the visitor appears on camera from head to toe. It is an excellent choice to guard the entry to your humble abode, especially if you are an avid virtual shopper, as the Wi-Fi-enabled doorbell also alerts you when packages arrive. The smart doorbell uses motion sensors and once any movement is detected, you receive a notification before you hear the knock. This is an ingenious idea for emergency situations where you might need to alert the police or your neighbor, as the early notification gives you a good head start in response to potential intruders. Regardless of the brightness levels outside, you will receive clear HD videos that reveal even the smallest details. These features are enabled by Arlo Foresight that captures the motion-triggered event for a complete bird's eye view of the situation outside.
The smart doorbell is compatible with Alexa, OK Google, and SmartThings. It is designed for durability against rain, heat, and the cold. It supports a quick response solution in case you are not available at home; you can simply receive the audio/video call and speak to the visitors or leave a pre-recorded message for them. The doorbell has an integrated siren that activates manually or through the app as an emergency response if you need it. All of these solutions help a lot if you are away – and even more so if you are at home and need to escape from unwanted guests! As soon as the doorbell is pressed, you will automatically receive a call on your smartphone, so you can always know who turned up. The gadget makes a resourceful addition for COVID-proof interactions as well, since you can enable contact-free package deliveries by keeping things online – and monitored via camera.
Smart Home Automation Ideas – Smart Gardens
While the pandemic did confine us to our homes, the one productive hobby that became a silver lining was home gardening. Alexa lawn and gardening gadgets have been a popular buy among beginners. Smart gardens usually consist of hydroponics – the art of growing plants solely in water rather than soil. The lack of soil is what makes home gardening a less intimidating venture for hobbyists, and most smart garden gadgets are based on automated sprinkling systems, temperature controls, built-in anemometers, hose faucet timers, and compatible apps for notifications.
These products are designed to remind you about the watering times and send warning signals if the plants' growing climates lack the right temperature and moisture. The processes can be automated, and if you have a large project to oversee, then Alexa is your ideal virtual assistant. The best part about a smart garden is that you can set it to be self-sufficient if you go away on a holiday so that you come back to healthy and welcoming plants – and none of your hard work withers away!
Smart Garden Home Automation Products
Rachio Smart Sprinkler Controller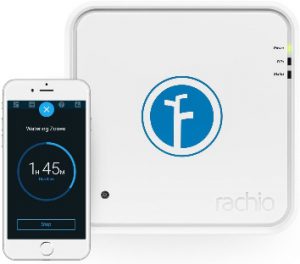 Rachio smart sprinkler is compatible with Alexa and home automation networks like Nest, IFTTT, Control4, Wink, Nexia, etc. You can operate the sprinkler through your smartphone and Wi-Fi; the Rachio app helps you configure settings and reminders. The gadget is designed to minimize outdoor water – thanks to its smart weather features. A Weather Intelligence aspect automates the watering system according to real-time data of the elements. This saves you the need to schedule the process. You can also access the sprinkler reports to keep a track of how much water you are using and saving. It is an EPA WaterSense-Certified product that brings all the current statuses and readings right at your fingertips.
The app can be installed on any Android and iOS device, so you can access your plants' optimum environment from anywhere. All your landscaping statistics appear on the app's dashboard where you will be able to schedule changes and monitor progress with real-time reports. With this comprehensive app tuned in to your yard, you get a bird's eye view of the soil calibrations, vegetation yields, sun exposure, and nozzle types. Not only do these solutions cater to sustainable landscape needs, but they also ensure a happy home gardening experience for your projects.
AeroGarden Bounty Elite Indoor Hydroponic Herb Garden, Stainless Steel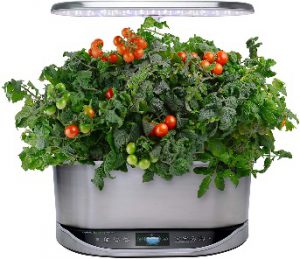 AeroGarden's smart hydroponic garden is a sleek and ultramodern addition to your countertop for growing fresh herbs, vegetables, and fruits all year long. It has room for 9 plants that can grow up to 24 inches in height. Since no soil is required, the smart garden offers a neat and welcoming alternative for plant lovers. The ultra-slim, energy-efficient overhead light attachment consists of 50-watt LED grow lights that feature infinite dimming. You can set programs on the touchscreen control panel to sustain your herb garden on a large garden bowl that calls for fewer refills – not to mention the ideal grow deck that accommodates larger harvests. On its own, hydroponics is a much faster system compared to soil gardening. Combined with smart home automation, the herb garden helps your plants grow five times faster than in the soil medium.
The whole setup is entirely hassle-free and involves adding water, plant food, and pre-seeded pods. You can use non-GMO seeds for healthier, more organic harvests at home. The smart garden has an aesthetic charm that looks great as part of your room décor. Its high-grade stainless-steel finishing pairs well with colorful plants, making your design and gardening ambitions seem effortless. It is Wi-Fi-enabled and works with Alexa, and the technology automatically controls the lighting levels and alerts you to replenish the water supply. You also receive a 9-pod gourmet herb seed kit that includes interesting varieties like basil, parsley, mint, and thyme. By turning on the Vacation Mode, the smart garden continues to thrive even in your absence. The one-touch access control panel brings you instant guides on setting up a new garden, receiving over a hundred useful tips, and adjusting the brightness levels.
Smart Home Automation Ideas – Smart Plugs
If you want to convert any ordinary gadget or appliance into a smart device, then using smart plugs is the best choice. They are designed to transform anything connected to them into a smart device that you can control remotely using your smartphone. You can adjust your regular lamp's light or make a fresh cup of coffee in your regular coffee maker by connecting them to smart plugs. These plugs are compatible with various home automation platforms like Alexa, Google Home, and Siri. By using simple voice commands, you get to use your smartphone's location to manage the ambient light and create schedules for the day. This includes automatically turning off appliances that are not in use, so less energy is consumed, and you have a better track of what draws more power. Smart plugs also enable turning on your fairy lights on arrival, so this makes a great element of surprise when you plan festive celebrations and birthday parties.
Home Automation Smart Plug Products
Kasa Smart Plug (HS103P2)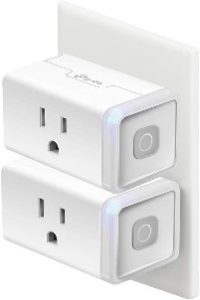 Kasa smart plugs are compatible with Alexa and Google Assistant to turn any outlet into a voice-controlled power source. You can connect your lamps, humidifiers, fans, and other appliances to the plugs and create schedules to manage the grouped gadgets. In particular, your Kasa Smart devices can be grouped with these plugs to be managed simultaneously with a single click. The 2-pack smart plugs can be stacked together in your wall outlet for adding more devices. Your outlet then becomes a smart, local hub for accessing everyday connected devices at your convenience using the Kasa Smart app.
The plugs connect to your home Wi-Fi network, allowing you to define schedules for turning them on or off. This also works with timer settings to automate whatever task your connected device is supposed to achieve. There is an Away Mode that can take over when you are gone for the weekend, and by activating it, you can randomly switch the plugs on and off at different times to create the impression that someone is at home. The app's dashboard displays your smart plugs' total runtime and usage.
The grouping feature is a clever way to guide interactions between compatible devices. For example, if your security camera detects movements, your connected lamp will automatically turn on.
Make Yourself at Home – With New Smart Home Automation Ideas
Smart home automation devices are constantly improved and upgraded for new ideas that keep pace with the ever-speeding world of Artificial Intelligence. Each new invention feels quite ahead of its time. There are smart pet feeders for your cats and dogs, robot vacuums to do your cleaning, inventory controls for your kitchen pantry, and automated appliances for your culinary creations. With Alexa voice controls, you get to customize the actions in response to various triggers, and this adds some smart freedom at your disposal in terms of security settings. For example, you can set your Alexa intruder alert to activate a sinister mood with a sudden, blaring music to scare away any intruder – and possible unwanted guests. The possibilities are endless when you want to create a smart home that you can speak to, and most of these cater to independent living solutions that stream in continuously in conveyor-belted promises for a better, easier life.