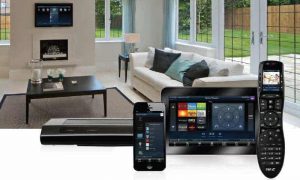 Smart home automation allows your home to be outfitted with various technologies that build up the Internet of Things (IoT). Turning your space into a smart ecosystem, these devices and gadgets communicate with each other, respond to voice commands, and learn to adapt themselves. This creates a fully automated living environment that you can customize to your liking. Artificial intelligence has a key role to fuel the endless possibilities in a smart home. Every automation system is tailored to the specific needs of its home, which calls for compatibility between devices so that they all speak the same digital language. The size of your home and your preferred smart systems determine the overall scope, and this brings us to the way smart things are actually installed.
Proper smart home automation installation puts together the smart building blocks of your home. It tackles the infrastructural elements of the whole system. From the wiring and power sources to compatibility and smart gadgets, the installation process makes sure that you have a fully functional smart home. It works behind the scenes, establishes links, enables real-time responses, and supports fluent communication between all units.
Your smart home automation relies on a workable design and installation to get the technologies up and running. This includes the smart thermostat, light bulbs, home theater systems, wall acoustics, door locks, window treatments, etc. Installing the required framework allows you to simply tune in new devices down the road, as the automation system is designed to be adaptable and scalable to meet your needs. Collaborating with a certified company is important, so you can have a professional touch on the valuable installation phase. This blog explores the significance of a good installation program as well as the standard stages followed by automation experts.
Why should you worry about the installation?
To get a good head start
If you enlist the help of a credible team, you can plan an effective budget, schedule demos for your smart home designs, learn your system's feasibility, and organize professional maintenance. This streamlines the whole process of outfitting your home with the necessary amenities. A meaningful installation guide can save you valuable time and money as a smart homeowner, since you will not be slowed down by devices that keep falling apart.
To establish common grounds
One of the key automation ingredients is device compatibility. The wiring and technological frameworks for your specific automation context should accommodate the type of units you wish to use. Bandwidths, wired systems, wireless networks, solar-powered devices, etc. all contribute to how well you can use your smart gadgets together. For example, ideally, you should be able to synchronize and control your smart appliances using a single app. You also need to ensure Alexa-friendliness between voice-enabled units to avoid buying multiple voice assistants. It would not be very conducive to the whole smart home goal if you end up using a separate app for each gadget – all because they cannot "speak" to each other. A good installation program alleviates this struggle by giving you an inclusive network for a fully automated and compatible home. Based on the smart features you want to install, a suitable automation grid can be designed to let new devices join the radar seamlessly.
To work with professional installers
Some homeowners may pick the DIY route to automate their homes, especially if they are also technology enthusiasts. Even so, it is best to work with professional and certified teams who know what they are doing. Smart home automation installation experts stay in touch with the latest practices, industry standards, and technology upgrades. They can evaluate the spatial caliber of your home and advise you accordingly. Apart from actually installing the devices, professional companies make sure that everything works correctly – and cohesively. They connect multiple systems together for compatible benefits, which makes a striking difference in execution compared to DIY methods. It also reflects the tech-savviness of an integrated smart home system. Collaborating with the right people helps you install a secured system that leaves no room for hacking and break-ins.
To reap the smart benefits
A professionally installed smart home automation system is one that lets you wave the magic wand and get things done. There are no frustrating delays or unresponsive devices to slow you down. If the network links and appliances have been installed correctly, you can include geofencing luxuries in your daily life. The system begins to learn patterns based on your smartphone's location and your preferred settings. So, for example, once you reach a detectable vicinity on your way home, the smart thermostat will start regulating the desired temperature. By the time you arrive, your home will have a comfortable climate. You can also program the automation app to turn on the porch lights or unlock the smart door when you arrive. In this way, effortless integration between relevant devices allows you to group them together for smart events.
To future-proof your home
Professional installers can help you plan ahead and future-proof your home, so it stays ready for upgrades. Technology keeps evolving and requires you to update or replace your smart products over the years. You might plan to introduce new systems like a smart home theater in your basement. Going green is another example. Therefore, having a scalable installation plan enables seamless transitions down the road. This is because the smart "brain" of your automated home is already installed. You just need to add the new products to the network – and allow the smart ecosystem to adapt on its own.
What services can you aim for?
Smart home automation installation provides various services based on your expectations. The installation phase is essentially the internal programming for your humble abode. If proper security and technology protocols are not implemented, your smart home network can be vulnerable to hacking. This is why it is important to enlist the help of competent and trusted experts in the field. They leave no loopholes for hackers to sneak through, giving you a space that is physically and virtually safe to live in.
With a reliable and foolproof automation network installed, you can use your app to manage all the smart products at home, even when you are traveling. When these appliances work in sync with each other, there is little need for human intervention. This is the driving force behind independent living and aging-in-place contexts. Installation scopes can be diversified to build a smart home that is tailored to the needs of your family members. Most whole-home services are energy-efficient, helping you save up on utilities. There are several kinds of services you can choose to make your smart home better equipped for your goals. Here are some examples.
Centralized controls
Installing compatible systems gives you more control over the group and device-by-device supervision. You can have all the smart locks in your home lock up at the same time using your tablet. The same goes for managing the smart lights; they can all be programmed to turn off automatically at night. A well-installed home automation platform provides a central hub for a bird's eye view of every product. You can then choose to manage everything collectively or use isolated controls – like playing a different song on each Sonos unit or adjusting the speaker volume for only your room.
Voice commands
Voice assistants such as Alexa and Google Assistant can be heard leading the smart orchestra in many homes. Managing events using voice commands is a popular home automation installation goal. Your certified technicians can add the required frameworks that support Alexa devices, so it becomes easy to use compatible products. The service addresses factors like the maximum number of devices for peaceful coexistence on the bandwidth.
You can also design customized interactions for your smart speaker platforms like Amazon Echo and Apple HomePod.
Aging in place
Installation and designs to automate homes for the senior population are on the rise. Fully equipped and automated homes support elderly people to age in place and live more independently. You can personalize alerts and alarms to help your family members, check on them through real-time monitoring, and install smart solutions tailored to their health issues. A custom installation service, in this case, may include smart locks, motion sensors, smoke/carbon monoxide detectors, voice-enabled speakers, etc. These smart solutions are programmed to memorize the senior member's daily patterns to create a comfortable living atmosphere. They also send out alerts to you in case of critical events.
Networks
Smart home automation systems are fueled by the network you choose. It is important to pick a sufficient bandwidth to support streaming, audio, video, home theater, gaming, and other entertainment applications. A professional installer can help you determine the best network specifications, so all your family members can access the network. Wi-Fi, Zigbee, and Z-Wave are popular smart home automation protocols. You need to consult with your team and install security frameworks to safeguard the whole system from external attacks.
Smart hubs
Smart hubs are controllers that keep compatible devices synchronized and connected on a single unit. They make a crucial part of the installation process, as you want to be able to manage products from different manufacturers. The hub lets devices from brands like Nest and Honeywell interact with each other and become compatible. You can connect your smart thermostats, light bulbs, and locks without worrying about "language barriers", as the hub takes care of everything. Installing the right smart hub to meet your home's automation scope definitely goes the extra mile. It enables a hassle-free plug-in solution where you just need to plug in the smart hub into a socket – and let it work as a lighthouse! The compatible products then pick the "beacon" signal, reach the hub, and communicate effectively.
Whole-home automation
Although they are complex and varied in nature, whole-home systems are easily the most productive choice for large-scale efficiency. Installing a whole-home system involves a combination of the existing electrical grid as well as your wireless network. This brings the controls for your entire home right at your fingertips, as you can access and manage each product on your app's dashboard from wherever you are. The intricate installation process is always safest in the hands of automation experts, despite the growing DIY wave of smart home enthusiasts. You need competitive expertise to integrate whole-home systems such as audio/video, lighting control, window treatments, and HVAC units.
Energy efficiency
Automation apps display your smart home's energy consumption and provide real-time monitoring. The dashboard statistics help you optimize your utilities by adjusting their runtimes. The corresponding energy savings and reduced usage make a welcome reward, especially when you can see the effect of your smaller carbon footprint. Companies with LEED certifications are a good starting point if you are planning to go green. Their architects and engineers are trained and certified for green solutions, building a pattern-friendly home that remembers to dim the lights or turn off the thermostat when you are gone. Installing energy-efficient products that connect to the required lines creates a functional system that you can trust for saving on your bills – and saving the planet!
What are the main installation steps?
The installation life cycle differs between projects based on their size, complexity, customization level, etc. You would generally need to connect your hubs to a power source, establish your network connection, download the required app, connect your smart devices, and personalize the settings. Using an adaptable system that creates a future-proofed home makes a significant difference to your smart home investment. So, make sure that you install a scalable framework that will accommodate new units down the road. Compatibility is another smart perspective, and you should discuss these aspects in detail with your teams before taking the big leap. The following steps offer a makeshift guide to planning and designing your smart home automation installation.
Step 1: Find your automation scope
You can begin by deciding which parts of your home need to be automated. A refined approach will help you determine whether you should partially automate your home or plan a whole-house alternative. Before calling in the experts, you can first build a rough scope of what you expect from an automation system – and think if it will benefit or impede your goal as a smart homeowner.
Step 2: Schedule demos with experts
Consultation visits with installers and automation experts really add to your smart horizon. You can schedule model home and simulated demos to get the feel of an automated living space. It is a great opportunity to test out your objectives and curate a more comprehensive project scope. Demos allow you to reimagine your smart home potential by considering the existing décor and adding innovations that you did not know earlier. You also get to narrow down your dealer pool based on the services and packages you find promising.
Step 3: Plan your house tour
At this stage of the automation life cycle, you can invite potential dealers to have a tour of your home. They will evaluate the spatial strength, assess your existing framework and technologies, and guide you through your options. The tour should help you procure details like hardwired or wireless systems and the feasibility of your automation plan. This is where you also understand the installation level better, as the dealers can advise you exactly on your specific context. By the end of this stage, you can decide on bids from your best dealers and make your choice. Maintenance and follow-up as part of the package are a definite bonus, as they give you strong leverage once you have the automation installed. You should also receive recommendations for the type of automation and products you can install – and if the firm offers custom apps developed by their programmers, it can immediately race to the top of your list!
Step 4: Design and pre-wire your smart home
Most of the design and documentation aspects emerge during the consultation stages. These may include the plans and blueprints to guide the actual installation. Your smart home crew can then start pre-wiring the building to install the necessary cables and specialty gear. All of this wiring framework goes behind the walls; you can customize the interior design aspects during this stage. Pre-wiring is a crucial step and may last a few weeks depending on your project's complexity. It adds the spinal support to your automation system – and is the perfect opportunity to future-proof your home.
Step 5: Install the smart products
Your pre-wired home is ready to become functional by this point. The crew can now work on the real installation that turns your humble abode into a fully automated smart home. All the control panels, touchscreens, wall acoustics, TVs, speakers, etc. take their permanent places – and the stage usually ends with smoothing out the cosmetic flaws after installation.
Step 6: Take your first walkthrough
Assuming that the pre-wiring and installation stages were perfect, it is time for your first official walkthrough and training. Your automation team will help you put the puzzle pieces together and learn about the whole system. This is where you get to use your smartphone, the automation app, and any other interface to communicate with your devices for the first time. You can test out the smart features for each gadget and decide if they meet your expectations.
Step 7: Plan maintenance and follow-ups
Once you begin using your fully installed and functional smart home, problems and changes are likely to occur. Your automation and installation company should schedule routine maintenance and follow-ups. They help address the emerging issues and allow you to update as needed. Follow-ups give you a chance to finally use the future-proofed resources, especially when you plan on expanding the automation system.
"Don't work hard. Work smart!"
Smart homes have redefined the way people live and think, always encouraging them to think outside the box. This creates solutions for personalized living because that is what computers were designed for in the first place – to make your life easy. With automation technologies, people with special needs can live more independently and comfortably. There are motion-activated doors that open when you step on sensors, smart locks that secure the entryways in case you forget, and even faucets that operate using sensors.
Installing the right automation systems helps you bridge various gaps in everyday life – all thanks to artificial intelligence creating smart homes for smart people.