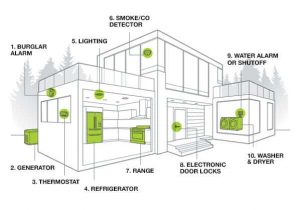 Image source:  Sea Breeze Electric
Homeowners are often confronted with cabling issues when they plan to automate their homes. New construction and remodeling projects increasingly focus on the right wiring that can power up a smart home, letting it remain hospitable to future technologies. Most smart home electrical systems can pair up with standard wiring and do not require special cable types. Depending on the smart appliances you wish to use, the wiring framework can still vary significantly to support different applications. Smart wiring keeps your connected appliances anchored to a reliable power source so that the wireless component of this system stays up and running.
On the user interface level, you just need your smartphone and a wireless network like Wi-Fi, Z-Wave, or Zigbee to control your devices. Alexa can wave the magic wand and get things done for you too. The "clockwork gears" moving behind the scenes – or the walls – make it possible to achieve this seamless connectivity. Some smart appliances are hardwired to your home's existing layout for the same reason. It allows them to communicate with other smart and traditional devices on the grid for whole-house contexts like HVAC functions. Having them hardwired to the standard electrical system easily extends their connection range and makes them accessible for remote uses.
Smart wiring is also useful for its signal regeneration properties throughout your home, allowing you to access and control an appliance from wherever you are. There are various smart home electrical systems you can use, and some of them are discussed in this article.
Why is smart wiring important?
Smart wiring makes your home better equipped for the automation systems you have in mind. It includes the right type of wires and cables that support both dedicated and general technologies around your home. Configuring a space for smart gadgets is all about making the right connections that drive your Internet, television, phone, and automation systems. The wiring infrastructure should enable quick communications, network security, and user-friendliness, turning your home into a smart ecosystem that can think and respond for itself. This makes smart wiring an important consideration to support current gadgets and keep your home future-proofed to accommodate emerging technologies.
New construction homes are built with the required cabling in place, so they tend to be more feasible projects compared to hefty demolitions and remodeling in old homes. When done correctly by an expert, smart wiring can reach a longer lifespan and help you add new appliances to the grid whenever you want. The initial costs for all the wiring, electrical panels, power outlets, building permits, labor charges, and potential demolitions can be easily offset by tremendous returns down the road.
Which smart appliances need hardwiring?
Smart home electrical systems are comprised of both smart and basic appliances. These basic appliances like a refrigerator will have no smart capabilities without the right wiring connecting them to a smart hub, from where they can turn up on your smartphone. In this way, hardwiring is essential to help you convert non-smart devices into smart ones for remote access and control. As for the smart gadgets, here are some devices that you should hardwire for maximum functionality and efficiency. They depend on the correct wiring in order to "reach" the appliances connected to them, so they typically act as a gateway through which you can access the intended appliance on your smartphone – or with Alexa!
Smart thermostats – wiring the smart thermostats allows them to access your traditional HVAC system, which saves you the need to install automated HVAC units around your home.
Smart switches – hardwired smart switches can turn non-smart lamps and bulbs into automated fixtures that you can control from your tablet.
Smart outlets – once hardwired to your electrical system, smart outlets work just like smart switches in that they smarten up any connected device for convenient plug-in automation.
Smart doorbells/cameras – since batteries are always prone to draining, smart doorbells and cameras can protect you better as hardwired devices. This ensures round-the-clock security with the doorbells and cameras staying alert whether you are at home or away.
What wiring options are available?
Smart gadgets are usually designed for DIY-friendliness to enable simple installations where possible. However, it is always safe – and smart – to call in professionals for any electrical work. Most brands have their own professional team of electricians and technicians to help you wire and install smart products from their stores. The following are some common wiring considerations for smart home electrical systems:
1. Neutral wiring
Neutral wires are the central nerves of a smart home and need to be installed at the wall switches. They are important to help your automation systems work properly. Most smart gadgets rely on the three-wire connection, so neutral wiring should not be overlooked from your home's electrical framework. For example, control panels for dedicated room controls need neutral wires to let you adjust the ambient lighting. These panels are useful for managing multiple smart lights from a single touch. An old home may require the necessary retrofits to upgrade its electrical features, so the age of your home will determine the size of your wiring budget.
2. Home networking
Wired networks are more resilient than fully wireless technologies in smart home automation. This is because smart wiring is built for speed, quality, durability, and multi-user support, bringing you the best streaming experiences. CAT5e and CAT6 Ethernet cables are commonly used for automation networks.
They have the key benefit of device compatibility and flexibility which help you add multiple products to the grid – without compromising on the overall connection. It is also important to plan the internal and external data cabling details with your electrician, including the specifications for audio/video equipment and telephone systems. Other wiring aspects to consider include multi-zone HVAC installations, security panels, smart controllers or hubs, and home theater configurations. The networking should boost your smart home's technological performance and stay adaptable to new possibilities.
3. Smart powerline systems
Most home automation technologies exploit your home's existing powerlines to form the wiring backbone of this system, so it can enable wireless capabilities on smart devices. Two such technologies are discussed below.
Insteon is a home automation technology that combines both powerlines and radio frequency to establish reliable and long-lasting networks. Its smart catalog includes a range of products that can interoperate with powerlines and even work independently on radio waves. You can use a combination of both to hardwire certain appliances and let them support wireless integrations for connected devices. Insteon smart switches, light bulbs, motion sensors, thermostats, and other automation fixtures offer hassle-free installations, most of which are DIY-friendly. The Insteon ecosystem relies on a hub to which all the smart products connect; you can then access them on your smartphone for remote control. The hub component connects to a power source as well as the Internet router to facilitate wireless functionality. It is also compatible with voice assistants like Alexa. The dual-band characteristic creates a reinforced and robust mesh network from the powerlines and radio frequencies; the combined effect is that the network can combat interfering signals as well as physical obstacles like walls. This allows the Insteon grid to regenerate signals throughout your home and maintain smooth communications between devices. Moreover, Insteon focuses on product compatibility to help all old and new devices speak the same language.
X10 is another smart home automation technology that connects to your home's electrical system. The standard wiring enables communication throughout the X10 network of transmitting and receiving devices. Once configured and hardwired, you can use various X10 products wirelessly for remote management. The brand's X10 and X10 Pro catalogs are popular choices among professional installers, DIY users, and contractors.
They are all designed for backward and forward compatibility, so it is safe to say that the X10 timeline has really stood the test of time! The new units can easily communicate with older versions. With no "language barriers" getting in the way, your X10 gadgets grow and adapt with this smart home electrical system. X10's modular design also means that you can future-proof your home to make room for the upcoming innovations. This helps you automate your home at your own pace, as X10 solutions evolve with your needs. The technology is simple and does not require extra software, which makes the setup quite streamlined. Since X10 controllers and receivers do not depend on an Internet connection, there is one less tier on this network, and you experience a more direct control of the appliances. If the Internet connection gets disrupted, it will not affect your X10 network, and so your smart devices can carry on smoothly. The X10 signals travel along the electrical routes already installed in your home. They are picked by the relevant smart lights, switches, dimmers, etc., so the isolated routes eliminate problems like poor Wi-Fi coverage.
4. Surge protection and dedicated wiring
Whole-house surge protection is important to keep your electrical systems safe and functional. This ensures the safety of all your powerline smart home automation products. It also prevents any damage from escalating to the connected nodes, as the domino effect – once triggered – can be unstoppable. You can also ask your installation team to keep the smart and non-smart wiring traffic separate through the use of dedicated cables. They will carry the automation and basic loads on different lines, so interference from both systems can be minimized.
Wire up the smart neurons. Get lightning-fast results.
Smart home electrical systems can differ based on your specific automation scope. Hiring a professional with the right automation expertise is a good way to go, as the process requires various permits and inspections to ensure safety. Most homeowners prefer the DIY approach if they are familiar with electrical systems and know how to tweak the connections securely. It is still helpful to get some expert evaluation to discover potential red flags and room for improvement. Smart wiring and installations are long-term investments that should pay off down the road. If you frequently encounter technical issues after the wiring is complete, you may end up paying a heavy price for damaged appliances and burnt-out frameworks. Also, the risk of fire hazards can result in expensive mistakes and time-consuming repairs.
So, all the overheads you might incur can easily surpass the cost of hiring a professional. Most states require only licensed technicians to install the wiring and get it approved for safe usage. Once the wiring framework is in place, your smart home has its automation backbone ready to support new devices.
A professionally wired infrastructure is durable and resilient, making it easy to future-proof your space and add new devices whenever you like. This technological advantage increases the value of your property by making it better equipped for smart innovations. Another key benefit of hardwiring your devices is that the smart traffic flows better within dedicated wires, so the signals remain fast and effective throughout your home. On the contrary, adding multiple devices to a fully wireless network can slow it down to the point of a system failure. Wiring the appliances keeps them anchored to a reliable power source for smooth connectivity, which translates into uninterrupted remote access on the user interface level. Close wired electrical systems are also more secured and isolated than wireless signals, as the free-flowing radio waves can be prone to interception and hacking. Smart gadgets like sensors, alarms, cameras, and video doorbells are used for security applications, so having them hardwired increases your privacy and safety as a homeowner.
The automation grid is responsible for what goes on behind the scenes. It is important for this grid-controller-appliance hierarchy to stay interactive and responsive in the long run. Getting all your smart devices to coexist on the same grid makes them accessible on one automation app, otherwise, you will need multiple apps to manage each appliance. Such compatibility and interoperability features are hard to ignore when you are planning whole-house automation. The wiring mazes behind the walls might appear complex and intimidating, but this is what brings your connected devices just a click away!