Smart home vents make a useful addition to your HVAC framework, as they can be remotely controlled to regulate the temperature in your home. It is a great way to manage the actual airflow, and you no longer need to rely on just the thermostat. These smart vents are designed for automated airflow systems that turn on and off to guide the HVAC airflow to specific rooms – based on your preprogrammed settings. A traditional HVAC vent system offers centralized heating and cooling that travels throughout the building. This heated or cooled air enters the rooms through vents that offer very limited options to adjust how much air streams in – for example, manually closing the vents shuts off the airflow but redirects it to other rooms instead, which can often be dangerous and energy-taxing.
Smart vents offer a useful alternative to control the airflow. They work with sensors, smart thermostats, actuators, and the Internet to automate the process and help you set the parameters on your tablet. You can adjust the temperature of any room from anywhere you are in the house. So, for example, if you want more cooling, the smart vent will let more cooled air circulate in the room from your HVAC system until the required temperature is achieved. It also provides a solution for less energy consumption by automatically turning off the vent of a vacant room. In this way, efficient room-by-room temperature control is enabled using your existing HVAC system's forced air.
How Smart Home Vents Work
Compatible Apps
All smart vent designs are manufactured to deliver more or less the same primary function – which is to automate the airflow and adjust the temperature. Brands have their own dedicated apps that are compatible with their smart vent solutions, allowing you to create schedules, set temperatures, and control thermostats using your smartphone. By installing a smart vent, the air from an over-conditioned or over-heated room can be redirected to the one that needs it more, and this is the core principle of managing room-to-room climates.
Smart Home Vent Sensors
The first step is to set the temperature of your bedroom, living room, kitchen, guest room, etc. using the app. The temperature sensors then take over to monitor the ambient levels and allow the smart vents to open or close where needed. Motion or proximity sensors are also used for detecting movements and activities in a room, indicating that the room is in use and the vents need to stay open.
Thermostats and Pressure Control
Smart thermostats often team up with smart vents to automatically update the HVAC status based on current readings from the sensors. It helps to check compatibility with your smart home integration kit to confirm whether the smart vents will connect to the existing smart thermostat. The whole real-time process works continuously to capture the surrounding temperature and humidity levels, which then determine whether the motor or actuator should open the vents or keep them closed. Pressure monitoring is another crucial feature of a smart vent, as it is responsible for distributing the airflow to keep your HVAC framework up and running.
Motorized Smart Home Vents
Through such a motorized vent solution, you can trust your smart vents to automatically open and close and help the airflow navigate where needed. It makes a significant difference to any smart home automation plan, considering the one-touch management for all the vents around your home.
Batteries
It would not be practical to connect your smart vents through wires, and most designs are compatible with batteries for a hassle-free setup and management. Smart vents that run on rechargeable batteries are the best option for going entirely wireless in terms of connections and future repairs.
Benefits of Installing Smart Home Vents
Room-to-Room Climate Control
Smart vents help to balance out the total airflow from your HVAC ducts so that it gets evenly distributed everywhere. This prevents concentrated air streams in one room while the other room suffers a lack. As the temperature of each room gets adjusted individually in response to the open/close vents, you do not have to worry about your settings interfering with the overall home climate. By only controlling the vent installed in your room, the other smart vents scattered around your home continue to work unaffected.
Automatic Smart Home Vent Operation
Thanks to the motion/proximity sensors, a smart vent opens and closes on its own instead of having you do it by hand. When these sensors detect activity in any room, they leave the vents open to allow the airflow. In case of no activity, the sensors signal the smart vents to close, thereby saving energy and the effort to keep track of each vent around your home. This brings us to another huge benefit – automatic temperature control throughout the house.
Automatic Temperature Control
Smart vents are designed to keep a track of the temperature through their sensors. All you have to do is choose the desired temperature in each room and let the smart vents handle the rest. They are automatically opened or closed to influence the airflow in order to recycle the ambient temperature until it reaches your set target. As a result, you have one less thing to worry about, and there is no need for frequent human intervention, unlike the traditional HVAC systems that work with temporary, makeshift solutions.
Energy Saving Smart Home Vents
Energy consumption goes down when you heat up or cool only selected rooms in your home, especially only those that are in use. Smart vents can be scheduled to work at certain times of the day, synchronized with your own schedule for leaving for your office and coming back. This lets your home automatically heat up or cool by the time you arrive. Moreover, you can always control the vents if you are not at home and turn them off at a click if you forgot to set a schedule. That way, the vents will not be on unnecessarily to drive your electricity bills in your absence.
Most homeowners decide to install a smart vent only in those rooms that experience more heat or more cold from the HVAC airflow. This is a quite budget-friendly alternative if you do not aim for a house-wide upgrade. It also works well as a targeted solution to address areas that heat up too much or cool down a lot compared to the rest of the house.
Usage Dashboard
Your smart home vent app will provide reports on aspects like total usage and reminder alerts. This gives you valuable insight into your energy consumption, budgets, and maintenance scheduling. You can also have a bird's eye view of every smart vent installed in your home, its status, and filter-cleaning times.
Smart Home Vents – A Shopping Guide
Ecovent EV612W Smart Wall Vent, 6×12
Ecovent smart wall vent provides temperature control for individual rooms, allowing you to make local adjustments without disturbing the function of any other vents in your home. A quiet motor prompts these vents to open and close, working alongside the integrated temperature and pressure sensors that take regular, real-time readings. This also ensures the smooth functioning of your HVAC system. The smart vents rely on Ecovent Room Sensor (EVSENS) as well as the brand's Smart Hub (EVHUB), and their programs are compatible with iOS and Android devices. You can regulate and adjust the indoor airflow much better – thanks to the precise controls achieved by smart, wireless, and motorized vents. Energy efficiency is maximized when you are able to adjust multiple temperature zones individually. Airflow is restricted within a safe range of parameters – as concluded by the sensors. This also means that the airflow is redirected to the targeted areas to balance out the temperature when the smart vents open/close automatically.
With Ecovents strategically installed all around your home, you can achieve greater HVAC performances and overall comfortable climates. Both the Wi-Fi-enabled smart vent and room sensor will connect to the Ecovent Smart Hub; you need to purchase the sensor separately. The Ecovent app offers one-stop management to set temperatures for each room and create schedules for automation.
Keen Smart Home Vent – 4″ x 12″
Keen Home smart vent has been manufactured to make your home environment more comfortable and welcoming, with the added benefit of lowered energy costs. In an average-sized home, 4-8 smart vents are adequate for creating a relaxed atmosphere in a room-zoned solution – the combined effect being a balanced climate everywhere. You can heat up and cool down a room in a smart way by going wireless and using your tablet to set controls. These wall and ceiling vents seamlessly integrate into your existing HVAC framework and tune in to your home automation platform. A smart vent system is established when these vents link up with each other and communicate in real-time updates; this enables rerouting the airflow where it is needed. It is also an efficient way to close the smart vents in rooms that stay unoccupied for most of the day.
The battery uses advanced control algorithms for extended battery life. A temperature sensor monitors the temperature of each room for better real-time actions to govern the airflow. The vents also have pressure sensors that ensure overall system protection and efficiency. All of these built-in sensors communicate with each other and respond to other smart gadgets to optimize indoor ventilation through room-by-room solutions. This helps combat the hot and cold spots around your home where some areas heat up/cool down more than the others. The equipment can be installed in easy DIY steps to get your intelligent zoning system up and running. While the hardware concept is virtually flawless, the bridge and firmware seem to be a major cause of trouble among the users. Technical loopholes may cause failure to connect to various home automation networks, making connectivity and responsiveness two highlighted concerns for the customers.
Keen Smart Home Vent KHSV-610 Zigbee 6×10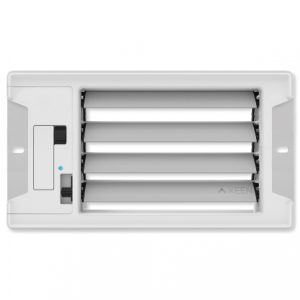 Keen Home Zigbee smart vent is an intelligent choice for adding a wireless and room-by-room focus to your smart home automation system. Temperature discrepancies can be easily overcome with a Zigbee smart vent that offers precise temperature controls and adjustment. These vents are designed to heat and cool rooms based on a target temperature that you wish to maintain, so the whole process becomes faster and more energy-efficient. They close automatically when they sense an empty room, allowing greater airflow to disperse into rooms that actually need it. Operating at the Zigbee home automation network, the smart vents enable isolated temperature zones that thrive independently of each other. Keen Home solutions include temperature sensors, a smart bridge, and the Keen Home app for complete smart home integration. The smart bridge needs to be bought separately.
Once you replace the standard vents with these smart vents, you can connect the vents and sensors to the smart bridge to establish a communication link between them. The final connected system is iOS-and-Android-friendly, and you can use the app to set temperatures for each room. Using the forced air from your existing HVAC system, the smart vents take their cue from all the built-in temperature as well as pressure sensors. They can be installed on the floors, walls, or ceilings for accurate airflow management throughout your home.
A Case for Smart Home Vents
Smart home vents combined with sensors, smart hubs, and thermostats make it possible to optimize the overall airflow in your home. All of these elements can be accessed through your chosen brand's app – which is developed to keep everything on the same digital page. This supports a one-touch solution for all your vents, bringing room-to-room control right at your fingertips. The air moves around so that you do not have to, and this is the primary function of all smart air vents. They open and close automatically to maintain a stable climate and do not require you to handle them manually. Having your home outfitted with smart vents where needed has a huge energy-saving incentive that is hard to ignore. Your smartphone acts as a free-distance remote control for operating the vents from wherever you are – which comes in handy if you are away from home and forgot to schedule the vents to close.
The cost-effective approach to adjusting the temperature based on open/close vents is quite productive and time-saving. The smart network is full of networks that connect to create the perfect atmosphere in your home, and with all the air flowing freely, a smart vent opens just the right outlet for all the trapped heat to warm your home in winters – and the trapped coolness to soothe away the summer burn.