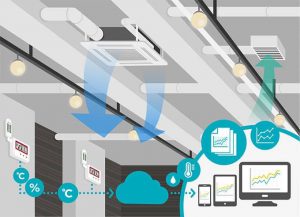 Image source: Adria Security Summit
The main automation component that makes your home sweet home truly smart is its HVAC system. It creates the striking difference you feel when you enter your home and has the primary job of managing indoor climates. A smart HVAC control system can be used in both residential and commercial contexts. Homeowners and businesspeople often rely on this technology to automate their heating, cooling, and ventilation systems. All the appliances and devices can communicate wirelessly, though some wired installations might be needed. The HVAC network is designed to automatically regulate each room's temperature. When the preferred values are reached, the heating and cooling units can turn off automatically. This defining feature makes a smart HVAC system stand out from traditional solutions. Automated climate control improves your energy savings without compromising your comfort.
Most smart HVAC units are compatible with other devices on the radar. Improved integrations allow these whole-house systems to operate seamlessly and be more effective. They can self-learn and adapt to the preferences of each member, which means you can have clusters of customizable temperatures throughout your home. Each room can be set at your desired temperature without affecting the other units, and this plays an important role in optimizing your HVAC's potential.
The main incentive of moving towards a smart climate control system is that most solutions work with your existing HVAC infrastructure and units. These systems do not just regulate your building's temperature or humidity; they are being increasingly used in maximizing savings based on room occupancy. Your interaction with the HVAC units becomes effortless – as all of the work is already handled by the smart control, which makes your home literally able to think for itself!
Why choose smart HVAC?
App-enabled
HVAC automation brings you better control and management of your home's indoor temperature and air quality. All the units and hardware can be accessed using your app, and this all-in-one convenience cannot be ignored. Such control systems help you monitor each room's temperature, check its occupancy/vacancy, detect faults, and receive instant notifications. Another key benefit of using apps is that you can explore HVAC analytics to track energy usage. This helps you discover which rooms unnecessarily join the HVAC traffic, so you can automate the system better to prevent airflows into empty rooms, for example. Smart HVAC frameworks operate on Wi-Fi, Zigbee, Z-Wave, and other automation platforms. There is always a compatible app that you can use to control all the units connected to your specific network.
Energy-conscious
Smart HVAC control systems only operate when you need them, which means they can be programmed to turn off automatically during downtimes. This applies to both residential and commercial spaces. By limiting the amount of energy used by your HVAC units, you can trust your electricity bills to keep a low profile! The problem with traditional HVAC systems is that if you forget to manually turn them off – and leave home, for instance – they will keep running until you come back and notice. A smart system easily addresses this HVAC "inertia" by removing human control out of the equation. Your heating and cooling systems operate independently and automatically to keep you comfortable at home – and keep your carbon footprint in check.
On-the-go
Smart HVAC systems are popular for their geofencing features in which your thermostat tunes in to your current location.
The smart thermostat can track your smartphone and decide when to switch on a particular HVAC unit. So, for example, once you arrive within your home's smart boundary – the geofence – your thermostat will activate the heaters. By the time you walk through the door, your home will be at a comfortable, warm temperature. Geofencing is used to automatically switch on/off the heating and cooling appliances at different times of the day. You can simply step out of your home and the units will turn off. This also makes geofencing a valuable addition to energy-saving benefits, as you can rely on the system to think for itself while you are gone. Such on-the-go convenience is further improved through the use of app controls. You can keep a check on your HVAC units even when you travel – and handle any device you forgot to turn off. In this way, an automated climate control checks all the boxes for convenience, comfort, and environment-friendliness.
What makes up a smart HVAC control system?
1. Smart thermostats
Smart thermostats are a crucial starting point in most smart HVAC systems. They are designed to work with app, voice, and in-panel controls to bring you greater diversity in the way you manage your climates. Most thermostats feature improved interoperability to pair up with your home's existing devices. You can set preferences on the thermostat to control the temperature and humidity in each room. Using a compatible app, you can also receive alerts from the smart thermostat for different maintenance reminders like air filter replacement. These devices generate energy consumption reports for you to view on your app's dashboard. Their HVAC statistics give you a good insight into performance status and usage aspects.
2. Smart sensors
Smart sensors are responsible for enabling the intuitive geofencing technology of any smart HVAC. They can identify each member of your family based on smartphone locations, which is a great way to customize individual temperature settings. Different types of sensors can be used depending on your specific HVAC configuration. There are temperature, humidity, and carbon dioxide sensors to detect the ambient variables continuously. Motion or occupancy sensors are used to determine room occupancy or vacancy by checking for movement in a room. This allows your HVAC system to enable airflow into the occupied rooms only.
Occupancy sensors are quite common in commercial offices for this reason. With more and more agile working lifestyles replacing the traditional office environment, commercial buildings end up with considerable empty spaces. In order to avoid heating or cooling a vacant room, businesses rely on occupancy sensors for real-time HVAC utilization. Smart sensors can connect with your app to follow updated schedules and respond to changes. HVAC zoning is another important example. Your smart sensors will measure the indoor air for each room and control the HVAC traffic, allowing you to create isolated zones throughout your home or office.
3. Smart humidifiers
Like heaters and air conditioners, appliances like smart humidifiers and air purifiers can also be added to your HVAC network. They are usually installed to improve the overall indoor air quality of any building. Most smart thermostats are equipped with humidity control, but you can also purchase separate appliances for humidity regulation. They help improve the quality of air in your home/office so that the interior space feels more inhabitable. With reduced pollutants and contaminants in the air, people who have allergies can manage their symptoms better, as cleaner air is always a welcome relief. Not all smart thermostats can work with humidifiers though, so you will need to look for compatible options to maximize your HVAC performance.
4. Smart vents
Your smart thermostats and sensors form the brain of this HVAC control system. In response to the signals from a thermostat or sensor, some hardware components do the actual work. Smart vents are an example, and they are used to control the airflow by opening or closing. Unlike traditional vents that need to be opened or closed manually, smart vents are designed to work automatically. They provide a more efficient alternative in regulating the HVAC traffic. When sensors detect inactivity in a room, they can trigger the smart vents to close. Similarly, when the thermostat detects a fall in temperature, the vents can open up to allow more heat into your room.
5. HVAC dampers
HVAC dampers support room based-temperature control. They work like a smart vent –  except that they are installed within the ductwork itself rather than a wall. These motorized dampers provide zoned climates and allow you to individually control your rooms' temperatures.
It is another way to maximize your HVAC potential and boost energy savings. The dampers have valves that can open or close in response to thermostat signals – thus allowing or limiting the airflow in a particular duct. You can simply create schedules for each zone, make adjustments on your app, and count on the self-learning smart dampers to do their work.
Smart clouds for a smart climate
Smart HVAC control systems allow you to govern the "weather forecasts" for your home. All you have to do is set the required temperature/humidity settings and let the HVAC units make smart decisions. These applications also extend to office environments where spatial utilization is always a problem. Smart climate control systems make sure that only the occupied rooms are heated or cooled. They automatically turn off airflows into empty rooms, and this allows businesses to optimize their energy impact. As a business owner, you do not want to pay for heating or cooling empty spaces on a commercial scale. Cloud-based HVAC systems and apps help you understand real-time utilization data, so you can focus on your actual work instead of being slowed down by poor management.
Since there is more flexibility in workplace settings these days, employees tend to work in suitable neighborhoods rather than assigned workstations. This means that teams move around a lot and pick their favorite places depending on availability. Such nomadic working habits call for a self-adapting HVAC system that can choose when to work or rest – and essentially, go with the corporate flow!