Now is the time of smart home technologies and they are flourishing in the best possible way. Smart thermostats are popular smart home devices. They offer an upper hand when compared to the standard thermostats. They offer more advanced energy saving options. Remote access is also another feature to be highlighted. Some of these smart thermostats also allow control over multiple zones. Multiple zones around your home can enhance your comfortability. They ensure that you are not wasting energy and money in heating those rooms or areas when nobody is out there. Now let us see the best market options we have for achieving smart control over the multiple zones.
What Are Multiple Zones?
Each individual area in the home can be considered as zones. So in a home we have multiple zones. Be it bedrooms, kitchen, bathrooms, etc. each can be considered as zones. Now each zone can have different temperature requirements mainly based on who uses these spaces most often. In this case a standard thermostat can be insufficient as it treats the entire home as a single zone. This is where smart thermostats with multiple zones can help you achieve the purpose. They can be programmed in such a way that these individual zones are treated separately and the temperature within them can be controlled individually. Now for using multiple zone smart thermostats there are two requirements. The first one is that your existing HVAC heating and cooling system must support multiple zones. Secondly, you need Occupancy/ motion sensors to monitor the zones so that the thermostat can read the individual temperature in those zones.
Best Smart Thermostats for Multiple Zones
Now let us have a look at some of the best market options of smart thermostats so as to achieve control over the multiple zones.
ecobee 4
Ecobee is the most sought after smart thermostat for multiple zones. They have the best performance when it comes to multiple zones. They come with a built-in Alexa, thereby eliminating the need to buy an additional Alexa for achieving voice control. They come with a room sensor which can detect the room occupancy so as to achieve the optimum comfort by switching to the most comfortable temperature. If you require more than one sensor then you may need to purchase them separately. The system can moderate the overall zone temperature as per the need. They can save energy by automatically switching off the system when no one is home. You can save up to 23% annually on your heating and cooling bills. There is free ecobee Android and iOS mobile app. With the installation guide, you can have the set up done with ease and that too within about 30 minutes. You can have control over your home temperature settings from anywhere. They provide you with maintenance alerts which can help you have a check on the working condition of your HVAC system. They perform well for sure but they are expensive.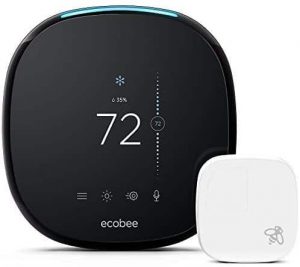 ecobee 4
ecobee3 lite
The ecobee3 lite does not have a built in Alexa and this is the main difference when compared to ecobee 4. You can achieve advanced control from anywhere using your Android or iOS device. The Smart thermostat can work in seamless integration with your smart home system. The Energy Star certified thermostat can save up to 23% annually on your AC costs. They come with a SmartSensor and another one for doors and windows. Separate sensors need to be bought separately.  SmartSensor allows you to manage hot or cold spots so as to deliver enhanced comfort to the rooms that matter most. They also feature a 5 day weather forecast. The design is sleek and stylish.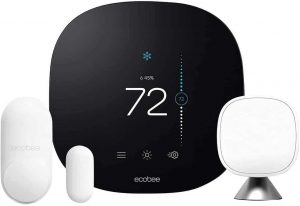 ecobee3 lite
Honeywell Home RCHT9610WFSW2003 T9 Smart Wi-Fi Thermostat
You can live and sleep smarter is what the Honeywell T9 Smart Thermostat claims. They have a touch screen display and comes with a smart room sensor. Additional sensors need to be bought separately.  With Smart Room Sensors the system can automatically detect which room people are in and maintain comfort levels by switching to the most comfortable temperature setting. You can also choose the temperature in a specific room to be the exact that you want it to be. The Smart Room Sensors are battery powered and they utilize the Honeywell Home Technology to offer excellent range of about 200 feet. They can also handle multiple rooms, but this requires multiple sensors. You can control the thermostat using the Honeywell Home app. The Smart thermostat is also compatible with Amazon Alexa, Apple HomeKit, Google Assistant, and more. They can be controlled from anywhere. There is more in terms of Auto Home/ Away Scheduling settings. You can save your money and energy. They have a simple installation procedure with the help of the guide. They are compatible with most homes as they come with a power adapter which can replace the need for C wire. Now note that use with a non- Honeywell Home wire saver can lead to product failure. In such cases, the manufacturer's warranty is void.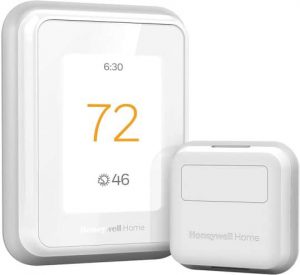 Honeywell Home RCHT9610WFSW2003 T9 Smart Wi-Fi Thermostat
Google Nest Learning Thermostat
The Google Nest Learning Thermostat can work with multiple zones, however, the sensors need to be bought separately. They are not included with the thermostat. The system can work with Android and iOS. There is no need for programming. The Auto Schedule feature can learn from you and program itself based on it. With Home/Away assist, you can be assured that you are not wasting energy on an empty home. You can save more with an analysis of Energy History. You can also look for the Nest Leaf which appears as you choose the temperature which can save you energy. The Thermostat allows Remote Control with the Nest app. They can work in integration with most Smart Home Systems, except HomeKit. The Thermostat is also expensive.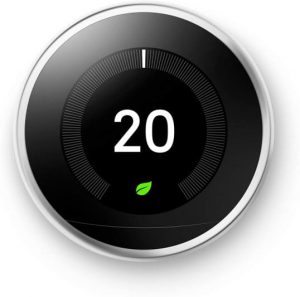 Google Nest Learning Thermostat
.
Emerson Sensi Wi-Fi Smart Thermostat
The Emerson Sensi offers privacy protection. The Sensi Thermostat can be used in most homes as they do not require a C wire. With the On the Go Control, you can have control over home comfort from anywhere. They allow remote access and flexible scheduling. With geofence, the thermostat can adjust automatically as you arrive or leave home. With scheduling, the system can be made to work for a period of time even in case of Wi-Fi connectivity issues. The Energy Star certified smart thermostat can offer reliable performance with good saving in terms of money and energy. The Smart Maintenance features like usage reports, alerts and maintenance reminders allow you to monitor the performance and the efficiency of your HVAC system. The thermostat is compatible with Alexa, Assistant and Homekit. They have an easy DIY installation which takes less than 30 minutes. They also come in an affordable price point. However, the design is not so elegant looking.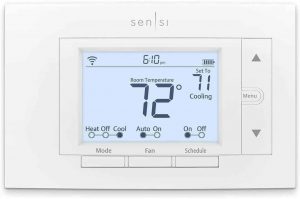 Emerson Sensi Wi-Fi Smart Thermostat