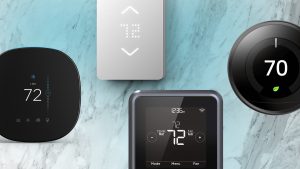 There are multiple temperature zones around your home, and these refer to individual rooms and spaces that have different temperature requirements. Your attic, kitchen, living room, library, bedrooms, bathrooms, home office, dining room, and basement might need to be set at various temperatures to suit the comforts of each family member. These multiple zones arise from the heating and cooling preferences of the room's occupants, and smart thermostats provide customizable freedom with the way you control the climate in your home. Setting different temperatures in each room becomes easy with a smart thermostat multiple zones, as you can also access the zones using your smartphone or tablet.
When all your family members have differing opinions and sensitivities to the indoor temperature, it is time to consider a smart thermostat for peaceful coexistence. This is also very conducive to Airbnb lodgings in your home, as guest comfort is a top priority for an accommodating host. With a remote control and smartphone app, everyone gets to adjust the temperature to their liking. A purpose-built smart thermostat for multiple zones divides your home into separate, isolated areas that can be controlled individually, as discussed in this article.
Features of a Smart Thermostat Multiple Zones
Zone-Wise Control
The smart thermostat multiple zones can control and regulate your preset temperatures for each zone. This includes automatic adjustments for different schedules and durations. It is an effective way to allow everyone to manage their room units without interfering with other rooms. With all members enjoying their preferred temperature, the zone-wise climates form an overall happy atmosphere at home.
Cost-Effectiveness
You can create schedules to synchronize the smart thermostat's function with your office hours – basically, any amount of time you or your family members will not be at home. This ensures that the smart thermostat multiple zones automatically turns off, preheats your room before you arrive, turns on the air conditioning in the home office, keeps the bathroom warm during winters, etc. Selected schedules like these save energy by making your HVAC units operate only when needed.
Remote Management
Apart from using a remote-control device, the highest incentive any smart gadget has to offer is its app control from anywhere you are. Smart thermostats from different brands have their own apps that you can download on your devices for remote management. You can turn off the thermostat, adjust temperatures in multiple zones, switch on the system just before you leave work, and keep an eye on each zone regardless of your location.
Smart Thermostat Multiple Zones Voice Activation
No smart product is truly smart unless it can strike up a conversation with Alexa. Voice assistants like Alexa, Google Assistant, and Siri give your smart home an innovative edge with all compatible gadgets coming to life in unison. Smart thermostats for multiple zones are also designed to work with voice assistants, and you can rely on voice instructions to turn on the thermostat only in the kitchen, increase the temperature for your basement, turn off the thermostat in the attic when you are in the dining room, etc. When you have your hands full with work or grocery bags, this feature comes in handy because you can just say, "Alexa, turn on the thermostat", and let your voice travel faster.
Room Sensors
Multiple zone control comes from the use of sensors that need to be installed in every room you wish to turn into a smart zone. Motion detection is a key aspect of this system, and most smart thermostats enable multiple zone management through room occupancy. When the sensors detect that a room is occupied, the temperature of that zone continues to self-regulate. If a room is vacant and no movement is detected, the thermostat can switch to an energy-saving mode. Other sensors include humidity, light, and of course, temperature sensors.
Visual Alerts
Some tech-savvy upgrades in design are introduced in the form of emergency responses. Smart thermostats are already equipped to send app notifications to alert you in case of emergencies. The high-end models can also flash the lights in an occupied zone to catch the attention of whoever is present – making the smart thermostat a quick decision-maker as well.
Geofencing
Smart thermostat units that do not use motion sensors rely on geofencing instead. A geofence can be thought of as a smart perimeter around your home – with your smartphone being the ticket to this boundary. By following the location of all the smartphones that your family uses, it controls the individual climate just as effectively as the sensors. Your smartphone becomes the zone identifier, and this allows the smart thermostat to uniquely control each zone. Geofencing also works with schedules for coming home or leaving – the thermostat detects your smartphone in the immediate vicinity as you arrive and turns on the system. Alternatively, when your smartphone moves out of range, the unit deactivates or switches to energy-saving based on your program.
Geolocation
Similar to geofencing – only bigger in scope – the idea of geolocation with smart thermostats works by detecting your smartphone's location even outside your home to time the functionality. As you drive closer to your home, your preset temperatures build up gradually. For example, the closer you get to your home, the warmer your indoor climate becomes until it is ideally warm by the time you step in. The temperatures rise or fall in sync with your proximity, making this feature the peak of smart innovation for automated solutions.
Algorithm-Learning Smart Thermostat Multiple Zones
Advanced smart thermostats rely on algorithm learning to start memorizing your patterns over time. Temperature schedules change for each season and various intervals according to your plans. With multiple zone management, you require a smart thermostat that can remember your seasonal preferences for the most part, so all you have to do is make random adjustments to suit your comfort.
Intelligent Interaction
Smart thermostats that connect to your home automation platforms like LIFX, WeMo, and SmartThings are ideal choices, as they simply join the radar and carry on seamlessly. This enables them to also interact with other smart gadgets around your home. The visual alert feature discussed above is one example. A smart thermostat such as Nest Learning Thermostat can link up with compatible light bulbs to signal these warning flashes and alert you instantly. This turns your home into a smart ecosystem with all the devices interacting, coexisting, and responding to dangers.
Best Smart Thermostats Multiple Zones
Honeywell Home T9 WiFi Thermostat
Honeywell Home smart thermostat is a smart thermostat multiple zones that helps you focus on individual rooms. Its smart room sensors cover a range of 200 feet, providing independent control for room-wise temperatures. Compatibility with Alexa and Google Assistant supports voice activation from wherever you are. The complete setup and installation are simple, DIY-guided, and user-friendly. With the Honeywell Home T9 model, you can prioritize the climate for the zones that are the most important – or frequently occupied. Once you choose the required rooms for individual control, the smart thermostat focuses on them to regulate a comfortable temperature set for each room. The system also works based on motion detection to activate only those HVAC units that are installed in occupied rooms. Advanced detection features can distinguish between a person who is just passing through a room and the one who is occupying it for a long time.
This brings us to schedules like Auto Home and Away modes where the thermostat activates and deactivates for energy-efficient results. You can use your smartphone or tablet to access and adjust the thermostat's settings. It has intelligent-learning mechanism to get the feel of your temperature patterns for better self-regulation programs. In this way, the sensors tune in to your lifestyle and set your room to the desired comfort by the time you return from work. These room sensors can be distributed throughout your home to monitor temperatures and humidity in multiple zones. A sensor in each monitored zone helps with simple voice supervision like, "Alexa, check the temperature of the dining room". The Honeywell Home app keeps you updated on monthly insights for your home's heating and cooling trends, displaying how many more hours the heating and cooling systems were on compared to the previous month. The system lets you know timely alerts for temperatures that lie outside their thresholds. Filter changing is another useful reminder.
Ecobee Thermostat with 2 Room Sensors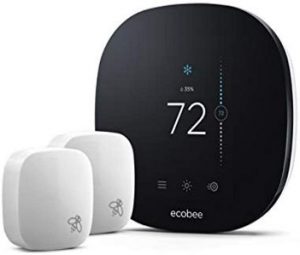 Ecobee smart thermostat multiple zones comes with two room sensors and is designed for energy-saving results. The sensors enable multiple zone supervision by detecting room occupancy to regulate the temperature better in your selected zones. Although this does not deliver more customizable freedom like the Honeywell Home thermostat discussed above, the Ecobee unit helps you prioritize important room climates, nonetheless. A step-by-step manual is available to guide your DIY installation. The smart thermostat can be controlled and activated through the Ecobee smartphone app, and the system is also compatible with Alexa, Google Assistant, Wink, Apple HomeKit, SmartThings, IFTTT, etc. – making an interactive addition to your smart home network. By installing the sensors in your most frequently-used rooms, you can achieve a more balanced atmosphere. In this way, you can also set your thermostat to activate the Home mode while you are at home or the Away mode when you are gone.
The temperature is easy to adjust on your iPad, Apple Watch, and any Android device. Thanks to its integration friendliness, the smart thermostat does not require additional networks. The intuitive panel illuminates if you are nearby, enhancing the slim and futuristic design even more. Its Time of Use feature allows the unit to operate during optimum hours when energy is less expensive. Pairing with up to 32 room sensors, the system efficiently eliminates hot and cold spots around your home.
LUX CS1 Smart Programmable Digital Wi-Fi Thermostat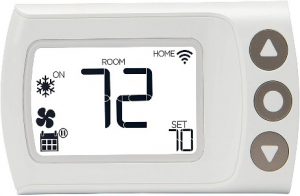 LUX CS1 smart thermostat multiple zones can be accessed on the LUX 2.0 app that is compatible with iOS and Android devices. With its geofencing awareness, the unit can sense your presence or absence at home by tracking the location of your smartphone – which helps with automating modes like At Home and Away. This makes the overall installation and function that much faster without the use of additional room sensors – your smartphone acts as a convenient alternative to mark your attendance. The fact that you carry your smartphone wherever you go also means that the thermostat responds to your movements, turns on the heat in the room you are currently in, turns off the fan in the room you just vacated, etc. By installing adequate units that detect different smartphones, we consider LUX CS1 smart thermostat to be a smart solution for operating on multiple zones.
Its scheduling system can be customized to suit your heating/cooling preferences. You can also automate schedules to take their cue from your patterns and make the required adjustments automatically. The thermostat manager helps you keep track of multiple users on the smart grid, monitor different thermostat units around your home, and manage the locations for efficient temperature control. The unit is compatible with voice assistants, and it also features an energy cost predictor to give you a better cost-saving perspective.
GLAS Smart Thermostat by Johnson Controls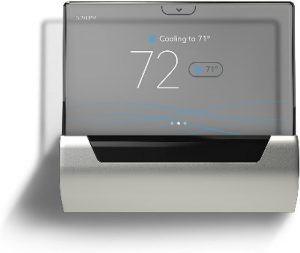 Johnson Controls GLAS smart thermostat multiple zones has an ultramodern outlook in the form of a translucent, OLED touchscreen glass. It makes a sophisticated and tech-savvy addition to smart urbanized contexts – standing out easily wherever it is mounted. It monitors your home's indoor air quality with humidity levels and generates energy statistics as graphs to let you know how much energy was saved. Compatible with Microsoft Cortana, Google Assistant, and Alexa, the smart thermostat can be managed from any device wherever you are. The smart glass interface is a reimagined design for technology upgrades, and it also displays outdoor air quality in terms of UV index and airborne allergens.
The system is suitable for HVAC configurations like gas, oil, electric, different-sourced heat pumps, and dual-fuel setups. You can create your personalized schedules or trust the thermostat's occupancy sensor to stay in charge – and this where we create multiple zones for comfortable climate "bubbles" around your home. The thermostat and programs can be accessed on the brand's GLAS app for iOS and Android, allowing you to manage all the GLAS thermostats and their individual locations. There is a 7-day scheduling option to make your temperature reservations beforehand.
Google Nest Learning Thermostat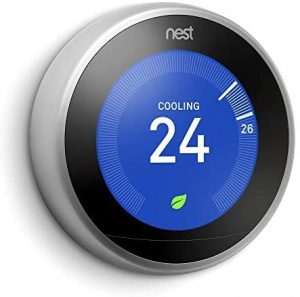 Google Nest Learning smart thermostat multiple zones recalls your favorite temperature settings each time you turn the control dial – and then creates a schedule based on your popular choices. This self-adaptable feature learns your patterns over a week and programs itself for seasonal updates. You can change the temperature settings anytime, anywhere using your laptop or smartphone. The Home and Away configurations ensure that your home is heated or cooled only when you are in it, so the system turns off automatically or switched to energy-saving when you leave. Also, these energy-related reports can be viewed on the app's Energy History to track your energy consumption and the reason behind each reading. To confirm that your temperature setting saves energy, the Google Nest Leaf icon will appear on the thermostat. The unit monitors your HVAC units and promptly alerts you when something goes wrong.
If you purchase a Nest Temperature Sensor as well – it is sold separately – you can create multiple zones according to how many sensors you buy. In this way, you can isolate certain rooms into separate zones, let your thermostat monitor them individually, and make custom adjustments in each room. When you walk into the room where the thermostat is installed, its Far-sight screen activates to display the weather, temperature, time, etc. in a bright and large format. It is compatible with Alexa and Google Assistant for voice controls.
Smart Thermostat Multiple Zones Ensures Your Family's Comfort
Smart thermostat with multiple zones already provide a tremendous relief with the way you manage your smart home climates – and when coupled with multiple zone management, you simply have the best of both worlds! These gadgets allow all your family members to define their comfortable temperature thresholds for the thermostat to monitor. This works by turning each bedroom, home office, laundry room, and Airbnb division into a temperature "island" that is assigned its own adjustable climate – thereby ensuring the comfort of every occupant. Room sensors enable this extended reach for the thermostat, helping it stay attentive and responsive to each zone.
Smart solutions are continually on the move with the latest waves of technology creating a ripple effect – and this necessitates the launch of new ideas to go with the flow. As discussed above, one crucial example is the use of smartphones themselves to diversify smart home automation. This is achieved via geofencing and geolocation, both of which are effective for regulating multiple zones. The main benefit of such thermostats that think for themselves is that they promote worry-free living standards with no scope for discomfort. Coming back to an already warm home during winters is a welcoming luxury. So is turning on the air conditioning unit to cool just your bedroom in sync with your arrival. If it is a smart device, it has got to shrink your energy footprint, as proved by smart thermostat energy graphs with scheduled usage, automatic turn-offs, and specific zone management. These features promote smart urbanization through and through, with smart ecosystems and digital villages making life all the more adaptable!