Smart thermostats are Wi-Fi enabled thermostats used for home automation. They are responsible for controlling heating, ventilation and air conditioning of the home. They are similar to Programmable thermostat but include other additional features like sensors and Wi-Fi connectivity which can take over the disadvantages associated with programmable thermostats. Now, most these smart thermostats need a C wire (Common wire) so as to power the LED displays or other Wi-Fi-powered advanced functions. However, those options of smart thermostat without a C wire are found to run on low power. There are even models which come with DIY power adapters which are easy to install. So you can even install it on your own without the need of professional help.
Is it essential to have C wire?
Before proceeding further, let us see what actually a C wire is.  The C wire enables continuous flow of power 24 Volts Alternating Current into your smart thermostat. The actual source of power is the Red wire. As the power from R wire is not continuous, here comes the role of C wire. Completing the circuit from the R wire back to the HVAC control unit, the C wire enables continuous flow of power so that the that the display and the Wi-Fi capabilities work in full swing 24/7. Unfortunately, batteries cannot provide enough energy for prolong periods so as to be useful and hence C wire becomes essential. They are in most cases Blue/Black in color.
Now this doesn't mean this is the case with all the thermostats. There are the newer models of smart thermostats capable of capturing the intermittent power from the Red wire which enables the charging of an internal battery. And so there is no need for any additional C wire making the installation process a lot easier.
Smart Thermostat with no C wire
Now let us have a look at some of the best Smart thermostats not requiring a C wire.
Emerson Sensi Wi-Fi Smart Thermostat
The Enerson Sensi Wi-Fi Smart Thermostat is a budget pick. The Sensi offers privacy protection as your personal information is not sold to third parties. They work with the HVAC equipment found in most homes and C wire is not requires in most of the applications. However, C wire may be required in case of heat only, cool only, heat pump and Apple Homekit integration applications. The Energy Star Certified smart thermostat can help you save a lot on energy bills. They also help monitor the performance and efficiency of your HVAC system with alerts about your equipment; maintenance reminders like filer change and usage reports. They have an easy DIY installation. With the On the Go Control, you can set, change and program your home comfort from anywhere. They can also work with Alexa. So if you are okay with the dated look and the lack of 24/7 light up display, you can go for this budget option.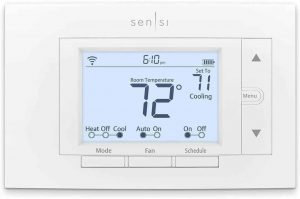 Emerson Sensi Wi-Fi Smart Thermostat
Google Nest Smart Thermostat
The Nest Smart Thermostat is designed in such a way that they can to work without a C wire in most homes. But for some systems you may need a C wire or some other compatible power accessory. The Energy Star Certified Smart Thermostat can save you on energy bills. They can also turn down on itself when you leave and so you don't waste energy heating or cooling an empty home. With the Google Home app on your Android or iPhone you can create an energy efficient schedule. With the remote control the thermostat temperature can be changed from anywhere via phone, laptop or tablet. With the Savings Finder there can be more ways for saving energy. With HVAC monitoring, the smart thermostat can alert you if something is not right and the reminders can help you in easy maintenance. It can be installed easily by you.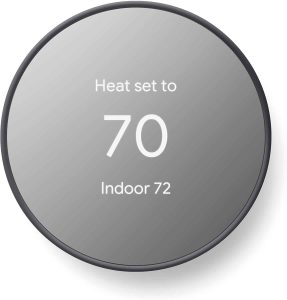 Google Nest Smart Thermostat
The Google Nest Learning Smart Thermostat is another smart thermostat model from Google. However, it is found to have power cycling issues when i9nstalled without a C wire.
Ubipol Smart Thermostat
The Ubipol Smart touch screen Thermostat comes with a power module for systems without C wire. The energy saving smart thermostat can save a lot on your bills with the automatic heating and cooling changeover. You can even save better with Geofencing. You get advanced HVAC control. The screen lights turn up on sensing movement. There are also smart alerts including Heating or cooling alerts and air filter change reminders. The system also includes weather forecast, device password lock. There is also option for periodically circulating fresh air so as to ensure fresh air keeping in mind the health and control of the people. They also come with smart warm up and vacation mode options. They allow seamless control from anywhere with the smart ios and android app. They also work with Google Home and Alexa. They can be easily installed requiring just about 15 minutes.
Ubipol Smart Thermostat
Ecobee 3 Lite Smart Thermostat
Ecobee 3 Lite Smart Thermostat comes with a sleek design providing elevated comfort. The Energy Star certified smart thermostat can provide you with good energy savings. With the inclusion of additional Smart Sensor you can get enhanced comfort as it manages the hot and cold spots to the rooms which matter the most. You can manage the comfort of your home from anywhere and for that you need the Ecobee app on your iOS or Android mobile device. With occupancy detection temperature can be automatically managed. With Smart Sensor and Smart Security subscription, the heating or cooling can be automatically paused if a door or window is left open. They come with built in speaker. There is also built in presence detection kit. They are also compatible with Alexa and Google Assistant. In case of absence of C wire, a Power Extender kit is included.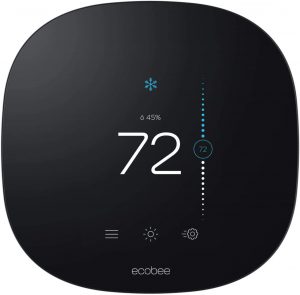 Ecobee 3 Lite Smart Thermostat