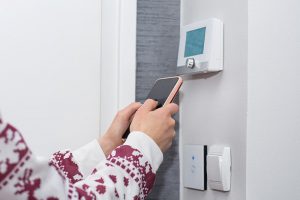 Image source: Romano Brothers Heating and Air
Smart thermostats provide a flexible control panel to interact with your heating, cooling, and ventilation systems. Once connected to the Internet, they help you access your HVAC units remotely using your smartphone and even voice commands. This allows you to fully reap the smart benefits of automated climate control throughout your home. Wi-Fi connectivity – or any smart home automation platform connectivity – is what makes the thermostat a smart device. Your thermostat can communicate with various HVAC units and other smart products as long as it is connected to the Internet. The Wi-Fi network is responsible for the online component of this automation system.
A smart thermostat without Wi-Fi is just an ordinary thermostat that lets you manage basic programs and view readings. It is very common for users to lose their Wi-Fi connection or experience shaky network ranges from time to time. Home automation mostly relies on cloud-based solutions to give your smart products better coverage and communication. Take away the cloud and you are left with a traditional thermostat with very limited functionalities. On the upside, your HVAC units will still continue to work under the supervision of your thermostat. You will just have to make do with the available functions until you are back online, as discussed in this article.
Why is Wi-Fi necessary?
Wi-Fi connectivity gives your smart thermostat a virtual backbone to support online interactions. It is essentially what adds the word "smart" to the name, as all smart products need a mutual ground to speak to each other. Smart thermostats help you access the connected units using your smartphone app, so you can control your appliances remotely. Most brands enable voice compatibility to let Alexa and Google Assistant join your climate management. App supervision opens a whole new portal for you to automate as many features as you can, check the weather forecasts, track your energy consumption, monitor the indoor air quality, and remain notified.
The main difference between a smart and a traditional thermostat is the level of convenience you receive. Smart thermostats bring controls to your fingertips, so you do not have to go to the individual units. You will find options for thermostats that work on 2.4 GHz and 5 GHz Wi-Fi bands, both single and dual. They often team up with smart sensors to enable innovative features like geofencing and zoning. These features enable individual family members to customize their temperature preferences, turning each room into an isolated zone. The thermostat can then recognize you by your smartphone, automatically configure your favorite settings, measure how far away you are from home, and activate the heating before you arrive.
So, a smart thermostat without Wi-Fi would simply operate as a traditional control panel – which basically means there is nothing smart about it anymore!
Which features will be lost?
Without a Wi-Fi connection, you can only interact with the thermostat's control panel/touchscreen. You can neither log in to the brand's website nor access its compatible app; all the related app functionalities are also lost. This includes security updates, geofencing capabilities, zoning convenience, remote access, energy usage, voice interactions, and real-time notifications. A lack of Wi-Fi connectivity makes you tethered to the control panel and takes away the on-the-go comforts of a smart system. This also means that if you are traveling, you will not be able to turn off the heaters you left on. Since you cannot receive real-time alerts, there is no way to find out potential water leaks, appliance hazards, current statuses, or low-battery issues unless you are physically available at home.
Which features will still work?
Without the wider cloud-level vantage point, your thermostat's functionality shrinks down to the bare minimum features. The now basic thermostat will let you adjust temperatures and manually update your settings on its touchscreen panel. You can manually change your heating and cooling configurations. Most thermostats can continue to follow your old schedules even without a Wi-Fi connection, so you will definitely be able to use the recent schedules – again, on the interface itself, and without being able to update them.
Some smart thermostats like Nest can display HVAC histories to help you view the past patterns. By tracking your thermostat's history, you can improvise with a DIY method to monitor your energy consumption. Nest thermostats also continue to display the Nest Leaf icon for energy efficiency, so you can still work with preset Eco modes. However, Wi-Fi connectivity certainly has its own charm when it comes to automatic updates for improved sustainability.
Should you worry about Wi-Fi disruption?
Your Wi-Fi can disconnect for several reasons like power outages, network errors, local coverage issues, delayed bills, etc. Since smart thermostats are built to deliver their basic HVAC control – regardless of a network failure – you can still rely on them to keep your indoor temperatures in check. Once your Wi-Fi connection is up and running, you can resume from where you stopped. Simple troubleshooting steps like checking your service provider, restarting the router, or changing the thermostat's batteries can help you go online quickly.
Quite often, homeowners will think about installing their smart thermostats without Wi-Fi. It is possible to do so by changing the wiring connections, and so professional help is highly recommended. This comes in handy in relocation scenarios where you are happy with quick makeshift thermostats for the time being. You can always upgrade them later for Wi-Fi connectivity. Installing a smart thermostat that you already own can save you a trip to the virtual shopping aisle, as you do not need to purchase a separate traditional thermostat. All you have to do is leave out the Wi-Fi setup, and you have a basic thermostat to operate your HVAC units.
The silver lining minus the cloud
Smart thermostats can work without Wi-Fi connectivity. As discussed in this article, their overall usability will be narrowed down to simple heating and cooling controls. With Wi-Fi, your smart thermostat will reach its full potential and give you complete access to the app's features. Sans Wi-Fi, there is not much you can do except manually alter your temperature settings on the touchscreen panel. However, it is still a good idea to invest in a good-quality smart thermostat for future-proofing aspects – especially if you are moving to a new home. It might be difficult to install a fully functional Wi-Fi in the beginning, so you can always make do with a toned-down smart thermostat until the time is right.