Deck lights are intended to add beauty and safety to your deck and home. By brightening up the outdoor space, there is reduced chance of tripping or falling over objects when you are out there enjoying the outdoor space. And if you have young children, it is indeed a necessity as they can help the children from falling off the deck's stairs. They are a good option for those seeking out environment friendly lighting options requiring less maintenance.
Advantages And Disadvantages Of Installing Solar Deck Lights
Advantages
Solar deck lights can be considered as a great way to save energy and that too in an eco-friendly manner. They are considered as an easy to install, convenient to use and cost effective option. The solar deck lights are fitted with rechargeable batteries, which get charged during the daytime, storing energy in the solar panels allowing the LED lights to be automatically lightened up at the night time. Thus you can save energy. Also, the batteries needed to be replaced only every 2 years or more. If you choose high quality options, then they can even last you for decades. Other maintenance activities required is also less. AS are easy to install, convenient to use and best alternative to save energy/power. It is fitted with rechargeable batteries that charged during daytime and store the energy in solar panels and thereby lighten up the LED lights at night time automatically. They are easy to maintain but replace the battery to make it work durable and long lasting.
Disadvantages
Solar lighting systems are dependent on the weather with a few continuous cloudy days creating trouble to your system. To solve this problem, you need to place the unit in such a place where the units receives abundant sunshine all through the daytime. Also, the brightness of the light powered by solar lighted system is on the below average side. However, nowadays there is considerable research in the area which gives us the hope for future up gradation in this aspect.
How To Select The Best Solar Deck Lights?
Look for the options providing maximum output with less power requirement. For choosing the best Solar Deck Lights, you need to look into two main aspects. They are: Type of Solar Panel and the Brightness offered by the unit.
Type of Solar Panel
There are mainly four types of solar panels. They are monocrystalline, polycrystalline, amorphous silicon and concentrator photovoltaic cell. The monocrystalline and concentrator photovoltaic cell solar panels are found to be better not only in efficiency, but also in longevity.
Brightness
 Brightness is a measure of the amount of light generated. It is measured in Lumens. Look for the ones providing maximum lumens while consuming less power.  The normal incandescent bulb has about 800 lumens whereas if we consider the case of LED lights then they can provide you with brighter light of 1000, 1800 or higher Lumens.
Other factors to be considered include waterproofness, recharge time and run time of the batteries, angle of illumination, etc.
Best Solar Deck Lights
Let us move on to what the market offers to us in terms of solar deck lights and the features they own.
Aootek Solar Deck Lights
The Amazon best seller comes with ultra-bright lights with high efficiency and wide angle illumination. The solar panel used is of PET laminated monocrystalline type and have premium LED Lights. They offer light with more brightness when compared to other market options. There are 182 Leds offering 2500 Lumen brightness. The Aootek Solar Lights are waterproof and heatproof capable of withstanding extreme weather conditions. They have the sensitive PIR motion inductor which can detect people up to 26 feet within an angle of 120 degree. They have the 2200mAh rechargeable Li-ion battery. There are three operational modes: Security mode, Permanent On all night and the Smart brightness control. In security mode, the motion sensor automatically turns light on and off. In Permanent On all night mode, the lights are turned On at night and they as such all the night. Now, in the Smart brightness control mode, the lights will stay all night and on detecting motion, it turns brighter.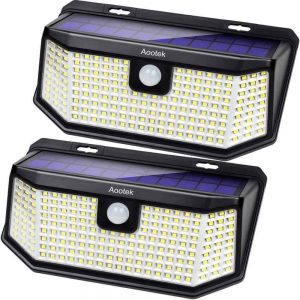 Aootek Solar Deck Lights
JACKYLED Solar Deck Lights
They are also built from the most efficient in the solar panel family that is monocrystalline solar panel. This ensures fast charging that too even on overcast days. In case of all sunny day, with the 600mAh battery, they take about 4-6 hours to fully charge. And on full charge they can support super long duration 30-40 hours of lighting. The LEDs are of 12 Lumens which can shine bright all night long. There are two lighting modes: Warm Light mode which is good for daily decorative lighting and the Automatic Color Changing mode which is good for holidays and parties. They are easy to install either with the mounting screws or with the double sided adhesives. The solar deck lights are weatherproof and the ABS and PC plastic casing is resistant to discoloration, corrosion and rust.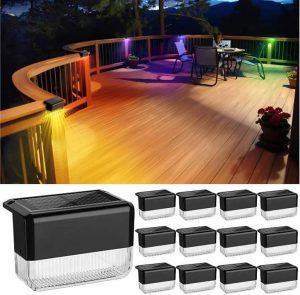 JACKYLED Solar Deck Lights
Solpex Solar Deck Lights
The Solpex Solar Deck Lights comes with good Amazon reviews and can be used for lighting up your steps, beautifying up your handrails, decorating your fence or illuminating your wall. They have warm white LEDs. They work on automatic mode. You need to pull out the insulator tab before use. The lights would get charged at about 4-5 hours in case of sunny days. Now after this, they are automatically turned on at dusk and operate till dawn. They are easy to install with the tape and screws. They are also weatherproof made from hard ABS shell and high quality solar panel.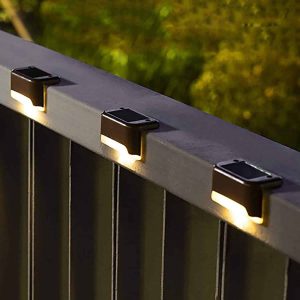 Solpex Solar Deck Lights
JSOT Solar Deck Lights
JSOT solar deck lights are soft white light making them more suitable for eye protection, especially for children's eyes. They offer higher efficiency and energy saving with the upgraded 3 LED beads and the larger panel size gathering more sunlight and allowing longer working time and brightness. The brightness offered by the LEDs is 30 Lumens. They automatically turn ON when it is dark and will turn off during daytime. They come with a 700mAh rechargeable battery allowing up to 8-0 hours of illumination on full charge. With the upgraded 0.3W poly-cryastalline solar panel, you get faster charging. Made from solid stainless steel shell, the solar deck lights are weatherproof. There are two mounting options either with the screws or with the double sided tape. The brand offers 24H customer service.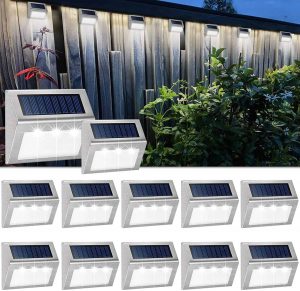 JSOT Solar Deck Lights
DenicMic Solar Deck Lights
DenicMic offers super bright solar deck lights with the wider solar panel and provides 10 Lumens per LED. It takes about 4-5 hours for the solar panel to fully charge in a sunny day. And on fully charged, it can work for about 10 hours. There are 2 modes: warm white mode and the color changing mode. With the Acrylic bubbles, the light is reflected in a beautiful and vivid pattern. Easy and simple installation with two screw holes to fix. The deck lights are also weatherproof.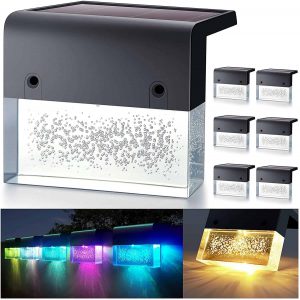 DenicMic Solar Deck Lights