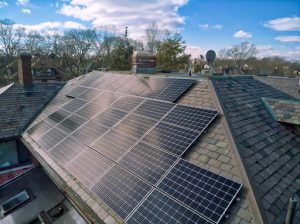 Image source: Solar Slate Solutions
Slate roofs are known for their aesthetic appeal and durability, which is why homeowners who look for an impressive curb appeal and long roof lifespan prefer slate options. All kinds of roofing materials and styles can support solar panel installations. However, slate roofs create some level of difficulty because of their structural differences. For example, it is comparatively easy to install solar panels on asphalt roofs, but your installation teams will need some extra stages to make a slate roof suitable for solar energy upgrades. A professional team will take care of the entire installation process to make sure that the slate tiles do not get damaged. In general, solar panels require brackets that are attached directly to the roofing structure. The panels can then be mounted on these brackets.
Slate tiles are usually pitched or uneven, so the textural variation can affect the way you install solar panels on slate roofs. Solar panel mounting systems are created to address this difference and ensure seamless installations. In the roofing world, there is no single best roofing type specifically chosen for solar panels – energy companies simply focus on compatible mounting solutions to help you work with just about any type of roof. The same applies to slate roofs. Installers may use various equipment during the mounting process to remove and replace the slate tiles. This is because drilling through slate is not recommended due to its brittle nature. Your overall solar panel installation costs will, therefore, depend on the size of your roof and how much work goes into the mounting configurations.
Solar panels on slate roofs
Durability meets sustainability
Slate tiles are made of stone and have a natural deep color that adds to their aesthetics. It can easily stand the test of time for various building configurations. Slate is a very durable and expensive, premium-quality roofing material, which is why it is also not as common as other roofing options like asphalt shingles or metal. Homeowners who choose to install slate roofs benefit from its comfortable longevity over several decades. This also means that you might already have a slate roof for several years before you decide to add solar panels. People often feel tentative at first when they think about "slate with solar panels" because the combination is less popular. However, thanks to compatible racking and mounting systems, you can easily have your solar panels assembled on your slate shingles. It is a great way to have both durability and sustainability under one roof!
Things to consider
Despite being one of the most durable roofing options, slate requires a lot of accuracy and patience for successful projects. It is recommended not to drill through slate tiles or mount the panels directly on the slate, as drilling can add cracks and cause potential leaks in the roof. For this reason, most professional solar panel installers choose to replace slates when possible. Slate or stone shingles are also quite smooth and can be slippery, so the lack of friction requires the teams to be more careful on the roof. This can add to additional labor costs because it typically takes longer to install solar panels on slate shingles.
It is very important to preserve the integrity of the original roofing structure, otherwise, you will be slowed down by hefty repairs. The panels need to be anchored to the underlying structure and mounted accordingly. Each anchor point should be sealed using professional-quality sealants and flashing to ensure a complete installation. Installers require proper techniques to work with the underlayment and remove each slate tile. They need to follow relevant roofing guidelines for well-tested and carefully installed hardware.
Installation methods
Solar energy companies that specialize in slate roof panel installations focus on mounting systems. They might have proprietary solutions to work with. Installing solar panels on slate roofs can be quite similar to other roofing installations. The only difference is the use of appropriate mounting hardware to leverage the solar panel configurations. Since the mounting brackets should not be drilled into the slate, the required tiles first need to be removed. The installers can then attach a standoff to the rafter and connect the mounting bracket to this standoff. Action Air Conditioning, Heating, & Solar and Southern Light Solar are two companies that offer custom solutions for your specific needs.
One popular strategy for such solar panel installations is the solar slate plate system from Hallmark Homes Associates. It helps workers install the panels much faster without causing any damage to the slates. This method is also more affordable than other options. The slate roofers or panel installers can place the required brackets to hold the panels securely. The slate plate system speeds up this process so that you can have your panels in place in just half the time. The main benefit of such a system is that it preserves the authenticity of your expensive slate roof layout – as you no longer need to remove the slates! The company's patented spacer technology prevents any damage to the slates and actually reinforces the tiles for simple installations. Your installers will just compress the slate plate against the decking, and so the tile can stay where it is. Compared to other methods, the slate plate system is definitely much more convenient, time-saving, and efficient.
With slate, it is all about roof aesthetics
Slate roofs are quite durable, fireproof, and simply charming to look at. Homeowners prefer this long-lasting benefit because slate tiles are known to last for decades and even a couple of centuries! You can have an old roof and still be able to go green by adding solar panels on top. Professional installation is always recommended because only specialized companies know what to do – and how to do it best. Mounting and assembling the hardware requires careful consideration to avoid drilling errors and cracks in the tiles. Expert panel installers may also work with slate roofers to ensure successful setups and prevent issues like water leaks in the future – the roofing structure must stay intact to keep moisture from sneaking in. You already have a durable roof that will stick around for a long time – which is all the reassurance for a roof in shining armor!