Tree of lights with a moving pattern, synchronized to music is worth a watch. The musical pixel tree when set up can make your home and even your neighborhood, a focal point of the festive season. Here we provide some of the options of synchronized musical pixel tree if you are in search of one.
Flute9hca Synchronized Musical Pixel Tree
The 7 ½'illuminated tree has multi-colored LEDs which flash and change color in synchronization with the music. They have 568 smart RGB LEDs. They work together to produce five unique dancing light shows that corresponded to its five programmed carols. Now, the music and lights can also be set to operate in an independent manner. The system has a built-in six hour on/18 hours off timer. The frame of the pixel tree is made from thick powder-coated steel and hence it can endure years of snowy winter weather.
The system is IP44 waterproof. However, you need to keep the junction box in a safe dry place. The sturdy structure of the hanging lights protects them from rain and snow. Made from high quality wire, it is safe and is also below the safe voltage that can pass through human body. They can also save energy. The bubs do not heat up and hence are safe to touch, allowing you to touch them anytime. With the memory function, it is easy to set the lighting in the previous mode and that too without resetting it. There are 8 mode settings including: Combination, in waves, sequential, slogs, chasing/flash, slow fade, twinkle/flash, and steady on. They find wide range of applications. The Outdoor Solar Christmas Decorations is widely used in Home Decor, Holiday Decorations, Party Decorations, Wedding Decorations, Patio, Garden, Yard, Party, Fence, Porch, Tree, Roof and so on.
Flute9hca Synchronized Musical Pixel Tree

The kit also includes remote control and four lawn stakes, an AC plug with 5 3/4′ cord. They have a dimension of 90″ H x 35 1/2″ Diameter with 28 1/2 lbs weight. The website offers 66% off on the item.
Holiday Living 7-ft Pre-lit Artificial Christmas Musical Synchronized Pixel Tree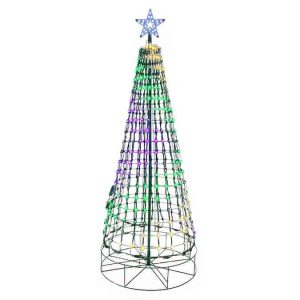 Holiday Living 7-ft Pre-lit Artificial Christmas Musical Synchronized Pixel Tree
The 7-ft Pre-lit Artificial Christmas Tree has 496 multi-function color changing LED lights. Let us see how the pixel tree works. They can work either in a non musical sequence or in coordinated synchronized musical sequence as per your need. Making use of a push of a button on your remote control, smart phone or tablet, you can instruct each individual "pixel" bulb to perform its task in a musical or non musical sequence whatever is required. There are 13 specifically themed holiday patterns of color and function combinations which starts to play when the Christmas button is pressed. The resulting mesmerizing color and musical LED light show can make your holiday home and even the entire neighborhood a focal point. They have a 6 hour on 1 hour off timer which gets activated on the press of the button. Now, the entire tree is pre-lit and all you need to do is to raise the tree's frame right out of the box by support poles and place the star on top and plug it in and you are done with the set up. There is a two year limited warranty. The kit also includes replacement bulbs and fuses. Some reviews claim the pixel tree not to perform up to the expected level.
CANVAS Musical Lightshow LED Pixel Tree 7.5-ft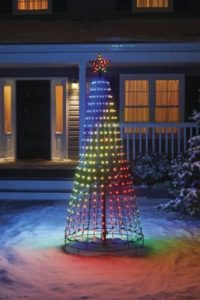 CANVAS Musical Lightshow LED Pixel Tree 7.5feet
The CANVAS Musical Lightshow LED Pixel Tree has 568 LED lights for a colour changing lightshow. They can save up to 90% energy when compared to incandescent bulbs. They feature five synchronized light show programs with music including songs like Joy to the World, We Wish You a Merry Christmas, Silent Night, First Noel, and Jingle Bells. The Remote control can be used to control music, volume, and on/off timer. They have a 6hr on/18hr off timer. The included four 8 inch ground stakes allow easy in ground installation. The assembled dimensions are Height – 7.4′ and Diameter – 3'. It is to be noted that the musical pixel tree is intended for seasonal use and is not intended for permanent installation. When not in use, store it in a dry location which is away from the sunlight. Also, you need to fully dry out the product before storing.
Light O Rama Music Synchronized Pixel Tree
The Light O Rama musical synchronized pixel tree kit is made using the latest generation smart pixels and controller. You can assemble the product quickly and display it with pride in your venue. The pixel tree kit is complete and includes all the hardware needed. Now, they are set to run only on a Light-O-Rama network .
They have a pixel mounting on strip with 3″ space. These strips can be used to mount the pixels.  They are made of high quality, strong and durable plastic which is UV resistant. Thus with the help of them, the pixels can be placed evenly and can also be kept facing the same direction. This arrangement also allows wind to easily pass through. Once fully assembled the pixel tree can easily be mounted anywhere in your yard.  The each pixel strip can be anchored in the ground with the included stakes.  When not in use, just remove the stakes. You can roll up the pixel strips and store them in a compact space. You can refer the manual for more details regarding the set up.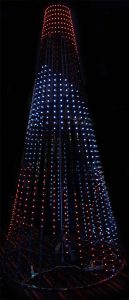 Light O Rama Music Synchronized Pixel Tree
WowLights Pixel Mega Tree package
You can add a 20-22 feet RGB Pixel Tree to your display with the WowLights Pixel Mega Tree Package. Gas pipe or telescoping flag pole and 16 Intelligent RGB extensions are needed in addition. Rest of the items is included in the package. The set up makes use of Light O Rama network and hence you need to have a computer or laptop with the advanced version of Light O Rama software installed so as to run the Pixel Mega Tree.
WowLights Pixel Mega Tree