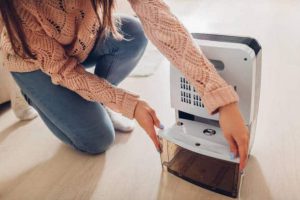 Wherever there's plenty of moisture, it automatically becomes a breeding ground for mildew, mold, bacteria, and dust mites. And when it's that time of the year when humidity is relatively high, you can't but put up with the rotting window panes and doors and the blackening walls. It can also result in pest infestation, water stagnation, condensation, and loss of integrity to your home. But with such devices as the 70-pint dehumidifiers, you can count yourself out of these ills.
What's worse? Not having the right device to address the challenges that come with high moisture can make your home vulnerable to unpleasant conditions, including a reduction in the quality of the atmosphere in your home. When you tolerate such conditions for too long, there are high chances of developing skin infections, asthmatic attacks, and respiratory illnesses.
To create the best environment for yourself and your family and eliminate the adverse effects of excess moisture completely, a dehumidifier with 70 pints is the ideal device you need.
However, before you begin to make a list of the best of such devices, you should endeavor to do first things first. By first things first, the features and qualities to look out for before choosing your device need to be considered.
Factors To Consider Before Choosing A Dehumidifier With 70 Pints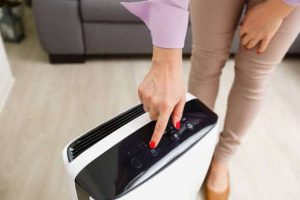 Suppose your home or living space is incredibly large, and you intend to get rid of a large amount of moisture. In that case, you need a large device such as the 70-pint dehumidifier to do the work. Without mincing words, your chances of opting for the wrong device are pretty high because compared to models designed for rooms of small sizes, the stakes are higher when you want to purchase models for large areas.
With the myriads of options available at your disposal, it is crucial that you get it right as early as possible. To make the right choice, below are some factors you should examine carefully.
Coverage Area
While selecting the perfect model for your home, you need to take note of the space in square footage that it is able to remove moisture from properly. You should know that each model is designed to cover a certain area. While some are primarily designed to get rid of moisture from small spaces, others are suitable for large areas.
This knowledge will prevent you from making the mistake of purchasing a model designed for small areas when your home is spacious. You will also be able to get the best value for your money. Knowing the coverage area of each model is relatively easy. The manufacturers often do well to indicate it.
For instance, for a space of about 4,500 square feet, a whole house model is your best bet. If your home is relatively smaller, you can opt for the 50-pint model. Whichever model you are looking forward to getting should depend on the space you intend to cover.
Pump
The pump plays a vital role in every moisture removal device. Some models such as the Ivation 70-pint Energy Star come with readily attached pumps, giving several moisture-draining options such as the uphill drainage: a medium that is highly impossible with gravity-reliant drainage.
In areas where the moisture level is pretty high, for instance, the basement and other areas, high-quality models that can remove large amounts of moisture are the best. They must come without the need to place them on an elevated platform and without having to put up with water overflowing. By simply attaching a hose to remove the moisture into external drainage, you can leave the pump to do the remaining work.
Features
The features of most of these models come in handy and follow a particular standard. This means that you will likely find similar features on most models regardless of who the producer is or the capacity. For models in the 70-pint class, below are some of the basic features you need to consider.
Notification Lights
More often than not, an alert system or notification lights come in handy with most models. Whenever it's time to clean or change the filter, you will get notified by the filter alert. On the other hand, the full bucket alert will prevent the floor from getting soaked with water.
Restart and Auto shut-off
When you're dealing with water, one of the biggest challenges you may be confronted with is the issue of a power outage. However, you have less to care about once you have the right device at your disposal. With a highly efficient model and an uninterrupted system, everything goes off immediately after the water bucket is full. The same thing happens whenever there is a power issue. You don't have to worry because it will automatically restart after every power failure.
Energy Star Approval
Perhaps you have seen an Energy Star-approved model; it means the device has optimal performance. Through this means, you will save some money over time. However, you should know that models that come with this certification are pretty expensive, but you have myriads of benefits to enjoy in the long run.
Operating Range
Although you have less to worry about as far as this is concerned, you still need to give it proper attention before making any purchase. The operating range helps you determine how cold or hot the place where the device will be installed to work more effectively.
Wi-Fi
You will hardly find such models that are Wi-Fi compatible. However, with technological improvements and advancements, many manufacturers are now able to attach Wi-Fi connections to their models. Although this will increase the money you will be spending on the device, it is worth the cash, particularly if you stay in a connected home. With the Wi-Fi connection, you can control the system using Google Assistant voice commands and Amazon Alexia.
Water Tank Capacity
The water tank is where the removed moisture goes. Invariably all models come with this feature. The capacity of the water tank dictates the amount of water it can collect. If the capacity is high, it can hold a large amount of moisture over a long time, reducing the number of times it has to be emptied. From a capacity of 1.3 gallons to 1.6 gallons, it is crucial that the device contains enough space to collect moisture.
Modes, Settings, and Speed
Every dehumidifier comes with a fan located where moisture removal takes place. When looking for the ideal model for your home, go for the one with multiple modes and speeds, such as eco-mode and turbo, which permit you to choose the correct setting to meet your specifications and save energy. The amount of noise generated can be reduced to a great extent if the fan speed is low.
Noise Level
Since most models draw air into the unit via the attached fan, a lot of noise can be generated. The amount of noise largely depends on the speed setting and the model of the device. The unit for measuring the amount of noise is usually referred to as decibels. At a high-speed setting, about 40 to 50 decibels of noise should be generated on average. This is equivalent to a refrigerator's sound.
Regardless of the model you are going for, you should keep in mind that none of these devices will be silent.
Warranty
This is another factor you can't afford to miss out on. Just like every other 21st-century product, these devices can be potential investments. However, it depends on the price count and quality. Some models can cost up to a thousand bucks.
The warranty attached to models designed for homes cannot exceed two years. Although they are designed with excellent products and materials, they are not built to last for decades. If you want a longer guarantee, you have to opt for models suitable for crawl spaces and basements.
The Best Dehumidifiers with 70 Pints
Having considered the various factors to look out for before buying the perfect device for your home, it is high time you knew the options of the best 70-pint dehumidifiers available in the market. This will help you make the right choice without evaluating options. The most efficient options have been highlighted in the paragraphs below.
Suppose you are looking for high performance and efficient device for a wet and extensive living space, the hOmeLabs remains an ideal option. It has a high rate of moisture removal and wide coverage with many advanced settings. Within 24 hours, this device can get rid of 70 pints of moisture due to its large water tank capacity of about 1.6 gallons.
Its temperature lies between 41°F and 95°F. Its optimum performance in such temperature has earned its certification from Energy Star for low energy use. If used in a crawl space or basement, the automatic defrost feature prevents it from getting frozen. It can cover areas that measure 2,500 to 4,000 square feet.
There's a readily attached auto-restart feature to fit in in case of power interruption. Also, an auto shut-off function is designed primarily to protect the unit against damage and save a large amount of energy.
The in-built humidistat regulates the humidity levels. To keep the device in good shape, it is recommended that you wash the filter at least once a month and the water tank every two weeks. It also allows you to cut down the cost of maintenance due to the removable filter.
Features
A timer on the touchscreen panel for scheduling moisture removal
Caster wheels for smooth mobility
Dual fan speed options including Turbo mode
Full tank alert
Washable and removable filter
Pros
It is an energy-efficient alternative
It has the capacity to operate on low temperature
Cons
It doesn't come with a hose
It also lacks a pump
Compared to other models, this device comes with a relatively small-sized water tank of about 1.3 gallons but is capable of holding a large amount of moisture due to its in-built pump. It is lightweight, weighing only 40 pounds. It is the most recommended model for basements. This is due to the seamless pump that constantly drains the tank, so you don't have to stay by it all the time. Another factor that makes it suitable for this space is its compact size, which fits perfectly well into such spaces.
Since basements are characterized mainly by high moisture levels and the breeding of mildew and molds, the high rate of moisture removal up to 70 pints within 24 hours makes it ideal. Any space of 4,500 square feet will be excellent for this model. It also comes with a readily attached timer for projecting the moisture removal process. It has double movable fan speeds, including turbo and regular.
Perhaps you are worried about the rate at which it consumes energy; you should worry less because this model will save a great deal of energy even at the highest setting. The auto shut-off feature prevents water from overflowing. Due to its cutting-edge designs, there's no doubt it deserves the Energy Star certification, and the good news is that it has earned it.
Features
An auto-restart function
Enhanced mobility powered by four caster wheels
A highly efficient humidistat
Myriads of digital controls
Filter alert and auto-defrost sensor
Pros
It has a standard set of features
Its compact design makes it easy to use
Cons
Compared to similar models, it is pretty pricey
It doesn't come with a drainage hose
Available at a cost-friendly price, this device is the most sought-after Danby model. It can get rid of moisture from an entire house of about 4,500 square feet with ease. Its low temperature, which stands at 41°F, and automatic defrost system that hinders coils from getting frozen make it suitable for basements, too.
Within 24 hours, this device can remove as much as 70 pints of moisture. This moisture is collected in an extensive water rank with the capacity of containing 1.6 gallons. If you want to keep an eye on the level of water, the clear window gives you that opportunity. Even when you forget to get the reservoir emptied, the full tank alert notifies you once the need arises.
There's an outlet at the rear end of the device to which you can safely connect a gravity-reliant hose and place it near a drainage system to get rid of the content. The unit can also be placed on an extended platform to drain the content into a sink.
Mobility is relatively easy if you choose this device. It is designed with caster wheels to facilitate easy movement. It has a weight of about 45 pounds which enhances its mobility. Due to its low power consumption, it has also earned the Energy Star certification.
Features
Two fan speeds operating at 50 decibels without excess noise
Automatic restart feature perhaps there's a power failure
A timer to schedule moisture removal
The coverage area is about 4,500 square feet
2-year warranty
Pros
It is compact and portable in size
It has an attractive and feature-rich design
Cons
It has no drain pump
The hose is also missing.
Top of your preference should be getting the best value for your money. And if that is your primary objective, then the Airplus model is the perfect choice for you. It is decorated with high-quality features that provide cost-effective moisture removal.
Even when your home's temperature is about 86°F, this device can still get rid of more than 70 pints of water. Compared to other models of similar price, it provides highly versatile functionalities. It is suitable for invariably every area in your home, including the bathroom, closet, and basement. It has a wide range of modes such as sleep, drying, raining, and standard modes.
The two-way timing feature allows you to turn the device on and off. This means that you don't have to babysit it. With the aid of the digital control panel, you can regulate the speed, set the 24-hour timer, and set the right time to get the reusable filter cleaned. In addition, you can use the auto shut-off function to prevent spillage and overflow. It produces little noise of 45 decibels. Its 360-degree wheels make it pretty portable and moveable.
Features
Less than 45 decibels noise level
Incredible constant moisture removal
Smart one-touch button
Innovative automatic designs
Multifunctional nodes
Pros
It has a compact design and is highly portable
It comes with a 2-year warranty
Cons
It has no energy rating
It also lacks an in-built pump
Suitable for large rooms and basements, this is one of the best 70-pint dehumidifiers you can find around. Whenever it comes to the effective removal of moisture from an expansive area, you can count on this model to give you the best performance. It gets rid of up to 70 pints of water for excellent protection on your curtains, walls, furniture, and other accessories.
With a weight of about 41 pounds and a noise level of 52 decibels, it is one of the devices with 21st-century features, including Wi-Fi connectivity. As a result, you can control the unit remotely using your tablet or mobile phone. If you are looking for something convenient and easy to use, you can settle for this option.
If you stay in a connected home, it comes in handy to help you remove moisture effortlessly. With a water tank of 1.75 gallons, you do not have to stress yourself babysitting the device.
Another perk that makes this device worth the hype and your cash is its 5-year warranty. It has a more extended warranty than other models that fall within its price range. This is particularly one of the reasons it has gained wide acceptance and popularity over the years. Moreover, it has a high energy saving capacity, thus using less energy while getting rid of moisture.
Features
Washable and removable dust filter
Presence of Wi-Fi connectivity
Spill-proof water tank
A coverage area of about 4,000 square feet
Extensive warranty of 5 years
Pros
It has Wi-Fi connectivity allowing you to control the unit using Google Assistant voice commands and Amazon Alexia
It also comes with several standard safety features
Cons
It is known to have some quality control issues
It is relatively expensive
Wrap Up
Making a choice of the best 70-pint dehumidifiers can be a big deal because of the many options available in the market. Depending on the areas you want to cover and the pump type, you can make the right choice of dehumidifier for your home after careful consideration. With these devices, you can make staying at home more exciting and convenient for your family.